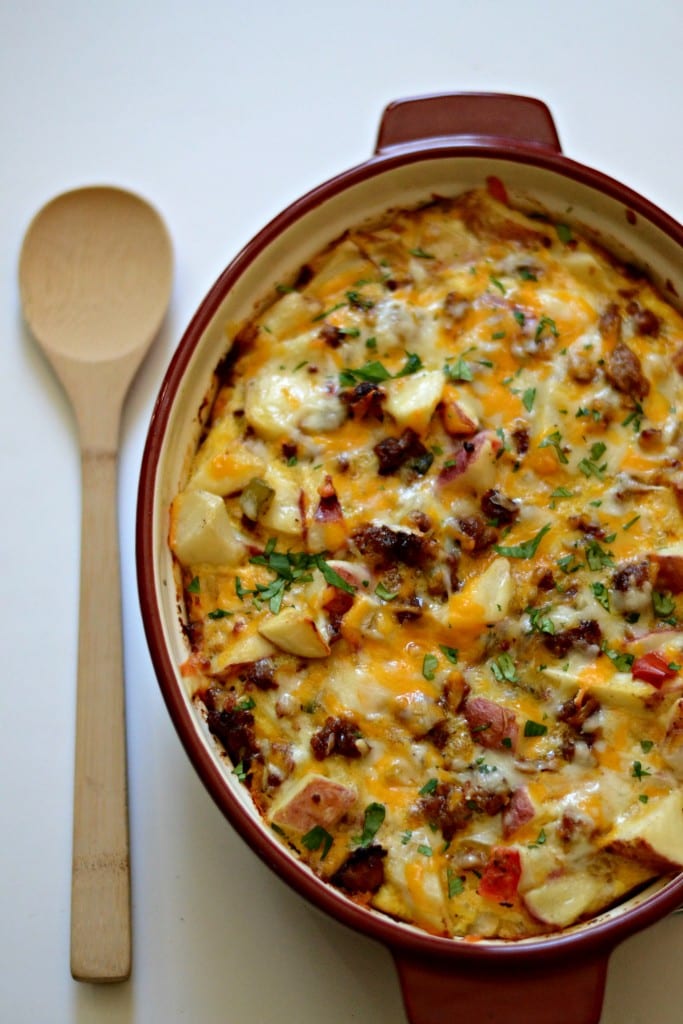 The other day while mindlessly cruising the interwebs and social media, I came across a post somebody had liked and found it rung very true for me and my family in regards to holiday shopping. The person posted that they were pretty sure there would be no Christmas and no Christmas presents without Amazon Prime. I could not agree more. I am sure that many of you can relate to that post as well.
This year I think I went a bit overboard. I know that as Mike is reading this he is going to say, "Just this year?" Yeah, yeah, yeah. I go overboard every Christmas, but this one in particular is even more noticeable. Maybe it is because we are trying so hard to save money and that makes any overspend show up on our monthly statement with a giant, flashing, virtual red arrow pointing to it. 
It's not my fault though. I blame the nesting urge and the fact that Andy is now more into Christmas. Last year he was only one and took about an hour to gently tear open one loosely wrapped wooden maraca so we really didn't do a lot for him. This year he knows how to properly tear paper and is into so many different things. As a parent, I want to give him all the things. I finished shopping before Jack was born but I find myself adding a plane here or a book there every time I browse Amazon. It is a sickness. For real.
And when it comes to the nesting urge, oh man did it hit me hard this pregnancy. I found myself buying back-ups of back-up toiletries like two months out. In my nesting mind, I thought we would run out of everything in our house the week after Jack was born apparently. So, now that the cloud has lifted I look in my bathroom closet and realize I will not have to buy any toiletries, cleaning supplies, or toilet paper until Jack is like three months old. Oops!
I also had a cooking nesting urge kick in two days before I went to the hospital. My feet were swollen and I was tired but I decided to make three different soups, a big batch of chili, and prep this breakfast casserole. I did all of that in one day. I have no idea what I was thinking. I don't even think I was thinking, I just did. Like I said, hormones.
The good thing about all this excess I am living in is that now I can just kick back and enjoy my little family of four in the comfort of my spit up covered yoga pants without having to leave the house for anything really. I guess my crazy brain kind of knew what it was doing. Maybe.
About this casserole. You can totally skip the DIY breakfast sausage and just use ground spicy Italian sausage or whatever breakfast sausage you like, cut in small pieces. This is easily prepped the night before and can even be frozen, thawed, and then baked when needed.
If you know somebody having a baby, bring them this dish. If you are having family over for brunch this holiday season, make them this. It seems like you put in a lot of work when in reality you maybe spent 20 minutes total. 
Enjoy!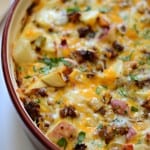 Easy Egg, Potato, and Sausage Breakfast Casserole
An easy breakfast or brunch casserole with frozen potatoes, homemade breakfast sausage crumbles, eggs, and lots of cheese.
Ingredients
For the Breakfast Sausage:

1

Tablespoon

Olive Oil

1

Pound

Lean Ground Pork

1

Teaspoon

Salt

1

Teaspoon

Ground Black Pepper

1/4 - 1/2

Teaspoon

Cayenne

1/2

Teaspoon

Garlic Powder

1/2

Teaspoon

Smoked Paprika

1/4

Teaspoon

Onion Powder

Dash Nutmeg

1

Tablespoon

Grade B Maple Syrup

For the Casserole:

Crumbled

Browned Breakfast Sausage

1, 24

Ounce

Bag Frozen and Thawed Roasted Potato

Pepper, and Onion Medley

6

Eggs

1/3

Cup

Whole Milk

1

Cup

Grated Cheddar Cheese

1

Cup

Grated Sharp White Cheddar Cheese
Instructions
Add olive oil to a large skillet. Heat over medium/high flame. Once oil is almost rippling, add pork. Use a wooden spoon to break apart and crumble the sausage while mixing in all the dry seasonings. Cook until sausage is browned, about 10-15 minutes.

Drain off excess grease and remove pan from the heat. Carefully mix in the maple syrup.

Preheat the oven to 375 degrees F. Grease a medium baking dish and set off to the side.

Add eggs, milk, 3/4 cup of cheddar, and 3/4 cup of white cheddar to a large mixing bowl. Whisk to combine.

Mix in the sausage and potatoes. Pour the mixture into prepared dish. Top with remaining cheese. Cover dish with foil.

Bake casserole for 20 minutes covered and then 15 additional minutes uncovered. Let casserole cool for 10 minutes before serving.