Oh Saint Patty's Day. It is fitting that the color for your day is green because you have been my Kryptonite through most of my adult life. Is it something in the dye for the beer that makes people go crazy? Is there a study out on that? If there isn't, we should definitely look into it. Another thing to look into, whatever Pavlovian dog Jedi mind trick happens to people when faced with free plastic strand of beads.
I would be very interested to know where all this comes from.
I could go into great detail about the problems I have gotten myself into on Saint Patrick's Day through my college and late 20's, but I have kids now and I really don't want them to read this one day. Believe you me, they will know them at some point in their lives when they serve as cautionary tales. But, they don't need to know them now.
Neither do you, really.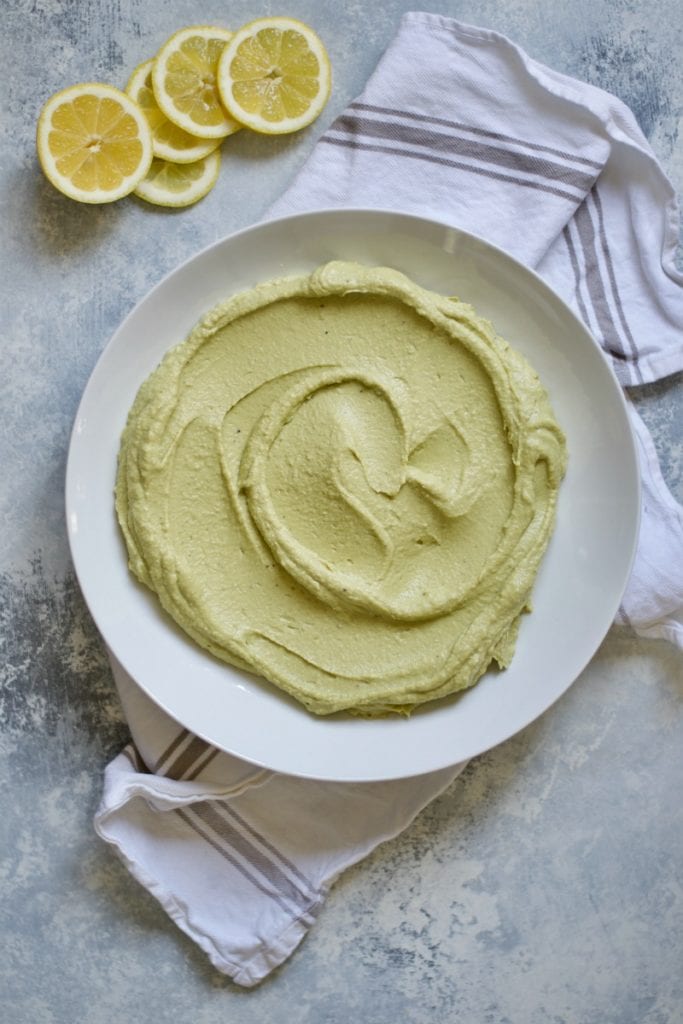 I will say that something about this day makes me turn into a baby. Maybe more like a toddler. At some point there is crying, words become hard to form (and likewise hard to understand), temper tantrums, running away, hiding, and then to be nonsensically happy after all that. A toddler rollercoaster of emotions all in one day.
The above reasons are why I no longer partake in this holiday. Well, that and kids…and hangovers. Plus, I no longer have the energy to even think about a little thing from our college days called kegs and eggs. It's not brunch people. Brunch is classy and fancy and starts at 11. This is like 8am, nasty liquid eggs, and green beer. Nope. Glad to be rid of the holiday.
The most I did last year was make these green pancakes for Andy.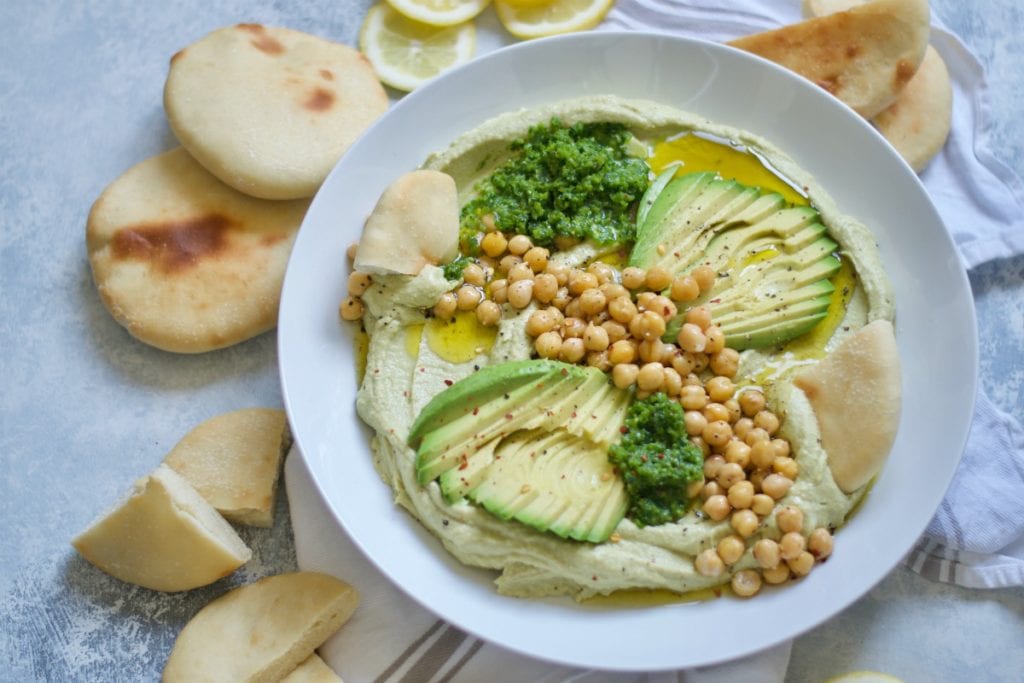 This year, hummus!
Creamy and rich avocado hummus is the perfect compliment to this spicy and fresh jalapeño pesto-like topping. I tried to mimic the amazing hummus from Sabra by placing a little dollop of the jalapeño pesto all around the top so you can take as much or as little of the spice as you want. I also went above and beyond and made my own pita bread. You do not need to do that. However, if you want to, let me know. I have a great doughy recipe I can share.
If you do still celebrate and imbibe on this day, please don't end up like a toddler. Make sure you eat a lot of this hummus and pita to balance out all the green beer. Yep, that will definitely save you on Friday!
Spicy Jalapeño Avocado Hummus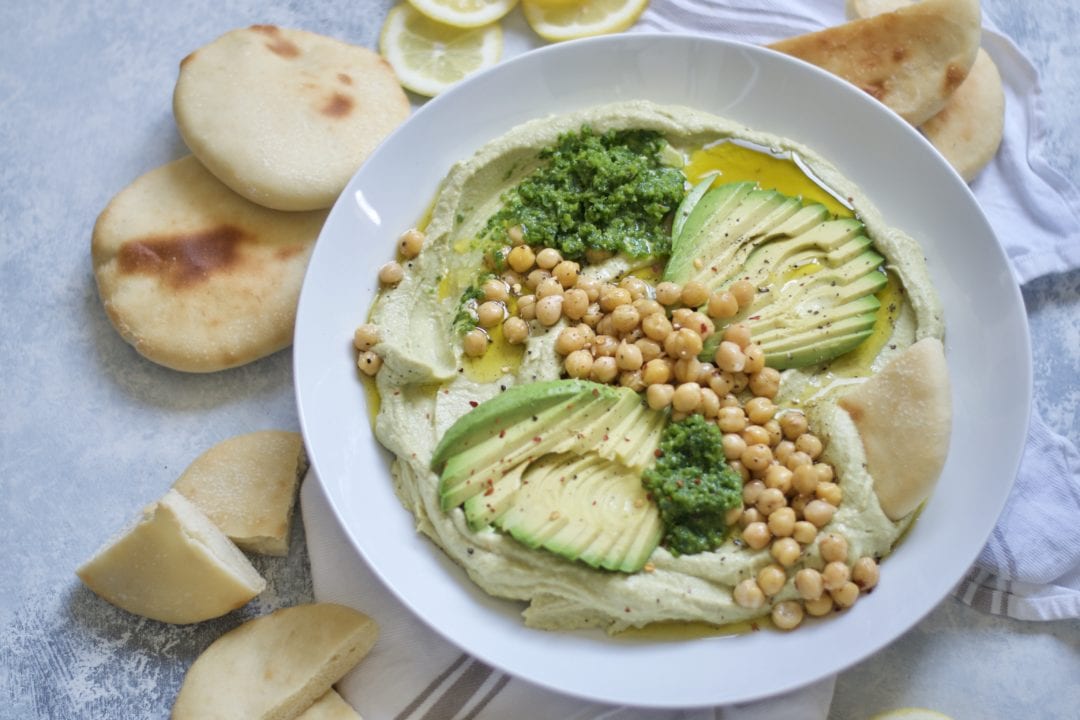 Creamy and smooth avocado hummus with a spicy Jalapeño pesto, marinated garbanzo beans, and sliced avocado on top.
Yields: 3-4 Cups Hummus
For the Jalapeño Pesto Topping:
4 large Jalapeños, seeded and roughly chopped
2 Cloves Garlic, chopped
1/4 Cup Roughly Chopped Fresh Cilantro
1/4 Cup Roughly Chopped Fresh Flat Leaf Parsley
2 Tablespoons Olive Oil
Salt and Freshly Ground Black Pepper, to taste
For the Hummus:
3 Ripe Avocados, peeled and pits removed
3, 15 Ounce Cans Garbanzo Beans, drained and rinsed
2 Cloves Garlic, chopped
Juice 1/2 Lemon
1/4 Cup Tahini Paste
3-4 Tablespoons of Ice water
Salt and Pepper to Taste
Olive Oil for topping
Lemon Juice for Topping
Crushed Red Pepper Flakes
Add all the ingredients for the pesto to a food processor. Pulse until a rough pesto comes together. Add more olive oil or salt and pepper if needed. Set off to the side.
Set 1/3 Cup of garbanzo beans off to the side for topping. Toss together in a small bowl with olive oil, salt, pepper, and a tiny pinch of crushed red pepper flakes.
Add the remaining beans, avocado, and garlic to the food processor. Chop until minced.
Add the lemon juice and tahini. Continue to chop until pureed. Stream in the ice water a tablespoon at a time until the hummus is silky smooth. Scrape down the sides as needed.
Spread the hummus out in a large bowl. Top with marinated beans, sliced avocado, and a squeeze of lemon juice. Serve right away. Or store in an airtight container for only one day. The avocado will start to slightly brown as it oxidizes.
Preparation time:

20 minutes

Total time:

20 minutes
Recipe for Avocado Hummus from How Sweet It Is