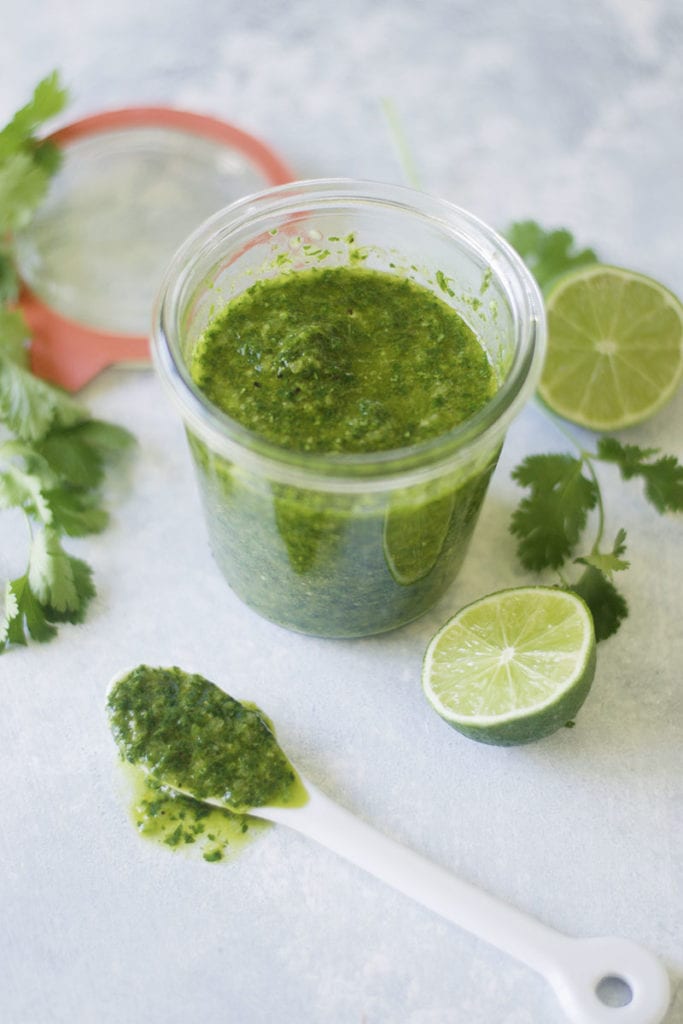 Here it is! Your new, go-to summer sauce and salad dressing. Bright green cilantro vinaigrette is perfect for everything from fish and chicken to grilled veggies or a salad. It really is that versatile.
This past weekend was kind of chilly. I grilled some pizzas and was seriously cowering around the grill for warmth. I am planning more grilling and chilling and beer drinking for this weekend since it is Memorial Day and a nice three day weekend. We will see if the weather complies.
If it were up to my children, they would be outdoors through any weather. Barefoot. In diapers with no shirts on. The cold doesn't seem to phase them. If only I were as resilient.
I sleep under a down comforter all year long. Once in a while I do kick off the comforter and sleep under only the sheet, but I have to be suuuuper hot. I like to think as long as I am not walking around in long sleeves with cardigans on top all summer long, I am doing ok. This also means I have not totally transformed into my mother just yet.
Ok guys. So this sauce/vinaigrette is the best. I think that even if you are a person who generally shies away from cilantro, this vinaigrette is filled with so many other flavors from the red wine vinegar, garlic, onion, and lime juice that it isn't overpowering. I made a few BBQ worthy recipes this week to inspire you. This vinaigrette comes into play in Thursday's recipe for a killer pasta salad.
So, that means you have to make this. All you need is a food processor and a container to store it in and then boom, you're ready for weekend salads and grilling marinades.
Recipe adapted from What's Gaby Cooking
Related posts: