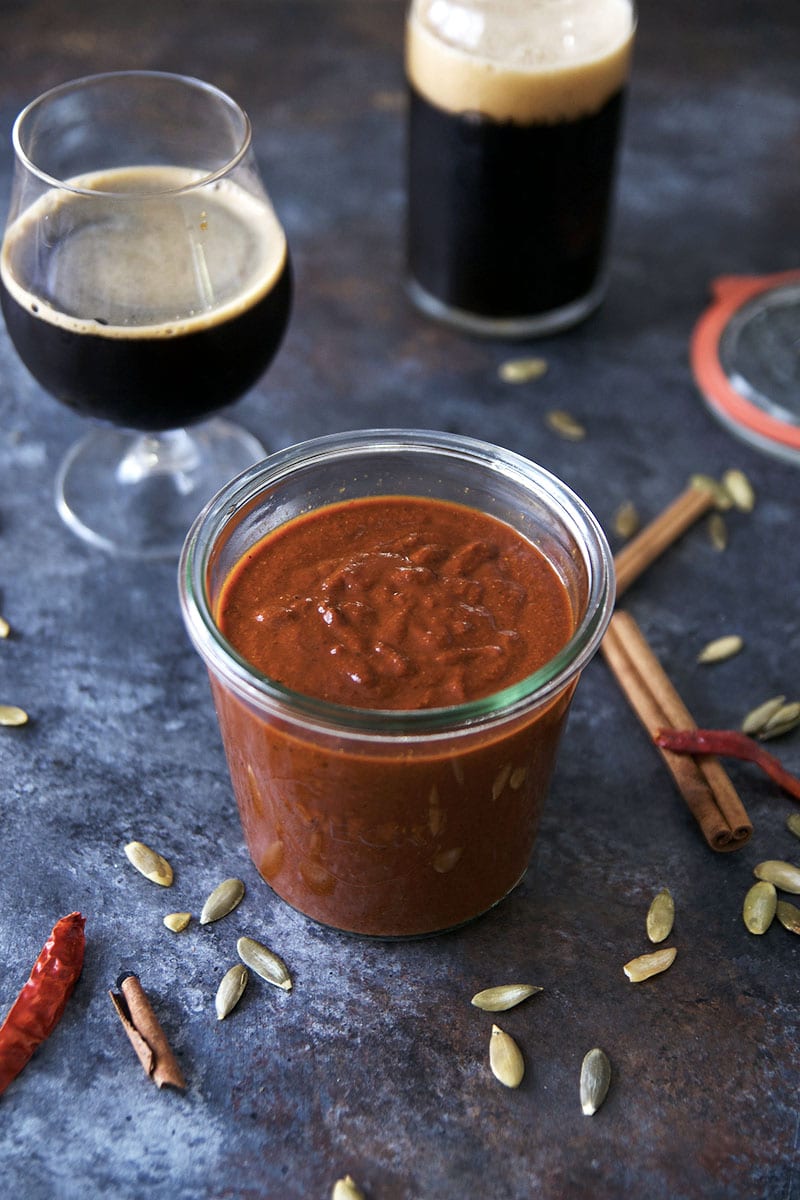 Holy-mole-guacamole! I have to be honest with you. I rarely order mole when we go out for Mexican. I usually stick with some kind of crispy pork taco situation (and margaritas, naturally). But we have been over what tequila does to my brain before, so I won't go down that path again.
My aunt is from Mexico. She makes traditional mole from scratch. I was researching mole recipes and almost all of them involved some sort of pork fat. Now, yes that is super tasty but I didn't happen to be roasting pork or cooking bacon at the time. I was also looking for a quick-ish sauce that would keep a little longer and freeze well for those Taco Tuesday last minute dishes.
What is a beer loving girl to do?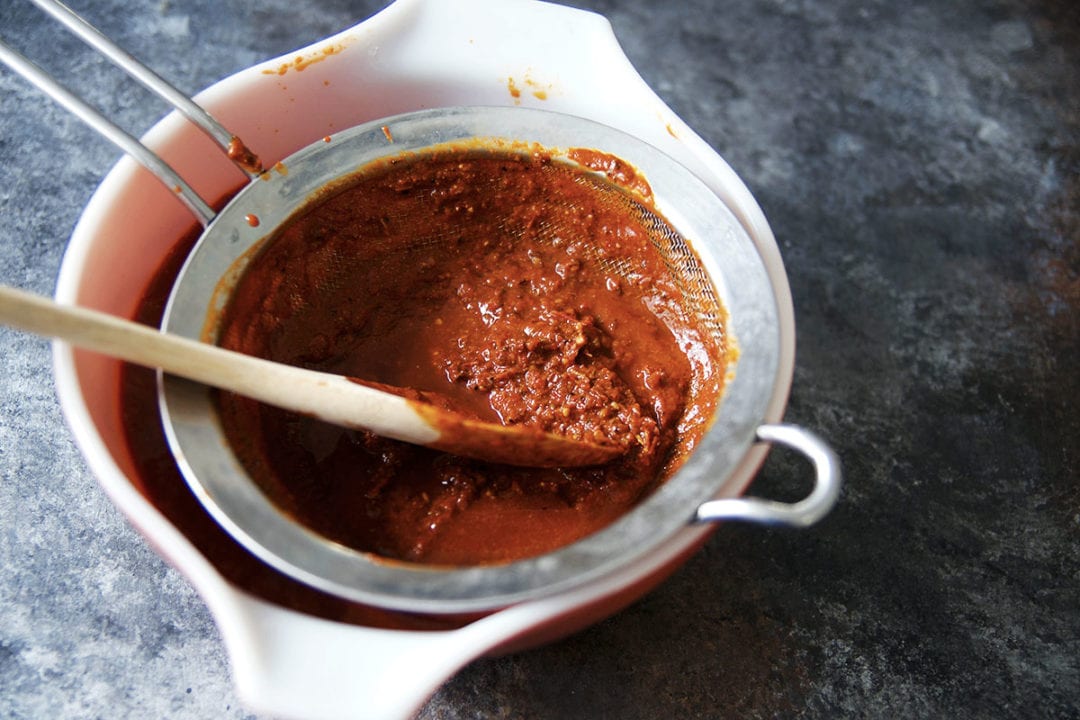 I looked to the stout I had from Only Child Brewing. Question Authority already has notes of nuttiness and Himalayan Pink Sea Salt which lend itself beautifully to my stout mole idea.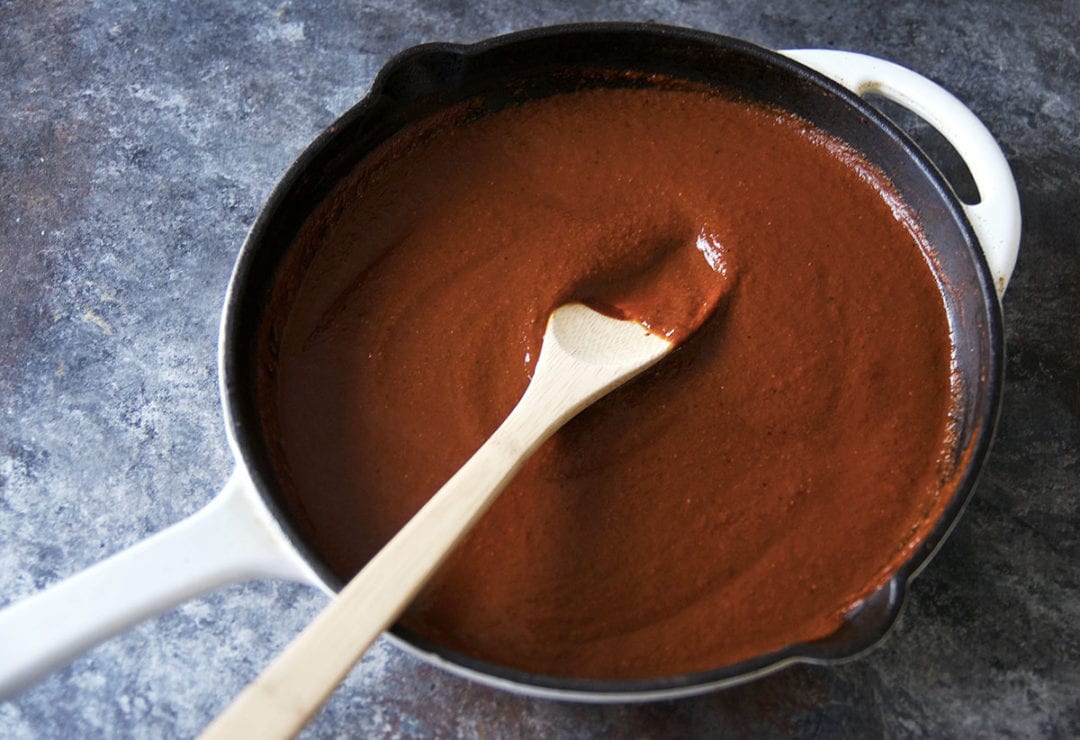 Now, never having made mole before this attempt, I will warn you, your arm will get a work out. It's like when you read a recipe for no churn ice cream and think, "Yes, this has got to be easy." Then your arm is sore for two days from the 20 minutes of folding whipped cream into more dairy goodness.
Note to self: buy an ice cream maker.
Mole has lots of flavors from charred things and soaked things. It is very important to strain out all the grainy bits to make the sauce as smooth and thick as possible. That's the arm workout part. You have to strain all the liquid through a fine mesh strainer and move a spoon back and forth for a good 10 minutes, pressing out all the liquid. It is worth it though.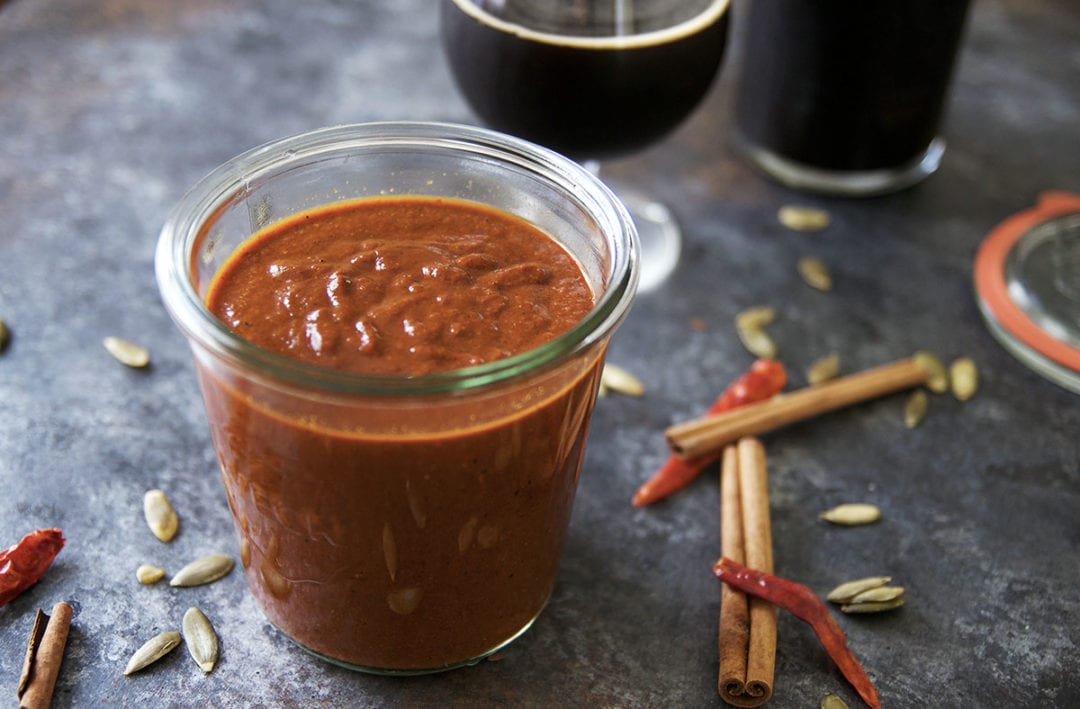 I think I told myself the same thing after the no churn ice cream recipe testing.
I was also shocked that my blender was able to take on a whole toasted cinnamon stick. Kudos to you, blender. I am a little shocked, though, since you could barely make a smoothie a few weeks back…
Interesting.
Stout Red Mole Sauce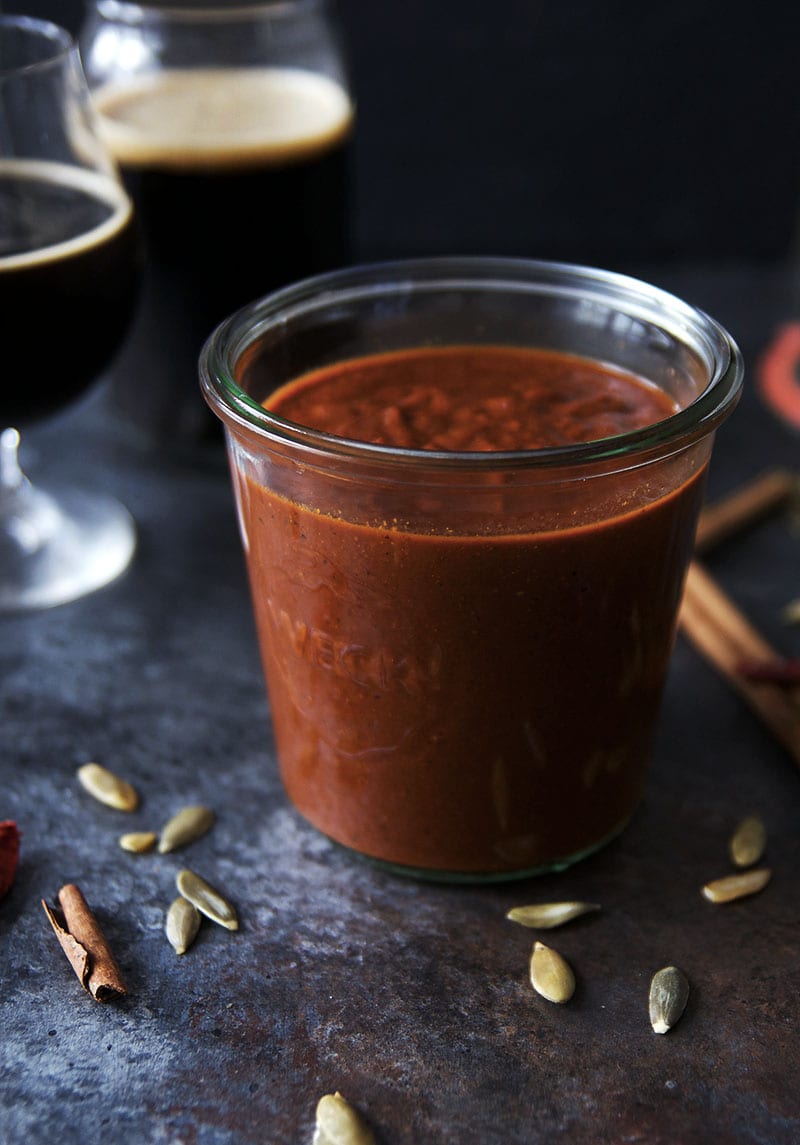 Deep, dark stout, smoky chiles, pumpkin seeds, and lots of other flavors combine to make a very unique and tasty red mole.
Yields: About 2 Cups
8 Dried Guajillo Chiles
1/4 Cup Raisins
16 Ounces Stout Beer
3 Cloves of Garlic
1/2 Yellow Onion
1 Cinnamon Stick
1/4 Cup Pumpkin Seeds
1/2 Teaspoon Dried Oregano
1/2 Teaspoon Salt
1/4 Teaspoon Black Pepper
1 Large Tomato
1 1/2 Ounces Bittersweet Chocolate
Add stout to a small pot, heat to just about boiling. Once you see a few bubbles start forming, turn the burner off and cover with lid.
Remove the stems from the dried chiles and shake out the seeds into the garbage can.
Add the chiles and raisins to the hot stout. Cover with lid and let sit for 20 minutes while you get the other ingredients together.
Heat a cast iron skillet over medium/high heat for a few minutes. Remove skin from onion and garlic. Add the onion to the hot skillet and char on each side. Do the same with the garlic cloves. Garlic should be a deep golden color, not black or dark brown. Onion should look charred and almost black on each side.
Reduce the heat to medium. Remove the charred garlic and onion. Set off to the side. Add the pumpkin seeds and cinnamon stick to the hot pan. Toast until the pumpkin seeds start to pop. Add to the same plate as the garlic and onion.
Remove the stem/core from the tomato. Add the tomato to the same hot skillet. Char on each side, about 10 minutes. Remove and set off to the side. Once the tomato is cool enough, peel off as much skin as you can.
Remove chiles and raisins from the soaking liquid and add to a blender along with 1 cup of the warm stout. Puree until smooth.
Add the charred onion, garlic, pumpkin seeds, cinnamon stick, oregano, salt, pepper, and tomato to the blender. Puree until smooth.
Place a fine mesh strainer inside a medium mixing bowl. Pour the sauce into the strainer a little at a time. Using the back of a spoon, work the sauce back and forth until only the solids remain. Continue process until all the sauce has been strained.
Wash out the cast iron skillet you used before with a damp towel. Put it back on the burner over medium/low heat. Heat until hot again, about 5 minutes.
Add the chocolate and stir until combined and melted. Add more salt and pepper based on your taste preferences.
Let the sauce cool to room temperature then add to glass heatproof jar and store int he fridge for up to two weeks.
Preparation time:

30 minutes

Cook time:

15 minutes

Total time:

45 minutes