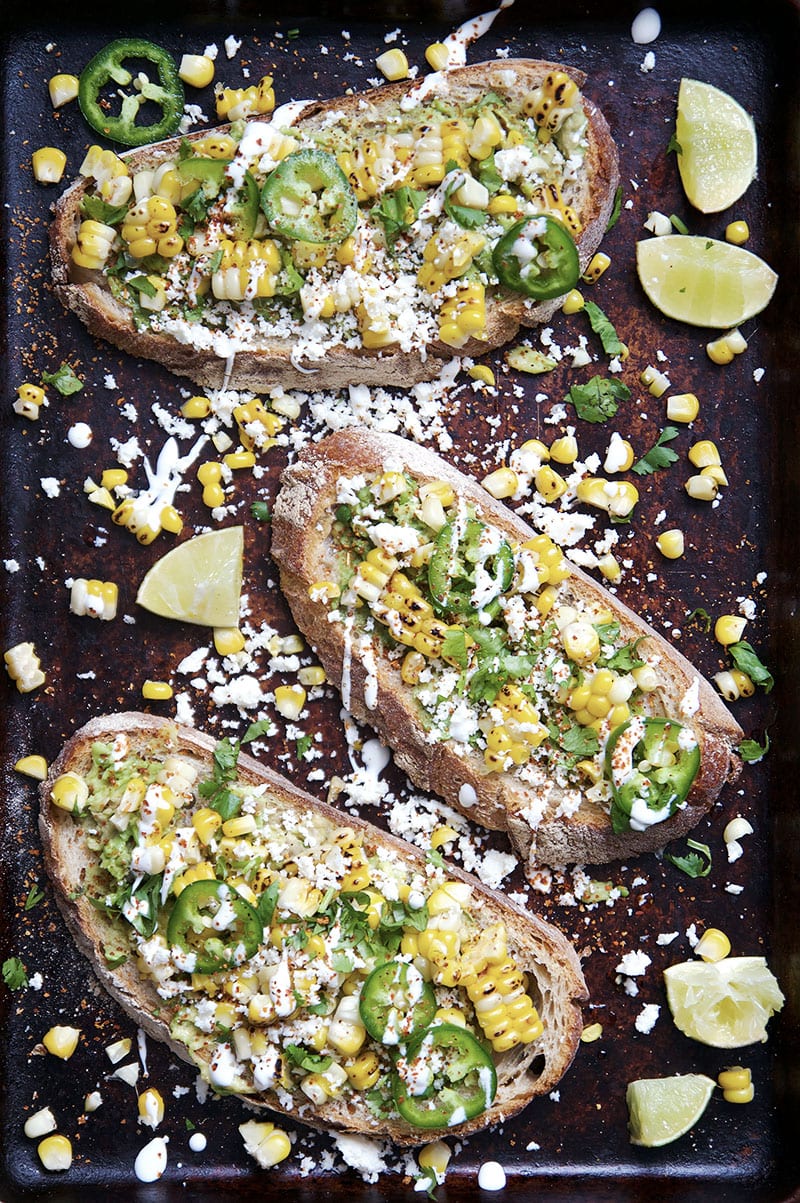 Sorry for the delay in posting this Meatless Monday recipe. Clearly I was not thinking realistically when I planned to write a blog post during the Game of Thrones finale. It didn't dawn on me that I was supposed to be writing until I was hooting and hollering (and maybe crying a little) over certain characters' deaths.
Like, "Oops. I was supposed to write a blog post." Yeah, it didn't happen.
But, here I am today with the easiest recipe ever. 
This weekend all the nearby towns are having harvest festivals. Before you ask, no, it is nothing like Pawnee's Parks Department's Harvest Festival on Parks and Rec. I wish it was though. What other reason would there be to live around all these corn and soy bean farms?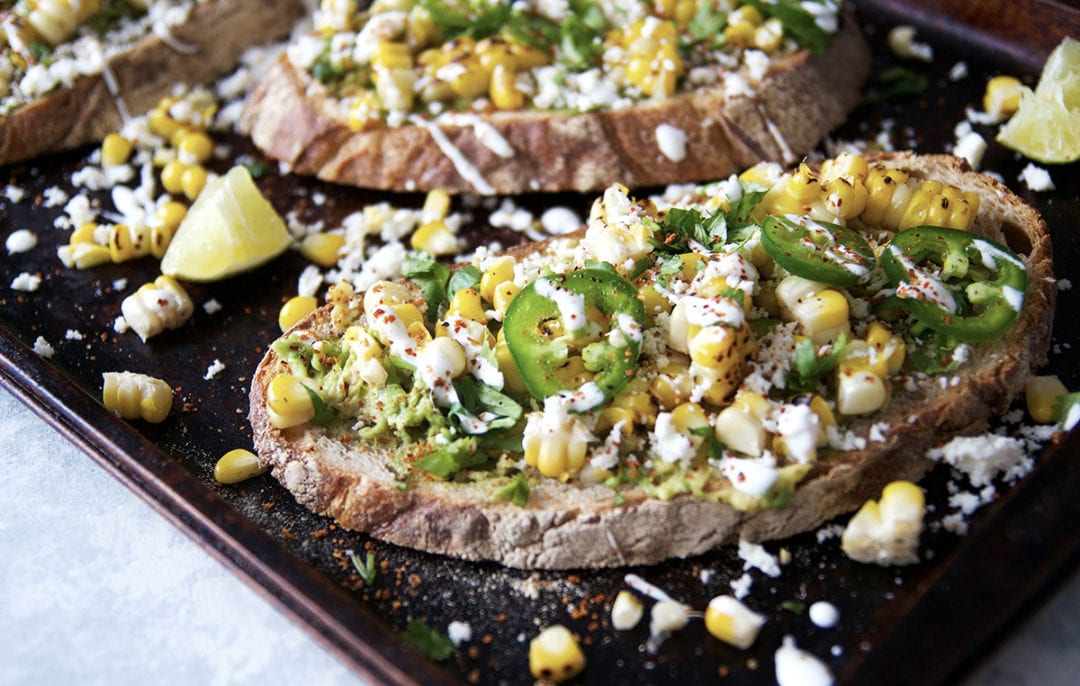 Back in the good old college days, the start of school would coincide with The Sweet Corn Festival. You would walk around with giant ears of sweet corn, dripping in butter and salt. Each ear of corn would only cost a quarter. It was any broke college students dream come true. We went for lunch and dinner.
In my limited adult-life-fair-going experience, I rarely see stands selling corn on the cob anymore. That was the only thing I was really looking forward to from my summer festival outings. Well, aside from a funnel cake and a giant plate of spiralized fried potato chips. You know the ones!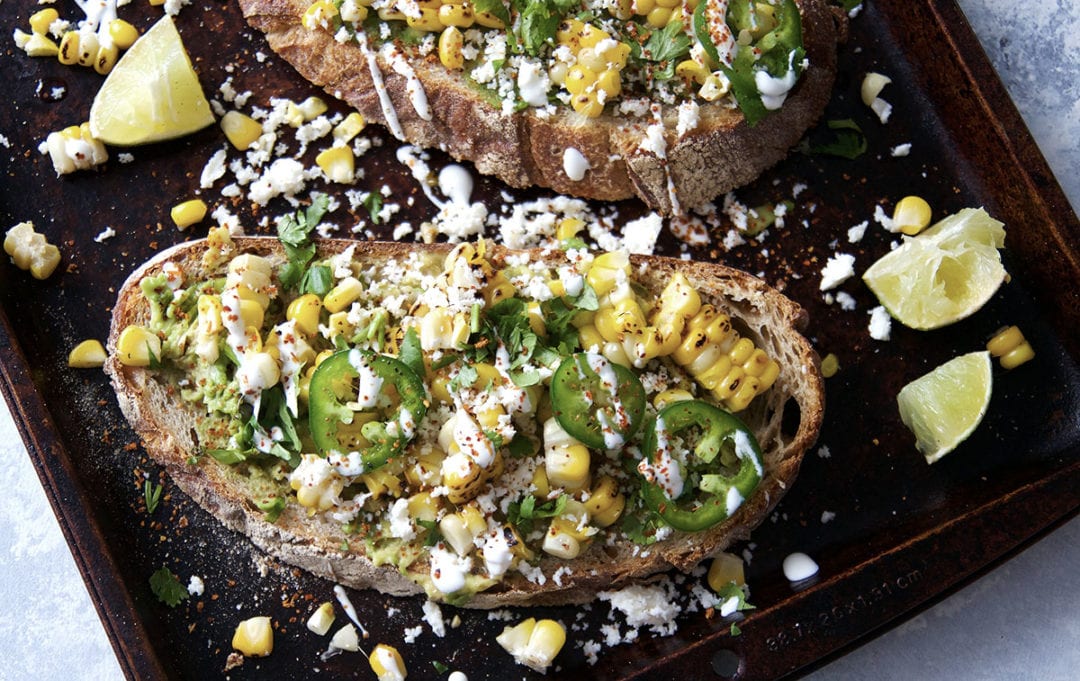 Since I couldn't find festival corn, I just bought my own for at home BBQ'ing. Mike and the kids got sick of corn. I am still going all in until the season is officially over.
Corn on the cob. Corn in salads. Corn in pasta. And then naturally I ended up with corn on toast!
This avocado toast can totally be a meal. Throw an egg on it or maybe some crumbled soyrizo to stick with the whole meatless thang. You really cannot go wrong.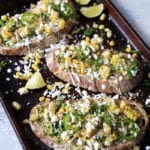 Elote (Mexican Street Corn) Avocado Toast
Crispy toast topped with avocado and all the Mexican Street Corn flavors; lime, tajin, crema, cilantro, and of course charred corn!
Ingredients
1

Large Ear of Steamed Corn on the Cob

2

Avocados

3-4

Slices

of Thick Cut Sourdough Bread

2

Tablespoons

Mexican Crema

sour cream will do too if you can't find crema

4

Tablespoons

Crumbled Queso Fresco

1

Tablespoon

Tajin Seasoning

1

Small Fresh Jalapeno

sliced

Fresh Cilantro

Salt and Pepper

Lime Wedges
Instructions
Toast each slice of bread.

either char the corn by placing over an open flame burner for a minute on each side or in the oven, under a high broiler for 3-4 minutes. Once the cob is cool enough, stand the cob upright and then cut down the side to slice off all the kernels.

Add about 1/2 of an avocado to each slice of bread. Use a fork to smash it into the bread and slightly spread it all over.

top with charred corn, a few jalapeno slices, queso fresco crumbles, fresh cilantro, and a good sprinkle of Tajin, salt, and pepper.

Use a fork/spoon to drizzle the crema back and forth over each slice. Finish off with a squeeze of fresh lime juice.

Enjoy! Best eaten day of.