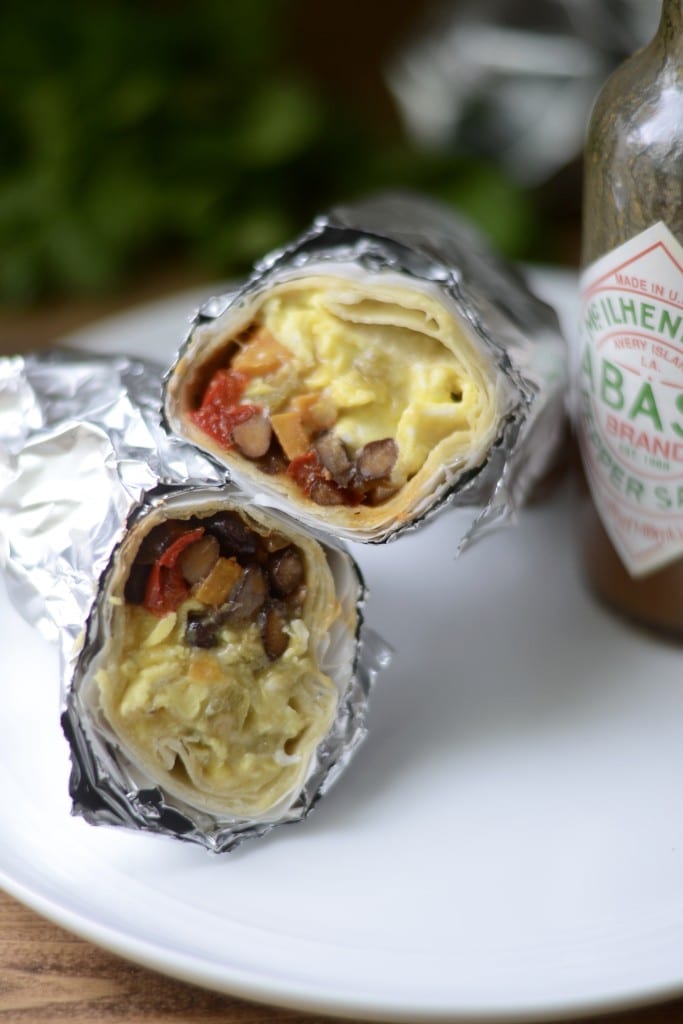 Soooo, yeah, remember that time when I said I was never going to make anything for Mike's school ever again because he said I went too overboard? I wrote about it back in this post. I made a ton of cookies for a charity bake sale. The reason Mike didn't want to me to do anything anymore was because somehow he always gets dragged into it. Then next thing you know, the two of us are up until midnight individually wrapping cookies so they accurately represent the Sarcastic Cooking brand.
Yeah, I guess I can't blame him for not wanting me to cook for his school.
But, he ate his words when he came crawling back to ye olde Sarcastic Cook and asked me to make a breakfast for the teachers. Ah ha! This round goes to me, Mike! I whipped up about two dozen homemade reheat-able breakfast tacos. I made these for the possible vegetarians in the bunch and a ground turkey sausage version for those carnivores. I didn't think that was too crazy. Maybe the fact that I waited until the night before Mike needed them to make them was crazy. But, that's how I roll!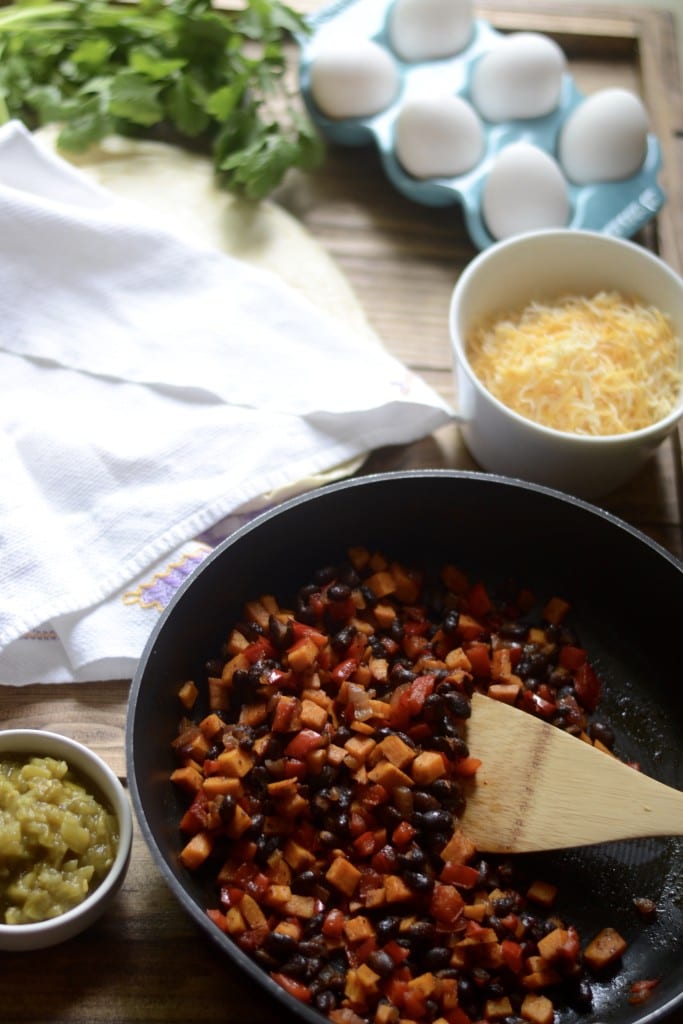 I wasn't surprised when all the tacos went right away. I mean, I'm gunna go ahead and brush the dirt of my shoulders on this one here. I knew I made a good breakfast.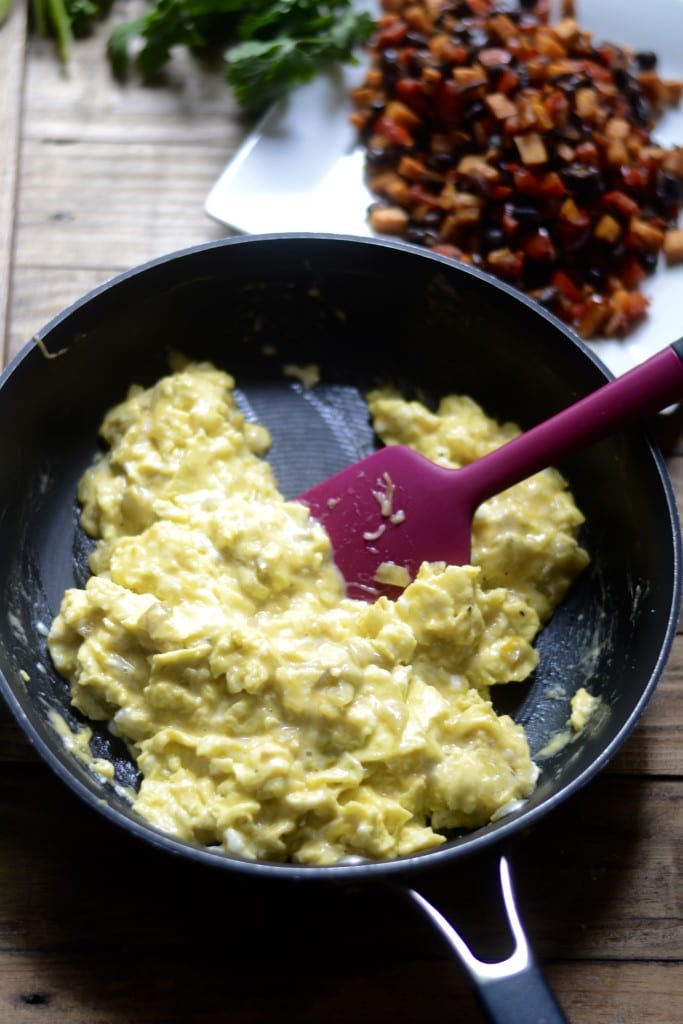 However, I was a little surprised when some male teachers asked Mike for the recipe. In my experience, not a lot of men I know cook, let alone follow or even reference a recipe. I guess when you think about it though, it makes sense. This recipe is easy and makes for a quick breakfast on the go. What isn't to like?
So, ask and you shall receive, my people!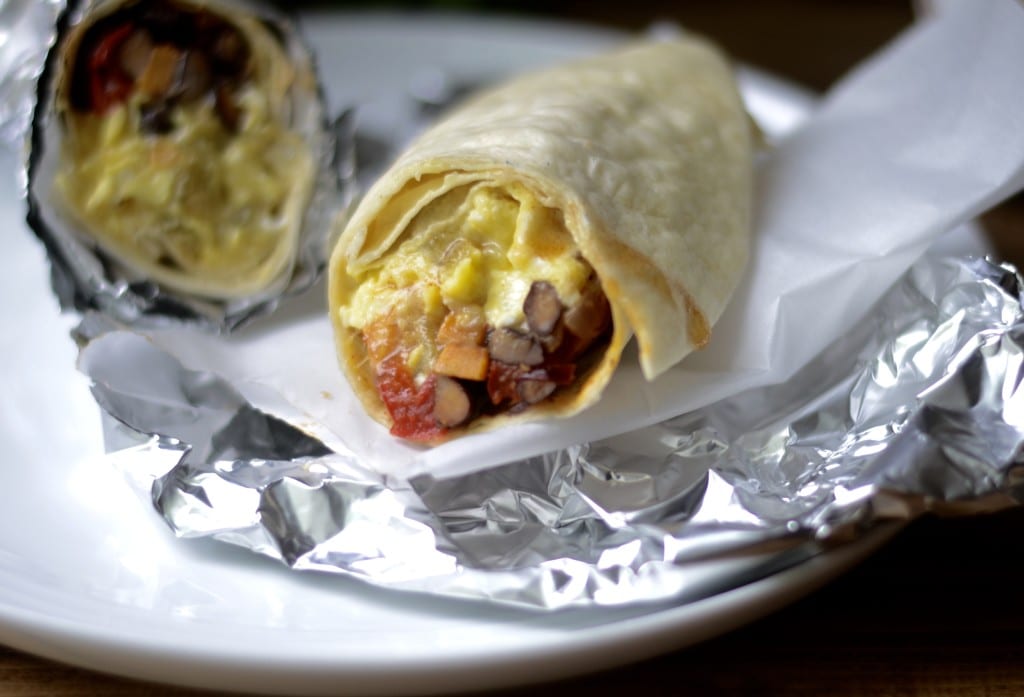 I have to say that the secret to the success of this taco is having a soft scramble filled with a ton of cheese. Do not cook the eggs all the way through. Leave them a little runny so they will firm up when you reheat them, but NOT dry out! Nothing worse than super firm, crumbly eggs. Cough. McDonald's, cough! The second secret to the success of these guys is wrapping them in parchment paper. Clearly, you cannot microwave in foil. The parchment acts to seal in the steam and allow the tortilla to stay perfectly pliable and not get dry and crusty.
Trust me, I know what Imma doing with these tacos. After all, I am a constant professional.
Wink, wink.
Southwest Sweet Potato Freezer Tacos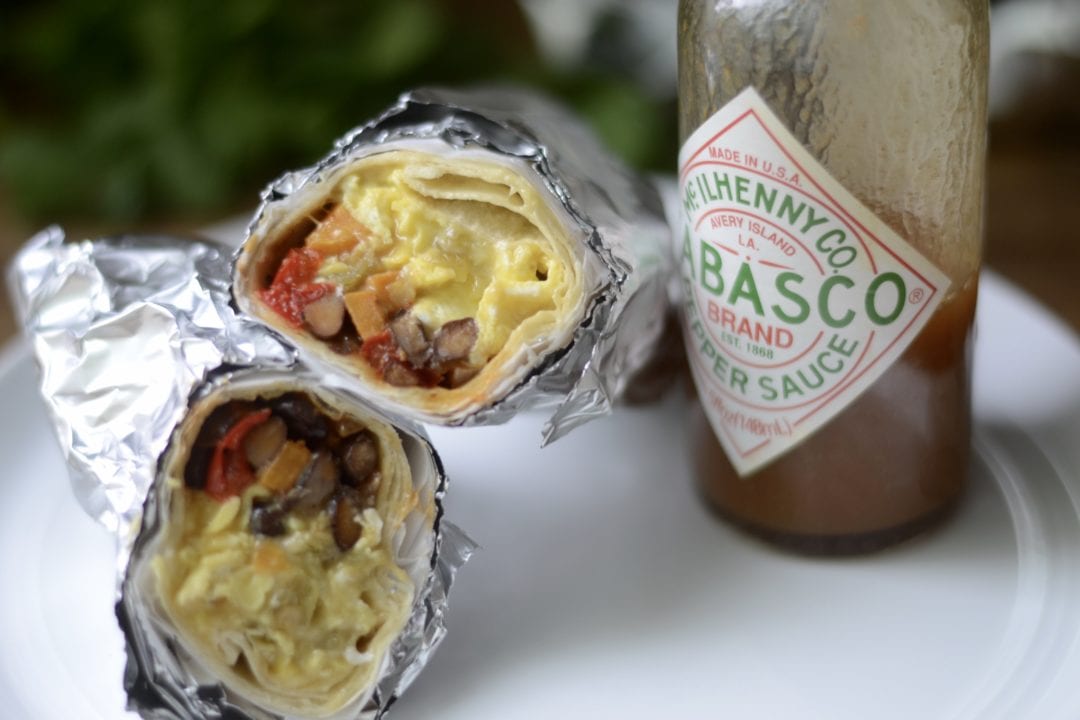 Super healthy and spicy make ahead freezer tacos that are guaranteed not to dry out!
Yields: 12 Tacos
For the Sweet Potato Filling:
1 Tablespoon Extra Virgin Olive Oil
1 Sweet Potato, peeled and diced
1 Red Bell Pepper, seeded, stemmed, and diced
1/3 Cup Diced Red Onion
1 Teaspoon Chili Seasoning or Taco Seasoning
Salt and Pepper to taste
1/2 Cup Canned Black Beans, rinsed and drained
For the Eggs:
1 Tablespoon Unsalted Butter
12 Large Eggs
Salt and Pepper
1, 4 Ounce Can Green Chiles, drained
1 1/2 Cup Shredded Mexican Cheese Blend
For the Tacos:
Parchment Paper
Aluminum Foil
12 Flour Tortillas
Add olive oil to a medium/large skillet. Heat for a minute over a medium flame. Add the sweet potatoes and red pepper to the oil. Cover with lid and cook for 10-15 minutes, stirring occasionally.
Once the sweet potatoes are fork tender, add in the onions and seasonings. Cook the veggie mix for another five minutes, until the onions are translucent.
Add the beans in and mix to combine. Cook for another 2-3 minutes until beans are warmed through. Remove from heat and set off to the side for later.
In a large mixing bowl, whisk together the eggs, salt, and pepper.
Melt the butter in a medium skillet over medium/low heat. Once melted, add in the eggs and green chiles. Mix together. Gently scrape the edges of the eggs into the center as they begin to cook. Once the eggs are a soft scramble, add in all the cheese. Remove from heat and stir the eggs and cheese together. They will look soft and a bit runny. That is ok because you want them not to end up too dry after freezing and reheating them.
Dampen a few paper towels. Wrap your tortillas in the paper towels and microwave for 60 seconds, just enough to make them pliable.
Keep the tortillas wrapped in the damp paper towel while you assemble and wrap all the tacos.
Cut parchment paper into squares about the size of tortillas. Do the same with pieces of foil.
Take one piece of parchment. Place a tortilla on the center of it. Place a spoonful of egg mixture and a spoonful on the sweet potato mixture in a line about 1 inch away from the edge of the tortilla that is closest to you. Fold the edge closest to you over the filling, squeeze tight. Now, fold both sides into the middle by about an inch. Then roll the filled and folded tortilla away from you until it meets the other edge. Wrap the taco in parchment and then foil the same way you did the tortilla. Continue your little assemble line until all tacos are made.
Freeze or refrigerate and eat as needed. REMOVE FOIL BEFORE MICROWAVING! Keep the tacos wrapped in the parchment though. That helps to keep the tortilla from drying out. If refrigerating, reheat in the microwave for 45 seconds. If frozen, reheat in the microwave for 2 - 2 minutes and 30 seconds.
Preparation time:

20 minutes

Cook time:

25 minutes

Total time:

45 minutes