Copycat HopCat Cosmik aka Crack fries are beer battered French fries and are glorious and oh so very addictive. The extra crunch and flavor is worth the effort of battering and frying.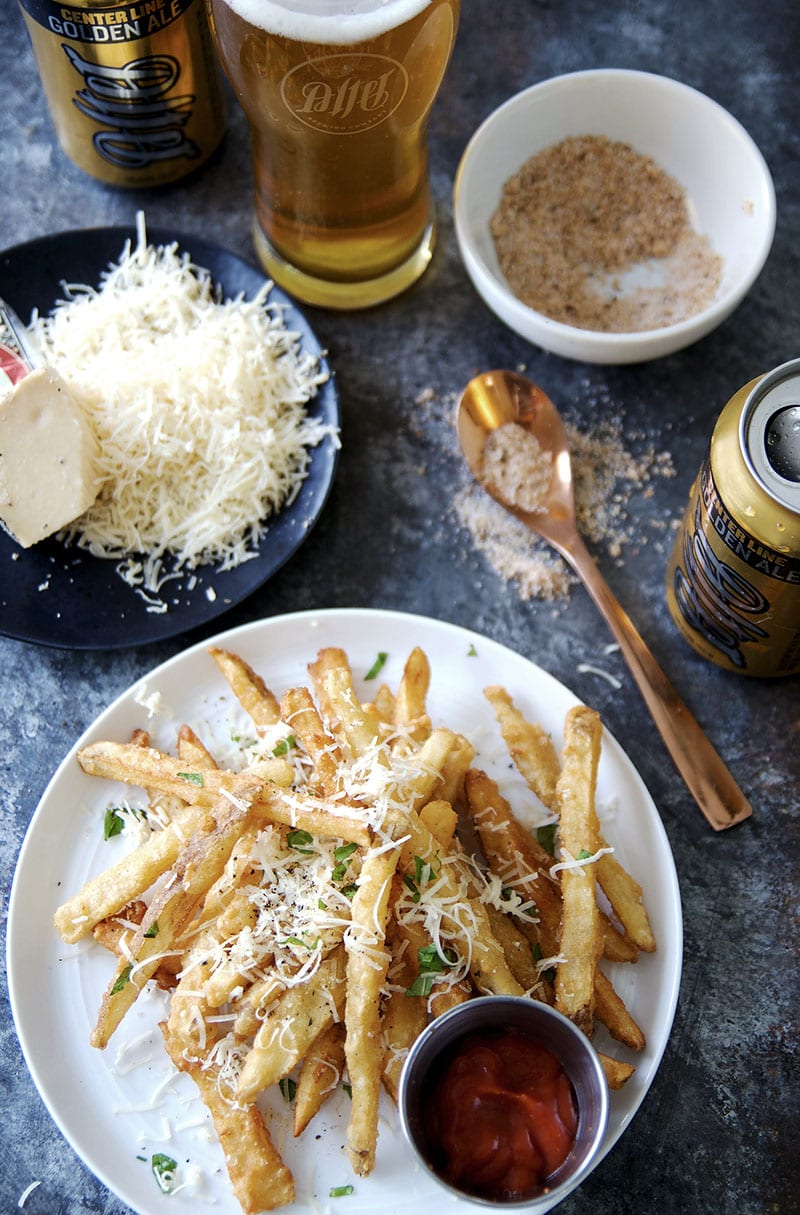 A riff off of HopCat's Crack or now Cosmik Fries, these beer battered French fries are seriously as addictive as crack. So to speak. I dare you to just have one!
I guess you could say I have become a semi-beer connoisseur over the last year. I would, without a doubt, say I have always been a cheese connoisseur. Um, like duh, I have stated my love of cheese in my About Me page.
So, this recipe seems kind of fitting, right?
The missing potato link in the cheese + beer equation belongs to my little baby boy, Jack. HE is the ultimate fry connoisseur.
Lemme tell you about what fries are good in his book.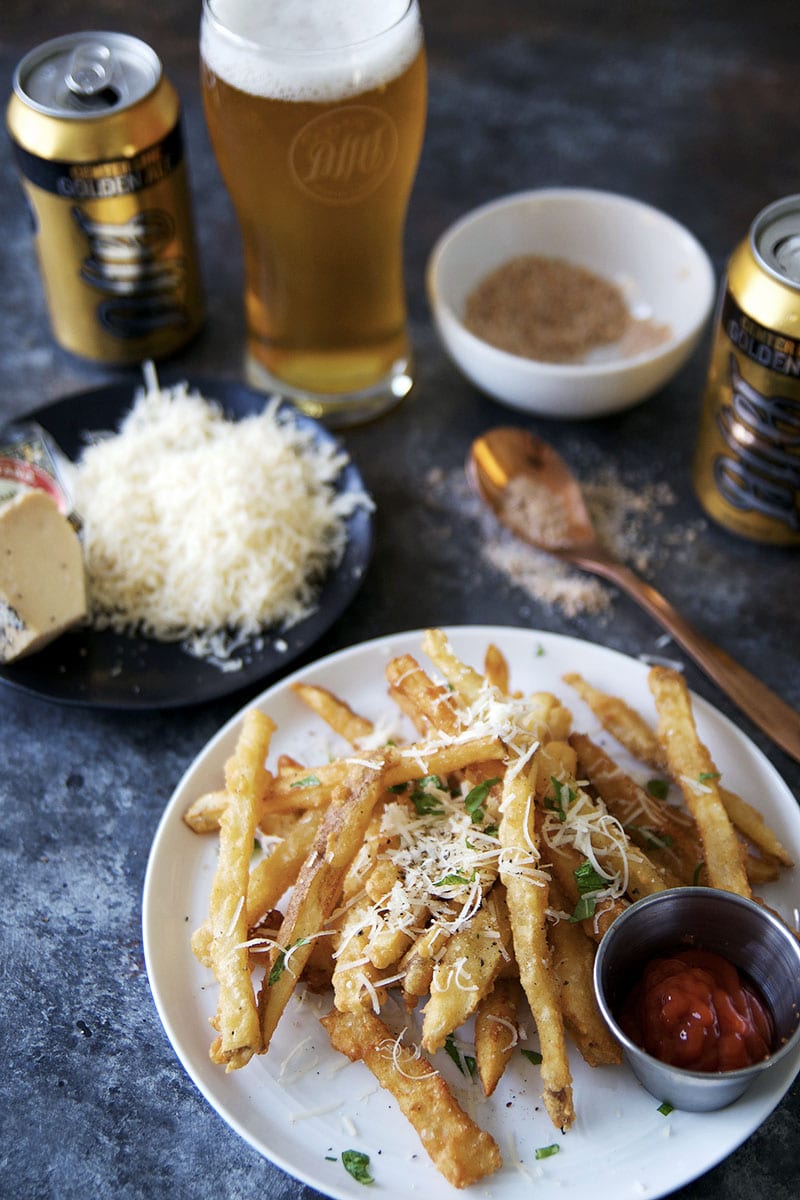 He loves:
McDonald's
Wendy's
Give or take a few local places…
The list is short. It is not very uniform. He likes peeled French fries and rustic, skin-on fries. The main things he cares about are crunch and salt. Yes, I am raising a totally health-conscious child.
He eats fruit and chick peas to offset the fry and nugget diet he has been living off of for almost a year now.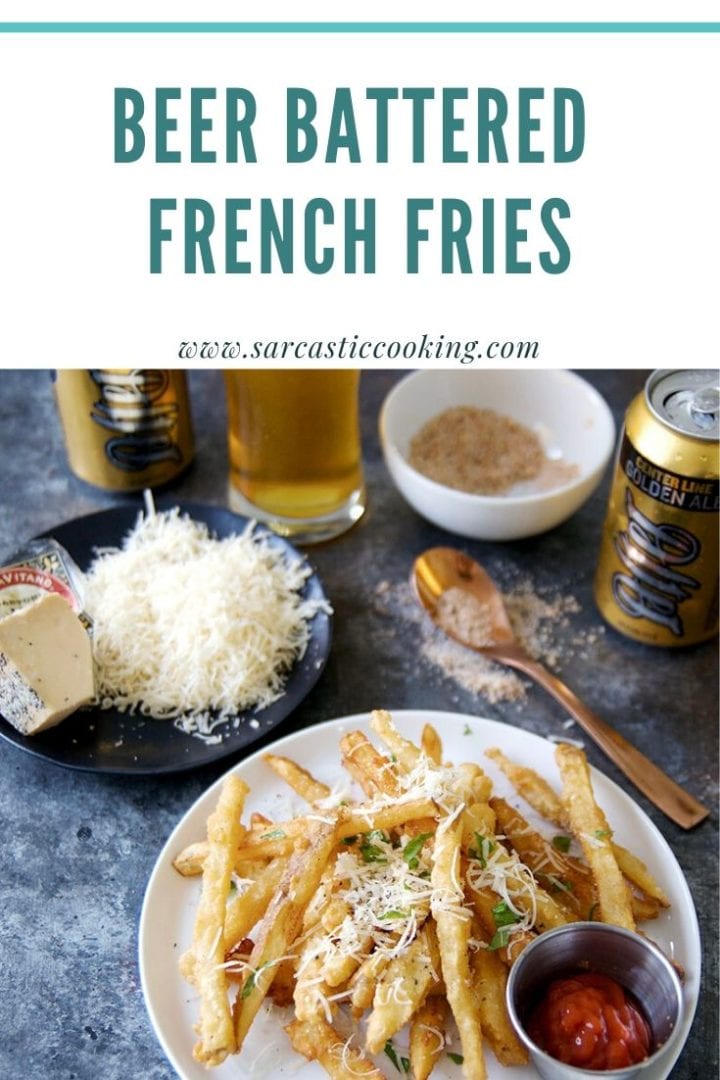 I mean, honestly. With Andy I gave him all fruits and veggies and different meats for a year and a half. He still became a picky eater by the age of two. So, when Jack came around, I thought, Well, I am not gunna stress when he starts to get picky, because it is an inevitable part of toddlerhood…."
And now.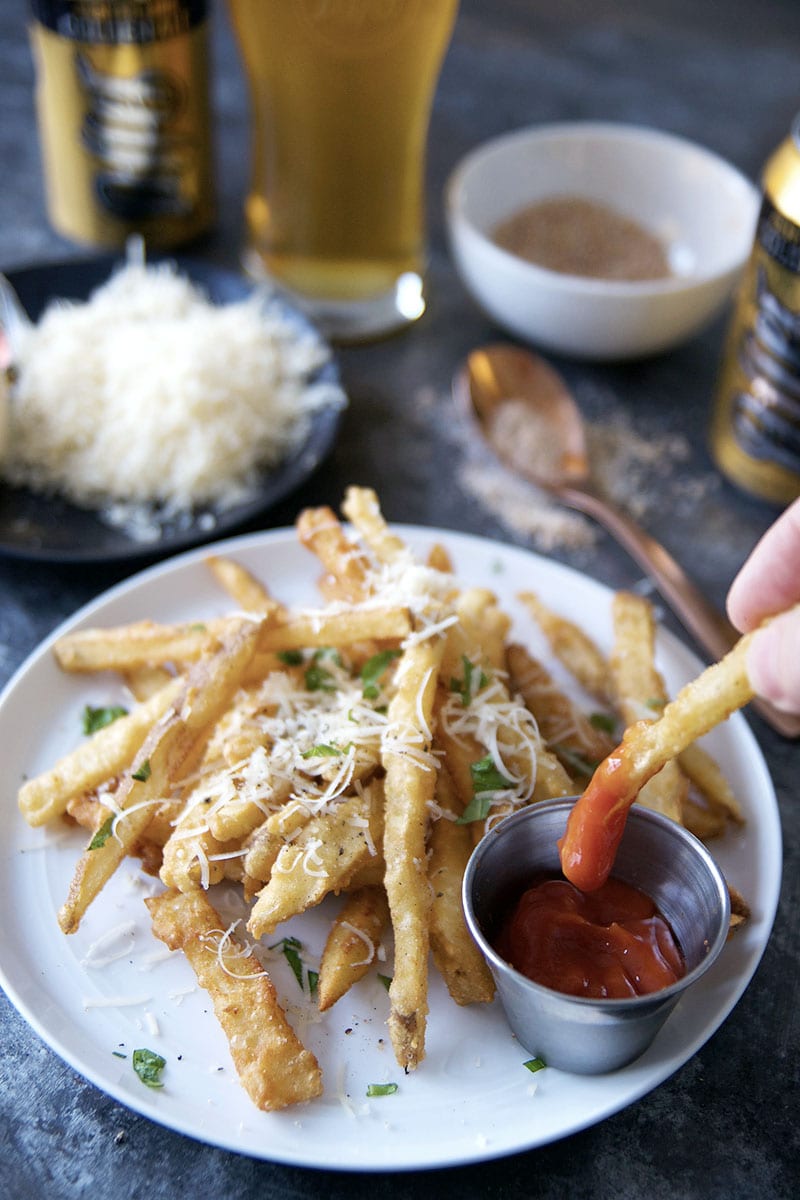 My kid eats only chicken nuggets (not tenders) and certain French fries.
Mike and I loooove a good almost tempura-style beer-battered fry. Jack, our tiny little Anthony Bourdain, freaks out and will literally (literally) pick them up and drop them on the floor out of spite if it is not a smooth, straight cut French fry. On one hand it is easy, because he likes what he likes.
On the other hand…..
CAN YOU JUST EAT A GRILLED CHEESE, PEANUT BUTTER AND JELLY, OR ANY SANDWICH OF ANY KIND????
Please?
ugh.
Whatever.
It is what it is.
I guess no parent ever complained about having more French fries for themselves so I should just shut up and eat my leftover fries.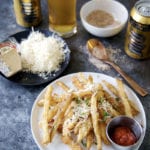 Beer Battered French Fries aka Crack Fries
These are seriously addictive beer battered fries topped off with an amazing seasoning mix and a good pile of freshly grated parmesan cheese and fresh basil.
Ingredients
For the batter:
1

Cup

All Purpose Flour

12

Ounces

Alter Brewing Company Center Line Golden Ale or any Pale Ale or Lager

1

Teaspoon

Salt

Pinch

of Sugar

Good Grind of Fresh Black Pepper
For the Fries:
4

Large Russet Potatoes

cut into planks and then fries, leave the skin on

1

Tablespoon

Brown Sugar

1/2

Teaspoon

Smoked Paprika

1

Teaspoon

Salt

1

Teaspoon

Freshly Ground Black Pepper

Peanut Oil/Grape seed Oil/Canola Oil for Frying

1/2

Cup

Freshly Grated Sartori Parmesan Cheese

1

Tablespoon

Finely Chopped fresh Basil
Instructions
Line a large baking sheet with a few paper towels. Place a wire rack on top of the lined baking sheet. Set off to the side for later.

Mix the brown sugar, paprika, salt, and pepper in a small mixing bowl until combined. Set off to the side to season fries once they are done.

Fill a large Dutch oven with about 3 inches on oil. Place a candy thermometer in the oil. Heat the oil to 325 degrees F.

Mix the batter ingredients in a large mixing bowl. Then divide the mixed batter between two large bowls.

Add the cut potatoes to the first bowl of batter. Use your hands to really get in there and coat each fry. I like to sort of scrape down each fry before I drop it into the oil.

once the oil has reached temperature, add about 10 fries at a time to the oil. Make sure they drop in and don't stick together. Then drop a few more fries into the oil. Let them fry for 4-6 minutes. fry until lightly golden, yet still limp. Take them out and place them on the wire rack to drain. Work in batches until all fries are fried. Be sure to maintain the temperature of 325 degrees F the entire frying time.

Increase the heat under the oil. Heat the oil until it is 375 degrees F.

Drop the fries a few at a time into the second bowl of better. Scrape down using your fingers to remove excess and then drop in to the hot oil. Makee sure the fries don't stick together. Fry for the second time for only 1-2 minutes until a deeper golden color. Work in small batches, maintaining the 375 temperature until all the fries are fried again. Place on the lined wire rack when done.

When the fries are still hot, season with a heaping spoonful of the prepared seasoning mixture of brown sugar, salt, paprika, and pepper mix. Make sure to season as the batches are coming out of the oil and the fries are still hot.

Add to serving platter and top with cheese and basil and maybe another dash of freshly ground black pepper.

Fries are best the day of but will still be good reheated under the low broiler the next day.