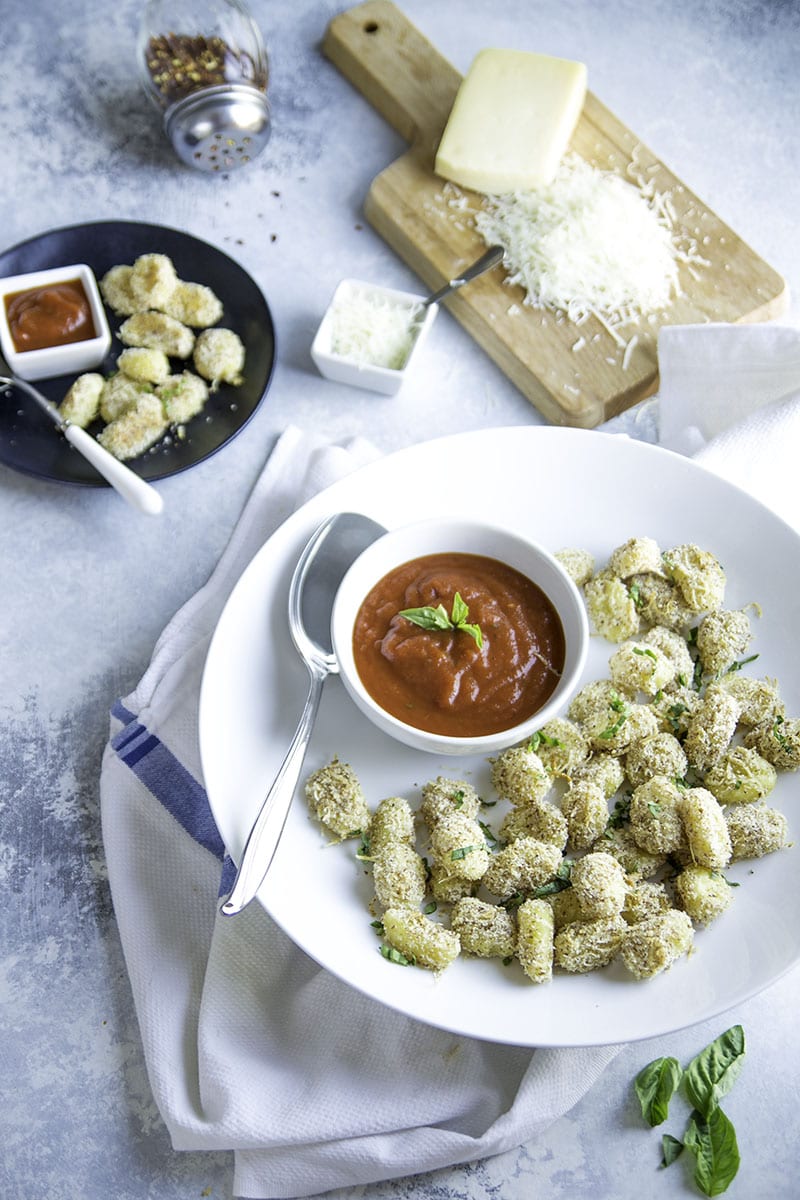 I love foods that bring me back. Back to a different place and time. Foods that drum up memories of simpler times. Don't you? I mean, isn't that what food is supposed to do?
Cue the sappy serenade.
Now, I had never eaten these toasted gnocchi until just recently, so memories I speak of are not of this food.
You guys are familiar with toasted ravioli, right?
That breaded and baked/fried ravioli that you dunk in marinara. That's what I am talking about.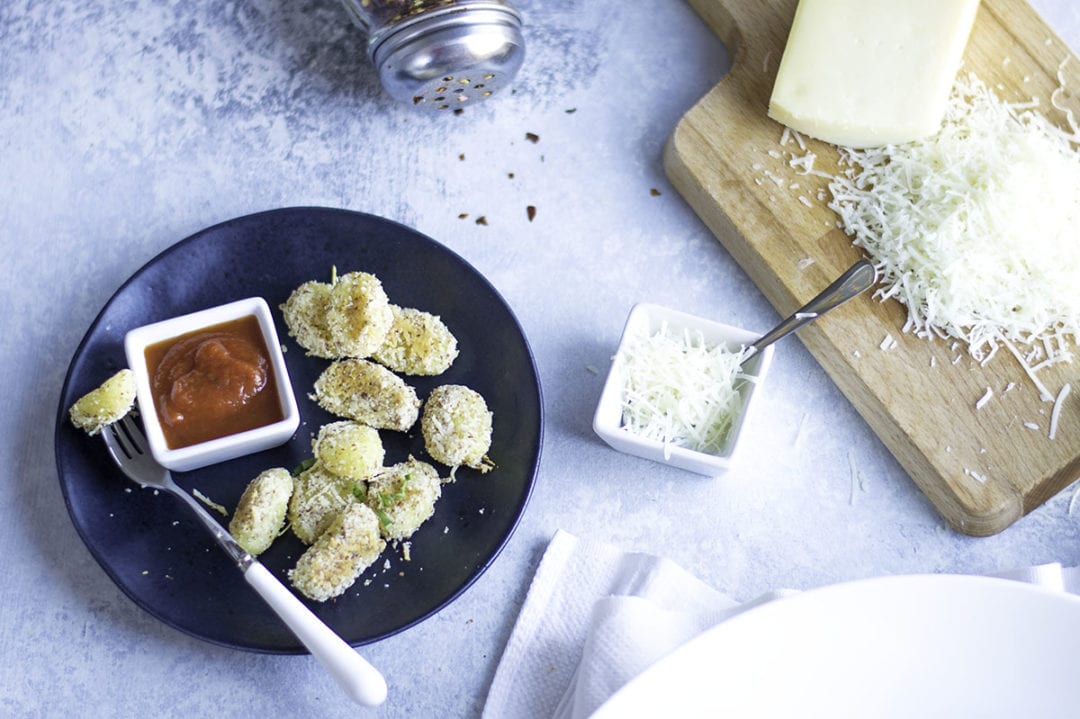 The first time I ate toasted ravioli was naturally late to the whole toasted ravioli trend. Story of my life. We were fresh(ish) out of college. Friends were starting to get married. We were at the point in life where it was at least two weddings a summer.
In our group of friends, this was maybe the second or third wedding that got us all back together after college.
Our group was all headed down to southern Illinois for a weekend of shenanigans. I think we made it a two night stint. The first day we explored St Louis and ate a large variety of fried foods, including some "cracklins," or pork rinds. First time for that too!
The second night was our dear friend's wedding.
The moment we walked into the reception there was a super friendly fellow to greet us with a platter of toasted ravioli. Big, cheese filled ravioli hand breaded in seasoned breadcrumbs served with marinara. This server really sold the heck out of these babies.
He bantered with all of us and we wiped out his entire tray. We loved this gentleman so much that we would only get toasted ravioli from him.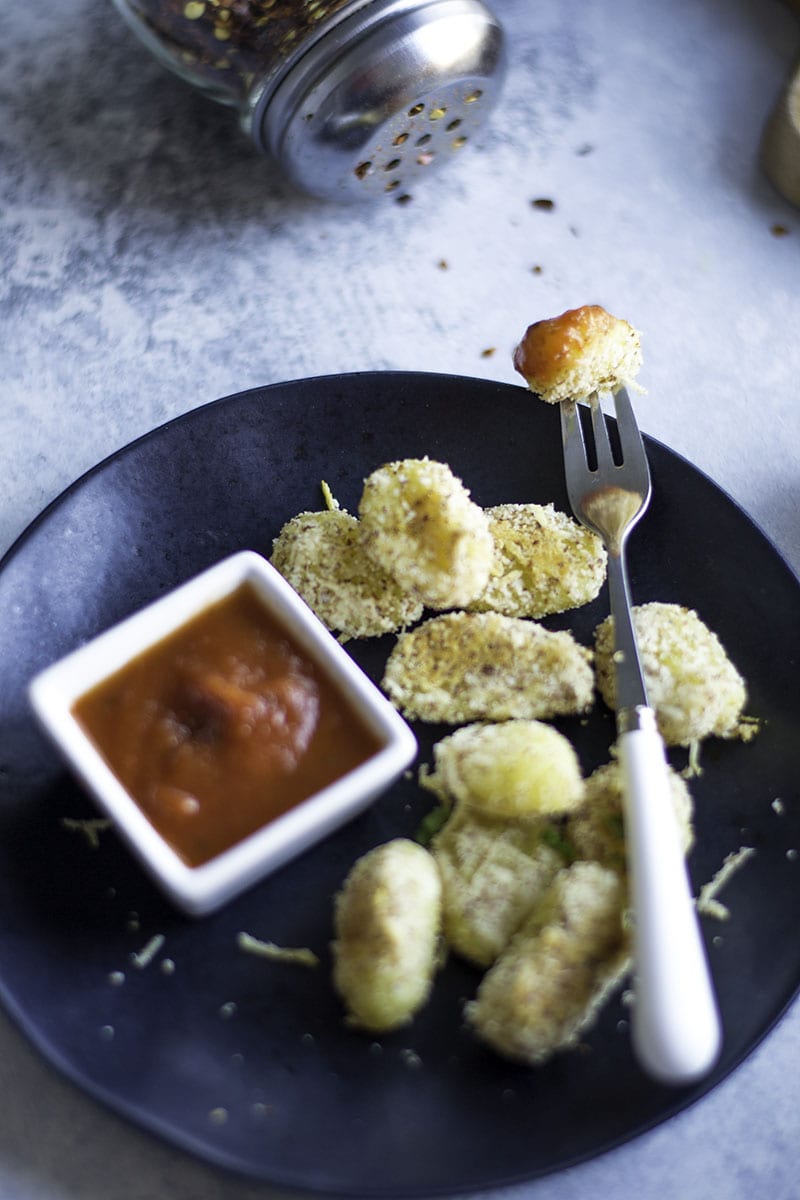 The wedding was so fun. Pre-kids, pre-thirties, pre-four-day-hangovers.
That was the first time I have ever eaten toasted ravioli. Lately, I had been feeling a little nostalgic about that old appetizer. You don't really see it around a lot. I think it became a frozen then fried food staple. Nothing ever compared with that first handmade version.
At least I tell myself it was handmade.
I didn't want all the cheese in ravioli so I decided to try it with a little gluten free gnocchi coated in butter, almond meal, and parmesan cheese. It worked so well! Andy even ate a few, to my surprise.
You can even switch up the cheeses or use a flavored gnocchi or use a fresh pesto to dip the gnocchi. This recipe is just laying the foundation for an easy appetizer.
It's not toasted ravioli, true. We are all older and wiser and can't be eating that much cheese or deep fried stuff anymore anyway, right?
Related posts: