Asparagus, bacon, blue cheese, and shrimp salad combines all my favorite seasonal things into one bowl. You don't even need a labor intensive dressing for this salad. Add in more or less ingredients to customize it to your likes. Asparagus, bacon, blue cheese, and shrimp salad is versatile and very filling!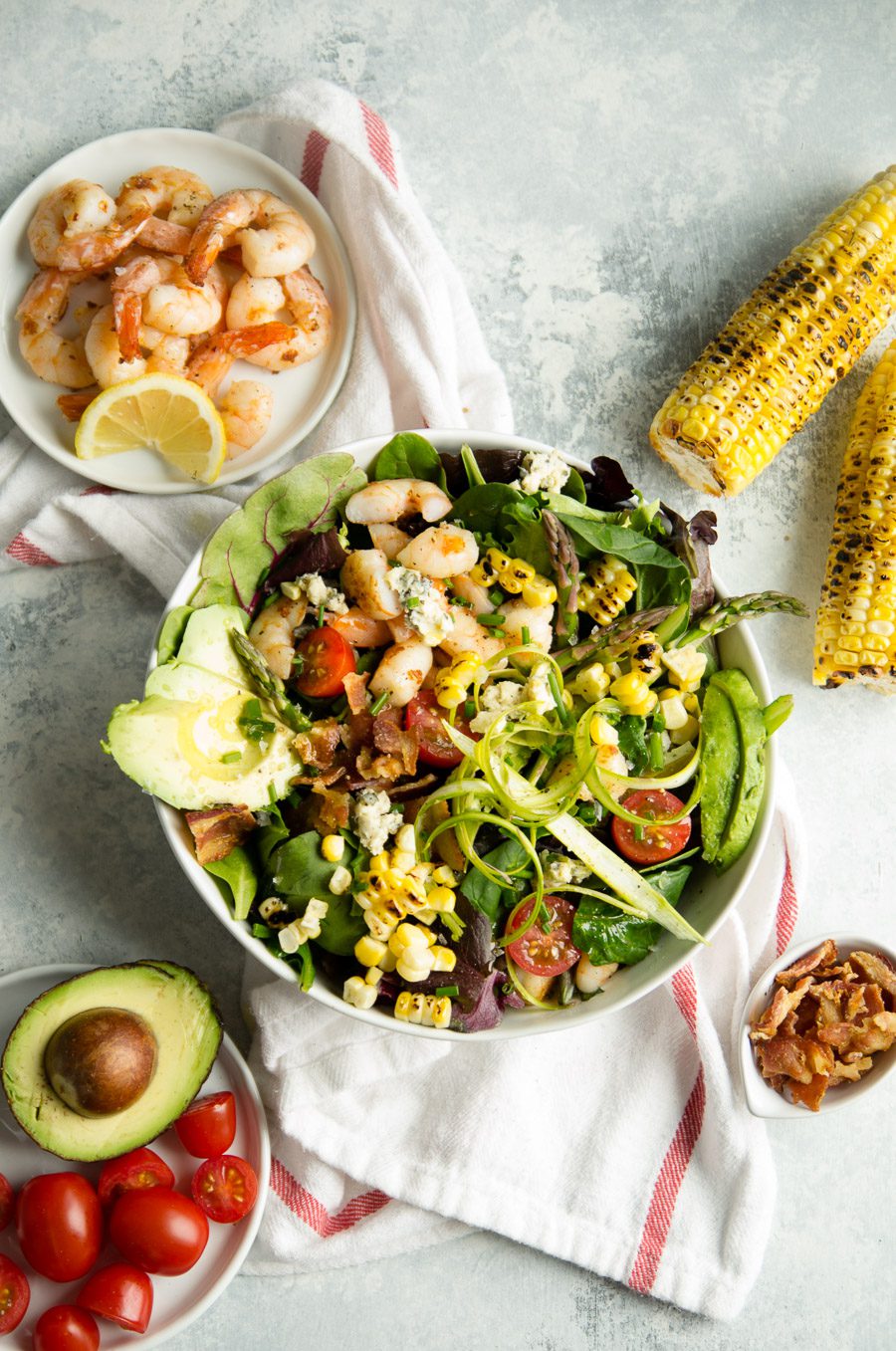 I don't know if you are up on cool food blogger cookbook releases, but I have been fan-girling hardcore over my girl Jessica from How Sweet Eats' book The Pretty Dish cookbook. I am sure you have been seeing it posted all over my Instagram. This book is seriously #goals.
I have already made a roasted asparagus, two different pasta dishes, birthday cake waffles, and ricotta scrambled eggs from the book.
All were to die for and also so approachable. I had Andy helping me make waffles and the ricotta scrambled eggs. If Andy can make this stuff, so can you.
Regardless, while I was dog-earring every recipe I wanted to make, I stumbled across the recipe for this everything-that-is-awesome and shrimp salad.
Jessica claims it is her favorite, and that endorsement right there sealed the deal that this would be the first recipe I share with you on the blog.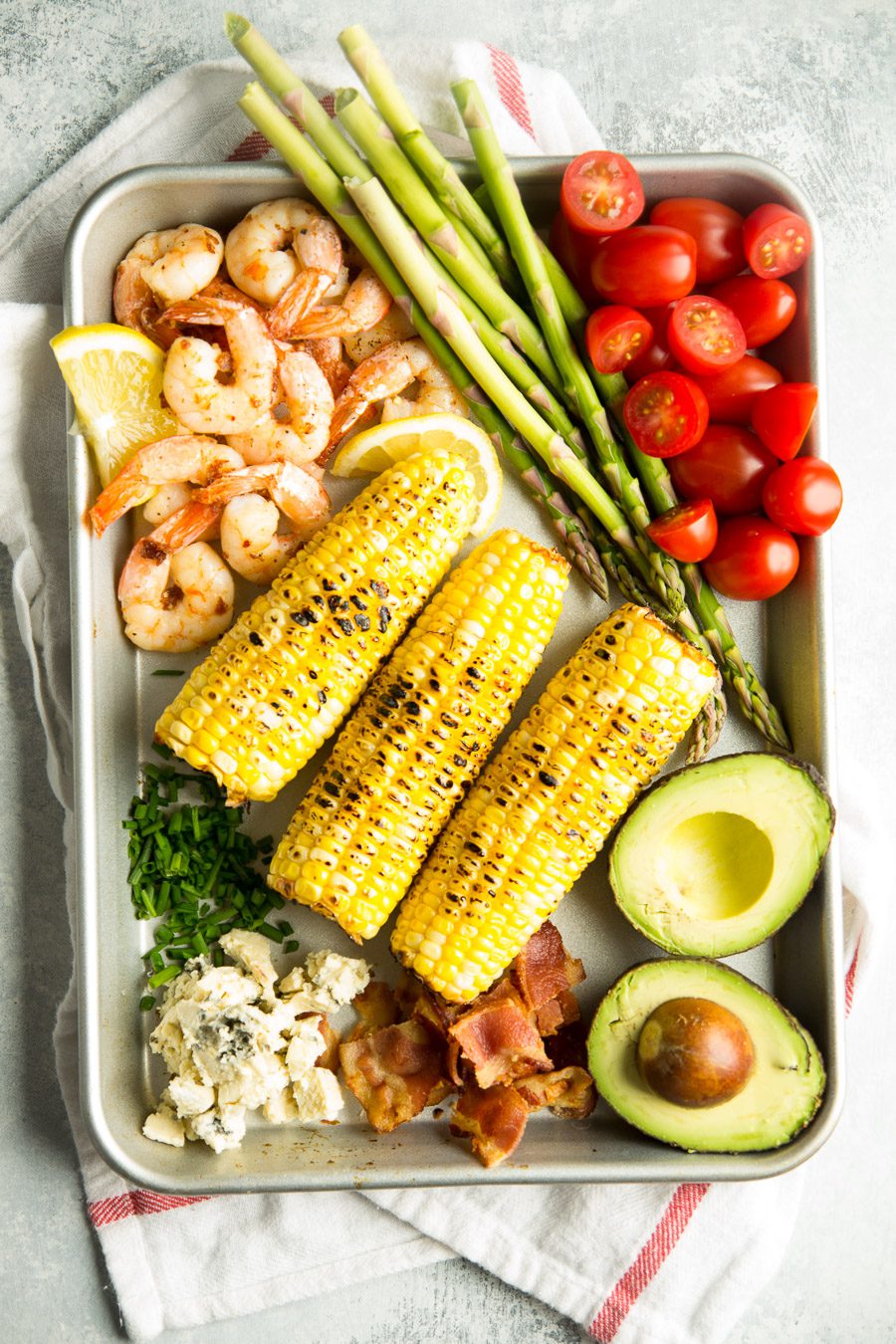 The great thing about this recipe is that it just combines simple ingredients that have a slight twist. Like cooking your shrimp in the bacon fat—GENIUS! And charring that corn up before you add it to the salad—GENIUS SQUARED!
Now here is where my genius comes in: I added in a little bit of raw, shaved asparagus. The bite of the asparagus with the crunch of bacon and the snap of the shrimp is perfection.
Guess what?
There is also no floofy/fancy/complicated dressing. I added a little lemon and olive oil because you know me…and you know I can't leave well enough alone.
Oh gosh, and my Mom brain had a major meltdown while making this recipe.
In the book, it is a CHOPPED salad.
I guess I forgot that and just made a regular old whole salad instead. Either way you cut it (see what I did there?) this salad is phenomenal!
Buy a copy of the book and make all the things and we can be fangirls/guys together!
If you looove this salad as much as I do, try this charred corn and blueberry pasta salad. Trust me.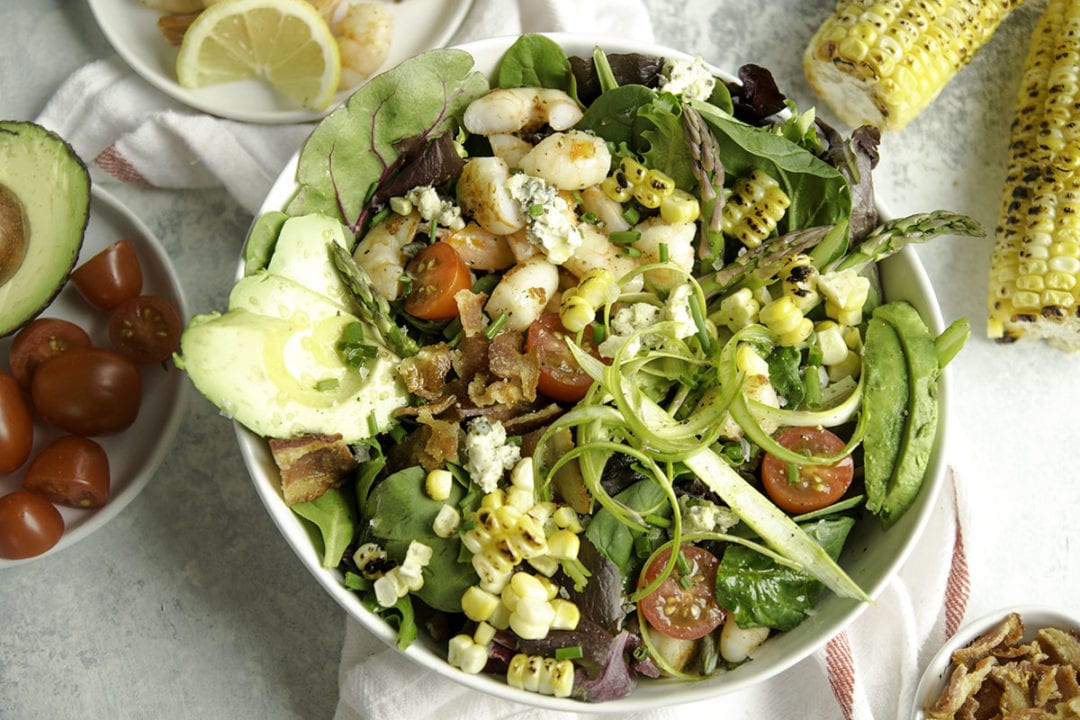 Asparagus, Bacon, Blue Cheese, and Shrimp Salad
Fresh shaved asparagus, crispy bacon, blue cheese, avocado, charred corn, and shrimp cooked in bacon fat all on top of mixed baby greens. There is so much going on all you need is a touch of olive oil and lemon juice to finish it off!
Ingredients
6

slices of bacon

1

lb

raw shrimp

peeled and deveined

4

cloves garlic

peeled and cut in half

12

oz

mixed baby greens

1/2

cup

grilled or roasted and charred corn

4

oz

blue cheese

crumbled

1/2

pint

cherry tomatoes

cut in half

1

avocado

chopped

10

asparagus spears

woody ends trimmed

1

tbsp

lemon juice

1

tbsp

olive oil

salt

freshly ground black pepper

1

tbsp

chopped fresh chives
Instructions
Heat a large skillet over medium heat. Add the bacon to the pan and cook, turning a few times, until crisp and cooked through. Remove bacon from pan and add to a paper towel lined plate. Remove all but 2 tbsp grease from the pan.

once the bacon has cooled, chop into bite sized chunks.

Add the garlic to the grease. Cook for two minutes until it turns slightly golden. Add the shrimp and cook until opaque, about 3 minutes. Remove from pan using a slotted spoon, leaving the garlic behind.

Use a vegetable peeler to peel large shreds off one side of the asparagus stalk. Flip the stalk over and do the same to the other side. Snap the top of the asparagus stem off and add it to the salad toppings.

To assemble the salad, add greens to a large serving bowl or evenly divide between two salad bowls. Top the greens with shrimp, bacon, avocado, charred corn, tomatoes, blue cheese, asparagus, and chives. Sprinkle a little lemon juice, olive oil, salt and pepper over each finished salad right before serving.
Recipe Notes
Salad is great the day of. If you want to make the salad ingredients ahead of time, just store them all separately until you plan to eat/serve the salad. Pop the bacon in the microwave on a paper towel lined plate for a few seconds for great next day results.