Charred tomato bacon pasta has something for everybody. Bacon for people looking for something a little more indulgent. Charred tomatoes for people wanting that serving of vegetables. Combined it is perfection! Charred tomato bacon pasta is a super easy and flavorful dish to make any day of the week for any occasion!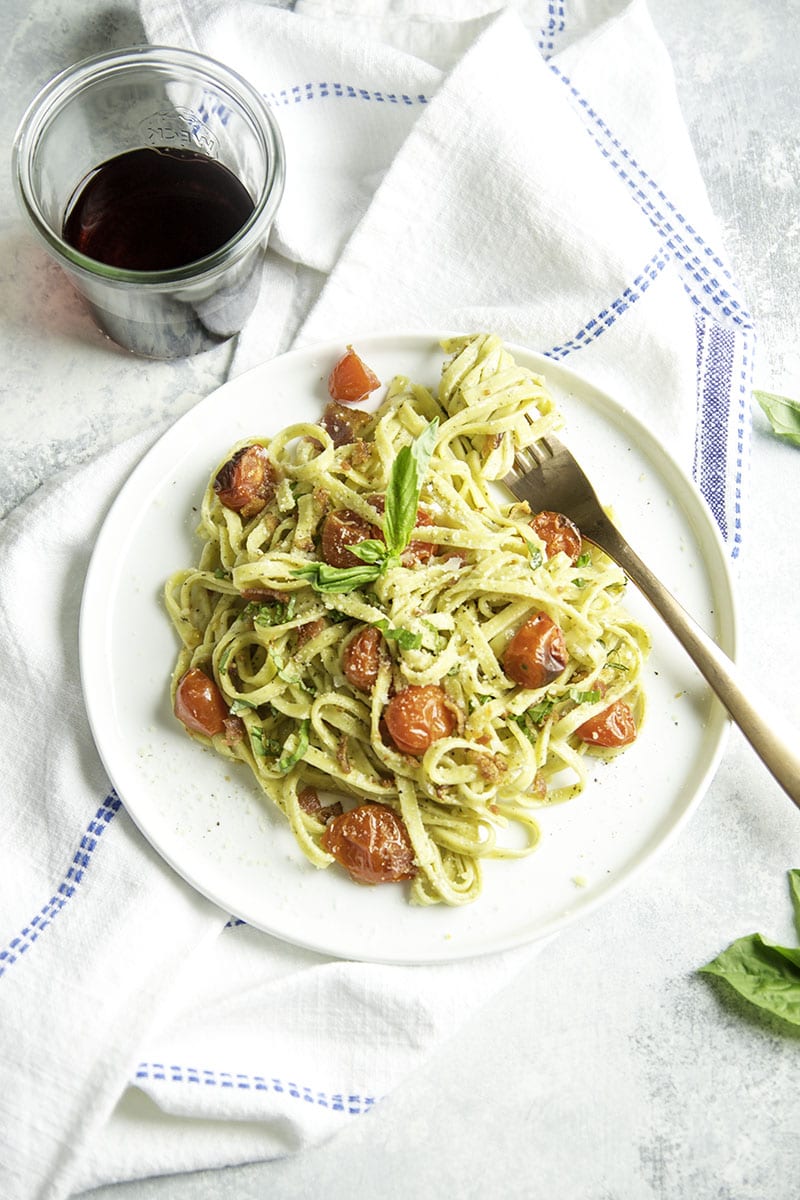 Settle an argument. What's worse, Sunday night or Monday?
I vote team Sunday night always and forever. At least Sunday day has brunch and naps for kids (obviously no naps for me because I am a Mom-bie and require no sleep). You can 100% for sure find Mike and Weezer snuggled up on the couch and asleep at some point though. They know how to Sunday.
Monday you're already in it. You can't stay up later and prolong the inevitable. Monday has come already. Time to get over it and get the kid back to school. Move on. The weekend is over.
Sunday night is basically you just watching your weekend slowly slip away and not being able to do a thing about it.
Ask my Mom. I have alwasy haaaaaated Sunday nights. My Mom and I had many an epic Sunday night meltdown battles in my youth. Most battles included me crying, sneaking into their bed, or faking some sort of illness to try and get out of Monday.
My Mom always told me I was the worst person to put to bed. I would literally be sound asleep while she was reading me a Babysitter's Little Sister novel. She would stop reading and my eyes would pop open. I would then implore her to keep reading. I did that at least 4 more times than normal on Sunday nights.
In my mind, it was like, if I could just stay up a little longer, Monday wouldn't come.
Now I know better. I know I can't fool Monday into not coming. I also know that I have to now deal with little Andy who is the exact same as I was on Sunday nights. I know where he is coming from so I try to reason. It never works.
I like to think he is slightly more reasonable than I was at his age…slightly.
Around dinner time I just start getting super testy. Mike starts thinking I am mad at him or he did/didn't do something. I just tell him this is Sunday night Stefanie. Sorry. She sucks. Just leave me to do my laundry in silence.
After the kids go to sleep, I just chalk it up as a loss. Weekend is over. Go to sleep.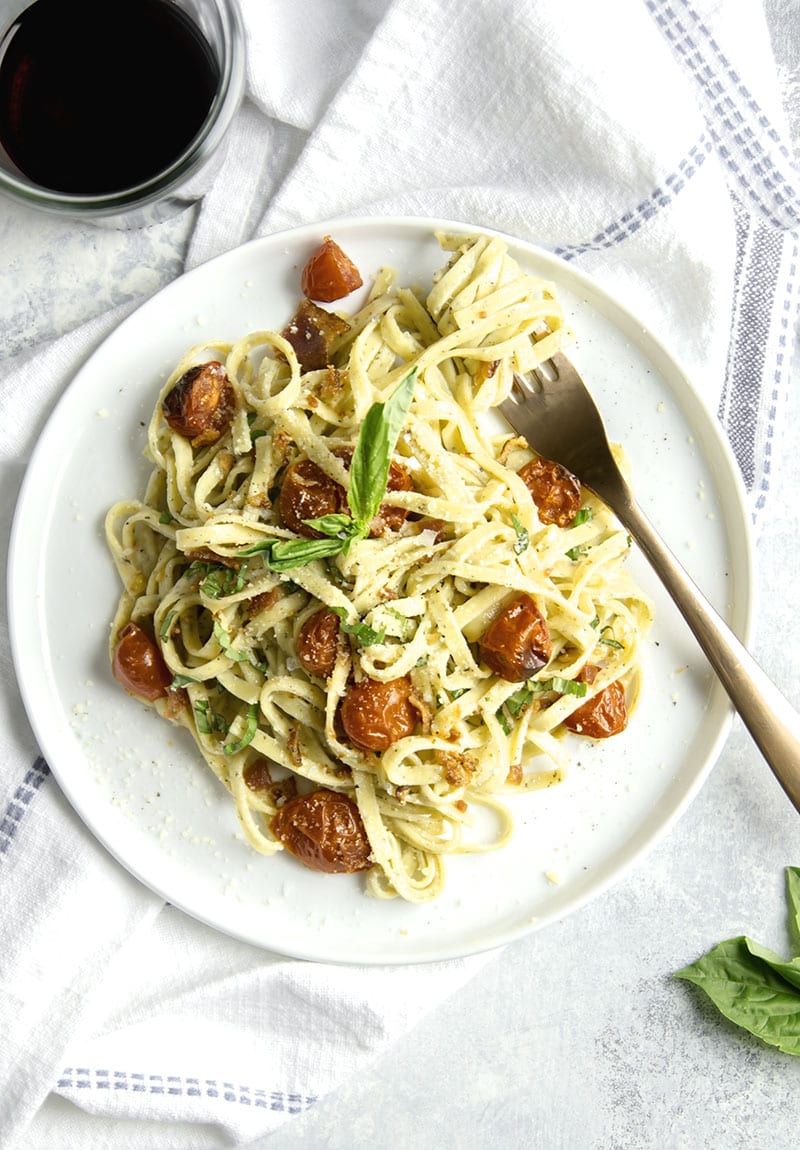 Monday I may wake up sluggish and not enthused about having to do all the things. But the one thing Mondays in our house normally have is pasta! Carbs heal all woes. That is why, when I meal plan, I make sure I have my fave food on Monday.
I could plan it for Sunday, but I take the weekends off from cooking. Leave me alone.
Anyway.
This charred tomato bacon pasta is exactly what you need to reward yourself for a long day of work. It is quick and suuuuper simple yet packs a punch in the flavor dept. It will also make you forget about how i just whined about Sunday nights for 500 words.
Enjoy!
Charred Tomato and Bacon Pasta
Oven roasted broiled tomatoes tossed with bacon grease, crispy bacon, and a little parmesan cheese.
Ingredients
1

pint

cherry tomatoes

halved

2

tbsp

olive oil

1/4

tsp

salt

1/4

tsp

freshly cracked black pepper

1

lb

spaghetti or fettucine noodles

8

slices of bacon

chopped

1/3

cup

finely grated parmesan cheese

plus extra for sprinkling

fresh herbs like parsley or basil

optional
Instructions
Bring a large pot of water to a boil

Place cut tomatoes on a foil lined sheet pan. Drizzle with olive oil. Season with salt and pepper. Place under a high broiler in the oven for 10-15 minutes until charred.

Heavily salt the boiling water. Add pasta to the boiling water. Cook according to the instructions on the packaging.

While the tomatoes roast and the pasta cook, heat a large skillet over medium/high. Add bacon to the hot pan and cook until crispy. Remove with slotted spoon and transfer bacon to a paper towel lined plate.

Leave about 2 tbsp bacon grease in the pan. Add the cooked noodles from the boiling water into the bacon grease pan. Toss to coat. Add parmesan and toss again.

Add bacon and charred tomatoes along with whatever olive oil and juices are on the roasting pan to the noodles. Toss and serve.
This recipe is from #ThePrettyDish. If you like charred tomato bacon pasta try the shrimp chopped salad from the book too!