Anchovy garlic butter roasted chicken has the perfect balance of salt and fat. Anchovy garlic butter is rubbed all over the chicken breasts. It is roasted in the oven with the skin on. When the anchovy garlic butter melts, it allows for perfectly crispy, caramelized skin and moist chicken. The potatoes catch the excess seasoning and cook alongside the chicken.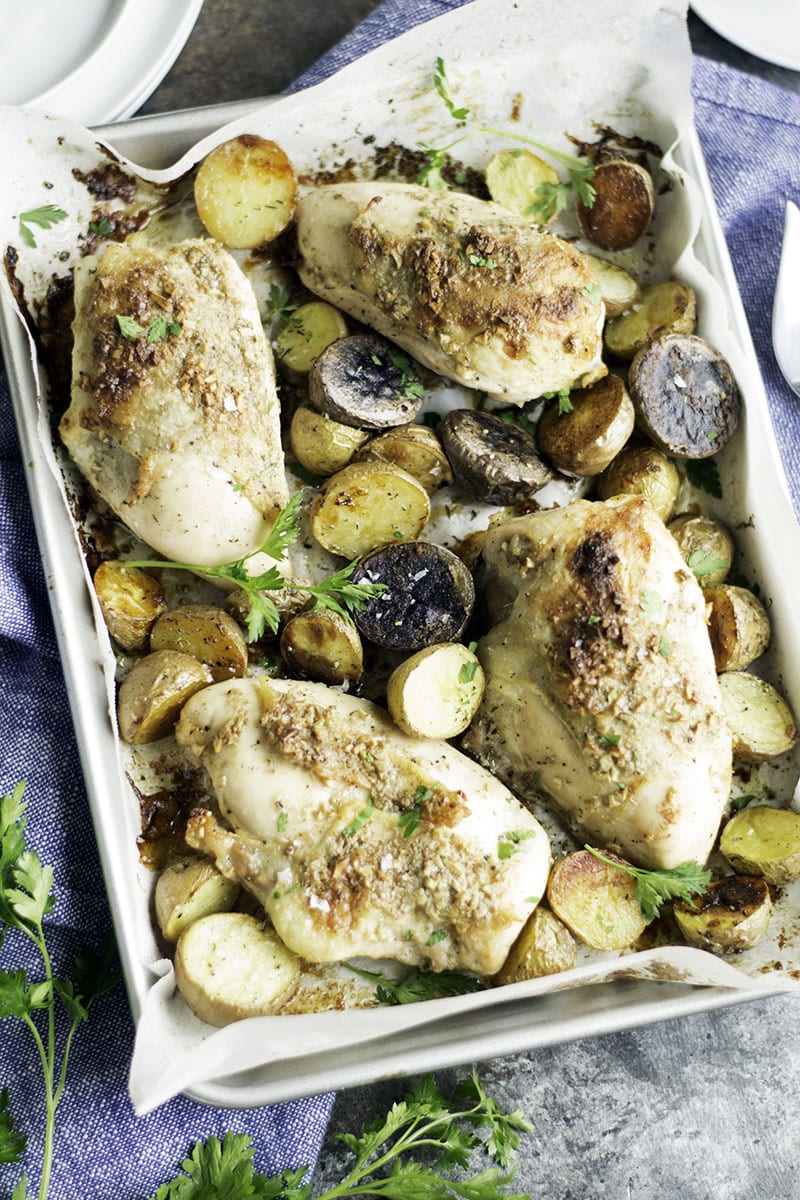 I know what you're thinking. Ewww! Anchovy! But come back to your screen for a second. Remember when I told you how to make the best dang pasta sauce? Well, that had a little bit of anchovy in it!
See?
Nothing scary about anchovies. Blast those Teenage Mutant Ninja Turtles for placing such a stigma around this teensy flavorful fish. I mean, what's so great about pepperoni anyway? (My husband just died a little on the inside after reading that). Not that I would order anchovies on my pizza. We aren't that in love with anchovies.
Yet.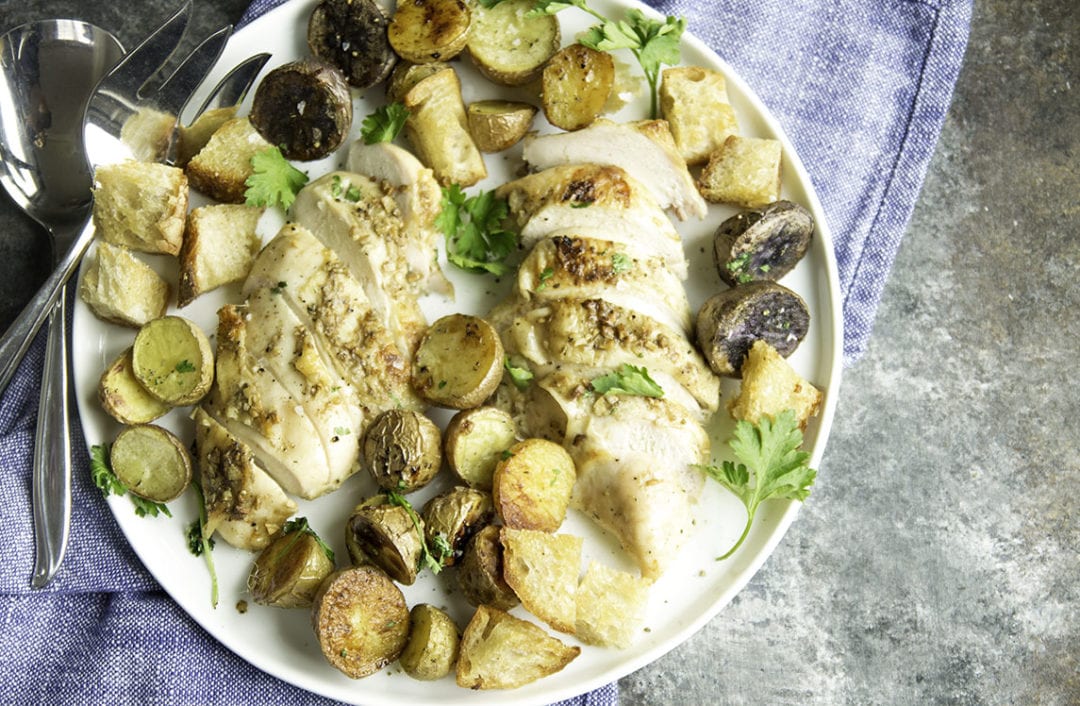 When I bought Alison Roman's book, Dining In, I was so jazzed that she was a fellow anchovy lover. Enter the anchovy garlic butter recipe. It's just enough anchovy to make you pause but not too much where you are like, holy fishcakes! In the book she uses it on a whole roasted chicken. But I didn't have time to fuss with all the bones.
I threw on some baby potatoes to cook in the butter run off. Best idea ever!
I know you all love your sheet pan suppers. So here, is another one to add to your weeknight meal plan. I mean if you are already turning on the oven, you might as well make a complete meal.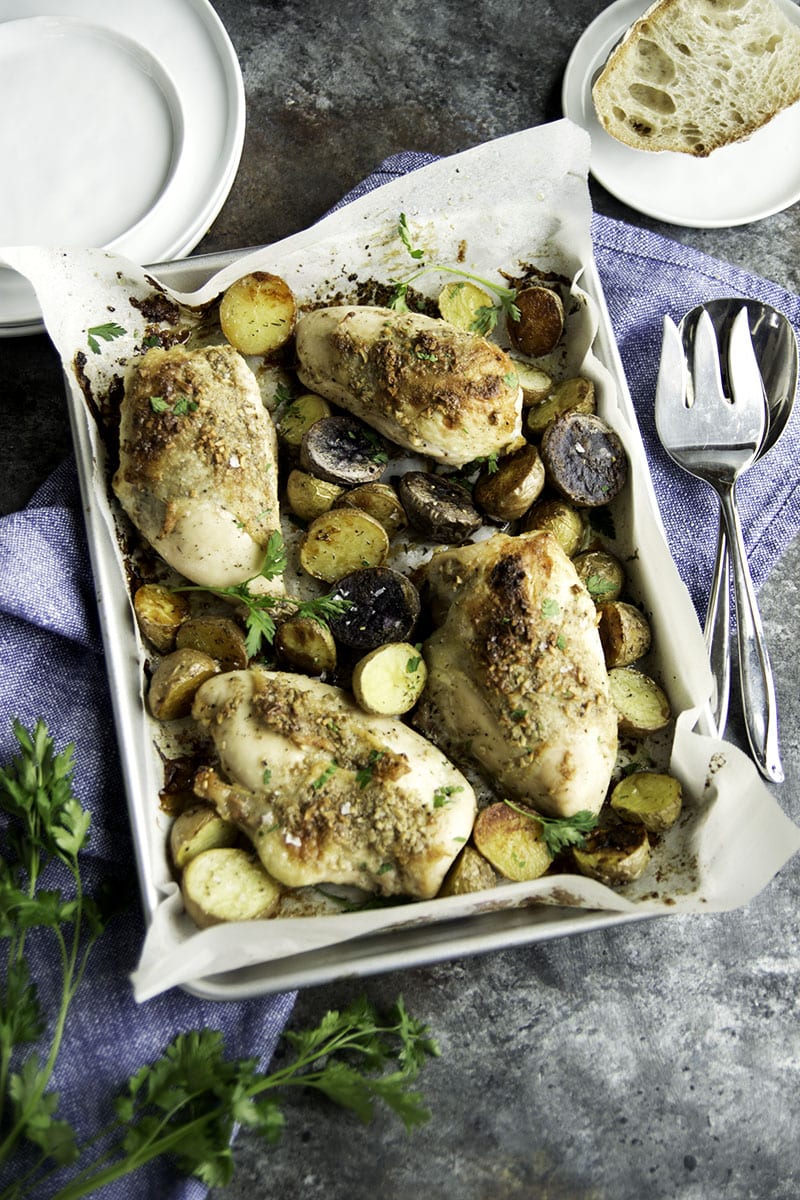 Anchovy garlic butter creates a perfect crispy skin, yet still leaves the chicken super tender and moist. I know. I said moist. Another ew word. You are allowed to say eww over that, but not over anchovies anymore.
Deal?!?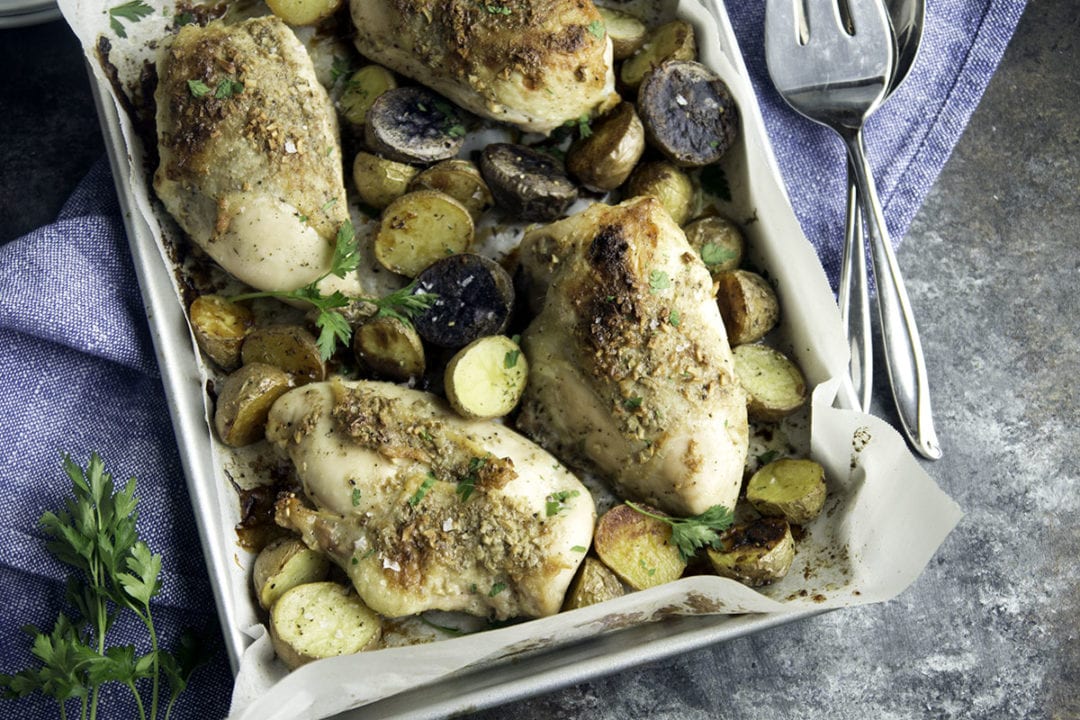 Anchovy Garlic Butter Chicken and Potatoes
Salty, crispy skinned roasted chicken with baby potatoes.
Ingredients
4

tbsp

Unsalted Butter

room temperature

1/2

tsp

anchovy paste

2

garlic cloves

minced

4

bone in chicken breasts with skin

salt

freshly cracked black pepper

8

oz

baby potato medley

cut in half

olive oil
Instructions
Preheat the oven to 450 degrees F. Line a medium baking sheet with parchment paper.

Combine the butter, anchovy paste, garlic, salt, and pepper in a small mixing bowl. Mash together using a fork until combined.

Rub the anchovy garlic butter all over and under the skins of the chicken breasts. Transfer the chicken breasts to the prepared pan.

Add cut baby potatoes to the pan. Drizzle with a little olive oil. Season potatoes with salt and pepper.

Bake chicken and potatoes for 35-40 minutes until crispy and cooked through. When the internal temperature reads 165 degrees F, the chicken is cooked through.

Cool slightly. Cut away from the bone. Serve with a little chopped fresh parsley.