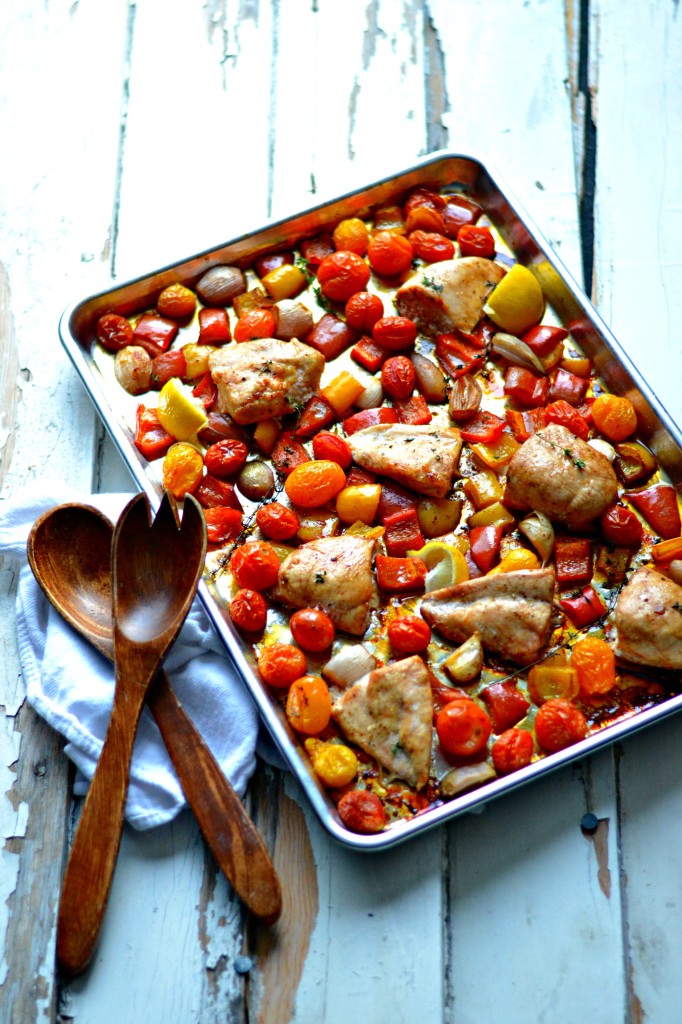 I don't know if I have maybe led on to this before, but I am really not a chicken kind of girl. I am a literal chicken, yes. You can ask my brothers about that one! When we were kids, my younger brothers both jumped off the top of the monkey bars one afternoon. I stood up there until dinner time scared out of my mind but convinced that I was going to jump. I did it finally as my mom was calling us in for dinner. My brothers were far enough away so, lucky for me, they couldn't see my chicken tears and my flailing fall looked like a jump to them. But yeah, chicken through and through.
When it comes to eating chicken, I mean this is the food that sent me into vegetarianism. Actually, to be more specific, it was bland breaded chicken patties. I think about what Andy eats and try to add spices to everything to make sure he doesn't get into a bland rut. If he wants bland food, I swear to God I will lose my mind. It is bad enough I have to scale back to cook for mister "my idea of gourmet is sliced hot dogs in mac and cheese." If Andy jumps on that ship, I will be all alone on flavor island.
Just poor old me and my version of Wilson the volleyball, Weezer. Ok, sorry this story is all over the place.
In my attempt to keep it bland for some and flavorful for myself, I came across this recipe from Jamie Oliver on Instagram. Sometimes when you are hungry and looking for dinner inspiration, Instagram just happens to hear your hungry cries and answer you with an instant classic meal.
I have made this once a week since I saw it. This meal is a hit with everybody. It is right up there with my two favorite pasta dishes (caprese and spicy) that switch off week to week. Plus, how awesome is it that you just cut up a bunch of stuff, throw it on a pan, bake it, and, voila, dinner?!?!?!
Here is my secret. I prep this dinner during nap time. It takes no time at all. Then when it is dinner time, I pull it out of the fridge and bake it. I can still dedicate one arm to holding my baby and only have to set my glass of wine down to use the other hand to put the tray in the oven. It is dinner magic.
Things to take away from this post; monkey bar chicken, flavor island, and tray-baked chicken. I'm sorry; this is how my brain works.
Tray-Baked Balsamic Chicken with Peppers, Tomatoes, and Onions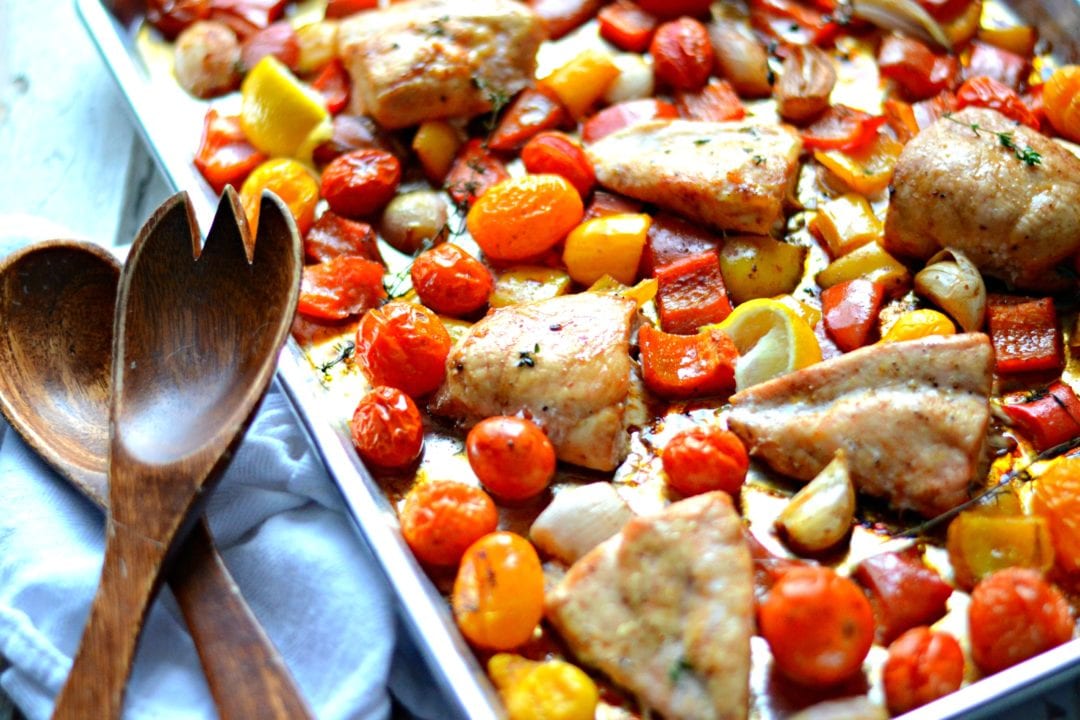 The easiest, basically no prep dinner all on one baking sheet!!! Roasted balsamic chicken and vegetables makes the perfect weeknight meal!
Yields: Serves 4 - 6 people
4 Boneless, Skinless Chicken Breasts cut in half
2 Pints Cherry/Grape Tomatoes
1 Red Bell Pepper, seeded and chopped
1 Yellow Bell Pepper, seeded and chopped
4 Small Shallots, halved
1 Bunch of Fresh Thyme
3 Garlic Cloves, smashed with the skin on
3 Tablespoons Olive Oil
2 Tablespoons Balsamic Vinegar
Juice from ½ Lemon
1 Teaspoon Salt
½ Teaspoon Black Pepper
1 Teaspoon Smoked Paprika
Preheat the oven to 350 degrees F.
Add the chicken breasts, chopped peppers, chopped onions, whole tomatoes, thyme, and garlic to a large rimmed baking sheet.
Pour olive oil and balsamic over the ingredients along with the lemon juice. Season with salt, pepper, and paprika. Use your hands or large tongs to mix all the ingredients together. Arrange the ingredients in one even layer.
Bake in the oven for one hour, stopping midway to turn the ingredients over.
Let cool slightly before serving. I highly suggest serving with some bread or a crisp green salad to sop up the cooking liquid!
Preparation time:

10 minutes

Cook time:

60 minutes

Total time:

1 hour 10 minutes