One pot bucatini amatriciana comes together in 20 minutes. It is perfect for a quick family meal or a dinner party. Salty pancetta and spicy red pepper flakes add all the flavor in one pot bucatini amatriciana.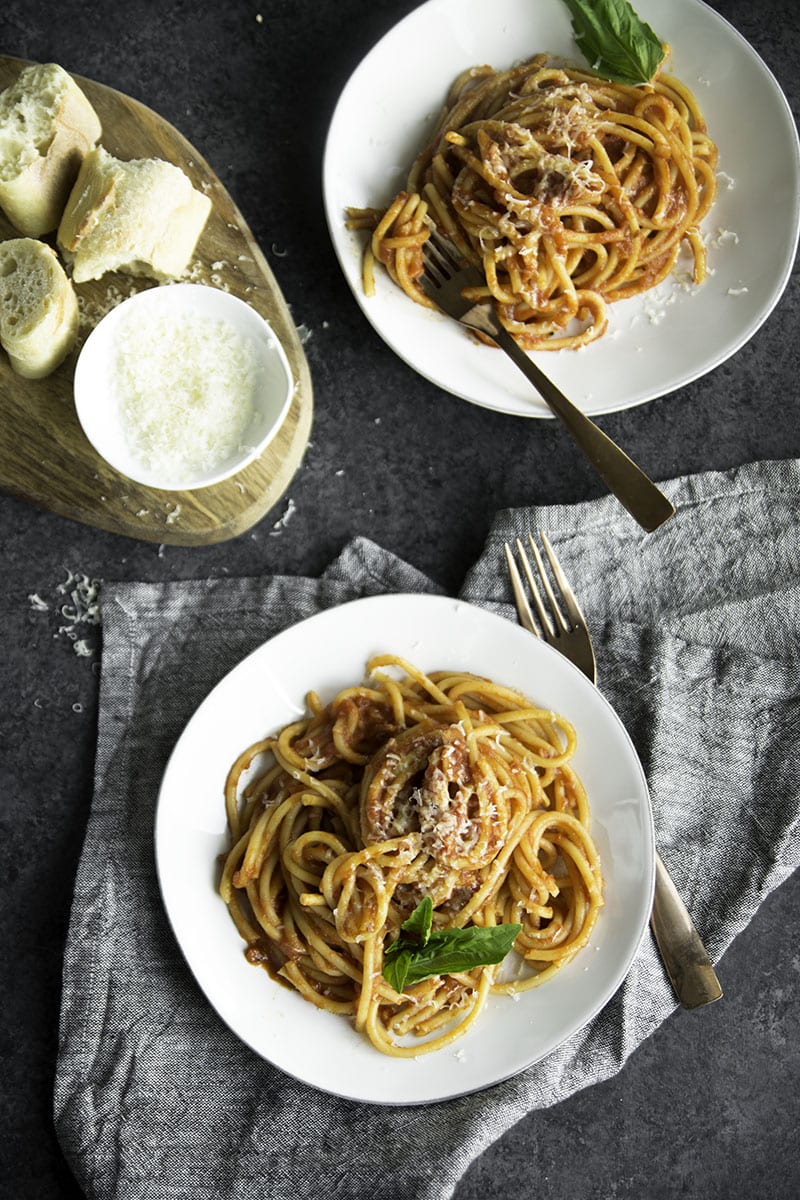 This pasta has been in my brain noodling around for a few weeks now. (Get it? Noodling? Because of noodles!)
I found the recipe in Bon Appetit before we left for vacation and thought, That is easy enough to turn into one of those Martha Stewart-esque one pot pastas.
I do love a good one pot pasta, so why not add another one to the rotation?!?!
Then I went on vacation, got home, and took a week off to recover from vacation before I started cooking meals again. When I was finally ready to kick off the week with a good family dinner, this idea came back to the front of my mind.
Thank God my good memory still overpowers my mom brain.
Don't go thinking I am a dinner hero quite yet.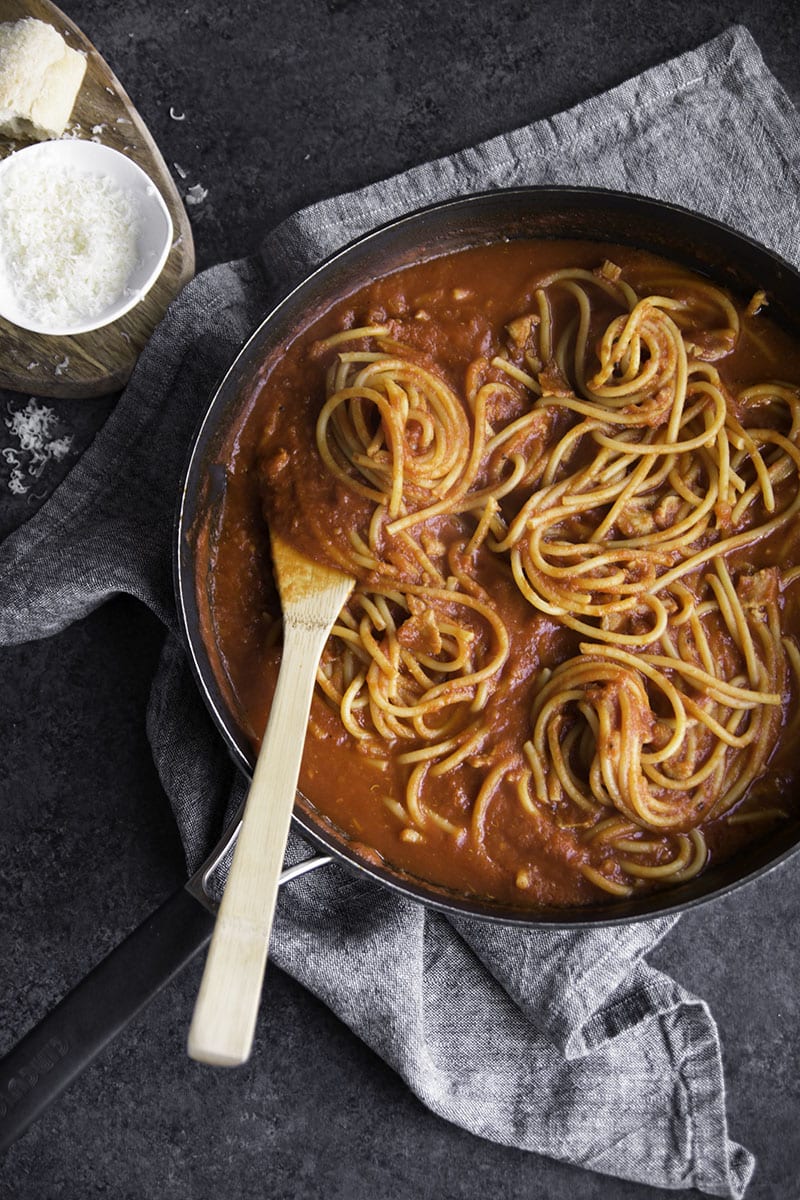 The day I planned to make this, both kids said no to noodles. I figured noodles would be an easy sell, but alas, wrong again, Mom. I also figured since this was a one pot pasta I could hold off on dinner creation until about 6 pm.
Ya know, just wait long enough until they were hangry and then have to scramble to figure out a new meal they actually wanted. Great plan, right?
I know, I know. I should just say they eat what I make or they go hungry. I am a wuss. I just popped in some chicken nuggets and cut some fruit. Dinner for kids done.
That brings us to almost 7pm.
Mike was pacing the kitchen asking a lot of questions about the big pot of noodles I finally threw together. Anybody else get nervous making dinner when their significant other is pacing in the kitchen?
I managed to get this dinner together in 20 minutes. I am also happy to report we will be eating one pot bucatini amatriciana again this week, for sure!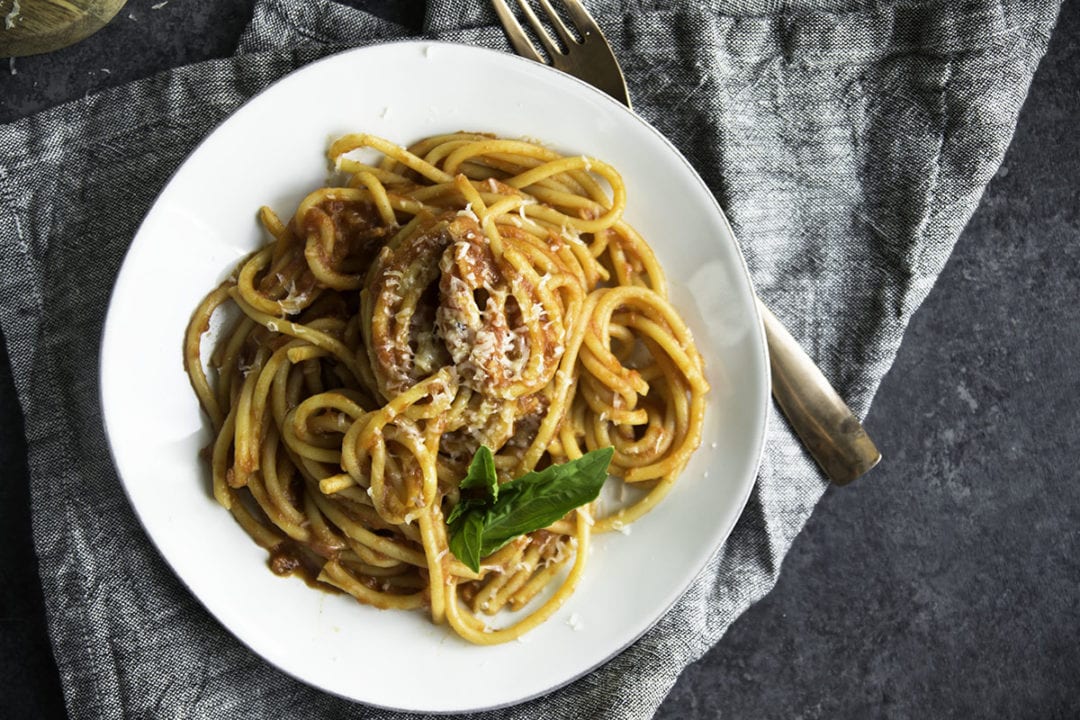 Hopefully in a more timely and planned out manner this time.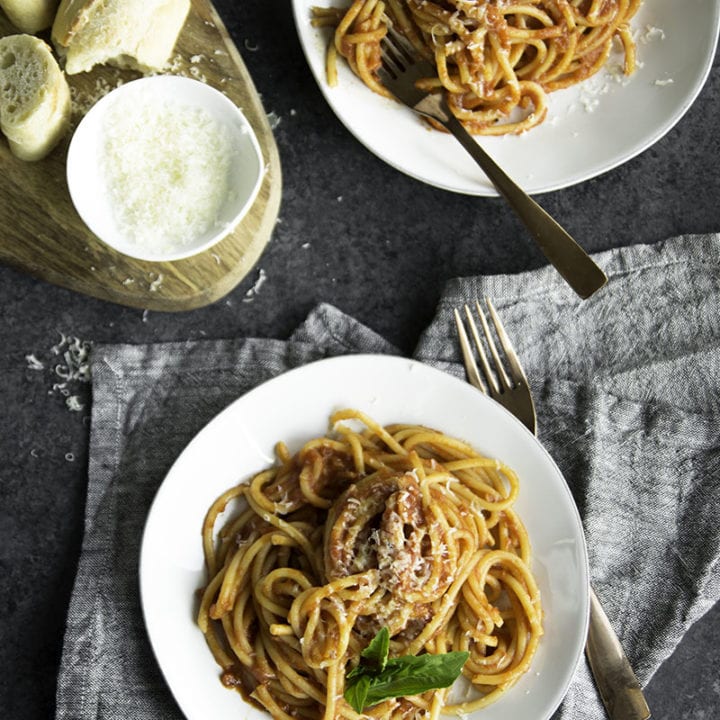 One Pot Bucatini Amatriciana
Thick bucatini noodles cooked in a salty and spicy tomato sauce all in one pot.
Ingredients
1, 28 oz can crushed tomatoes
28 oz water
12 oz bucatini noodles
2 tbsp extra virgin olive oil
4 thick-cut slices of pancetta, diced
1 small yellow onion, diced
2 garlic cloves, minced
1/2 tsp crushed red pepper flakes
1/4 tsp freshly cracked black pepper
1/2 tsp salt
Instructions
Heat olive oil in a large skillet over medium. Add pancetta and onion to the skillet once the olive oil begins to shimmer. cook for 4-5 minutes until crispy and onions are translucent.
Add garlic, red pepper, and black pepper. Mix to combine. Cook for 2 minutes.
Add tomatoes and salt. Mix to combine. Fill the tomato can with water. Add to skillet and mix to combine.
Crack the noodles in half, add them to the liquid, and mix until the noodles are covered with liquid.
Cover with a lid and simmer for 18 minutes over medium/high heat.
Stir occasionally to ensure noodles do not stick together or to the bottom of the pan.
When noodles are al dente, remove pan from heat. Serve with a little grated parmesan cheese and fresh basil for garnish.
Notes
If you don't like spicy food, reduce the crushed red pepper flakes to 1/4 tsp.