Tart and spicy chile lime fried green tomato biscuit sandwiches are a sure fire way to enjoy summer produce and switch up your brunch/lunch game. Pan fried chile lime breaded green tomatoes, crispy bacon, lettuce and a little mayo make the perfect little sandwich.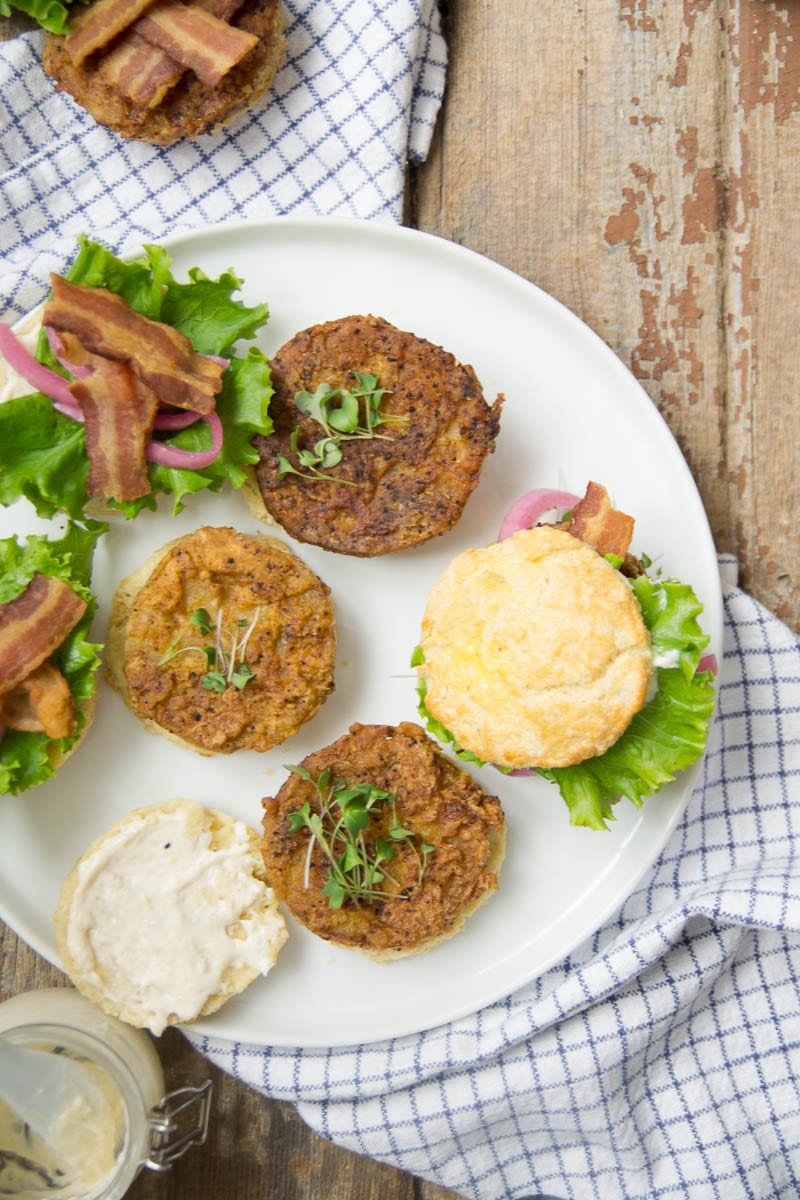 Am I the only one that gets super pumped for the first fried green tomato sandwich of the summer? I am sure many gardeners, my dad included, would be mad at me that I pick their tomatoes too early and don't give them a chance to ripen.
I care not! I love me some green 'maters. If you really wanna be daring, add them to your next caprese salad. It really adds a great texture and bite to the sometimes predictable salad. In my humble opinion.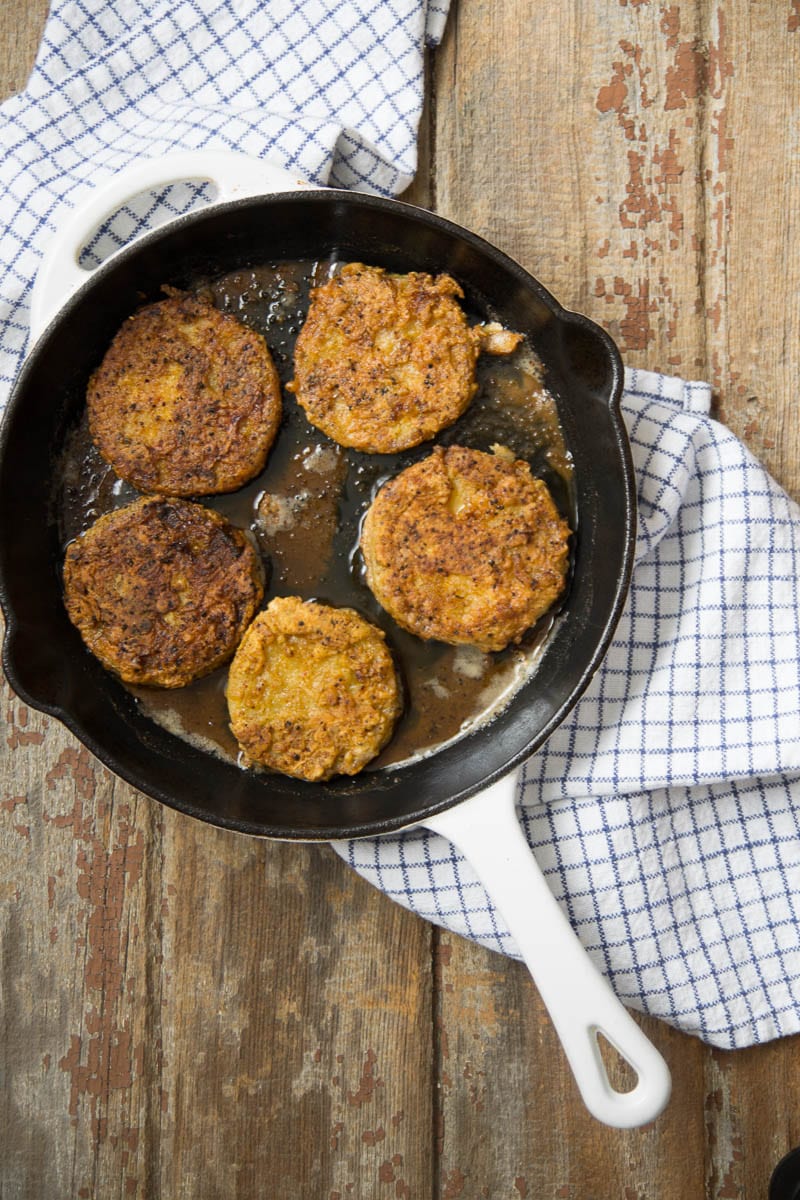 Speaking of fried green tomatoes, how much do you love that movie?
It is one of my favorite movies. I love when Kathy Bates rams that car that cuts her off and steals her spot in the parking lot. TOWANDA!!!!
If you haven't seen the movie yet, I highly recommend changing that post haste.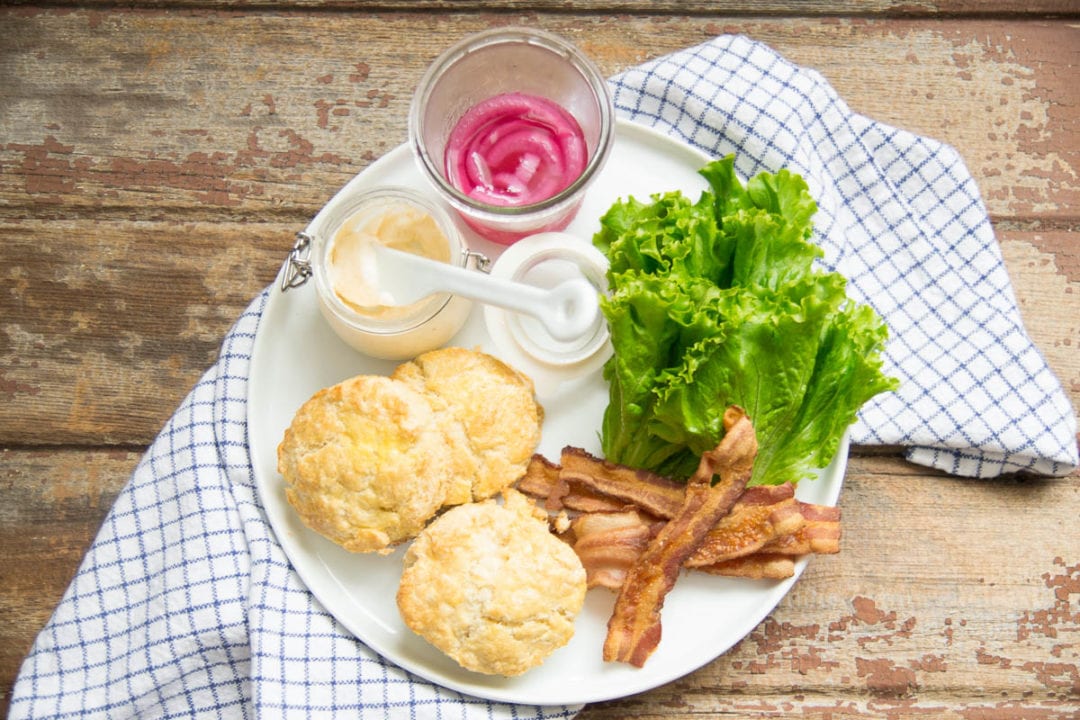 Mike tried to tell me that this movie was a love story between Ruth and Idgie. I got a little mad at him. First off, when was the last time he even watched the movie the whole way through? Secondly, don't go lecturing ME about one of my favorite movies just because you don't want to invest 2 hours in watching it with me.
Um, but after making Mike rewatch the entire movie with me over two nights, uh… He was right! Oops! Sorry dear!
I guess I was just a naive kid the last time I really watched the movie. I just thought they were really good friends. Anywho, not that it matters, the movie is still great and makes me want all the splattery, crispy, fried green tomatoes.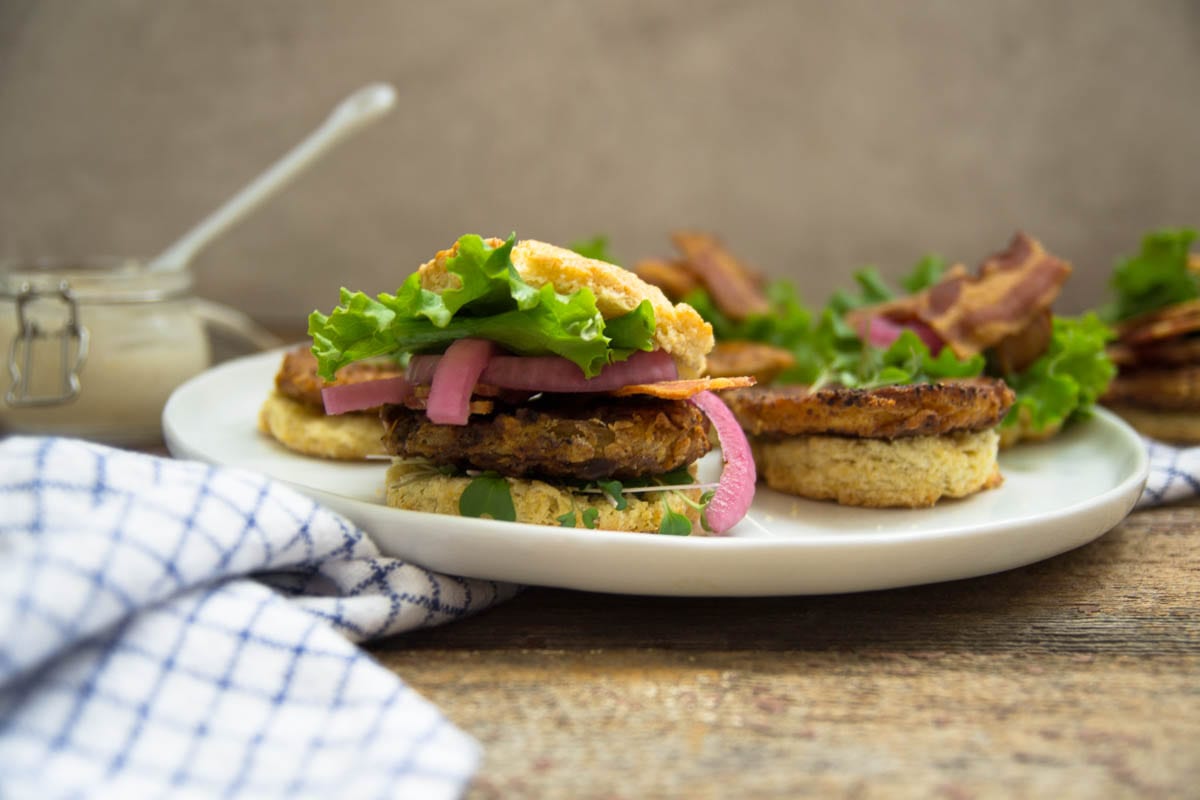 The chile lime fried green tomato biscuit sandwiches recipe uses my usual biscuit recipe, which can be found here. I had to give a little kick to the fried green tomato breading so I added some of Trader Joe's Chile Lime Seasoning Blend. I don't think I will ever make them plain again!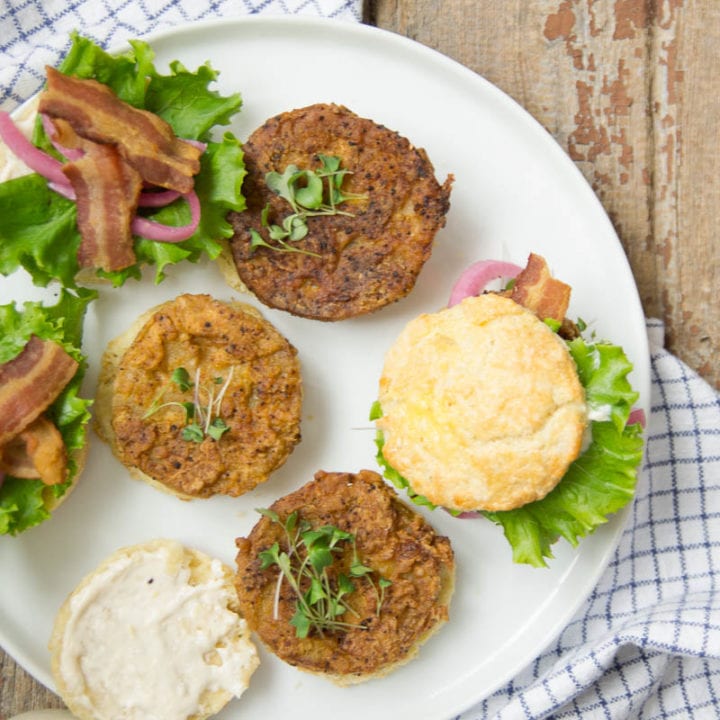 Chile Lime Fried Green Tomato Biscuit Sandwiches
Chile lime breaded and fried green tomatoes, bacon, lettuce and a little mayo on a perfectly fluffy biscuit.
Ingredients
For the Tomatoes
1 large green tomato, thinly sliced
2 large eggs, beaten
1 cup all purpose flour
2 tbsp chile lime seasoning
pinch of salt
pinch of freshly cracked black pepper
1 cup canola or grapeseed oil for frying
For the Sandwiches
6-8 slices cooked crispy bacon
1/3 cup mayonnaise
4-6 romaine lettuce leaves
pickled red onions, optional
Instructions
Add the beaten eggs to a shallow pie pan. Add the flour and chili lime seasoning along with salt and pepper to a separate shallow pie pan. Whisk the flour mixture to combine.
Dip the tomato slice into the eggs, then into the flour, tossing to coat. Dip the tomato slice back into the eggs and then one last time in the flour mixture. Continue the breading process until all tomato slices are coated. Transfer the breaded tomatoes to a large plate.
Add oil to a medium cast iron skillet. Heat over medium/high for 2 minutes.
Fry three tomato slices at a time into the hot oil. Fry on each side for 8-9 minutes until golden. Once fried, transfer to a paper towel lined plate to dry.
Assemble biscuit sandwiches with a little mayo, lettuce, a tomato and bacon.
Notes
Chile lime fried green tomato biscuit sandwiches could also be great topped with a fried egg.
Recommended Products
As an Amazon Associate and member of other affiliate programs, I earn from qualifying purchases.