Buttermilk biscuits served with a homemade meat-free, mushroom based, creamy gravy. Perfect for breakfast, brunch, lunch, or dinner!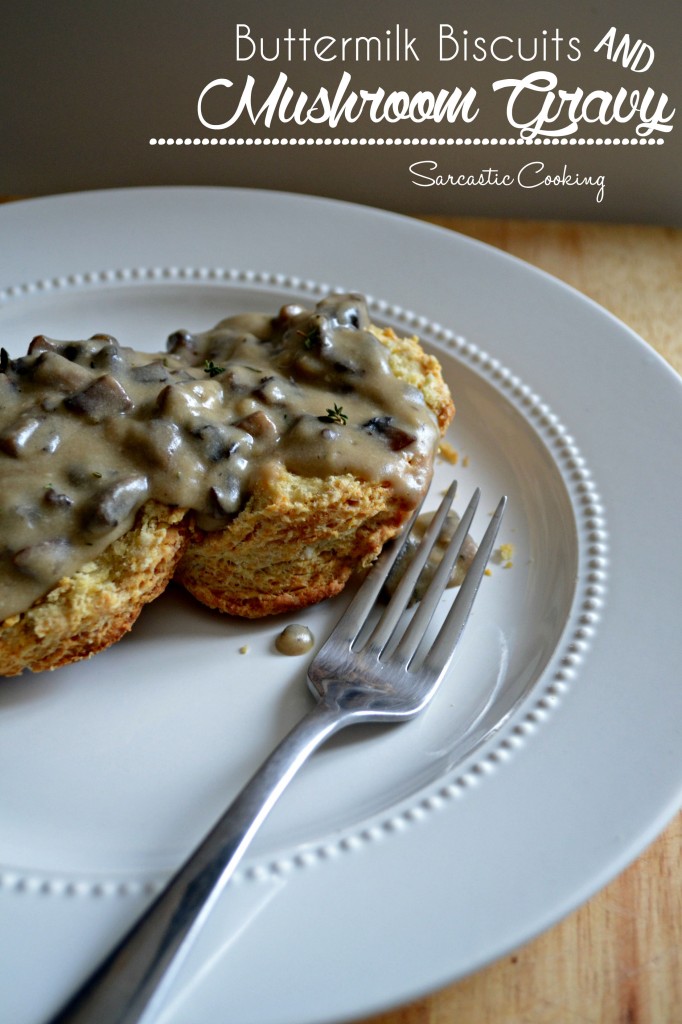 I feel like I need to title this post mental health Monday instead because I need a mental health day.
I remember in my working outside of the home days, every so often I just needed a day off to regroup. I called those mental health days.
You can't really take a mental health day from a baby. No days off in parenting.
This weekend just went by way too fast. I love when I have productive Sundays.
Getting out and doing stuff on Sunday makes me feel like a good member of society.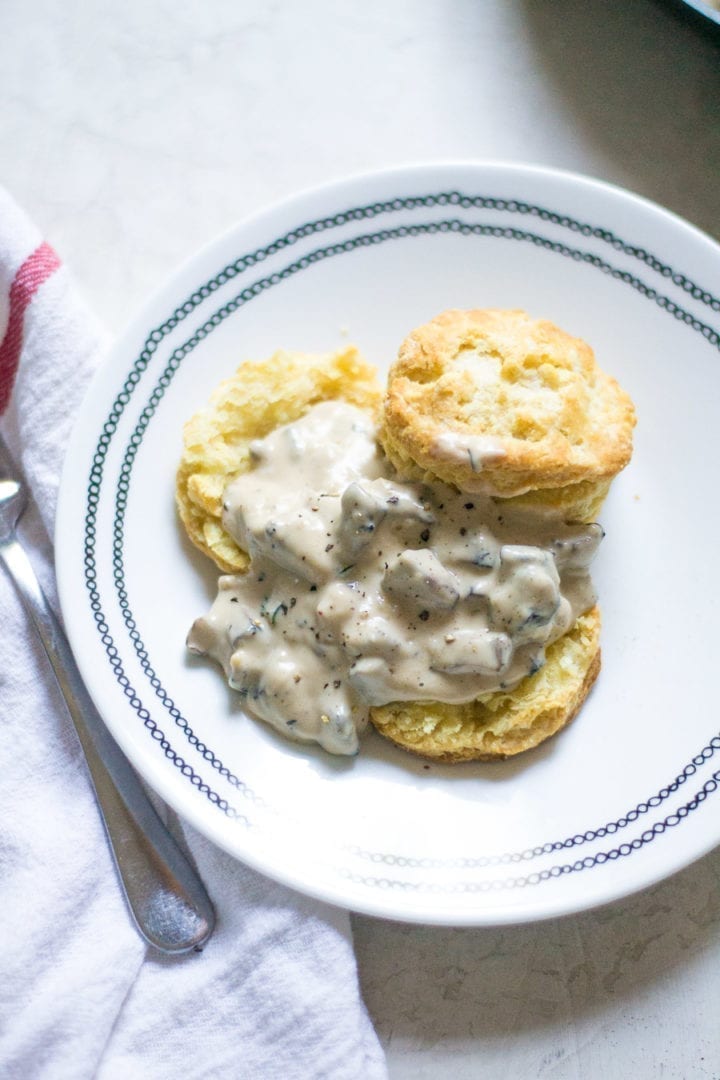 But, on the other hand, it also makes me feel like I wish I could have soaked up as much of that pajama-wearing weekend time while I had the chance before Monday reared its ugly head.
One of my favorite, feel good, productive weekend activities is making some kind of big homemade breakfast; lots of biscuits, crispy bacon, and some kind of eggs.
Oh! And don't forget a huge cup of coffee.
A big breakfast most likely leads to a lot of dishes, but that's Mike's job.
Always make a deal to cook if somebody else cleans. Always.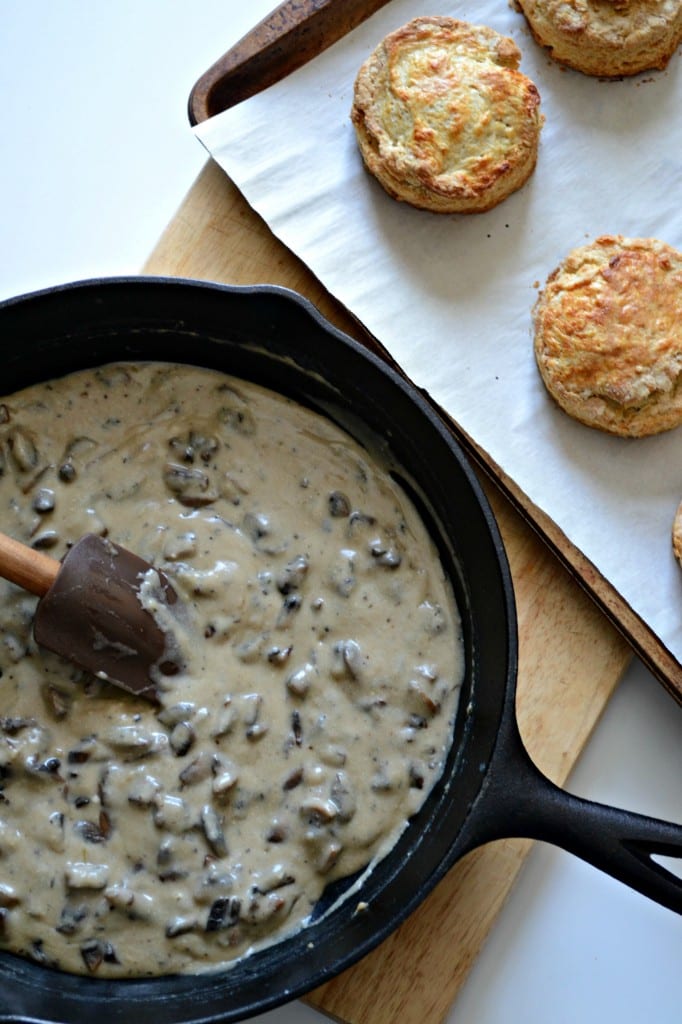 I have always wanted to try biscuits and gravy. This year was actually the first time I have ever tried this iconic breakfast dish. I know some of my southern friends just gasped in shock.
Yes, it is true. I don't know, it was something about the fact that the gravy was white but made from meat.
How is that possible? It just doesn't compute in my head.
I think I was just seeing biscuits and gravy at the wrong places. When I saw what good looking biscuits and gravy looked like, I had to give it a shot.
Not too shabby!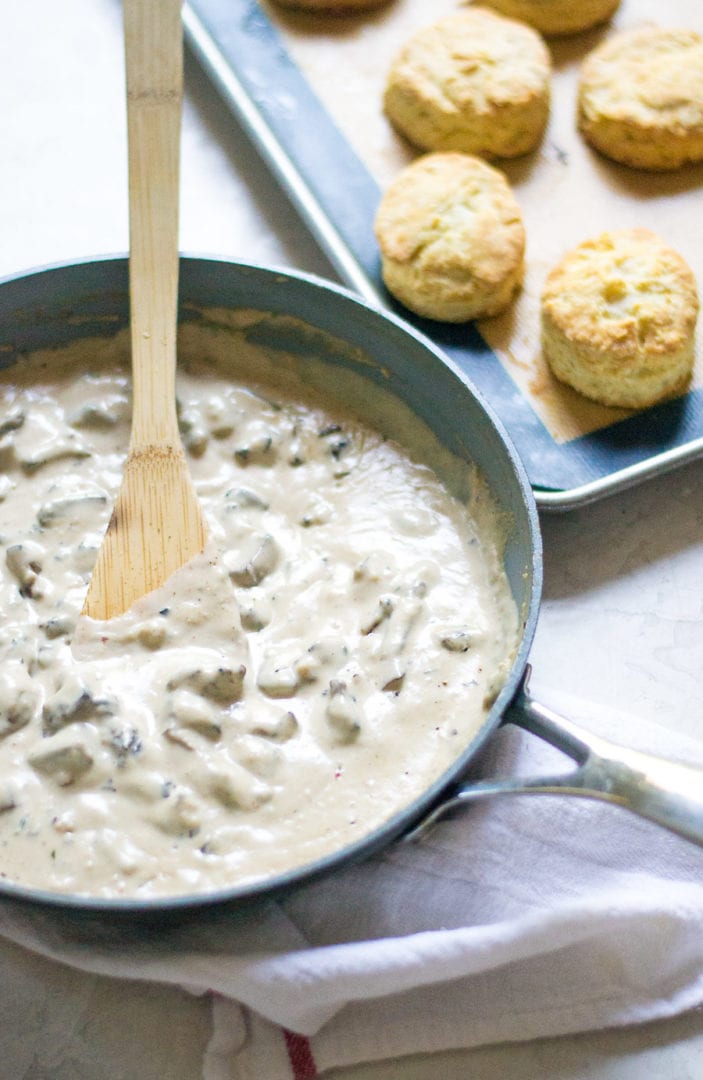 Then in my mind, I started to think how I could make this and how I could make this dish better.
Mushrooms!
I love mushrooms! A thick, dreamy mushroom based gravy over crunchy, pillowy biscuits sounded so good to me. So I made this for myself for breakfast and then saved the rest and Mike and I ate it for dinner with some eggs.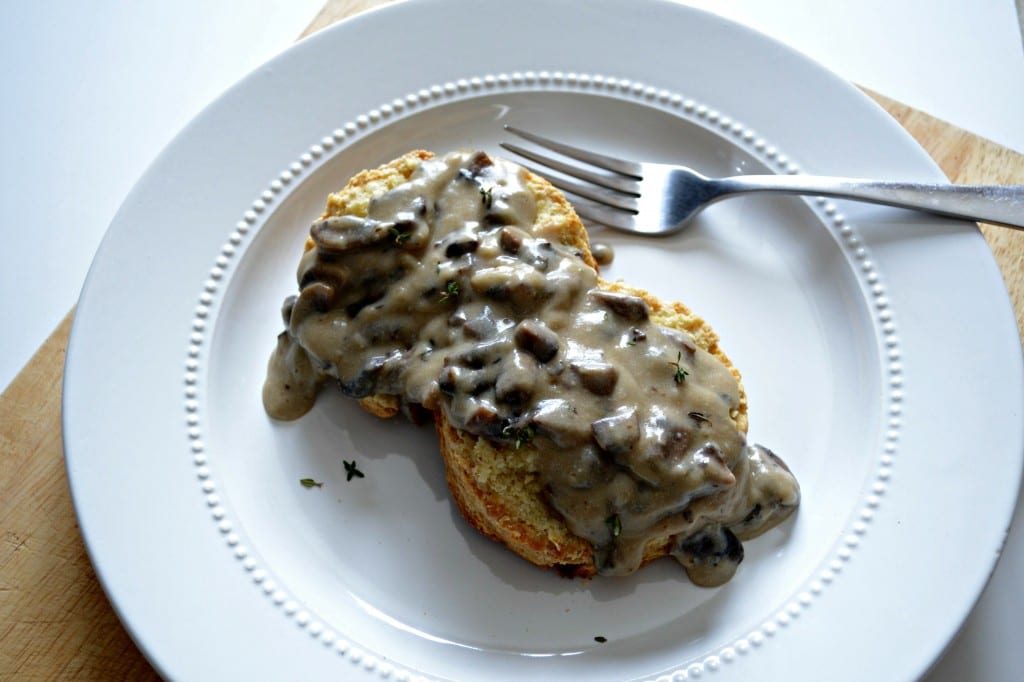 Buttermilk biscuits and mushroom gravy is so good!
I wish I had the luxury of cooking this for breakfast today, but alas, my boss is against giving me time off these days. Little jerk.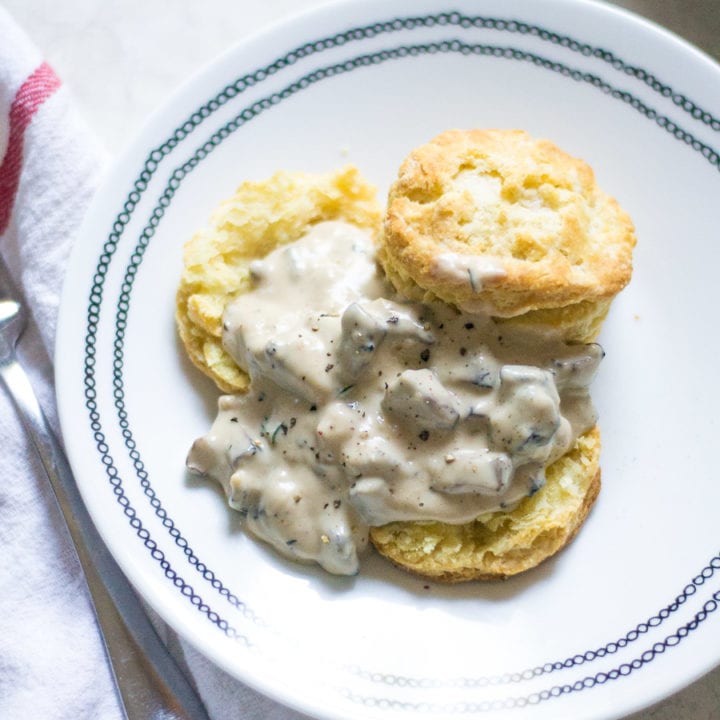 Buttermilk Biscuits and Mushroom Gravy
Light and fluffy buttermilk biscuits, baked fresh, served with creamy mushroom based gravy on top.
Ingredients
FOR THE BISCUITS:
4 Cups All-Purpose Flour plus more for dusting
1 Tablespoon Coarse Sea Salt
1 ½ Tablespoons Baking Powder
1 Teaspoon Baking Soda
2 Sticks Unsalted Butter cubed and chilled
1 ½ Cups Low-Fat Buttermilk
FOR THE GRAVY:
4 Tablespoons Unsalted Butter
8 Ounces Button Mushrooms or Portobella, diced
2 Sprigs Thyme
1 Teaspoon Salt
½ Teaspoon Black Pepper
1 Clove Garlic grated
4 Tablespoons All-Purpose Flour
1 Tablespoon Dry Marsala or Sherry Vinegar
¼ Cup Low-Sodium Vegetable Stock
1 ½ Cups Whole Milk or Heavy Cream
Instructions
Preheat the oven to 400°F. Line 2 baking sheets with parchment paper.
First, make the biscuits. In a large bowl, whisk the flour with the salt, baking powder and baking soda. Using a pastry blender or two knives, cut in the butter until it is the size of small peas. Add the buttermilk and stir until a shaggy dough forms.
Knead the dough on a floured surface until it comes together. Pat the dough 3/4 inch thick. Using a 3 1/2-inch round cutter or large glass, stamp out as many biscuits as possible. Reroll the scraps and stamp out more biscuits.
Transfer the biscuits to the baking sheets and bake for about 25-30 minutes, until golden and risen, shifting the pans halfway through baking. Let the biscuits cool on the baking sheets.
While the biscuits bake, make the gravy. Melt the butter in a large skillet over medium heat. Add the mushrooms and thyme to the skillet. Stir to evenly coat with the butter. Sautee for 15-20 minutes, stirring occasionally.
Add the garlic, salt, and pepper to the mushrooms. Stir and sauté an additional minute.
Sprinkle in the flour and mix until all the mushrooms are evenly coated and the butter is absorbed into the flour. Add the marsala/sherry and stir. Slowly pour in the stock and stir until combined with the flour/butter mixture. Break up any clumps of the flour/butter mixture with your spoon.
Pour in the milk. Stir to combine. Bring to a simmer. Once simmering, reduce heat to low and cook for 10-15 minutes until mushroom gravy thickens.
When biscuits are baked and slightly cooled, pry a biscuit open and spoon mushroom gravy over the open biscuit.
Notes
For an additional kick add 1/4 tsp cayenne to the gravy.
Recommended Products
As an Amazon Associate and member of other affiliate programs, I earn from qualifying purchases.