I took your apple crisp dessert and put it on your appetizer. Boom, genius! Apple crisp baked brie is for the sweet and salty lovers and would be a perfect holiday appetizer.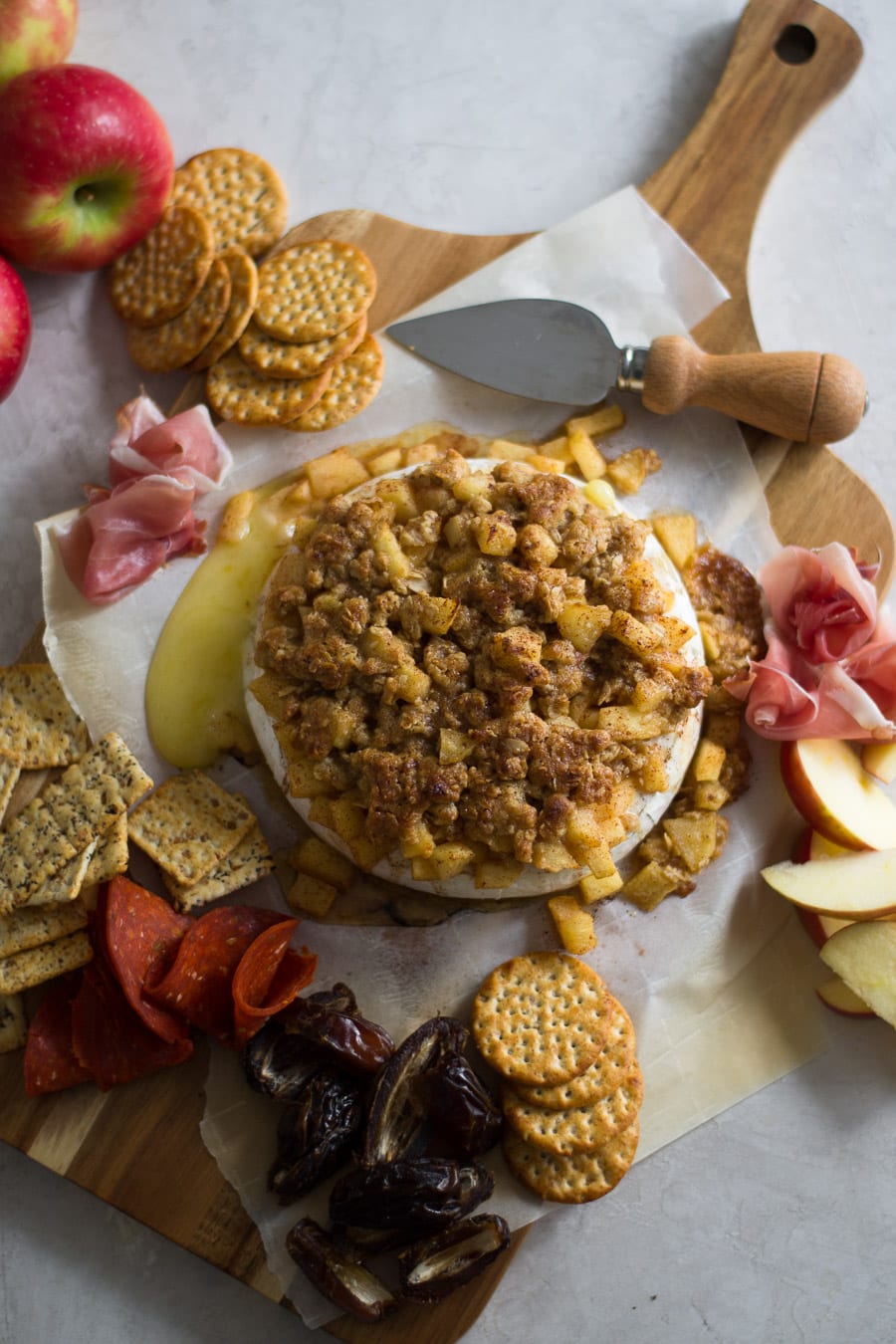 Are you ready for some turkey? A Thursday night paaartay! That's me singing to you to the tune of the classic Monday Night Football theme.
Did you love it?
Let's just say you're lucky you weren't around me as I actually sang this while I typed it on my computer. I'm lucky I didn't shatter my computer screen with my sweet, a cappella notes.
But seriously, are you ready?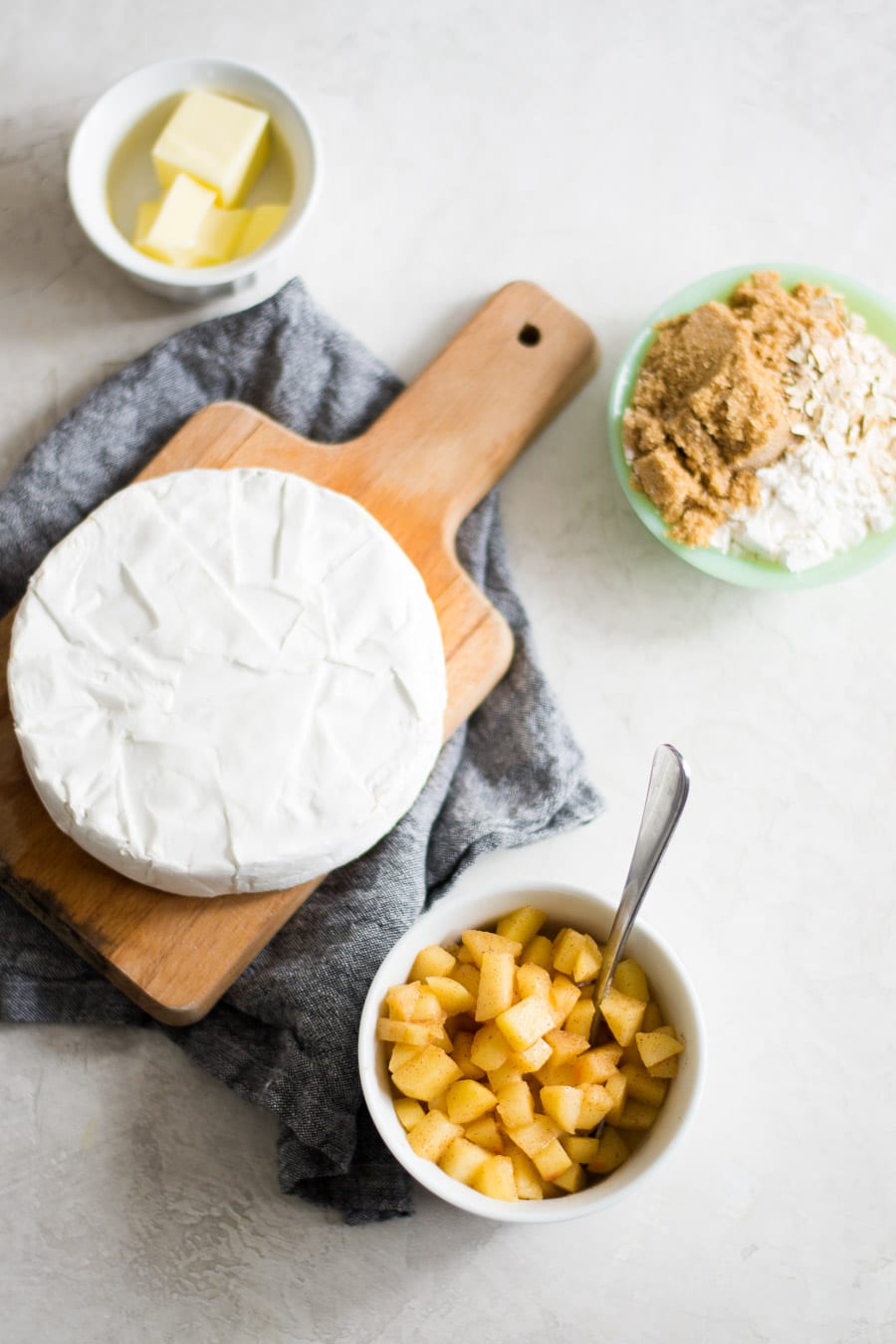 I am wondering, in case you aren't ready, should I do another little round up of recipes that are not only easy but are a hit for Thanksgiving? Lemme know your thoughts. Right now I am stuck home with a sick kiddo, so I got nuthin but time. Ha.
Let's talk about this recipe I have for you today.
Five years ago I came up with one of my most popular recipes on my site. Like EVER! The recipe is for baked brie with balsamic rosemary cranberry sauce all baked inside a little crescent roll action. I myself have even made this every other year for either Thanksgiving or Christmas because it is that good.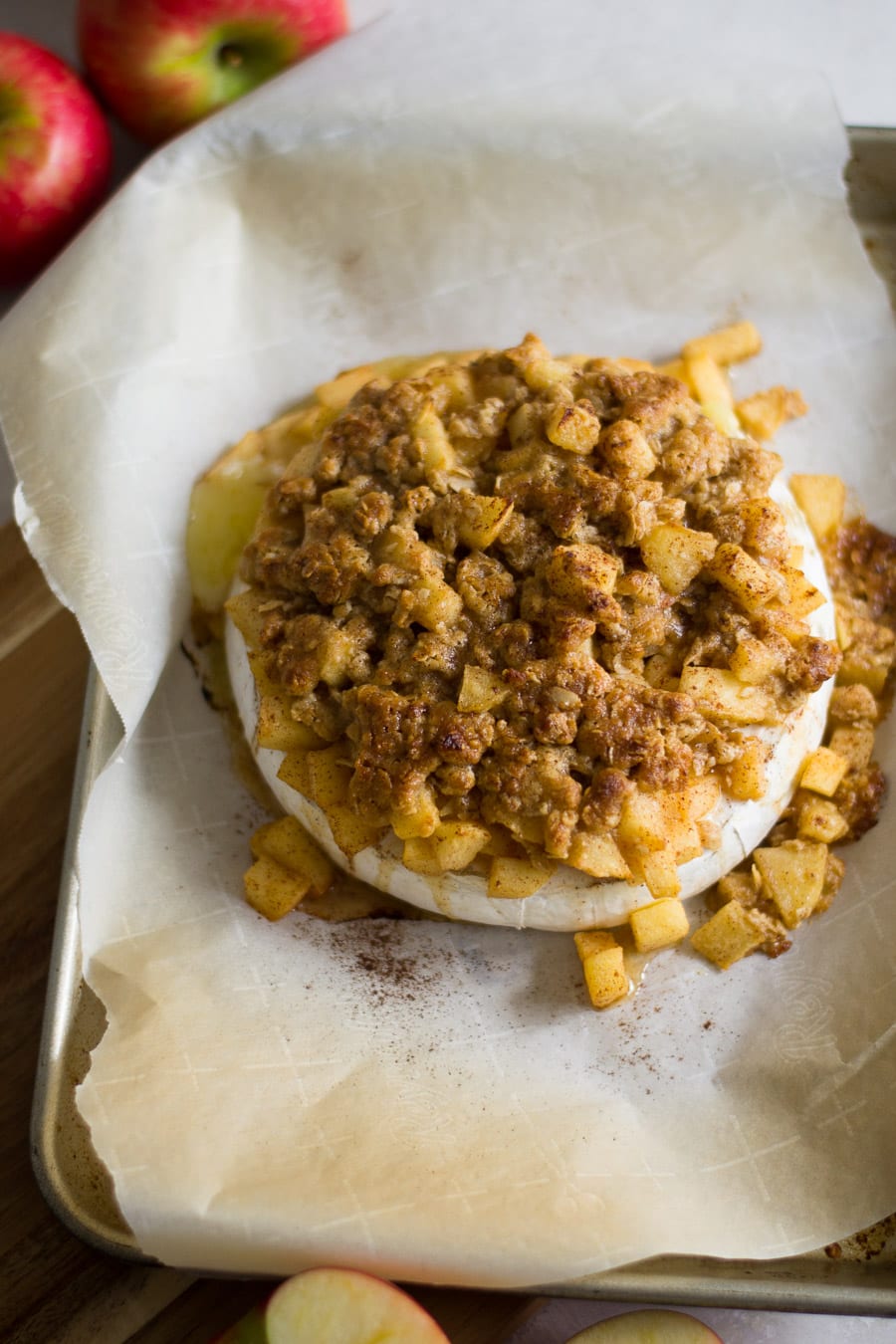 Well, stand back cranberry brie, because apple crisp baked brie is here to give you a run for your money!
That's right. I took your appetizer and topped it with a dessert. Genius, if I do say so myself.
There are two different steps involved in this brie so if you wanted to break it up and prep the apples the night before and then just bake the brie the day of Thanksgiving, you can totally do that.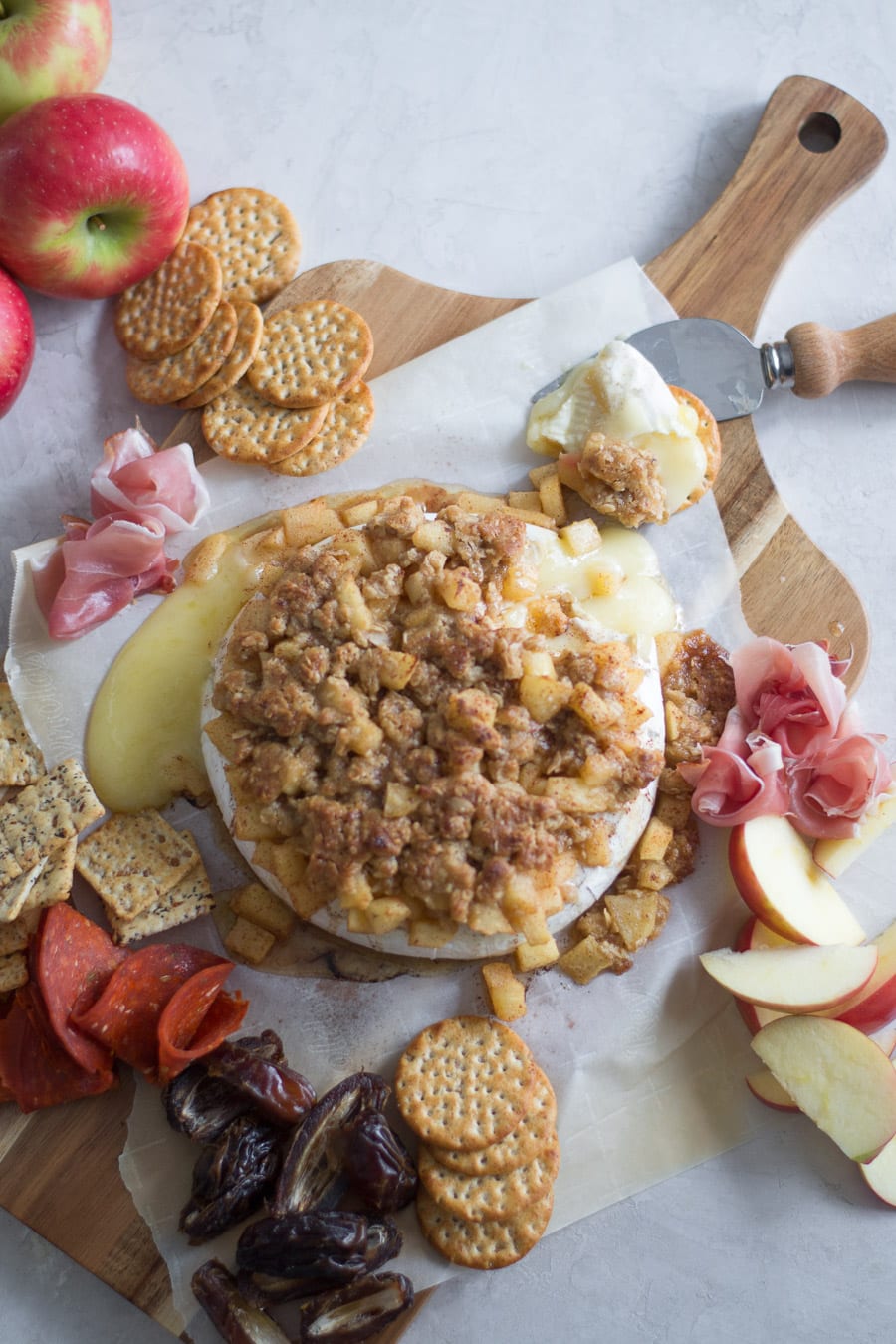 Apples are cooked in a sugary, buttery, cinnamon sauce until just tender before they are put on the brie. You don't need to bake brie for that long to get it ooey-gooey. It would suck to have cold apples and a mushy crumble on top of this beautiful cheese.
Also, I baked this all free-form on a baking sheet with parchment paper. I wanted you guys to see the melty cheese and the topping in photos. But, if you are traveling or don't want to use this as the center of a cheese board like I did then, may I suggest a little brie baker like this one?
It has a lid and will keep your brie warm and prevent it from gushing all over once cut into. I just look at that river of gooey cheese as an incentive to eat apple crisp brie even faster.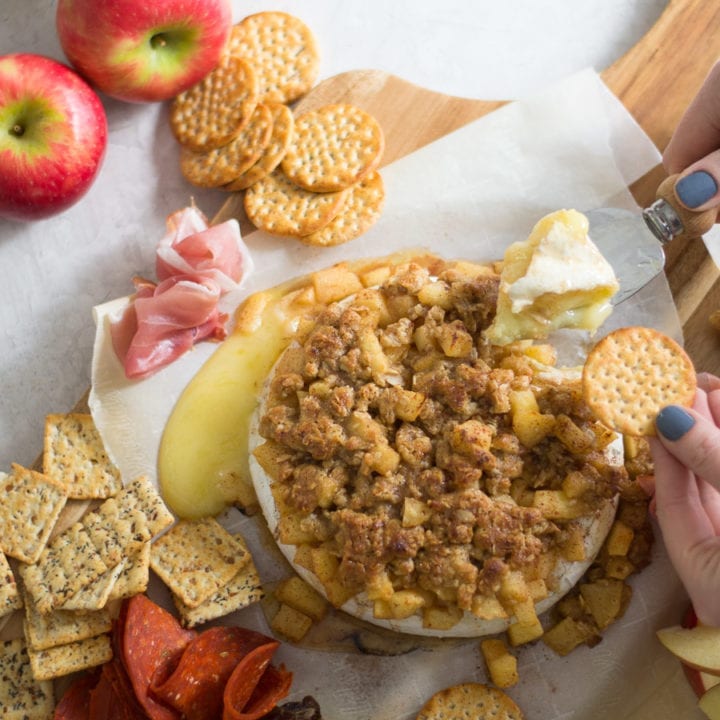 Apple Crisp Baked Brie
Baked brie topped with a crispy, sweet, warm apple crisp topping. The perfect holiday appetizer.
Ingredients
For the apples:
2 tbsp unsalted butter
2 honeycrisp apples, peeled & diced
1 tsp sugar
1/4 tsp ground cinnamon
For the Brie and Crisp Topping:
1/4 cup all purpose flour
1/4 cup light brown sugar
1/3 cup rolled oats
1/4 tsp ground cinnamon
3 tbsp unsalted butter, room temperature
1, 16oz wheel of brie cheese
Instructions
First prepare the apples. Add butter to a medium skillet. Heat over medium/high heat until the butter melts. add the apples and cook for 5-7 minutes. Mix in the sugar, vanilla, and cinnamon. Cook for another 2 minutes until the sugar has combined into a syrup almost. Remove from heat and let slightly cool while the oven preheats.
Preheat the oven to 375 degrees F. Line a small baking sheet with parchment paper.
In a small bowl, mix the flour, brown sugar, oats, cinnamon, and salt together. Use your fingers to work the butter into the mixture until a slightly crumbly dough forms.
Mix a few tablespoons of the apple mixture into the crisp topping.
Add the brie to the prepared baking sheet. Top with apples and then crumble on the crisp topping, slightly pressing down into the apples.
Bake the brie for 10-12 minutes until slightly golden. With the oven still hot, switch to the broiler setting on low and broil the top of the brie for 2-3 minutes until crisp and deeply golden.
Let the brie cool for a few minutes before serving with your favorite crackers or eating on it's own.