Look no further for the best easy lemon butter green beans around! No fancy roasting or lots of ingredients. All it takes is a quick blanch and then a mix with butter, salt, pepper, and lemon to make this star side dish.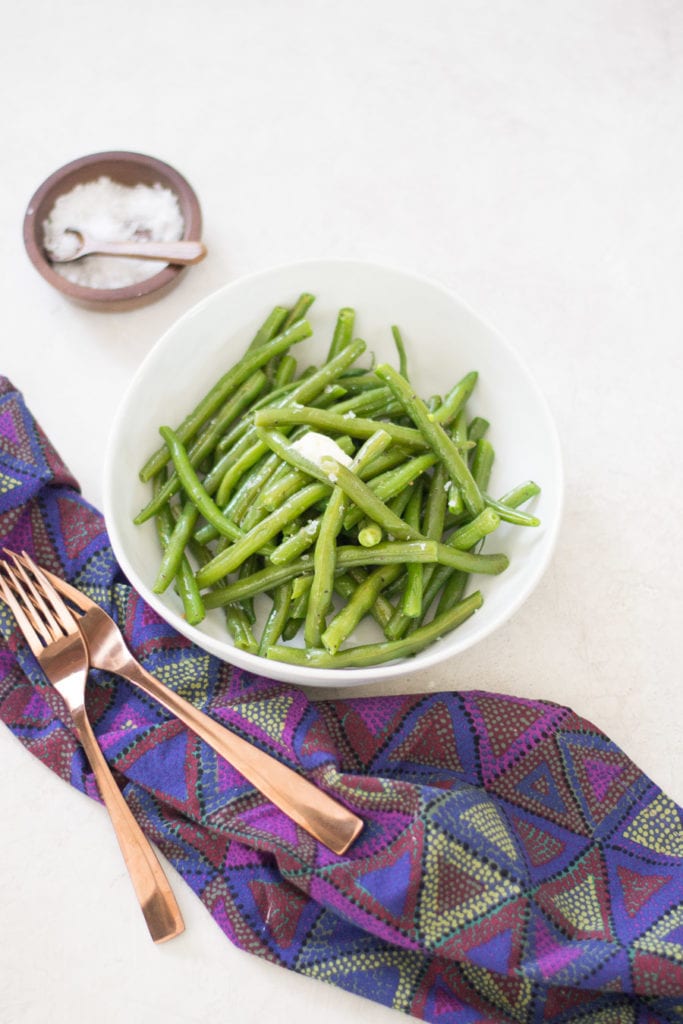 I have many, many green bean recipes on this site. To say green beans are one of my favorite vegetables would be an understatement. I have green beans with bacon, green beans in a slow cooker Greek tomato sauce, and green beans with garlic. Green beans are also the star player in my Mom's beef stew recipe. That little bit of green is key to rounding out the stew.
While these recipes are all fine and dandy, they are not the basic, usual way I prepare green beans.
I have to warn you, this is barely a recipe but it is THE BEST preparation around.
All green beans really need are a little bit of salt, pepper, butter, and lemon. The lemon can either be in the form of juice or zest, or even both! I love my lemon! See, nothing overwhelming about that ingredient list, right?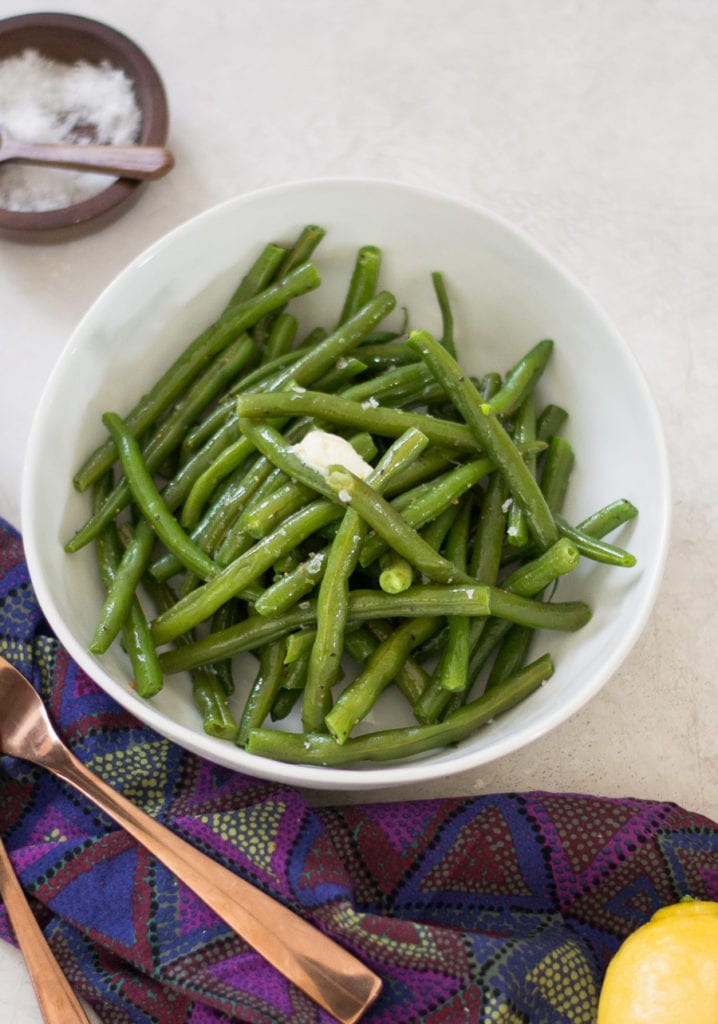 The thing that makes the green beans really pop is the timing of how you cook them. Some recipes demand you cook the crud out of the bean until it is limp (that's what she said) and loses all it's vibrant color. While that may work for my slow cooker Greek green beans, it isn't what I want for my weeknight green beans.
I bring a medium pot of water to a rapid boil. Trim your green beans while you wait. Add the beans to the water once it is really boiling. Boil for 5-7 minutes until fork tender and still green.
Drain them in a colander over the sink and then run them under cold water for a second. Add the beans back to the hot pot. Add in the butter, salt, pepper, and lemon. The residual heat from the pan will melt the butter.
All you need to do is give it a good mix and then they are ready to be devoured.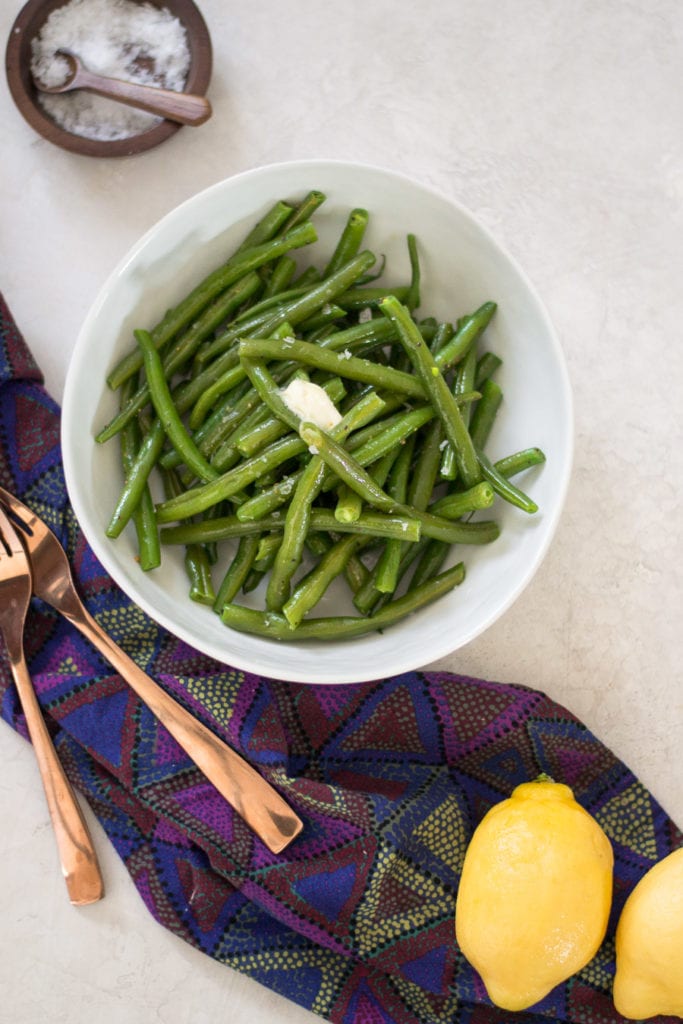 I ate these beans for a meal two days in a row when Mike was working late. The kids will even take a bite or two! Shocking, I know!
It is basic and easy but does not lack in flavor. I would even recommend having these at your next holiday dinner or brunch!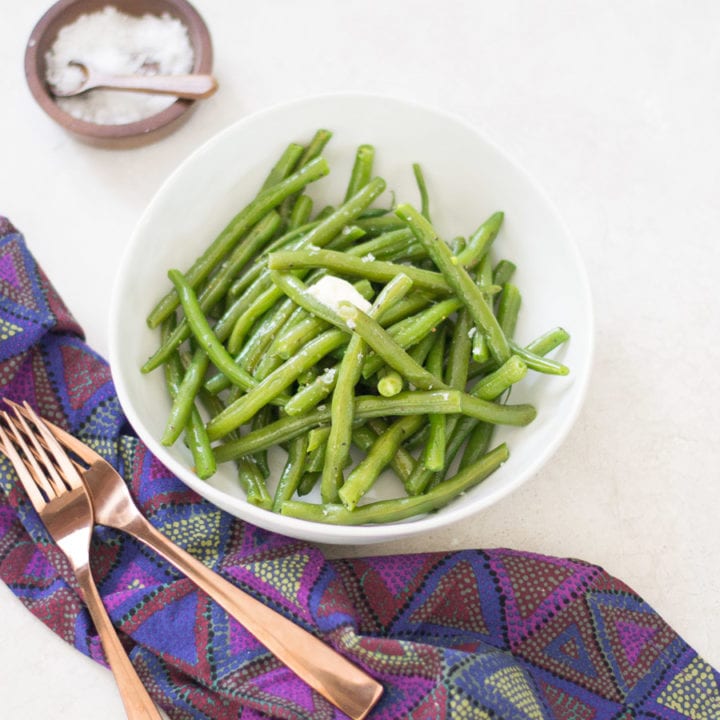 The Best Easy Lemon Butter Green Beans
Tender and bright green beans quickly blanched and then tossed with butter, salt, pepper, and either lemon juice or lemon zest.
Ingredients
1 lb, fresh green beans
2 tbsp unsalted butter
1 tsp lemon juice
1/4 tsp lemon zest
salt, to taste
pepper, to taste
Instructions
Bring a medium pot of water to a boil over medium/high heat. While you wait for the water to come to a boil, trim the ends and any stems off the green beans.
Add the green beans to the boiling water. Boil for 5-7 minutes until fork tender and still bright green.
Add a colander to the sink. Drain the beans into the colander. Run cold water over the beans for 30 seconds.
Return the beans to the hot pot. Add butter, salt, pepper, lemon juice, and lemon zest. toss to combine.