Inside-out croque madame sliders are filled with a spicy mustard cheese sauce, jammy eggs, and ham. It's everything that is on a typical croque madame, just tucked perfectly inside.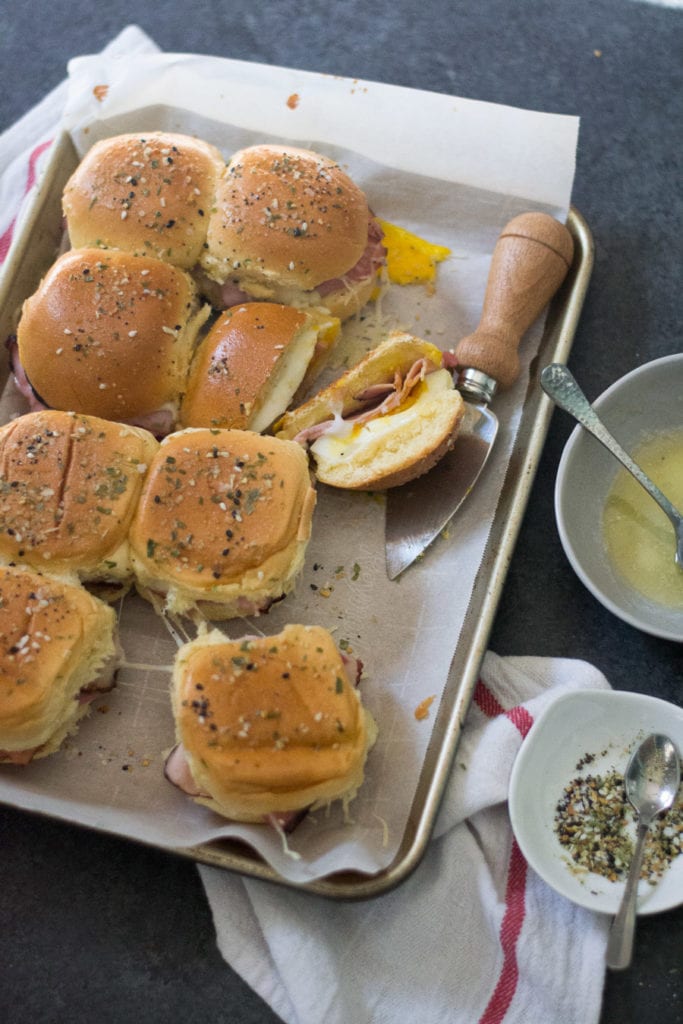 Sliders again, I know. I actually planned on sharing a quinoa based recipe from my new book the other day but the people came out in droves to vote on Instagram for me to share the slider recipe first.
Ask and ye shall receive.
I didn't really take the whole month meal plan, recipe sharing into perspective. I actually forgot I had these sliders planned for today. Oops. Despite all that, I am sharing these sliders anyway. Mainly because they are awesome!
I have had a croque madame in my head since the summer. The idea started as a grilled flatbread. Summer came and went and I did so many other things on the grill. I couldn't shake this cheesy French-ish sandwich.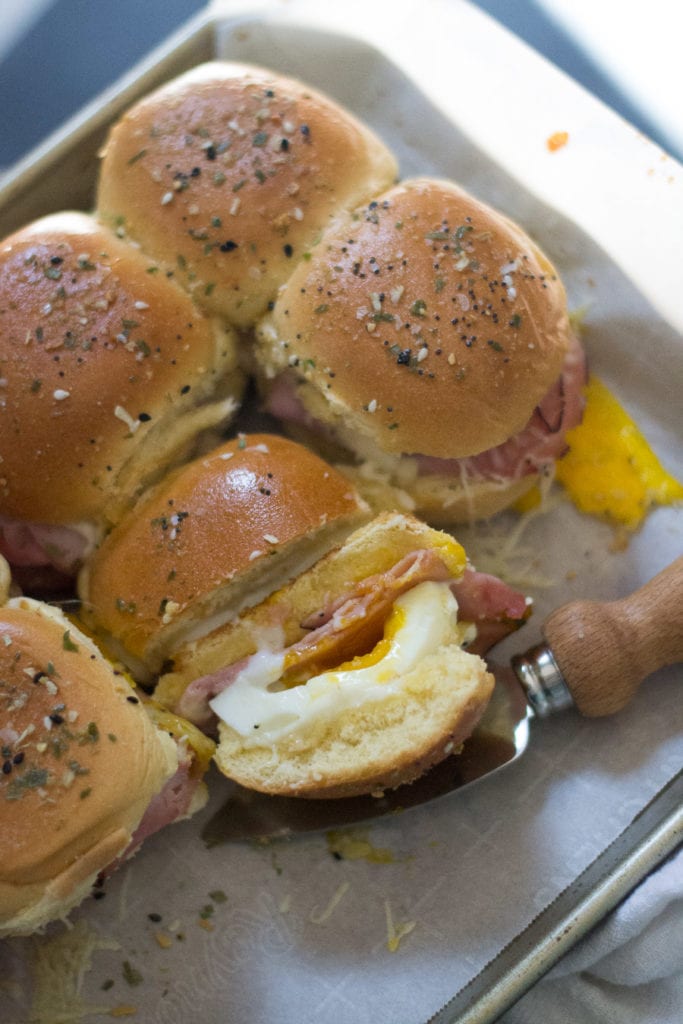 Since I am American, I had to bastardize the croque madame sandwich and turn it into croque madame sliders with a jammy egg and cheese sauce on the inside. Don't knock it. You can actually hold and eat this sandwich as opposed to needing a fork and knife. Plus you still get that runny yolk from the jammy eggs.
Win, win.
This sandwich/slider is glorious no matter how you make it. I took a page out of my own cookbook and used my jammy egg recipe. It uses the Instant Pot to make fuss-free eggs every single time. Make the eggs ahead of time and assemble sandwiches as needed.
The recipe for the cheese sauce would also double as a great fondue if you have any leftovers. Look at that! I gave you jammy eggs, sliders, and a possible fondue recipe all in one post.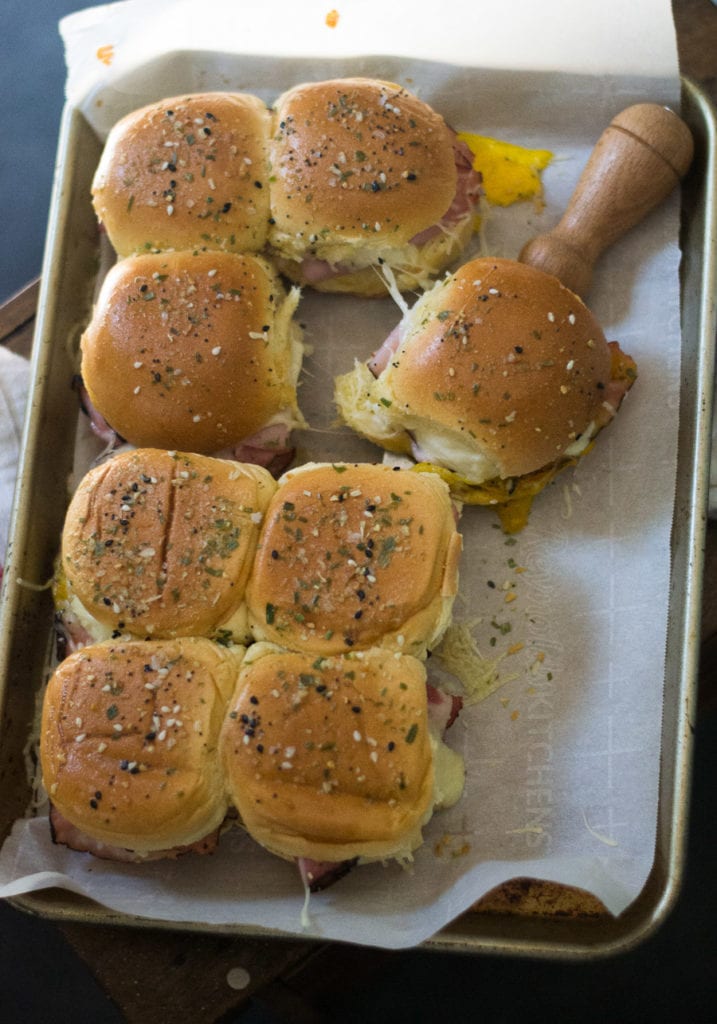 Good thing my American bravado got the best of me. As a result, I came up with this genius recipe. Patting myself on the back.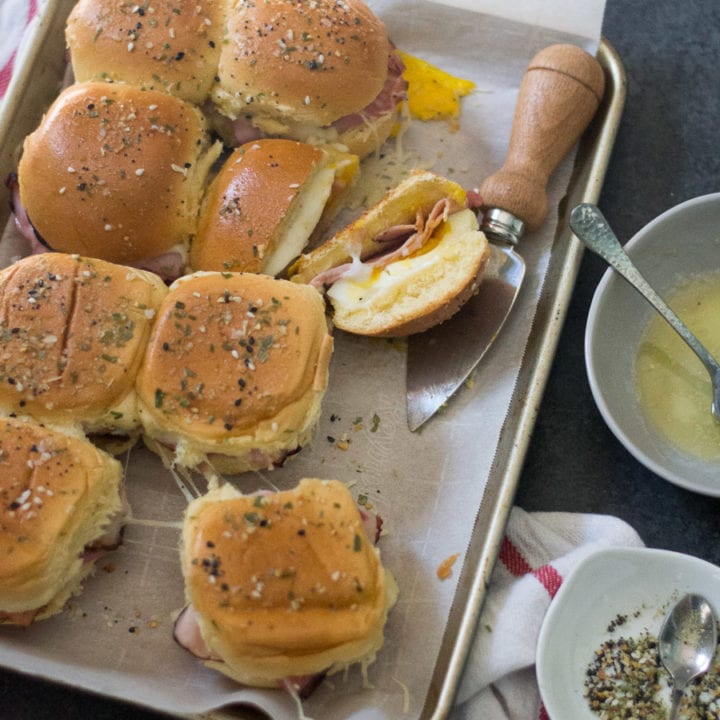 Inside Out Croque Madame Sliders
Slider rolls topped with black forest ham, half a jammy egg, and a Swiss/Gruyere cheese sauce and then baked until crisp.
Ingredients
FOR THE EGGS:
6-8 large eggs
1 cup water
FOR THE CHEESE SAUCE:
1/4 cup unsalted butter
1/4 cup all-purpose flour
1 tsp dijon mustard
1 garlic clove, grated
1/2 tsp prepared grated horseradish
1 3/4 cup heavy cream
1 cup shredded Swiss/Gruyere cheese blend
1 tsp salt
1/4 tsp black pepper
FOR THE SLIDERS:
12-16 Brioche slider rolls
12-16 slices of black forest ham
6-8 jammy eggs, peeled and cut in half length-wise
1/2 cup shredded Swiss/Gruyere cheese blend
1 tp 1 1/2 cup cheese sauce
2 tbsp butter, melted
onion salt
everything but the bagel seasoning
Instructions
Preheat the oven to 375 degrees F. Line a half-pan baking sheet with parchment paper.
Add your steam trivet to the Instant Pot along with the cup of water. Place the eggs into the pot on top of the trivet. Secure the lid with the steam vent sealed. Press "Steam" and adjust the time using the "-/+" buttons until the display reads 4 minutes.
Prepare a large bowl of ice water to dunk the eggs into once they are done cooking.
While the eggs cook, make the cheese sauce. Add butter to a medium saucepan over medium/low heat. Once the butter is melted, add the flour and whisk to combine. When a roux has formed, add the dijon, garlic, and milk. Whisk to combine. Cook for 2-3 minutes. Once the sauce has thickened, add the cheese, salt, and pepper. Whisk until the cheese is melted. Once the cheese is melted, reduce to low.
When the timer on the Instant Pot sounds, quick release the pressure. Remove the lid and quickly use tongs to transfer the eggs to the ice bath.
Now, assemble the sliders. Slice each roll in half width-wise. Place one slice of ham on the bottom half of each slider, folding to make it fit.
Peel each egg. Slice in half length-wise. Place the eggs on the ham, cut side down. Top each egg with a heaping spoonful of the cheese sauce and a good pinch of the shredded cheese. Cover with top buns.
Drizzle melted butter over each slider bun. Sprinkle a little bit of onion salt and everything bagel seasoning over each buttered bun.
Bake the buns for 15 minutes until the tops are golden and crisp.
Allow to cool for 5 minutes before separating and serving.