One skillet vegetarian Mexican rice uses all your favorite fajita vegetables and seasonings and cooks them together with rice for an easy dinner or side dish on your next Taco Tuesday night.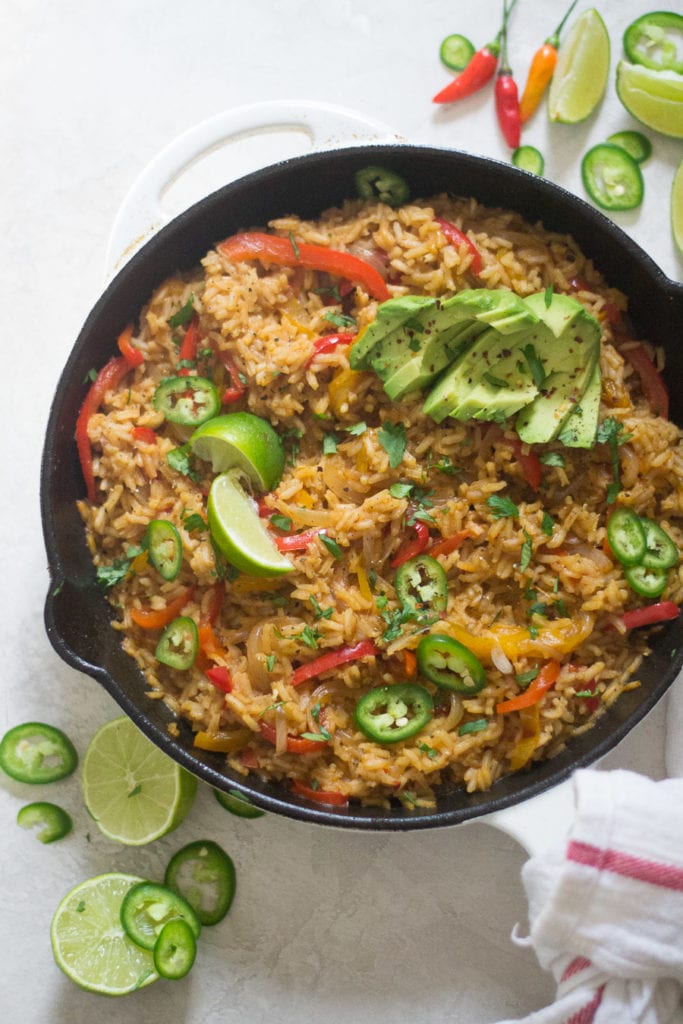 Did I scare you with my last post when I started talking about Thanksgiving dinner planning? If that post scared you, wait until a few days from now when I talk about TURKEY!
I mean, it is coming and we all should sorta start planning, but there are a lot of meals in between now and then that still need cooking.
We can't forget about dinner in the meantime.
I love doing Taco Tuesday in our house. I sometimes get bored with my classic side, cilantro lime quinoa. It just makes me think about how badly I wish I had Chipotle guac and chips for dinner instead. That's no good!
One skillet vegetarian Mexican Rice was what I whipped together one night. I was on a fajita vegetable everything kick and wanted to make it more substantial. I love this dish with a big side of vegetarian refried beans. Mike would opt for a heaping side of pico de gallo chicken instead.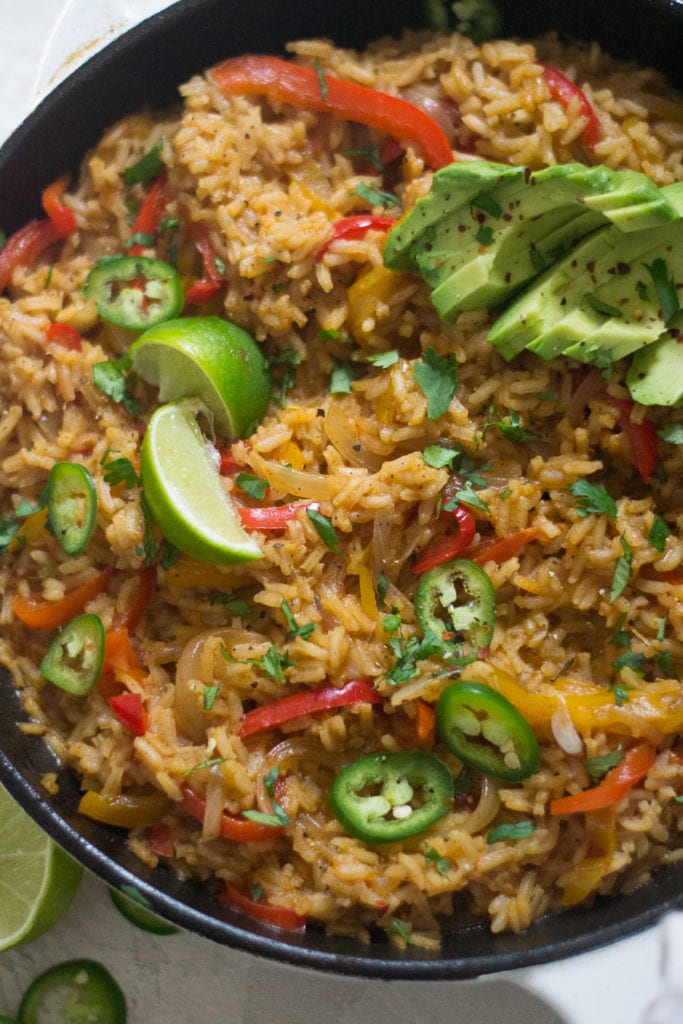 The bell peppers and onion cook up over high heat in a skillet with a bunch of fajita seasonings. Add the rice and toast for a minute. Mix in the water, cover, and then mmmm amazing rice and veggies all in one skillet.
If you like fajita seasoned things as much as I do try out fajita vegetable chilaquiles or slow cooker fajita chicken and veggies. Another good recipe is steak sheet-pan fajitas. I think Mike wished I made that more often then all these other veggie loaded riffs.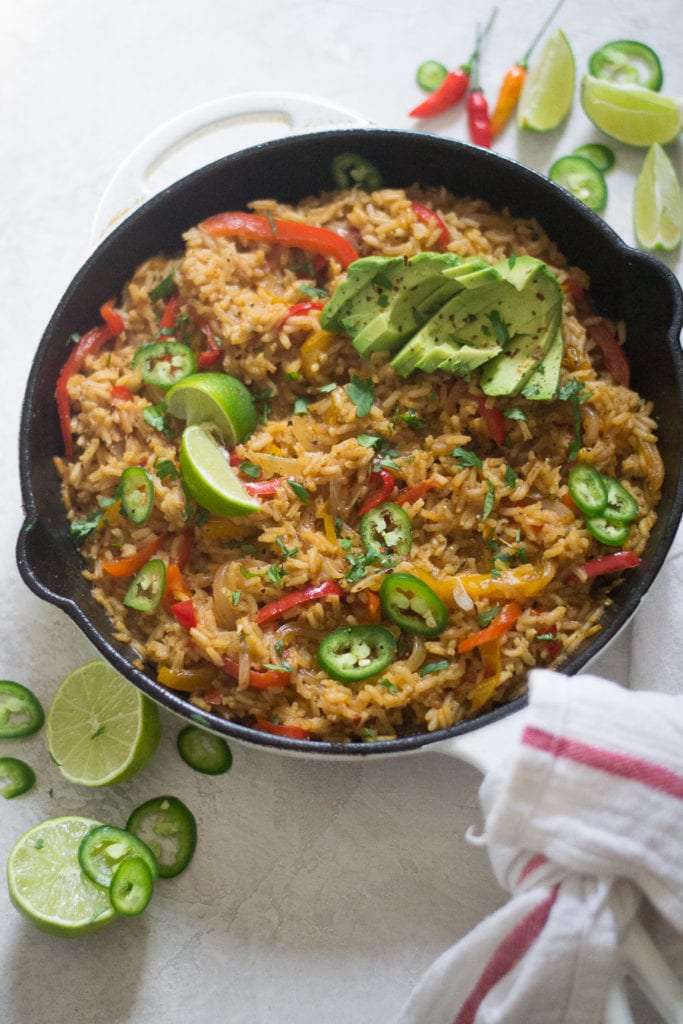 Let me know if you guys make this recipe. In the meantime, I'll try to keep an even split of Thanksgiving and regular meals on the blog for this month. Key word, try.
One Skillet Vegetarian Mexican Rice
Additional Time:
15 minutes
Fajita seasoned bell peppers, onions, and rice cooked in one skillet is perfect for a side or meatless main dish.
Ingredients
1 tbsp avocado oil
1 yellow bell pepper, thinly sliced
1 red bell pepper, thinly sliced
1 yellow onion, thinly sliced
1/2 tsp salt
1/4 tsp black pepper
1 tsp smoked paprika
1 tsp chili powder
1/2 tsp oregano
1 tsp ground cumin
1 garlic clove, minced
1 cup long grain jasmine rice
1 1/4 cup water or vegetable stock
Instructions
Heat a large cast iron skillet over medium/high flame. After 1-2 minutes, add avocado oil. Swirl the oil around the pan to evenly coat.
Add the onion and bell peppers. Sauté for 3-5 minutes until the onion is translucent.
Season with all the seasonings and add the garlic. Mix to combine. Cook for 2 minutes.
While the garlic heats through and the veggies finish cooking, add the rice to a fine mesh strainer and rinse under cold running water until the water runs clear.
Add rinsed and drained rice to the skillet. Stir to combine and toast for 2 minutes.
Add the water/stock. Bring up to a simmer. Reduce heat to low and cover with a lid.
After 18 minutes of bubbling, remove the covered pan from the heat. Let stand for about 15 minutes. DO NOT UNCOVER!
After the 15 minutes remove the lid and fluff rice with a fork.
Recommended Products
As an Amazon Associate and member of other affiliate programs, I earn from qualifying purchases.