There is nothing better than the briny, bright flavors of pasta puttanesca. Well, except maybe having it cooked in the Instant Pot in under 15 minutes! Instant Pot pasta puttanesca combines tomatoes, two types of olives, capers and fresh herbs in one easy dish.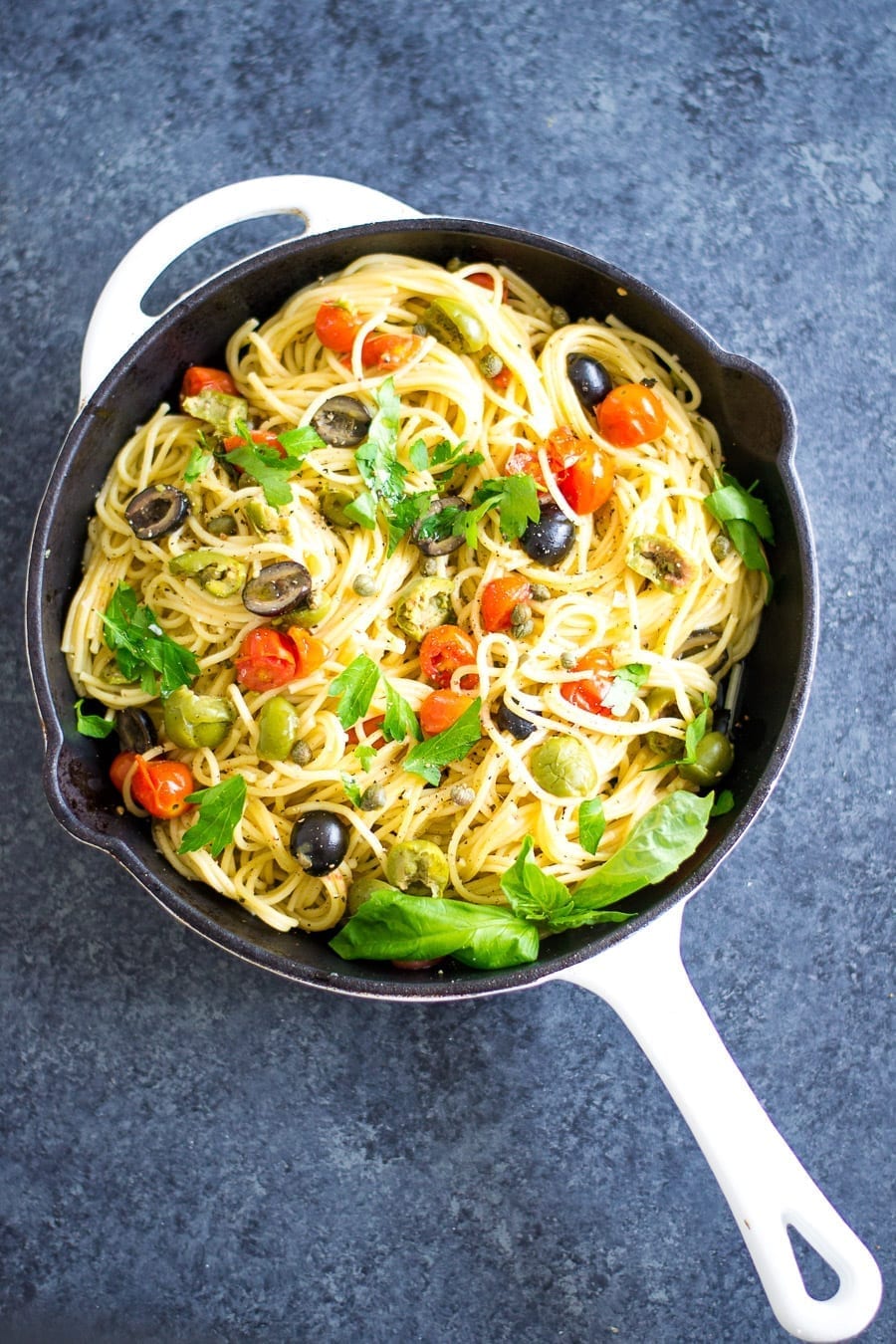 Something is happening to me. Call it food boredom or health-focused. I am starting to lean more into my old vegetarian ways. Less meat and more plants.
It is a good rule of thumb for eating, generally speaking.
Mike is sooooo excited about this. Not!
I noticed when I cut out meats, I generally cut out cheese and dairy in addition. You are starting to see why Mike is so not on board with this life plan now, aren't you?
Over the weekend I made him an egg breakfast sandwich which contained no eggs. I used the mung bean-based JUST "egg" substitute. It was actually pretty good! Mike said if I didn't tell him it wasn't eggs, he never would have guessed.
All you vegans and egg-allergy folks take note of that statement. The carnivore gave it his stamp of approval.
I like testing out new plant-based products which are all the rage these days. I can't give up my carbs though. Sorry. Bread is life. Even Oprah agrees with me on that one.
This recipe for Instant Pot pasta puttanesca combines all my favorite things; fresh tomatoes, black olives, Castelvetrano olives, capers, and fresh herbs. All the pasta needs to cook is water, salt, and a little extra-virgin olive oil. It is a fairly simple recipe that cooks in under 15 minutes.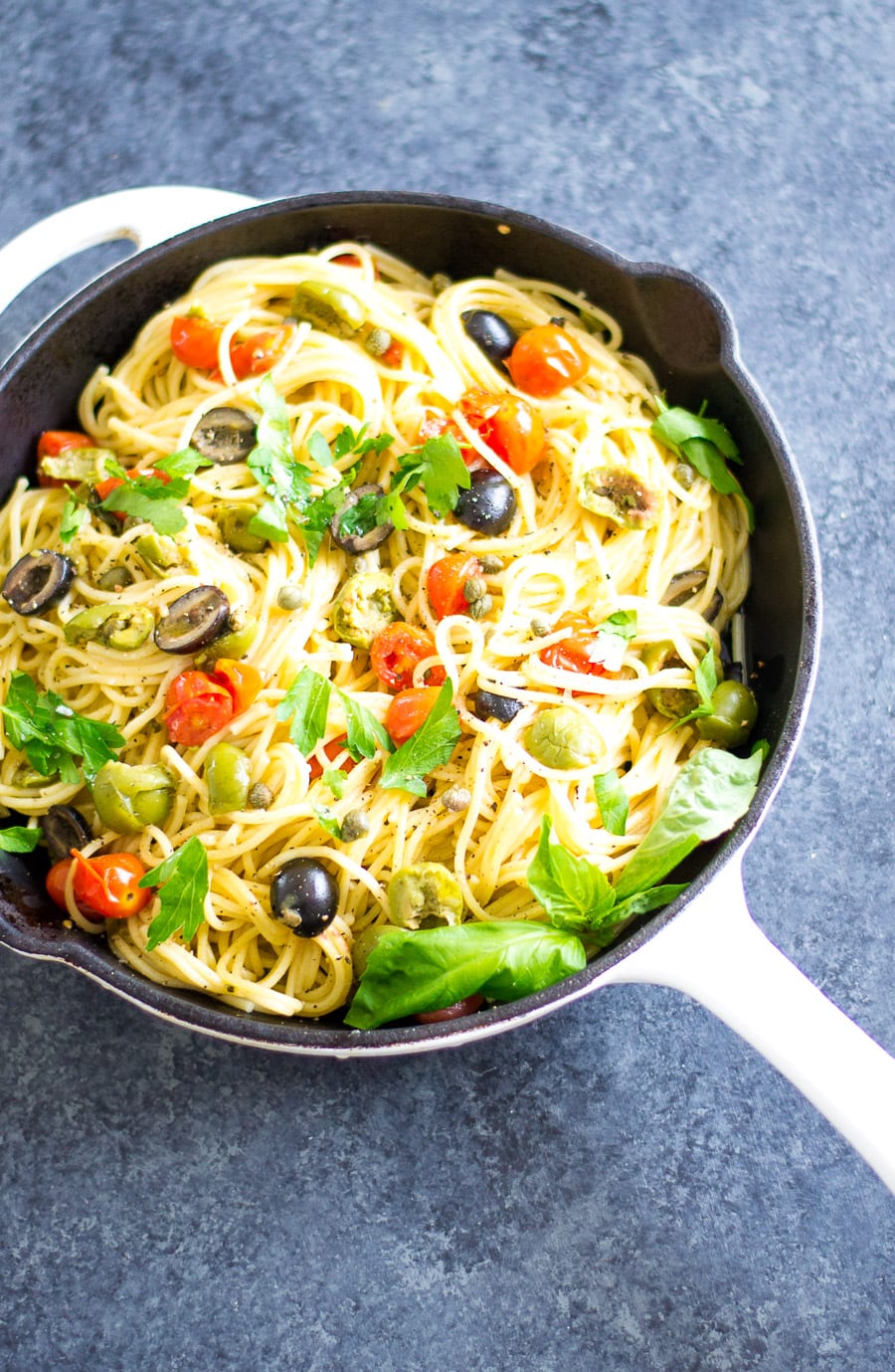 If you are like me and want more plants in your life, this is a great pasta night dish to try out. Looking to be even sneakier about extra veggies? Try my butternut squash mac and cheese. It has been fooling kids for years!
I would also recommend, when it comes to this pasta, adding in fresh spinach at the end or even a squeeze of fresh lemon juice and some crushed red pepper flakes for a little kick.
Let's all eat more veggies, but not go all crazy with it!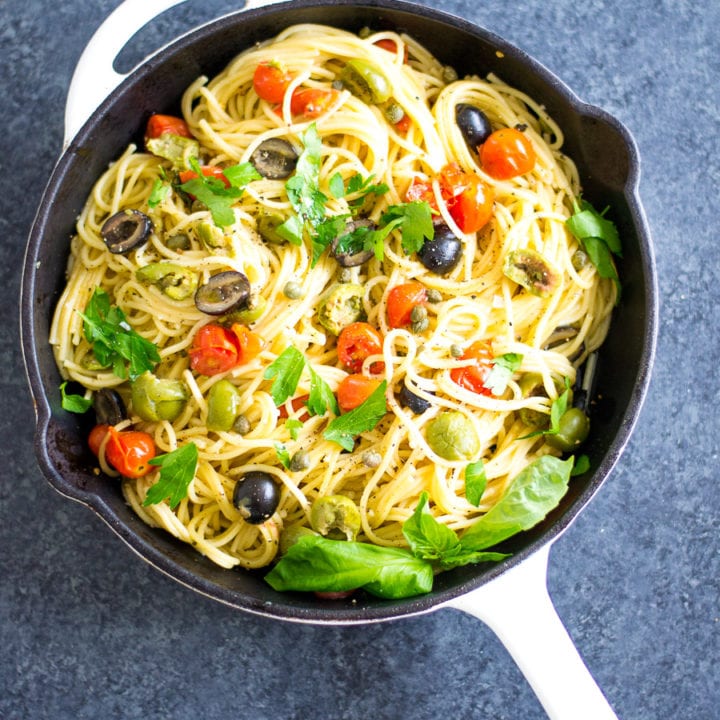 Instant Pot Pasta Puttanesca
Time to Come to Pressure:
5 minutes
Instant Pot or the one pot pasta method, cooks spaghetti, tomatoes, two types of olives, capers, and fresh herbs together from start to finish in under 15 minutes!
Ingredients
1 lb thin spaghetti noodles, cracked in half
3 1/2 cups water or vegetable stock*
1 pint grape tomatoes, cut in half
2 tbsp capers
1/2 cup pitted black olives, cut in half
3/4 cup Castelvetrano olives, pitted and cut in half
2 tbsp chopped fresh flat-leaf Italian parsley
1 tbsp fresh chopped basil
1 tsp salt
1/2 tsp black pepper
2 tbsp extra-virgin olive oil
*if doing the one pot pasta method use about 4 1/2 -5 cups of water
Instructions
Add about 1/4 of the cracked in half noodles to the Instant Pot. Turn the pot 90 degrees and add another 1/4 of the noodles, turn 90 degrees, add another 1/4, and so on until all the noodles are added in 4 layers.
Add the water/stock, tomatoes, olives, capers, parsley, basil, salt, pepper, and olive oil to the pot.
Secure the lid with the steam vent sealed. Press "High Pressure." Adjust the time until the display reads 5 minutes.
Once the timer sounds, quick release the steam. Remove the lid. Use tongs to mix and separate and noodles that may have gotten stuck together.
The burst tomatoes will make a nice sauce with the pasta water so be sure to give them a good squish while mixing. Adjust salt and pepper to taste.
Top with more fresh herbs before serving.
Notes
ONE POT METHOD: Add all the ingredients to a large deep sided skillet. Bring to a simmer over medium heat. Stir using tongs regularly. Simmer over medium/low heat for about 10-15 minutes until the pasta is al dente and most of the liquid has evaporated.
Recommended Products
As an Amazon Associate and member of other affiliate programs, I earn from qualifying purchases.