Lemon and orzo Greek salad is the best way to eat your veggies and pasta all at the same time. Traditional Greek salad ingredients tossed with a easy lemon vinaigrette and orzo is the complete meal!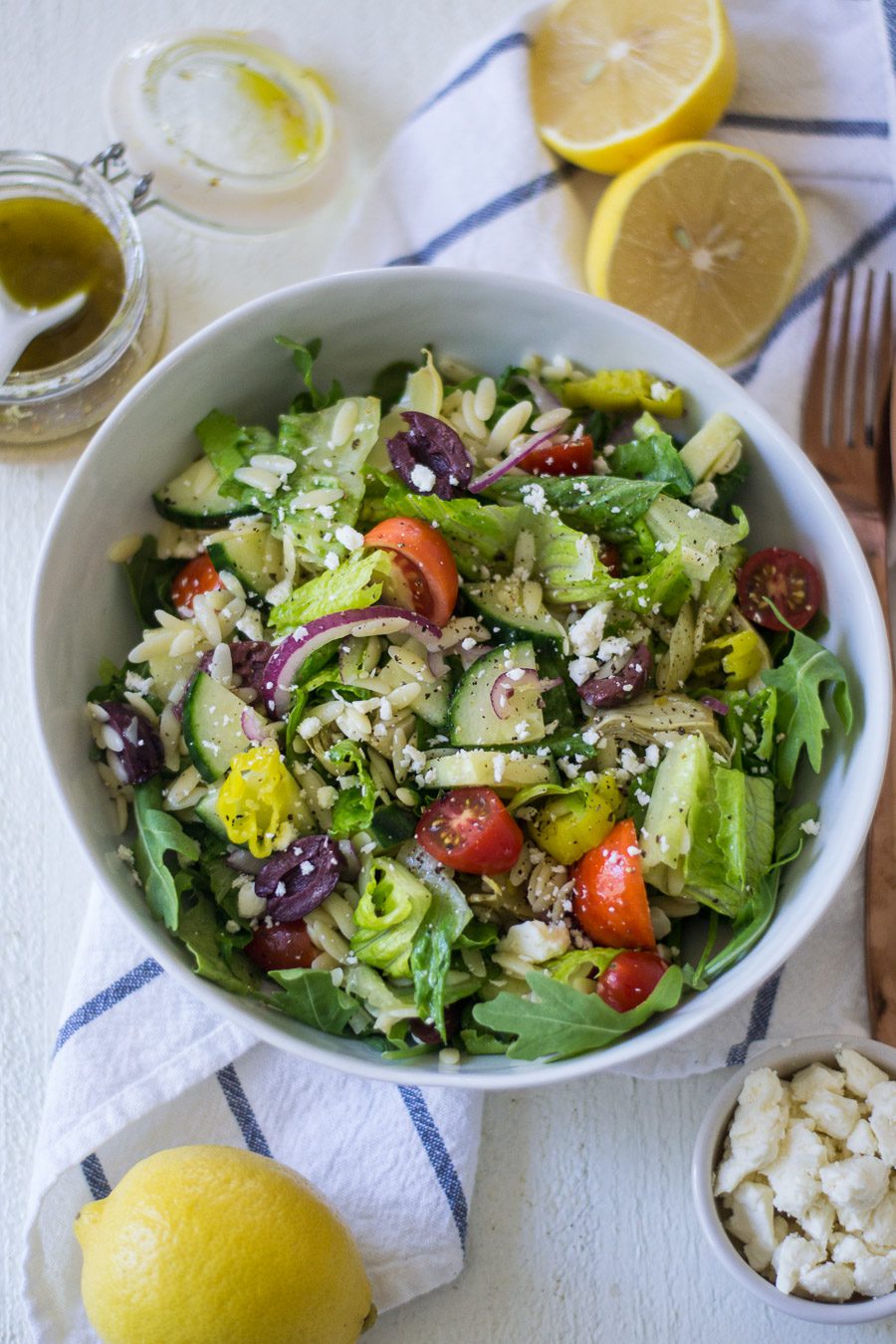 I figured I would share this sort of summery salad before it gets to fall-y.
This is the salad that I basically tried to poison Mike with for dinner the other night.
Pump the brakes.
Poison is meant in a figurative not literal sense.
Let the record show that before I made a salad for dinner, Mike came to me and told me he could, and I quote, "Get behind a Greek salad for dinner."
Those were literally his words.
I was the one that almost died of shock.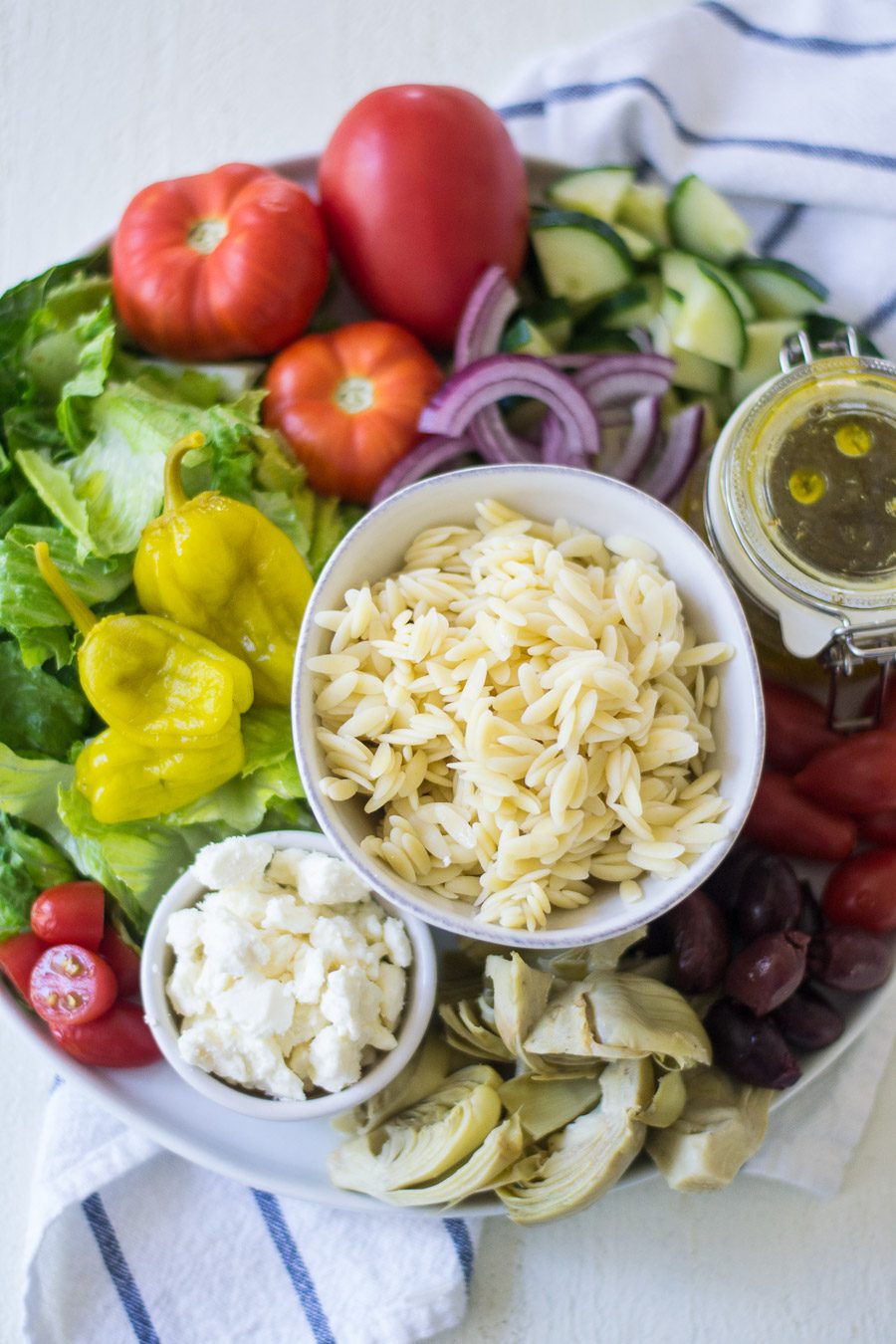 The man never wants a salad as a meal let alone a side dish.
He is not wrong. What isn't to love about a big Greek salad?
Throw in orzo and how could I have been going wrong?
Here is what I crammed into my version of a Greek salad:
Romaine Lettuce
Kalamata Olives
Marinated Artichoke Hearts
Pepperoncini
Tomatoes
Cucumbers
Red Onion
Orzo Pasta
All the things! Give or take what you personally do not like to eat.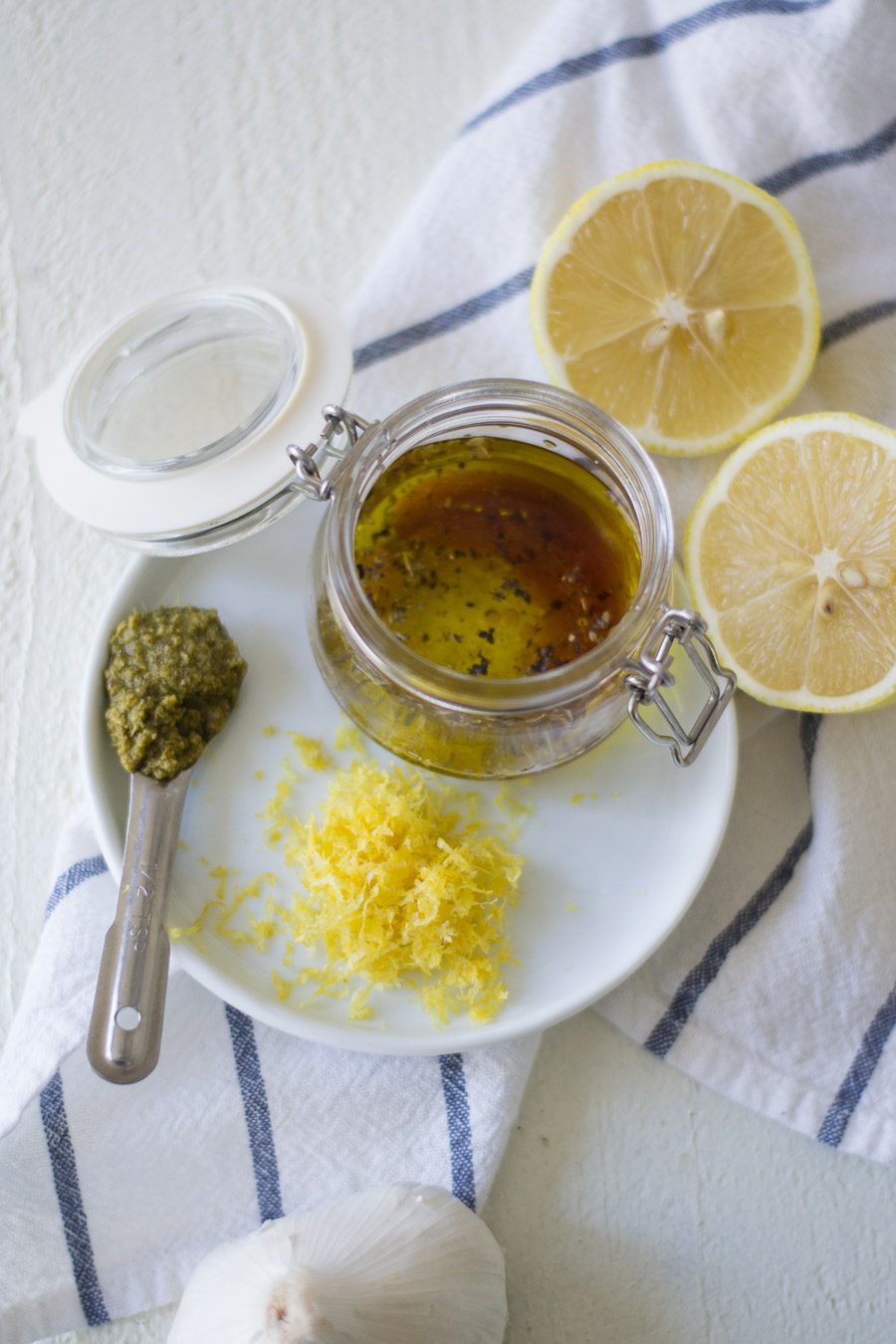 The vinaigrette is no where near a traditional diner Greek dressing.
I made a simple vinaigrette made from lemon juice, lemon zest, jarred pesto, red wine vinegar, olive oil, and dried oregano.
The dressing will keep for a week or so in the refrigerator.
This salad was supposed to be a crowd pleaser.
I personally believe it to be.
Mike shoveled the salad into his mouth like I was holding a gun to his head.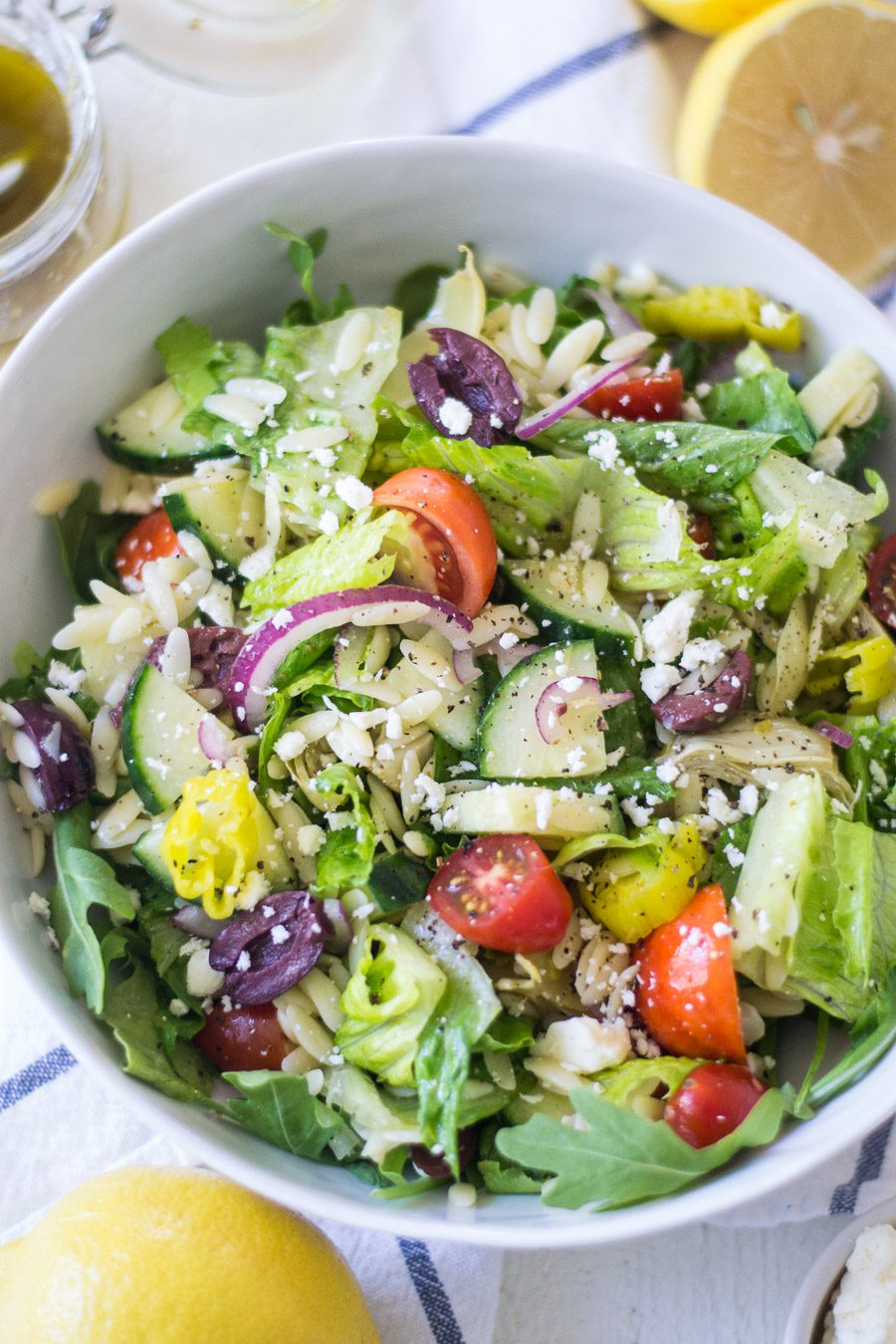 Then after he was done, he tossed the tomatoes from his salad into the garbage!
The garbage!
I would have gladly eaten the tomatoes!
Do not listen to him. This salad rocks.
Make it and you will see for yourselves!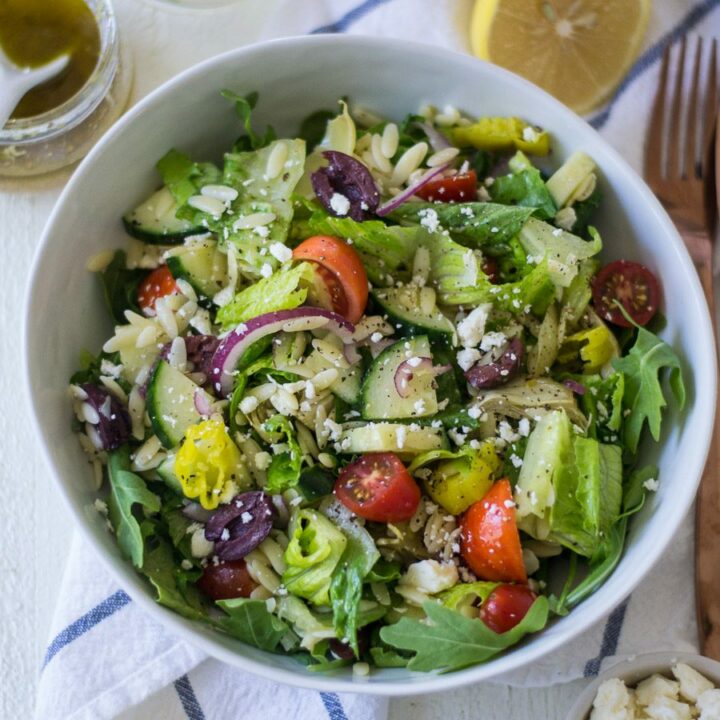 Lemon and Orzo Greek Salad
Yield: Serves 2-4

Prep Time: 12 minutes

Cook Time: 8 minutes

Total Time: 20 minutes

A traditional Greek salad with orzo pasta and an easy lemony, pesto-based vinaigrette.
Ingredients
For the Vinaigrette:
zest and juice of 1 lemon
1/2 cup extra-virgin olive oil
1 tsp jarred pesto
1 tsp red wine vinegar
pinch of salt
pepper
For the salad:
1/3 cup orzo pasta (uncooked)
1 large head of romaine lettuce, torn/chopped
1 1/2 cups baby arugula
2 tomatoes, chopped or 1 cup halved cherry/grape tomatoes
2 Persian cucumbers, sliced
1/3 cup kalamata olives, halved
1/4 cup slivered red onion
1/3 cup crumbled feta cheese
1/2 cup jarred quartered artichoke hearts
3-5 pepperoncini peppers, sliced
Instructions
Whisk all the dressing ingredients together in a small mixing bowl. Transfer to a medium jar or container with a lid.
Bring a medium pot of salted water to a boil. Cook the orzo for about 8 minutes until tender. Drain and set off to the side to cool.
Add all the salad ingredients except the orzo to a large bowl. Toss to combine. Add the orzo once it is fully cooled and drained. Shake the dressing vigorously and then top with about 1/4- 1/2 the vinaigrette. Toss with tongs and then serve.
Add more salt and pepper along the way or at the end to finish if needed.
Notes
If you are making the salad ahead of time, cook the orzo and keep separate int he fridge. Keep the vinaigrette separate as well in the fridge. Add the tomatoes, cucumbers, olives, onion, artichoke hearts, pepperoncini to the bottom of the salad bowl. Place a paper towel on top. Add the lettuce and arugula on top and store in the fridge uncovered until ready to serve.
Recommended Products
As an Amazon Associate and member of other affiliate programs, I earn from qualifying purchases.