I miss the days of summer vacation. Right now, all the kids on my block are getting out of school. I hear them playing in their yards until it gets dark outside. Then I hear the middle school kids causing a ruckus on their walk to 7-Eleven. (One of the downsides of living down the street from the 7-Eleven).  Even though I remember the joy of having the freedom to walk a few blocks alone with friends as a kid, I still peek out my front windows and shake my fist at these hoodlums!

I wish I was in their situation. Two months of not a care in the world. I think America should hop on this train… I know, the upcoming election is all about "putting America back to work," but imagine the possibilities of a nation on summer vacation!
Ok…let's think…if everybody was on summer vacation that would mean no stores would be open. It would kind of be like preparing for the apocalypse. So maybe we should do a split summer vacation. Half of America takes summer vacation in June, and the other half takes summer vacation in July.

I know what my day would look like in the midst of summer vacation:
6:45 AM: Get some coffee brewing. Poach an egg. Toast some bread. Smash a little fresh avocado on the toast and top with the poached egg.
7:00 AM: Watch the Today Show while drinking my coffee and eating my breakfast.

9:00 AM: Post-breakfast/Today Show nap.
10:00 AM: Shower and get dressed.
11:00 AM: Creep on various social networks and plan my lunch.
12:00 PM: Lunch
1:00 PM – 4:00 PM: Head to some kind of water; pool, lake, river, baby pool, or ever a sprinkler. Park my pale butt near it and read with intermittent breaks submerged in the water.
4:00 PM: Nap. Sunshine really takes a lot out of you!
5:00 PM: Shower (optional) and get ready for dinner.
6:00 PM: Grill some amazing dinner. Oh, like these Orange Chicken Sliders! Spend the rest of the night outside on the deck chatting, eating, and drinking, yet still going to bed at a reasonable time because I am not a kid anymore!
What a world, right? Well at least I have one thing out of that scenario…
Ingredients (Makes 4 Sliders)
For the Sauce:
1 Teaspoon Low-Sodium Soy Sauce
¼ Teaspoon Salt
½ Teaspoon Pepper
1 Teaspoon Sesame Oil (Optional)
1 Teaspoon Sriracha (Tabasco will also do).
½ Teaspoon Grated Garlic
1 Teaspoon Molasses
1 Tablespoon Orange Zest
1 Tablespoon Fresh Squeezed Orange Juice
1 Tablespoon Olive Oil
For the Sliders:
2 Boneless Skinless Chicken Breasts, halved width-wise
4 Whole Wheat Slider Buns
Optional toppings: sliced tomato and lettuce or a few spinach leaves
To make the marinade, add the soy sauce, salt, pepper, sesame oil if you are using it, Sriracha, garlic, molasses, orange zest, orange juice, and olive oil to a small mixing bowl. Whisk for about thirty seconds to combine. Set on the side.

Turn your grill on. Set it to medium/low heat. Spray the grill with a non-stick spray or coat the grates with a little bit of olive oil so the chicken doesn't stick. Let the grill heat up for a few minutes.
Cut the chicken breasts in half width wise. Bring the chicken, sauce, and slider buns out to the grill.

Place the chicken breasts on the middle of the grill. Cover the top with a heavy coat of the sauce. Close the grill lid and grill the side on the grate for three minutes and then flip. Generously coat that side with the sauce. You want to grill the chicken breasts for a total time of six minutes per side, flipping four times. After each flip, make sure you lather on the sauce.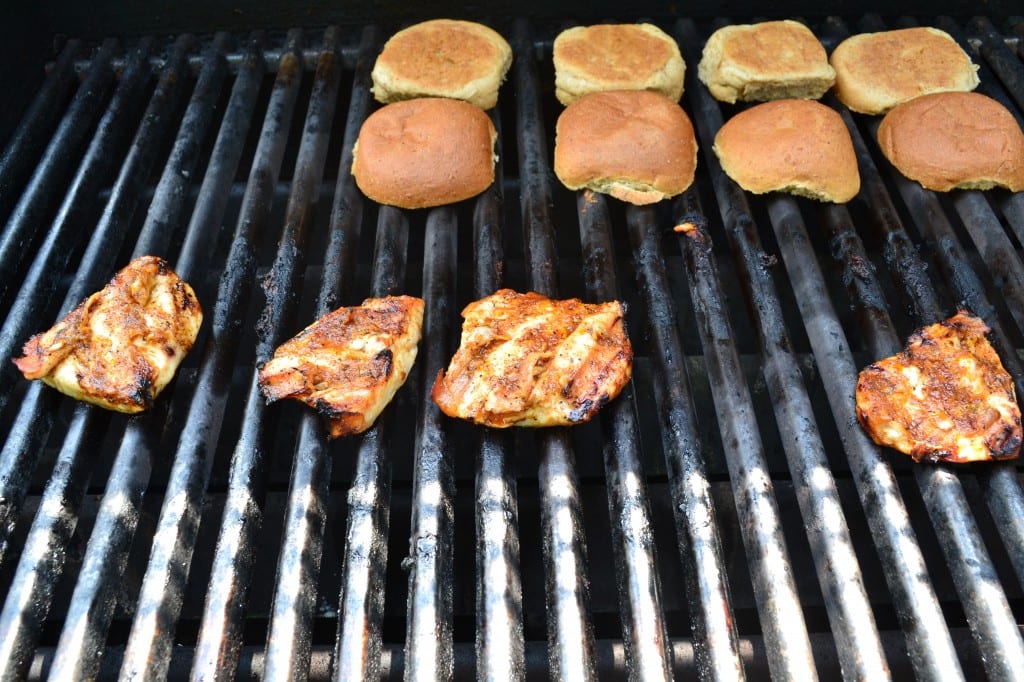 During the last minute or so of cooking, toast the buns until crispy and golden. Let the chicken rest for a few minutes before serving.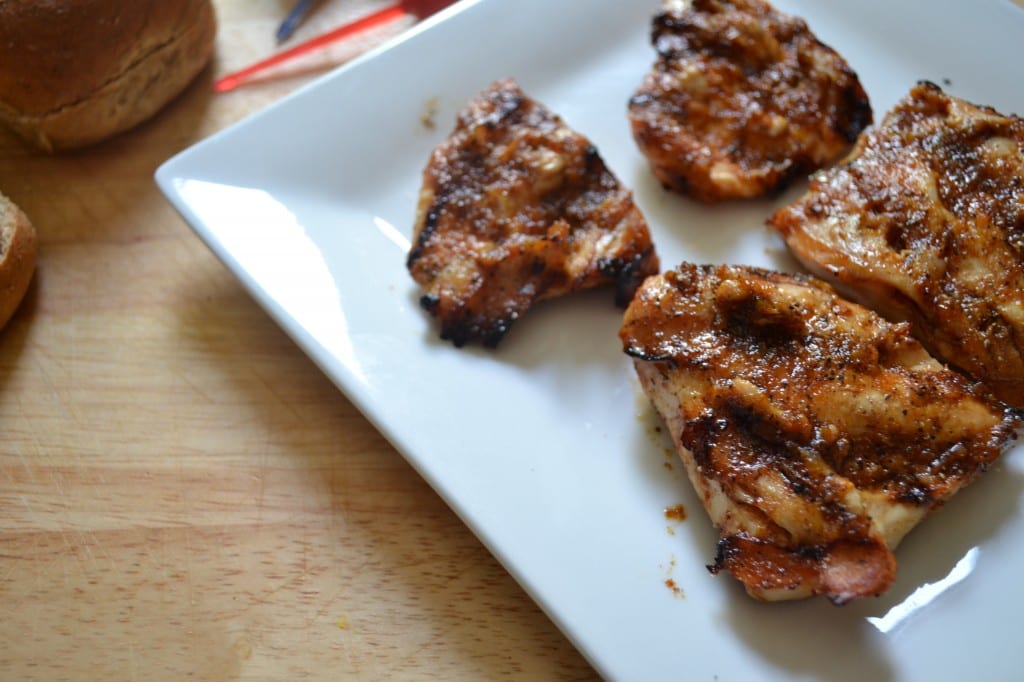 Top with your favorite toppings and enjoy!

Related posts: