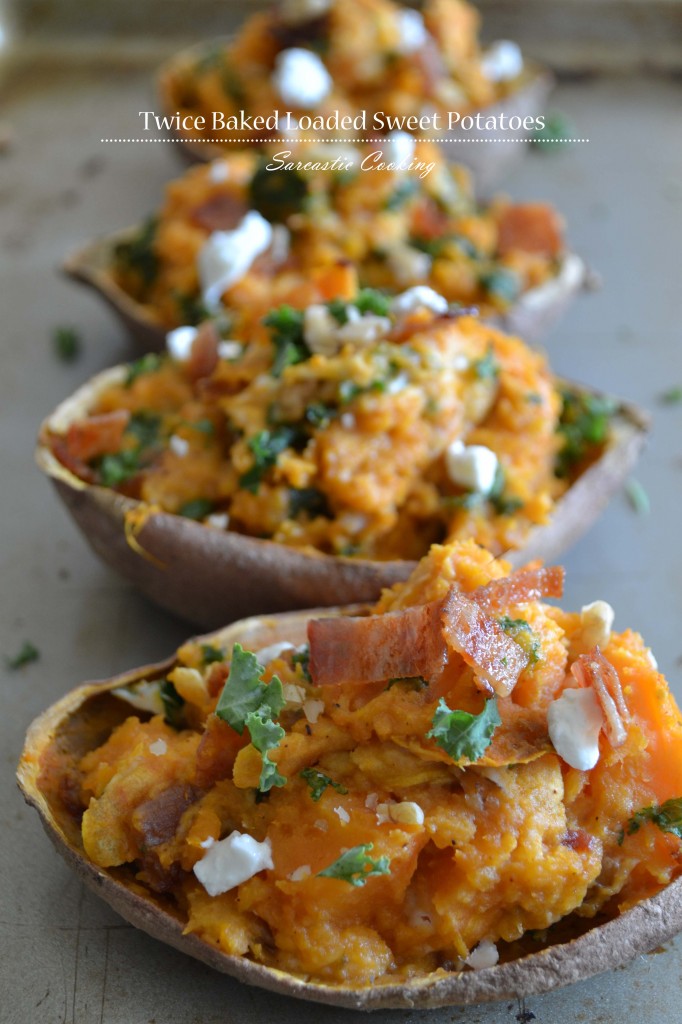 I have slowly started transforming the normal foods I buy for myself and my husband, Mike, to healthier options. I have yet to determine if Mike has noticed or not.
Instead of any kind of boxed white rice, I now only buy quinoa, barley, or wheat berries. I actually think that, to him, they all taste the same.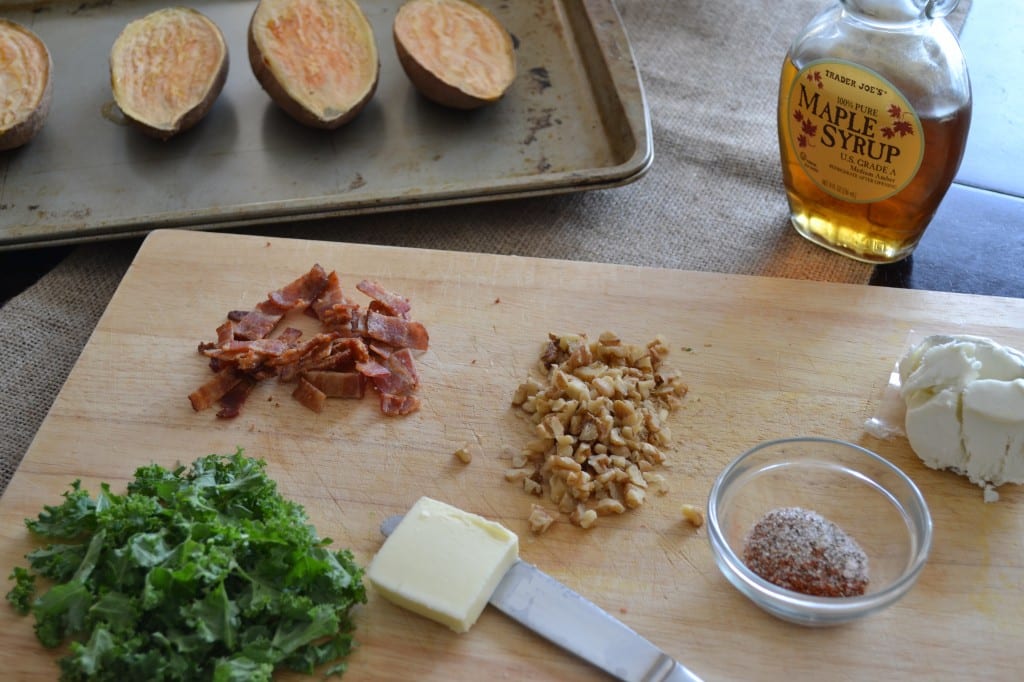 Instead of regular potatoes, I now exclusively buy sweet potatoes. I know he has noticed this switch because one day he asked me, "What is this, butternut squash?" In response, I just sighed, shook my head, and put my head down.
But I have found that if you add in a little bit of something familiar or something that he loves, Mike overlooks the new food and concentrates on the thing he that.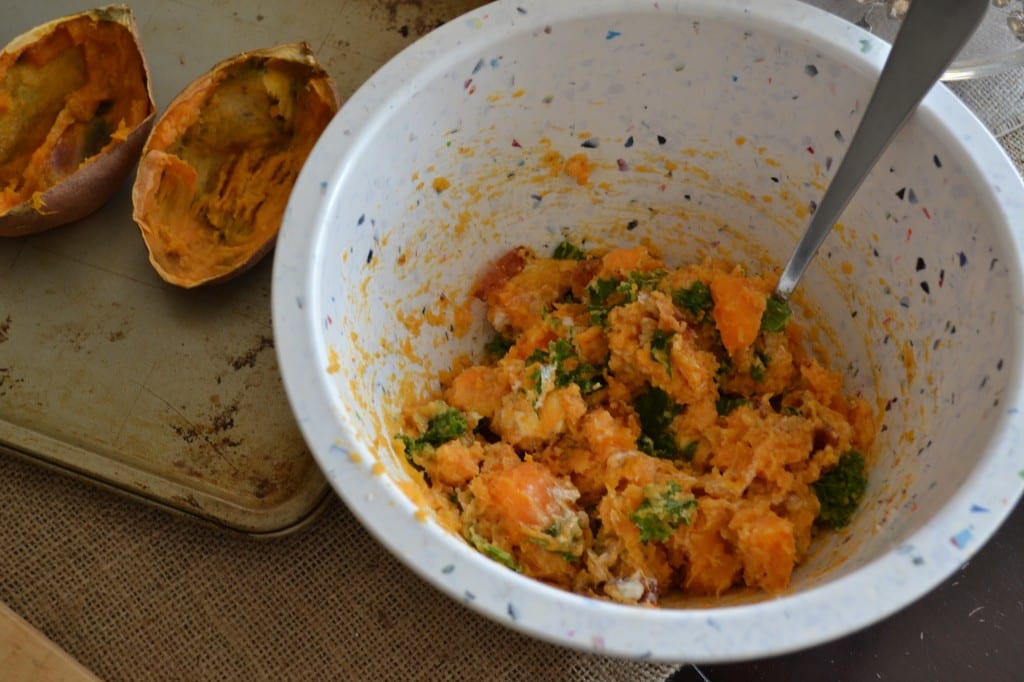 Like with these sweet potatoes, the fact that they are "loaded" sucks him in right off the bat. Then I tell him they are loaded with BACON, GOAT CHEESE…. Kale, and walnuts. You have to put an emphasis on the first two ingredients then quickly and softly say the last two ingredients.
It is the only way to pass this off as a normal everyday food to him.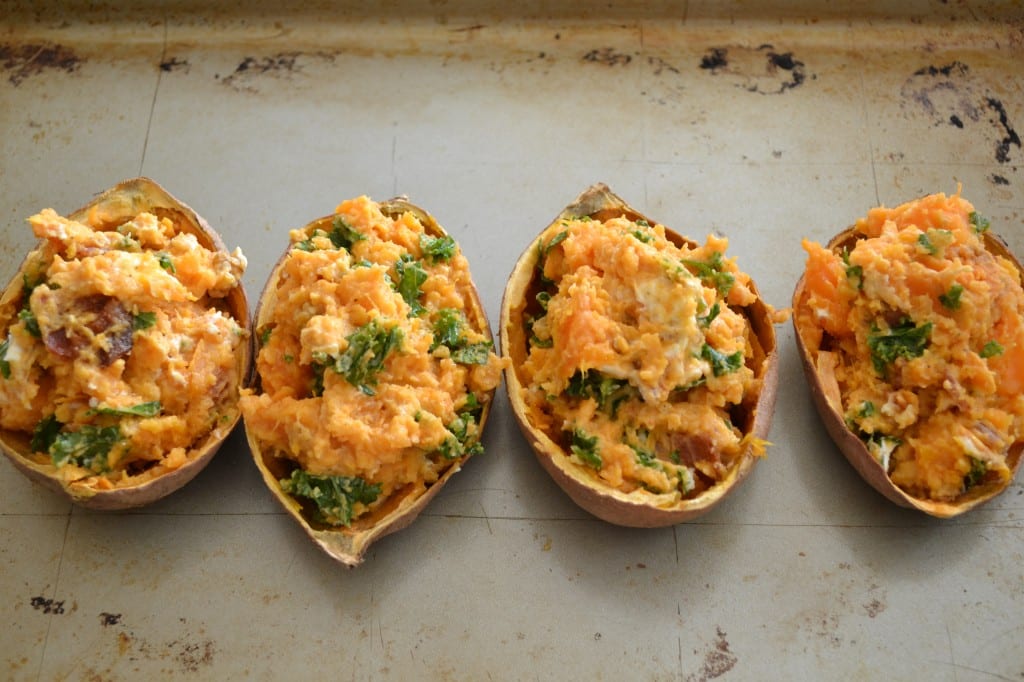 If you have an eater like Mike in your house, I think this is the perfect not-healthy-but-kinda-healthy side dish to a nice roast or piece of chicken. Or if you are like me and haven't even come close to reaching the max level of sweet potatoes you can eat in a two week period, you can eat two of these for dinner with nothing else!
But, let's be honest, what else do you need?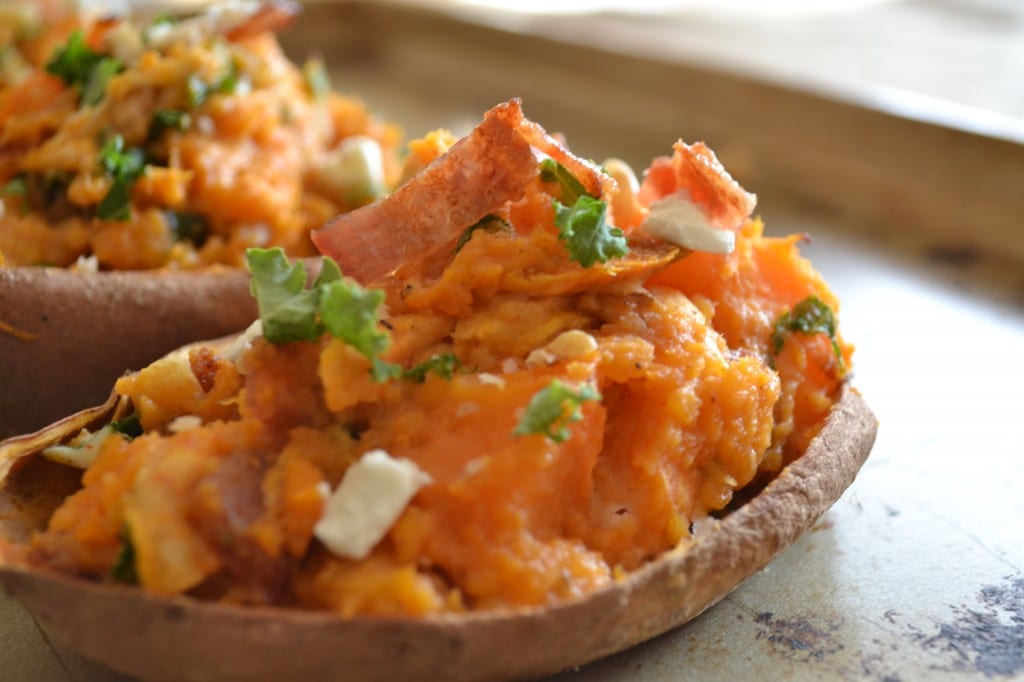 Twice Baked Loaded Sweet Potatoes
Author:
Prep time:
Cook time:
Total time:
Ingredients
2 Large Sweet Potatoes, halved length-wise
1 Tablespoon Unsalted Butter
1 Teaspoon Maple Syrup
2 Strips Cooked Bacon, chopped
1 Cup Finely Chopped Kale
¼ Cup Finely Chopped Walnuts
3 Tablespoons Goat Cheese
1 Teaspoon Salt
¼ Teaspoon Pepper
¼ Teaspoon Paprika
¼ Teaspoon Cayenne Pepper
Instructions
Preheat the oven to 375 degrees F.
Place halved sweet potatoes cut side up on a baking sheet, tent with foil, and bake for 45 minutes.
When the potatoes are fork tender, let them cool while you gather and chop the ingredients.
Using a spoon, gently scoop out the cooked sweet potato leaving the skin intact. Add the scooped out sweet potato to a large mixing bowl. Add in the rest of the flesh of the potatoes, butter, maple syrup, salt, pepper, paprika, and cayenne. Mix together while slightly mashing with the spoon.
Stir in most of the cooked bacon, kale, walnuts, and goat cheese while leaving a little bit of each behind for a topping. Scoop a few spoonfuls of the sweet potato mixture back into each of the potato skins. Place the filled sweet potatoes back in the oven for ten more minutes.
Place sweet potatoes on a plate and top with remaining kale, bacon, goat cheese crumbles, and walnuts and then serve. Potatoes last three days wrapped in foil in the refrigerator. Reheat in the oven.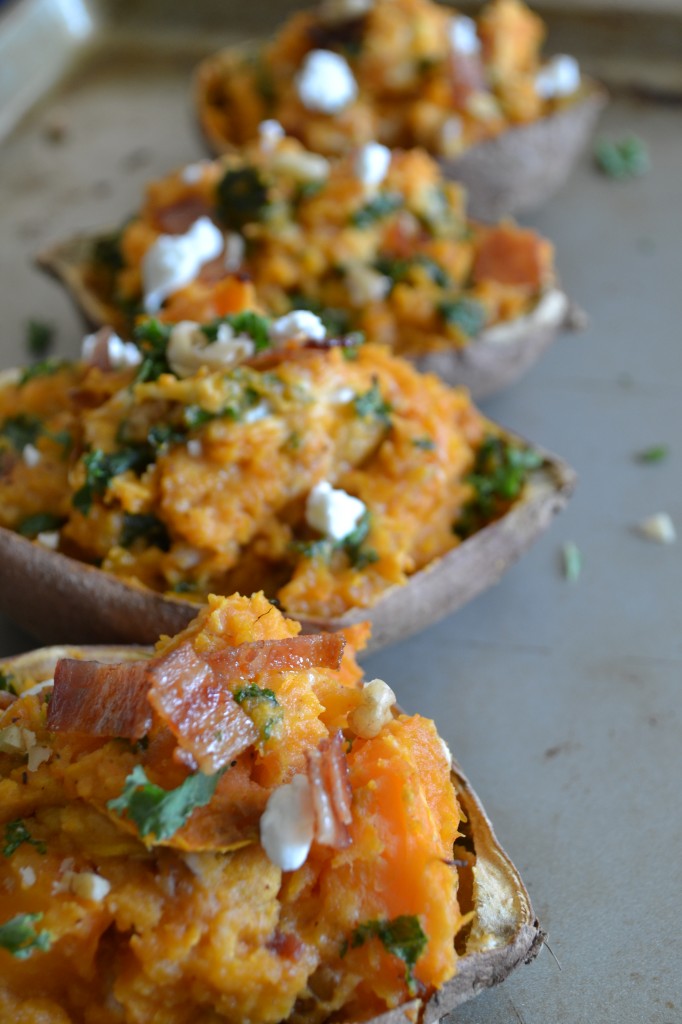 Related posts: