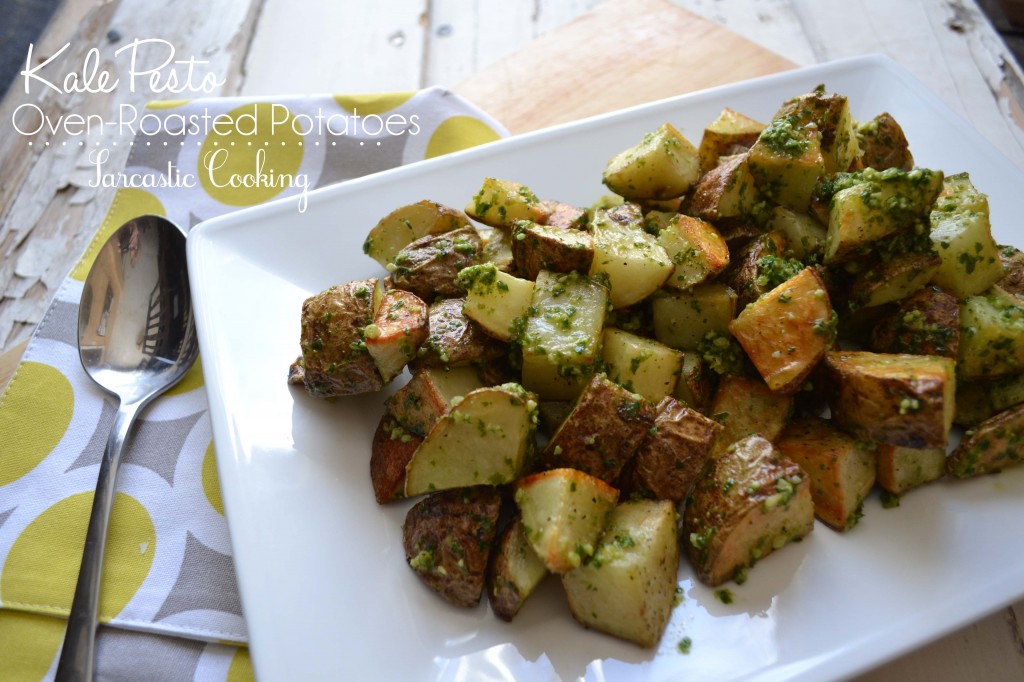 I have never been one of those, "Oh it's a new year I better start eating healthier and I better head to the gym because I didn't all last year" kind of people. Maybe that's good, maybe that's bad. Whatever it is, it works for me.
Last year I made a resolution to live a more balanced life and just be happy and satisfied. I think I accomplished that. I keep chasing my happiness through this blog and good things and happiness follow me. I am even continuing this into the New Year.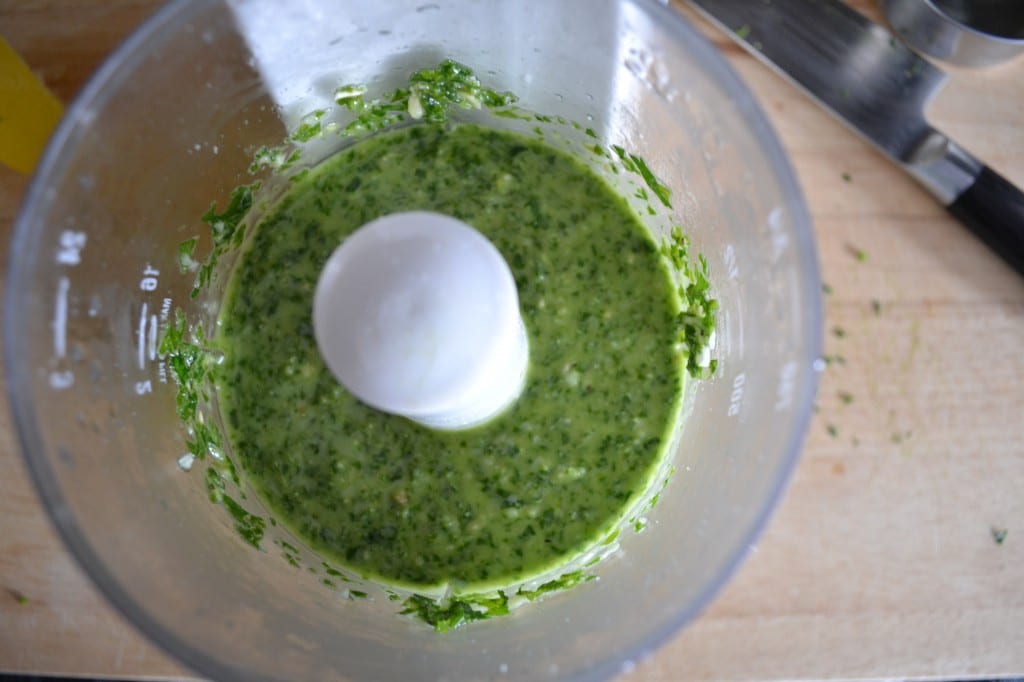 While some of you were kicking off a diet today, Mike and I went to dinner with my family. We went to Dell Rhea's Chicken Basket. It is a family tradition. You can't get any better than two dollar PBR drafts, fried chicken, and fresh made to order biscuits.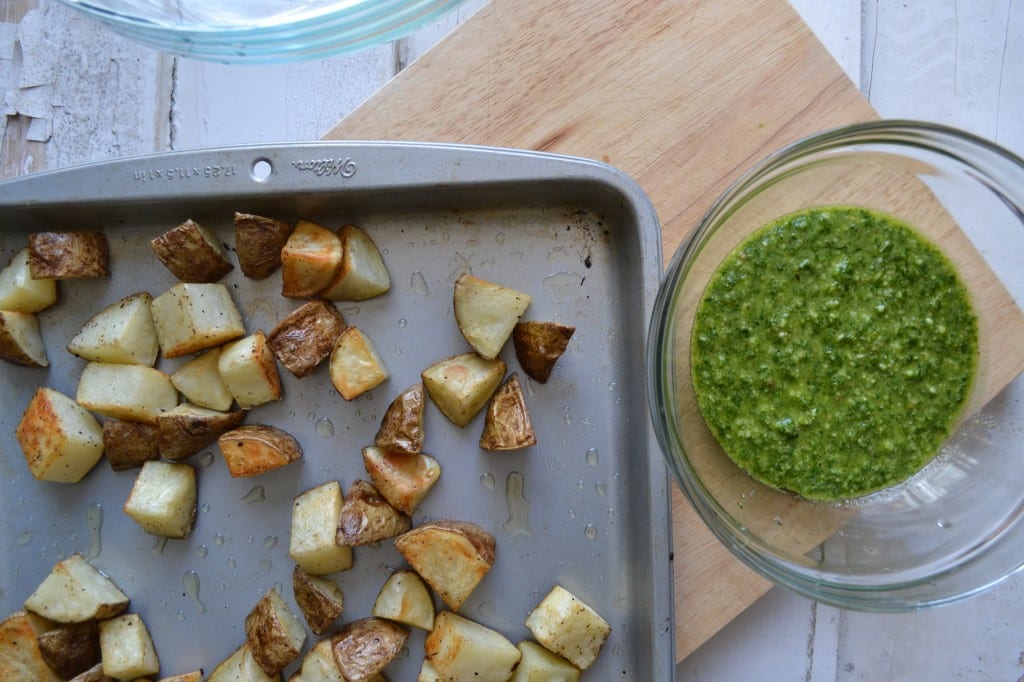 I figure, why stress out over healthy eating? Stress is even worse for your body than a buttermilk biscuit!
For those of you trying to better yourselves and eat healthier, I have a recipe for you. Kale is an amazing super food. I love making it into a pesto and putting it on noodles or roasted vegetables. It is like a secret second serving of vegetables. Vegetables on top of vegetables!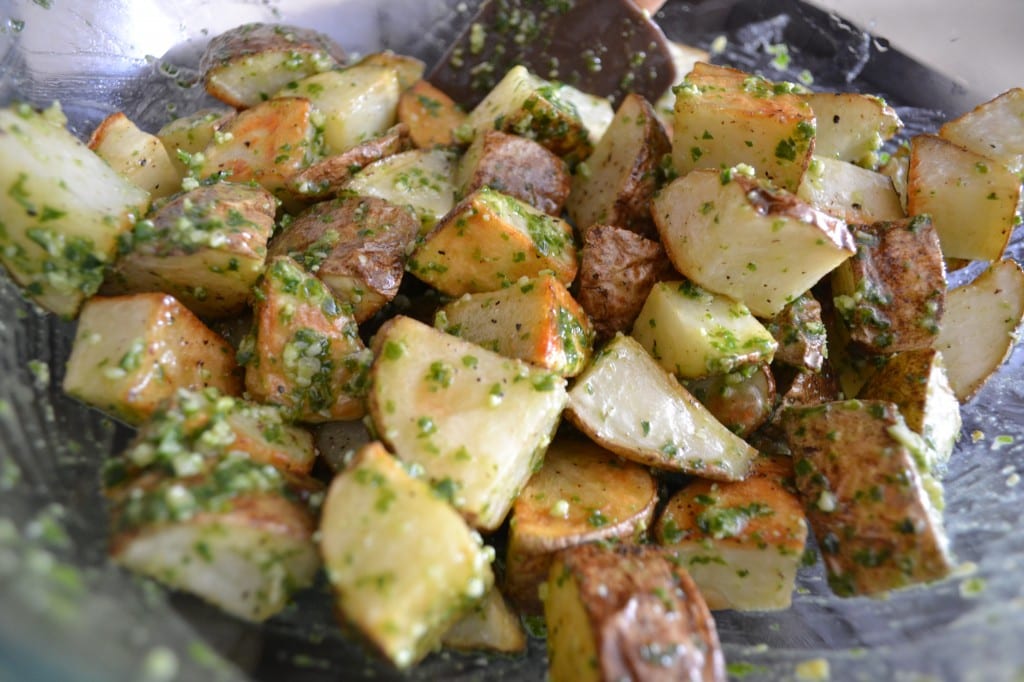 Now that is what I call healthy! Don't go crazy with dieting people. It is all about balance. Plus you are all fantastic the way you are!
Kale Pesto Oven-Roasted Potatoes
Author:
Prep time:
Cook time:
Total time:
Ingredients
For the Potatoes:
5 Large Russet Potatoes, cubed
3 Tablespoons Olive Oil
Pinch Salt and Pepper
………………………….
For the Pesto:
2 Cups Chopped Kale
¼ Cup Pine Nuts
½ Teaspoon Salt
¼ Teaspoon Pepper
2 Cloves Garlic
1 Tablespoon Chopped Parsley
2 Tablespoons Lemon Juice
2 Tablespoons Grated Parmesan
½ Cup Olive Oil
Instructions
Preheat the oven to 400 degrees F.
Cut potatoes into cubes. Soak the potatoes in a large bowl of ice water for at least ten minutes while the oven warms up. After ten minutes, pat potatoes dry on a dish towel.
Place cubed potatoes on a medium baking sheet. Toss potatoes together with olive oil and salt and pepper. Bake in the oven for 35 minutes, tossing a few times in between.
While the potatoes roast, add cheese, pine nuts, salt, pepper, and garlic to a food processor. Pulse for a few minutes until the garlic and nuts are a small mince. Add in the kale, parsley, lemon juice, and olive oil. Pulse until smooth, 1-2 minutes.
When potatoes are roasted, add to a large bowl along with three tablespoons of pesto. Toss together to evenly coat. Serve right away.
Related posts: