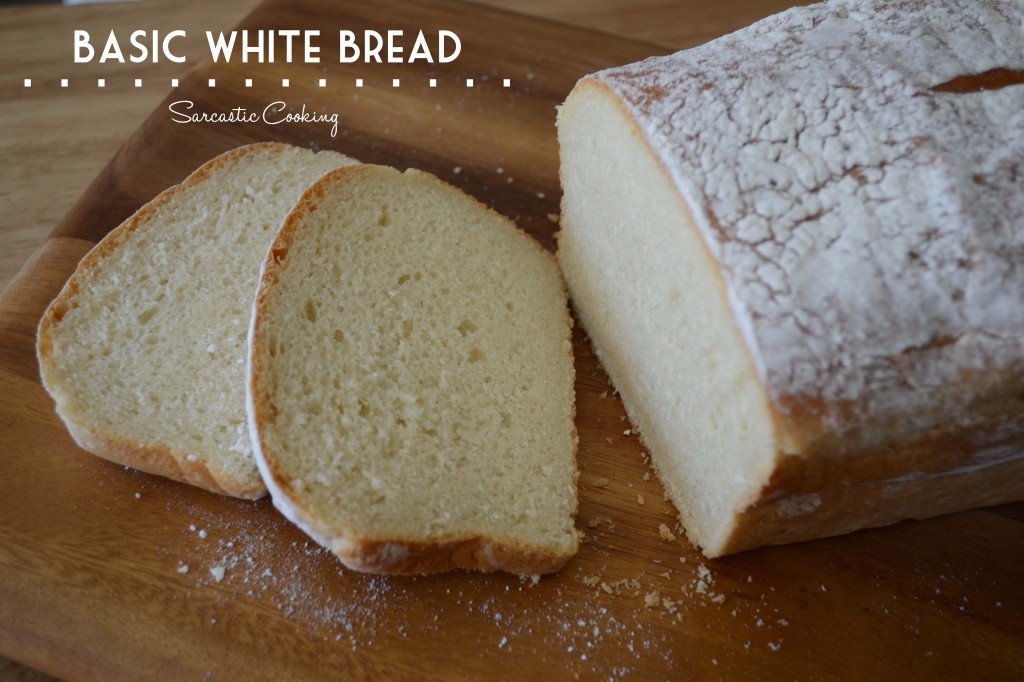 Remember lunches back when you were in grade school? I was lucky that my Mom made me and my brothers' lunch every single day. I was always happy to open my lunch and see a different kind of sandwich. Some days it was my Mom's version of a Subway veggie sub. Other days, it was a heart/flower shaped PB & J.
The sandwich I was never excited about was anything with traditional white sandwich bread. It always got soggy and never held its shape. You remember there was always that one kid in school, you know the one, the kid that had salami and cheese on white bread and always smushed it down until it was less than a ½ inch tall? I think every class had this kid.
Recently, I found out that I married this weirdo. Yes, Mike was one of those kids. Sigh…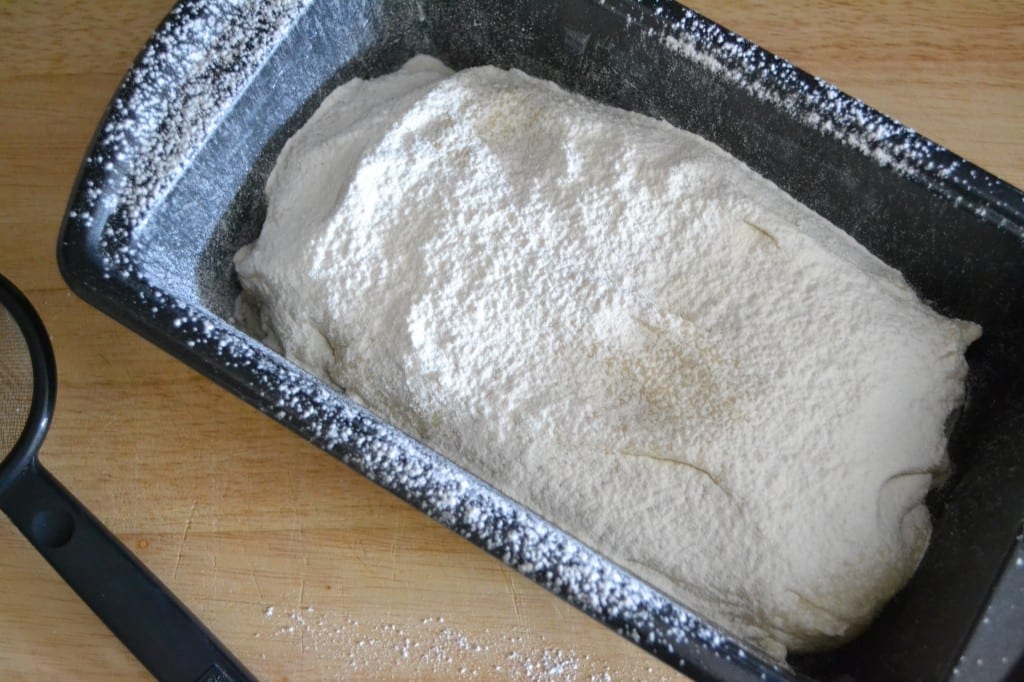 In middle school, I had braces. White bread and braces was always a pain. It was like glue in your brackets, and nobody wants to be the girl with crap in her teeth. I mean it is bad enough you have a face full of metal, along with acne, glasses, and bad posture. That my friends, is real life.
So we rarely ate white bread, not for health reasons, but because I complained so much that my Mom stopped buying it.
Lately, I have been more and more confident in my baking with yeast skills. I have yet to make a loaf of bread…. UNTIL NOW!!! I feel like that was a really dramatic lead in. Anyway, my new favorite cookbook, Keys to the Kitchen, has an amazing basic white bread recipe that I had to try. This recipe can easily be changed to whole wheat too, which is my next goal.
I truly love ALL carbs, but this homemade bread (aside from that challah I made a while ago) is one of my favorite things I have ever made for the blog, EVER! If I can do it, so can you. And you know that if I am endorsing a white bread, it is a really really good sturdy white bread unlike the white sandwich bread of yore.
Basic White Bread
Author:
Prep time:
Cook time:
Total time:
Ingredients
1 ¼ Cups Warm Water, heated to 100 – 110 degrees F
1 Packet (2 ¼ teaspoons) Active Dry Yeast
3 ¼ Cups All Purpose Flour, plus more for dusting
4 Tablespoons Unsalted Butter, plus more for greasing
3 Tablespoons Honey
2 ½ Teaspoons Kosher Salt
Ice Cubes
Instructions
Add the water to the bowl of a stand mixer fitted with the bread hook attachment. Sprinkle the yeast on top of the water. Let yeast sit for five minutes until foamy Note: If the yeast is not foamy, it is bad. Get another packet and start this step over.
Add the flour, butter, honey, and salt to the bowl. Turn the mixer on low and mix for two minutes. After two minutes, increase the speed to medium and mix for seven minutes. After seven minutes, pull a small piece of dough out and stretch it into a small 2 inch square or windowpane. If the dough stretches without breaking, you are set to move on. If it breaks, keep mixing.
Coat a large bowl with butter, add the dough to the bowl, and cover with a dish towel. Let the dough rise for an hour in a warm place until the dough doubles in size.
Punch down the dough. Grease a 9 x 5 inch loaf pan with butter. Shape the dough into a rectangle, add it to the loaf pan, dust the top with a little bit of flour, and then cover with dishtowel. Let the dough rise for another hour.
Preheat the oven to 400 degrees F. Place one rack in the upper third and a second rack in the lower third of the oven. Place a rimmed baking sheet on the lower rack and leave it there while the oven heats up.
When the dough is ready, decrease the oven temperature to 350 degrees F. Right before you place the loaf pan in the oven, add a handful of about six ice cubes to the rimmed baking sheet. Place the loaf pan in the oven and bake for 20 minutes, rotate, and then bake for twenty more. When the internal temperature reaches 190 degrees F, the bread is cooked.
Let the bread cool in the pan for 5 minutes, then invert and transfer to a wire rack to cool completely. Bread will last up to five days stored at room temperature in an airtight container.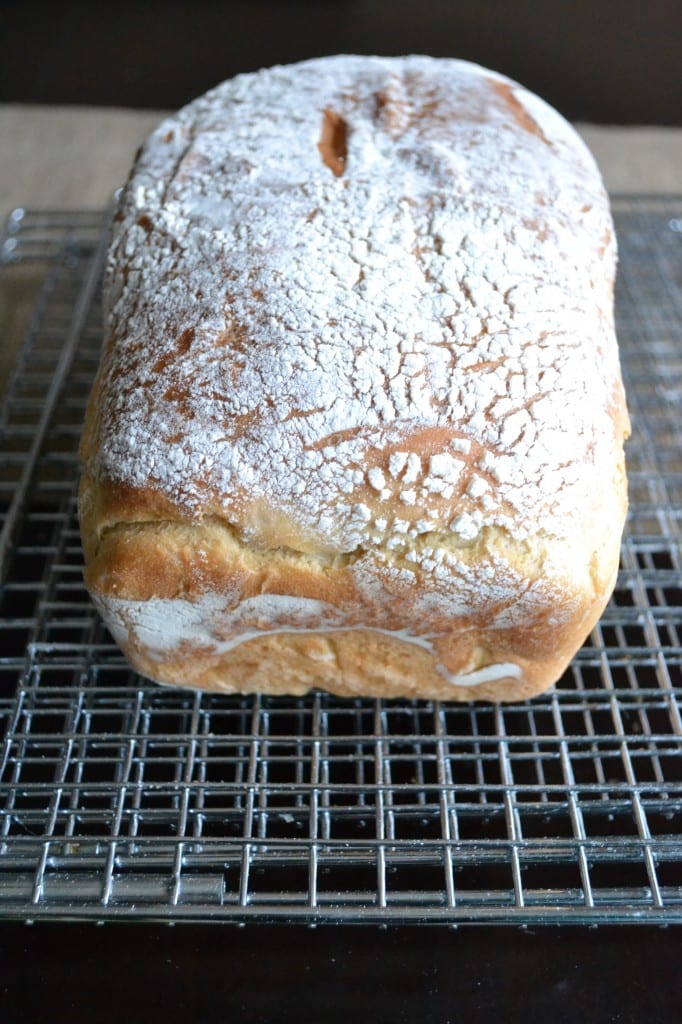 Related posts: