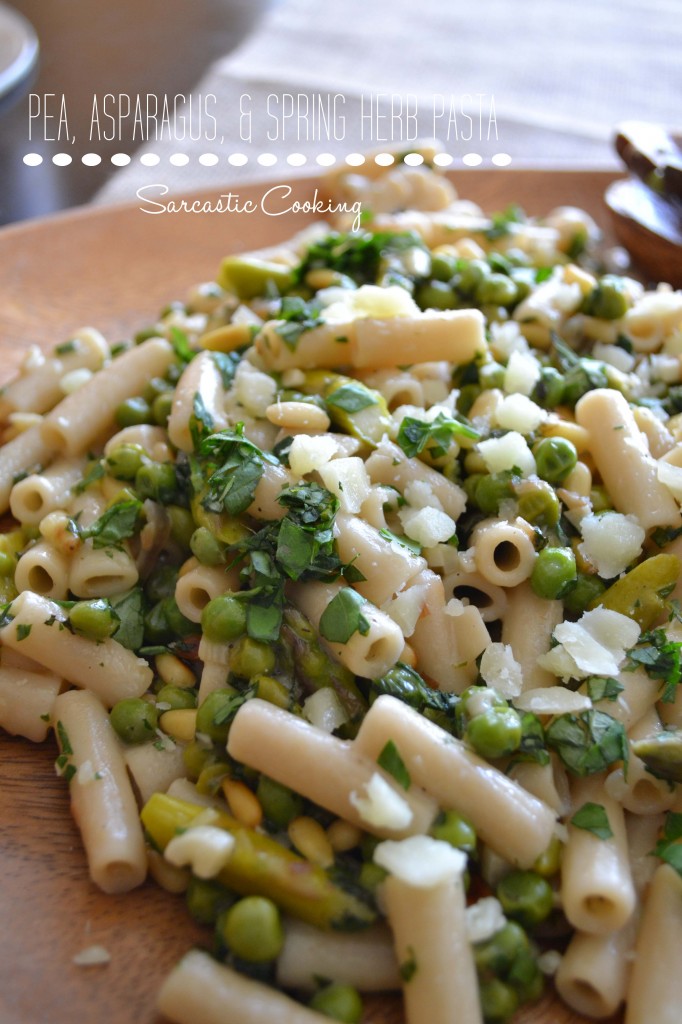 So I feel like I am in a different world, state, or even city the past two days. It has been 55 in Chicago. In January. Did you hear me?!?!?! 55 IN JANUARY! What in the world?
I don't want to be one of those people who always talks about the weather, even though I have kind of done that the last three posts. I know that talking about weather is the number one mistake in small talk and also means you have nothing real to say. But this is so weird!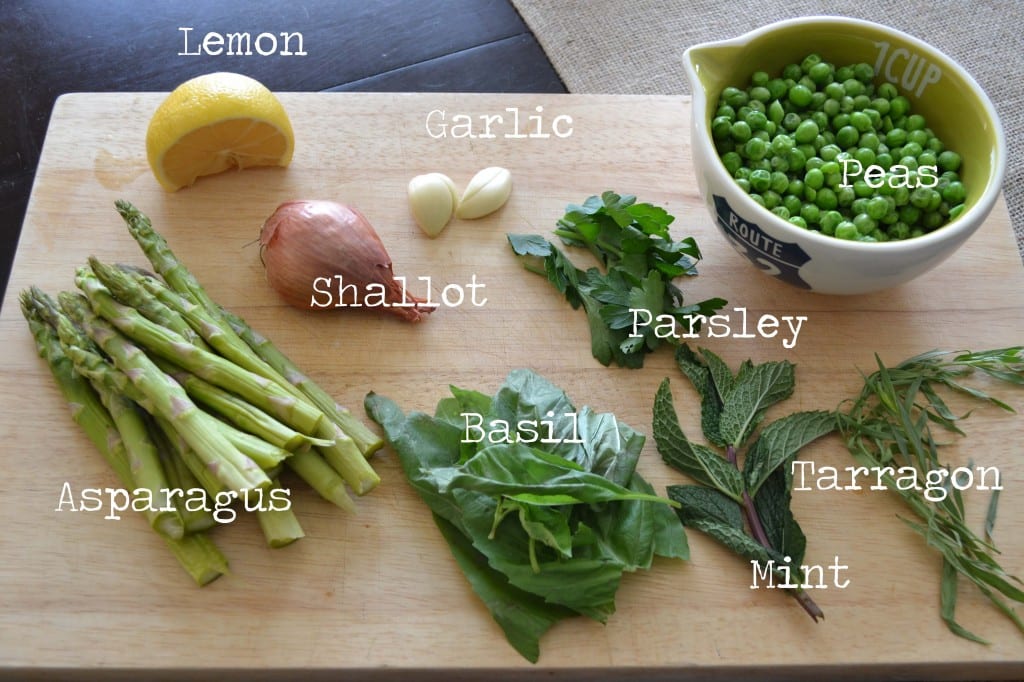 This weird weather has me ready for Spring! I was outside today with my nieces and nephews without a jacket in my standard spring-ish apparel; jeans, t-shirt, and clogs. It felt so good.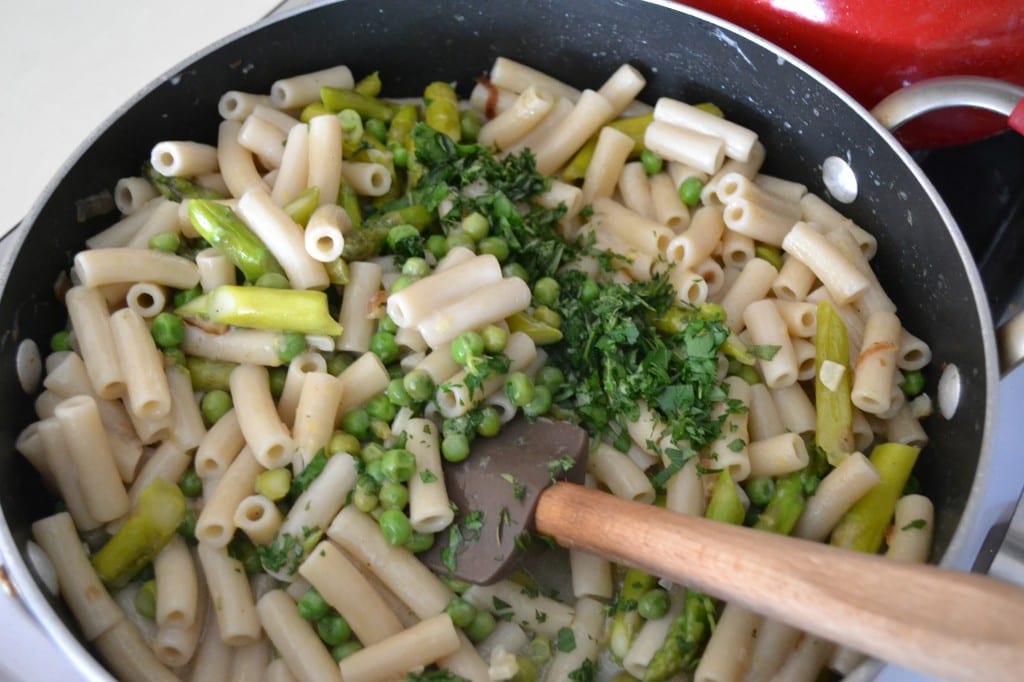 I recalled a recipe I had bookmarked with a scrap of paper in my new all-time favorite cookbook, Keys to The Kitchen by Aida Mollenkampfor a spring-inspired pasta. When reading through the ingredients, I get a little weary of the list of acceptable spring herbs because, for a very long time, the only fresh herb I used was basil. I know I was missing so much. But truth be told, a long time ago I had a bad experience with fresh herbs… well I guess a chive is kind of an herb…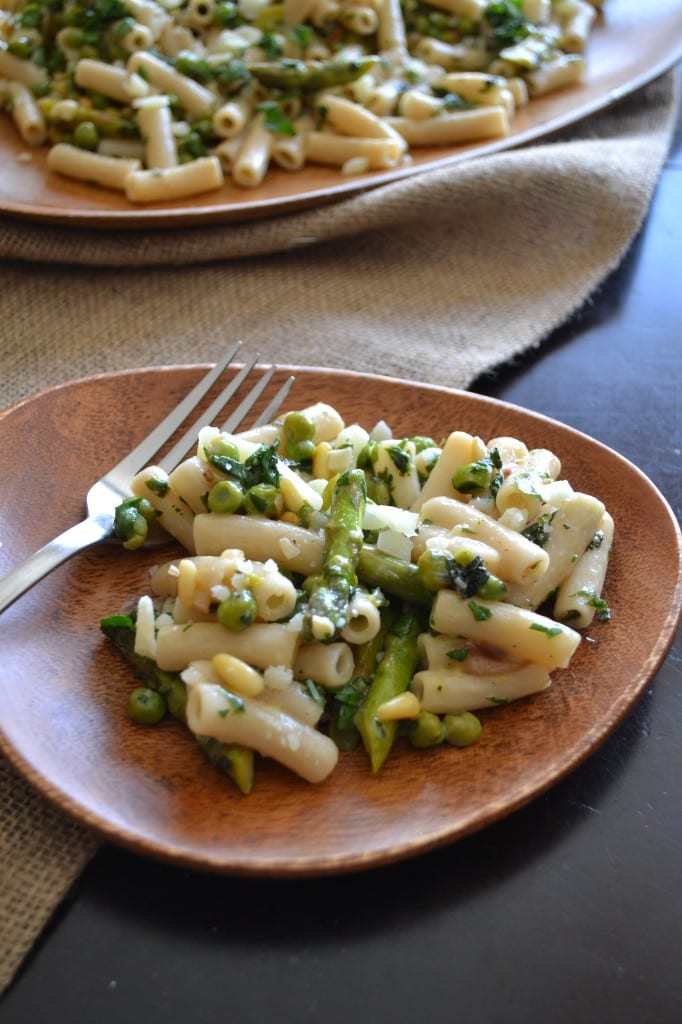 My mom tried to get me to like chives and asked me to take a whiff of the fresh smell chopped chives gave off. Me being the dummy I was, took a deep inhale and ended up with a chive or two up my nose!
My mom yelled at me, "I told you to smell not inhale them!"
Now it is funny and every single time I read chives in a recipe or even think of herbs, I remember that incident and smile, then keep my distance. Herbs are awesome and not to be trifled with.
This recipe allows you to use any fresh Spring herbs you like and toss in some peas, asparagus, and some cheese and call it a day ALL IN ONE POT!!! Well, aside from the pot you cooked the pasta in, so two pots!
So my weird weather friends, let's enjoy this "heat wave" together and look forward to Spring!
Pea, Asparagus, & Spring Herb Pasta (gluten free)
Recipe Type
:
Entree/ Pasta
Author:
Prep time:
Cook time:
Total time:
Ingredients
1 Pound Brown Rice Penne (or any other regular tubular pasta if you do not have a gluten free diet)
4 Tablespoons Olive Oil
2 Shallots, quartered and then thinly sliced
Kosher Salt and Black Pepper
1 Pound Asparagus, trimmed and cut into inch long pieces
2 Cloves Garlic, thinly sliced
1 Cup Frozen English Peas
2/3 Cup Grated Pecorino Romano, plus more for garnish
2 Tablespoons Unsalted Butter
2 Tablespoons Fresh Squeezed Lemon Juice
2 Tablespoons Lemon Zest
1 Cup Roughly Chopped Fresh Herbs, such as basil, chervil, chives, Italian parsley, mint, or tarragon
¾ Cup Toasted Pine Nuts
Instructions
Bring a large pot of heavily salted water to a boil over high heat, add pasta, cook for about seven minutes until tender.
In the meantime, heat olive oil in a large heavy-bottomed skillet over medium heat. After two minutes, add the shallots and sauté for three minutes.
Add the asparagus and garlic to the skillet. Cook until knife tender, about three minutes. Stir in peas and cook for two minutes. Season with a heavy pinch of salt and pepper.
By this time the pasta should be done. Add the pasta using a small strainer right from the boiling water into the skillet, reserving the pasta water. Add a cup of the pasta water and cook for two to three minutes until sauce starts to coat pasta. Remove from heat.
Add butter and cheese, mix. Add more pasta water if needed to keep pasta sauce loose.
Stir in lemon juice, lemon zest, herbs, and pine nuts. Stir to coat. Taste and adjust salt and pepper to taste.
Serve with some more freshly ground black pepper and grated cheese. Pasta lasts in an air-tight container in the refrigerator three to four days.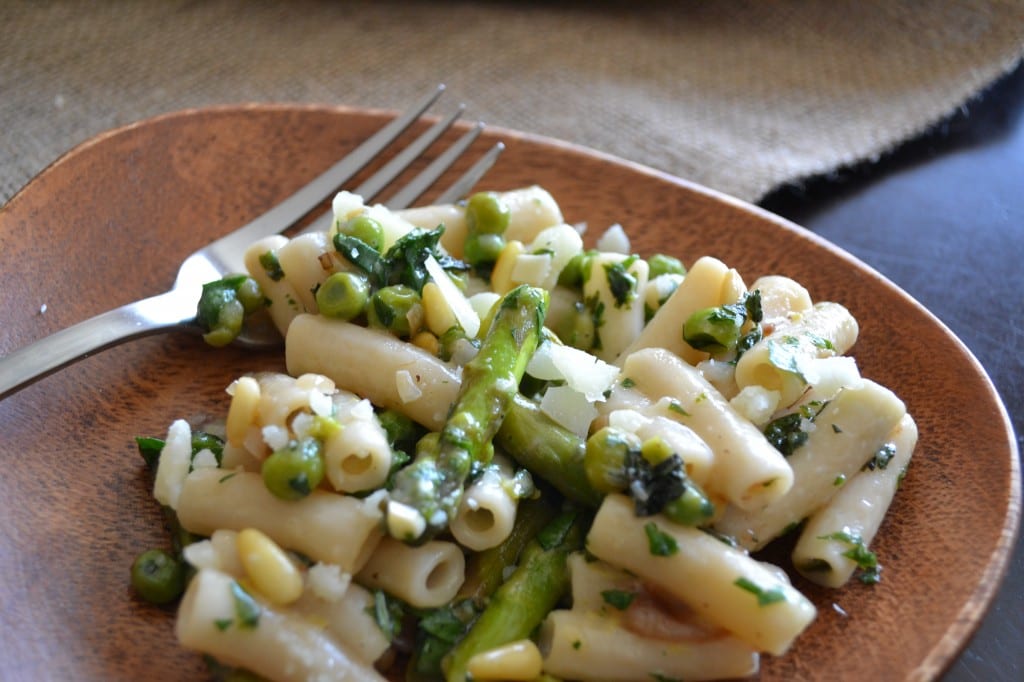 (I swear to God if it snows tomorrow I am going to freak the flip out!)
Related posts: