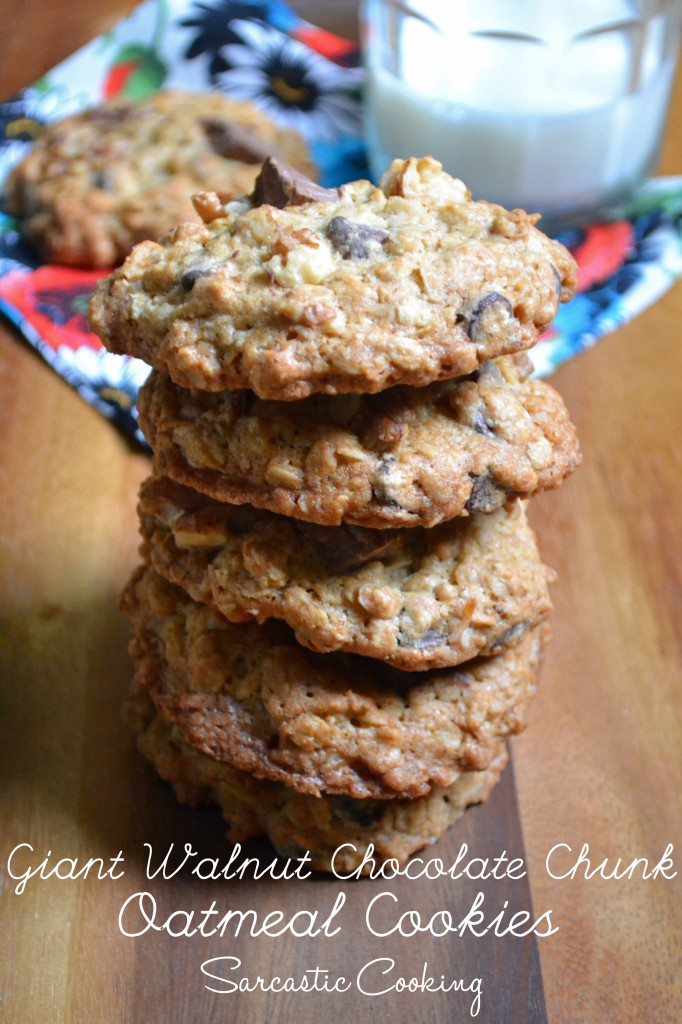 This post was supposed to go live on Monday. It totally made sense to me. Mondays are hard, hence, let's have some giant chocolatey walnutty cookies. I already had this post semi-drafted in my mind. However, after spending all day Saturday taking part in a block-wide garage sale, I felt kind of stressed and exhausted. Let me just say, I have never participated in a garage sale, let alone run one. I had no idea about the haggling and swindling that occurs.
I know you are probably thinking, "Well, you had Sunday to recover." which is kind of true. I spent most of the day Sunday cleaning up and putting away things we didn't sell and getting my house back in order. By the time I sat down to write, my brain was fried.
Then it was supposed to go live on Tuesday. But, on Monday, in preparation for the upcoming arrival of our little guy, I spent the day watching and chasing my 9 month old nephew. He can't walk yet, but he still manages to zoom around with the aide of his little walker thingy. It was exhausting. Needless to say, I feel less prepared for the arrival of our baby.
So, now it is Wednesday and look! I finally feel like I have regained some of my sanity from garage-sale-palooza and some of my energy after baby-palooza. Sorry you guys had to wait so long for such a delicious cure-any-crazy-day kind of cookie.
PS I am also holding back the horrifying details from a bridesmaid dress fitting, a car in the shop, and crazy neighbors finally sort of moving out which all just added to the awesomeness of this weekend. Let's just say many cookies, cupcakes, and naps were had to help me through it!
Giant Walnut Chocolate Chunk Oatmeal Cookies
Author:
Prep time:
Cook time:
Total time:
Serves:
Makes 1 1/2 Dozen
Ingredients
1 ½ Cups All Purpose Flour
1 Teaspoon Baking Soda
1 Teaspoons Salt
1 Cup Unsalted Butter, room temperature
¾ Cup Packed Light Brown Sugar
¾ Cup Granulated Sugar
2 Large Eggs
1 Teaspoon Pure Vanilla Extract
2 ½ Cups Rolled Oats
1 Cup Chopped Walnuts
1 ½ Cup Roughly Chopped Milk Chocolate
Instructions
Preheat the oven to 350 degrees F. Line two large baking sheets with parchment paper and set off to the side for later.
In a medium mixing bowl whisk together the flour, baking soda, and salt. Set off to the side.
In the bowl of an electric stand mixer fitted with the paddle attachment, cream butter and sugars at medium speed, for three minutes until light and fluffy.
Scrape down the sides, add vanilla, and mix another minute until combined.
Add one egg at a time, mixing for a minute in between. Scrape down the sides as needed.
Add the flour mixture all at once. Mix on low speed until just about combined. Add oats, walnuts, and chocolate. Mix until combined.
Scoop out ¼ cup portions of dough on to the parchment. Place each portion of dough approximately 1 ½ inches apart. Continue until each sheet is full.
Bake cookies for 18-20 minutes. Let cookies cool for five minutes on the baking sheet before transferring to a wire rack. Continue baking process until all the dough is used.
Related posts: