Sometimes you just need some roughage! (True story-I just learned that it isn't "ruffage." Apparently that isn't a word.)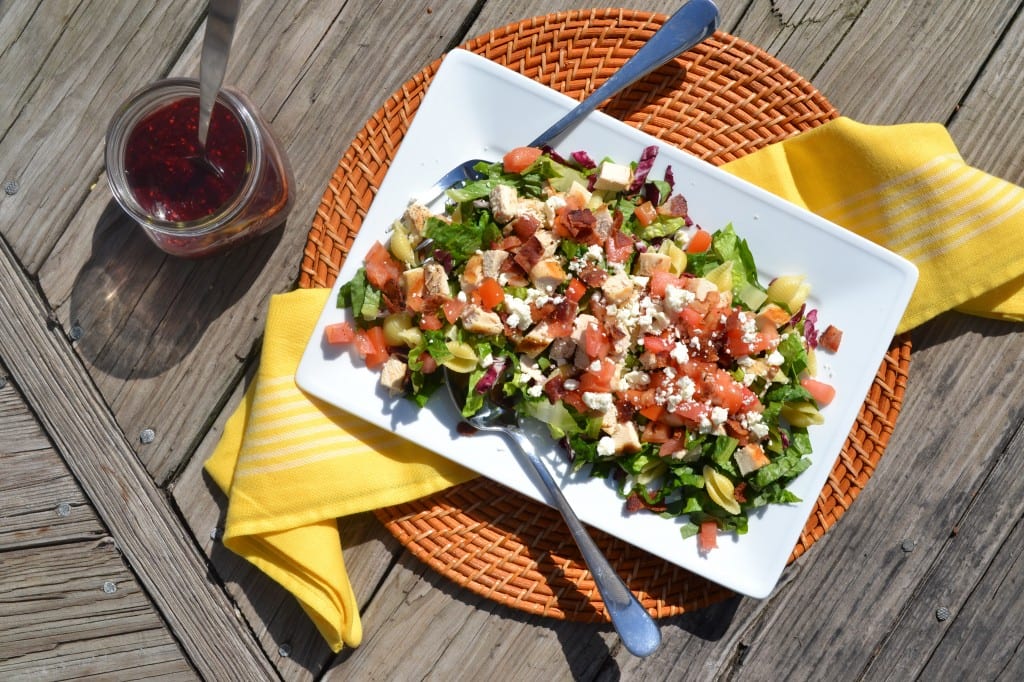 This week long celebration building up to my actual 28th birthday on Friday has somehow turned into a celebration of all things greasy, salty, or sugary. Call it an, "I'm-almost-thirty-what-have-I-done-with-my-life?" crisis.
I decided to bring it down a notch and give you a taste of a kind of healthy salad. It is based off of my favorite chopped salad from Portillo's. Portillo's is a staple in Chicago and in my family. I mean, there can't be a more Chicagoan-Blues Brother-y sounding name than Dick Portillo. (Say it. Dick Per-tillo. It's fun.)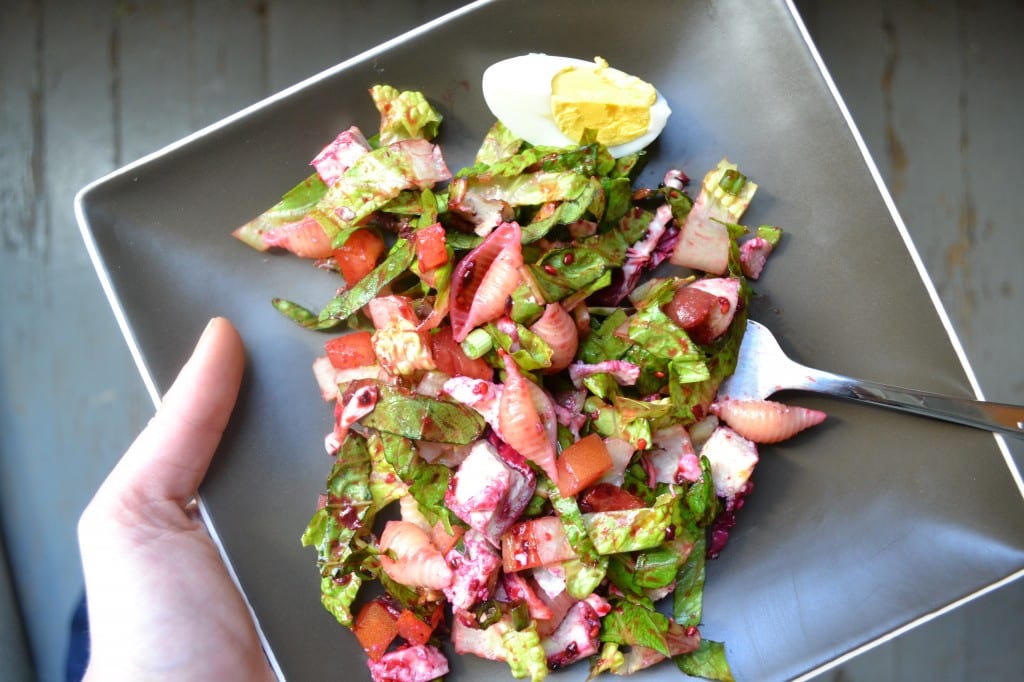 Yes, they have awesome cheeseburgers, hot dogs, fries, and beef sandwiches, but don't sell their salads short. Their chopped salad is served with a lemon poppy seed muffin and a balsamic vinaigrette. But since I do not feel like baking and I want a nice, springy vinaigrette, I am switching things up a bit.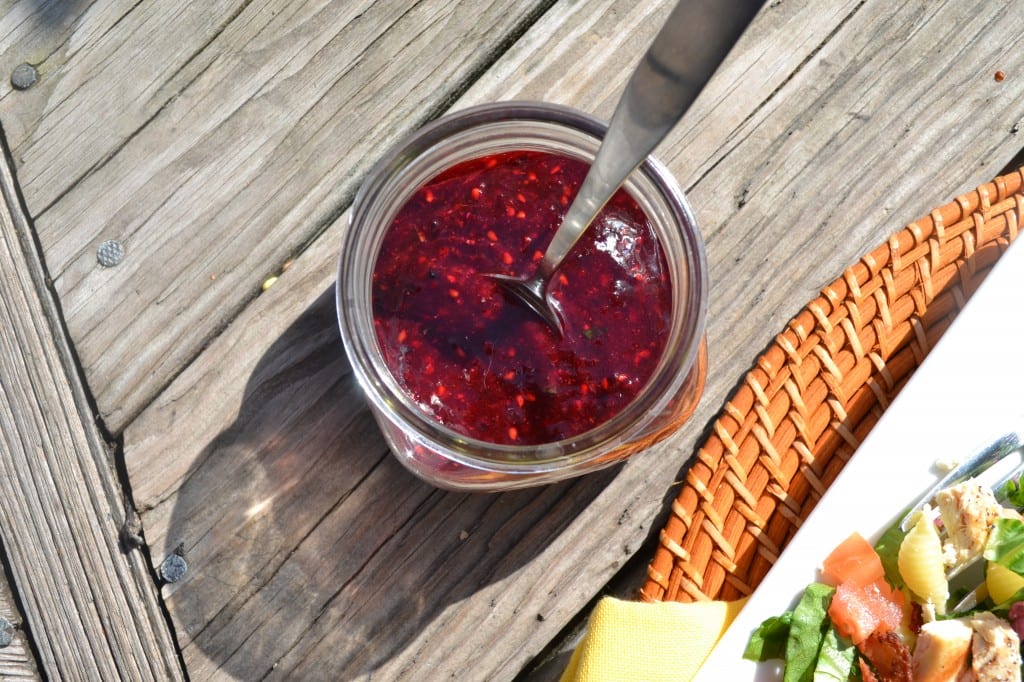 Trust me, when you see what I have in store for tomorrow, you will thank me for making you eat a salad today.
(Hey, pssst…I have a secret for you. Don't worry, the salad isn't that healthy, it has bacon in it.)
Ingredients for Salad (Serves two as an Entrée)
4 Cups of Chopped Romaine Lettuce
½ Cup of Chopped Red Cabbage
2 Green Onions, chopped
1 Cup of Cooked Small Pasta Shells or Ditalini Pasta
1 Grilled Chicken Breast
½ Tomato, diced
2 Pieces of Crispy Bacon, crumbled
½ Cup of Feta Cheese
1 Hardboiled Egg, cut into quarters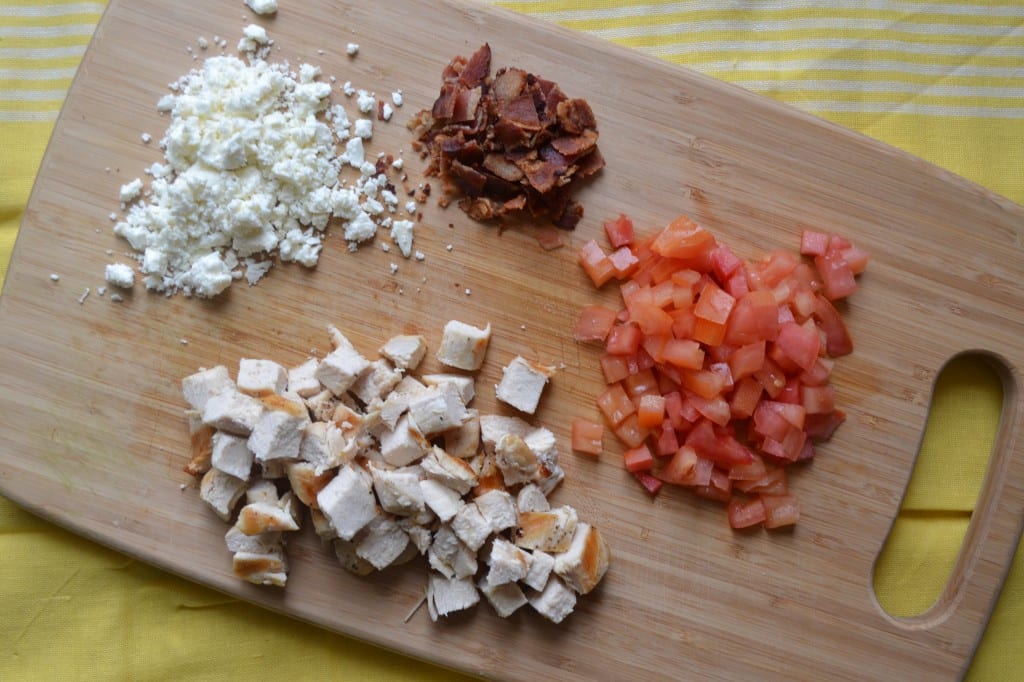 Ingredients for Blackberry Vinaigrette
1 Tablespoon of Olive Oil
1 Bulb of Garlic, halved
1 Cup of Fresh Blackberries
1/3 Cup Water
1 Teaspoon of Sugar
½ Teaspoon of Salt
¼ Teaspoon of Pepper
The Juice and Zest of One lemon
1 Tablespoon of Chopped Parsley
1 Tablespoon of Chopped Oregano
Any recipe for a salad is like a basic outline. You can add and subtract things as you see fit. But do not miss out on this vinaigrette!
Preheat the oven to 350 degrees. Place the halved bulb of garlic on a piece of tinfoil top with the olive oil and roast in the oven for forty minutes until golden.
While the garlic is roasting and cooling, start chopping all your ingredients. You want to end up with about the same size dice of the bacon, chicken, and tomatoes.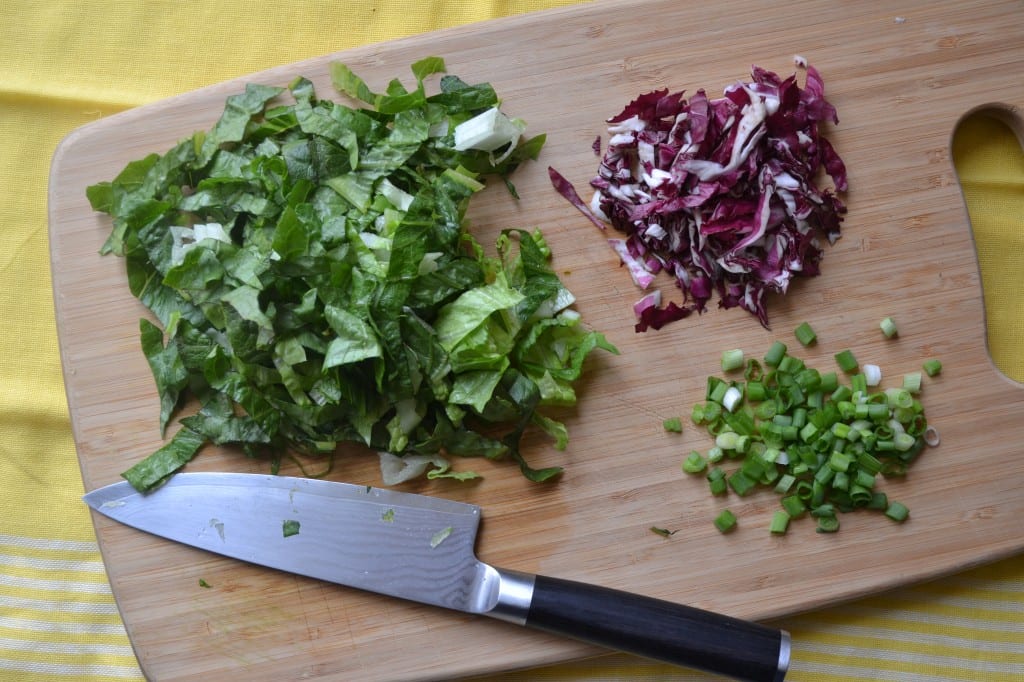 When the garlic has sufficiently cooled, remove three of the roasted garlic cloves. Add the garlic, blackberries, water, sugar, salt, pepper, lemon juice, lemon zest, parsley, and oregano to a food processor.

Puree the mixture for about a minute. (Note: If you do not want all the blackberry seeds in the dressing, puree the blackberries and water first and then pass them through a strainer.)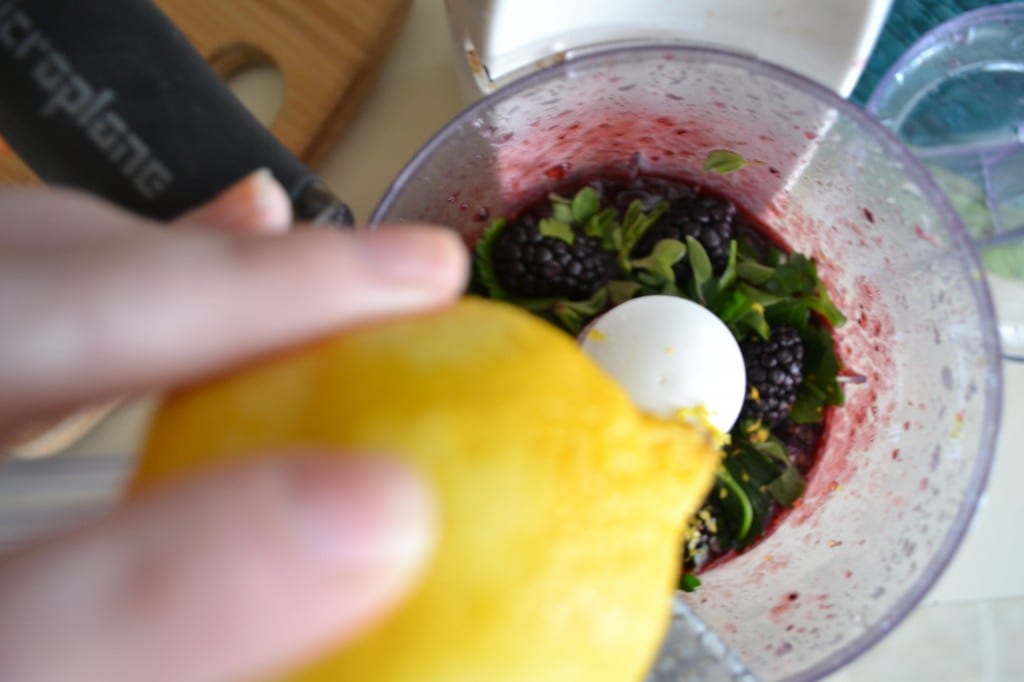 Toss the romaine, red cabbage, green onions, and pasta together. Assemble the salad thusly: greens/pasta mixture, diced grilled chicken, diced tomatoes, crumbled bacon, and top it all off with the crumbled feta cheese and a few hardboiled egg quarters on the side.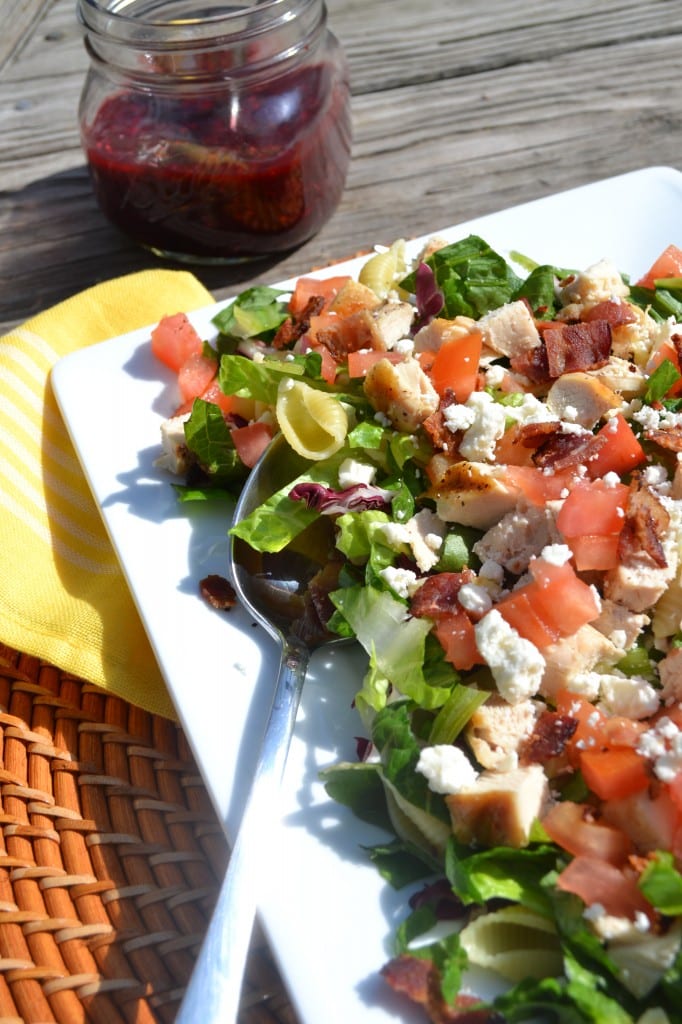 Drizzle the blackberry vinaigrette on top or keep it on the side until the salad is ready to be served.
A salad is a perfect example how to combine good for you greens and proteins with fatty cheese and bacon in perfect harmony!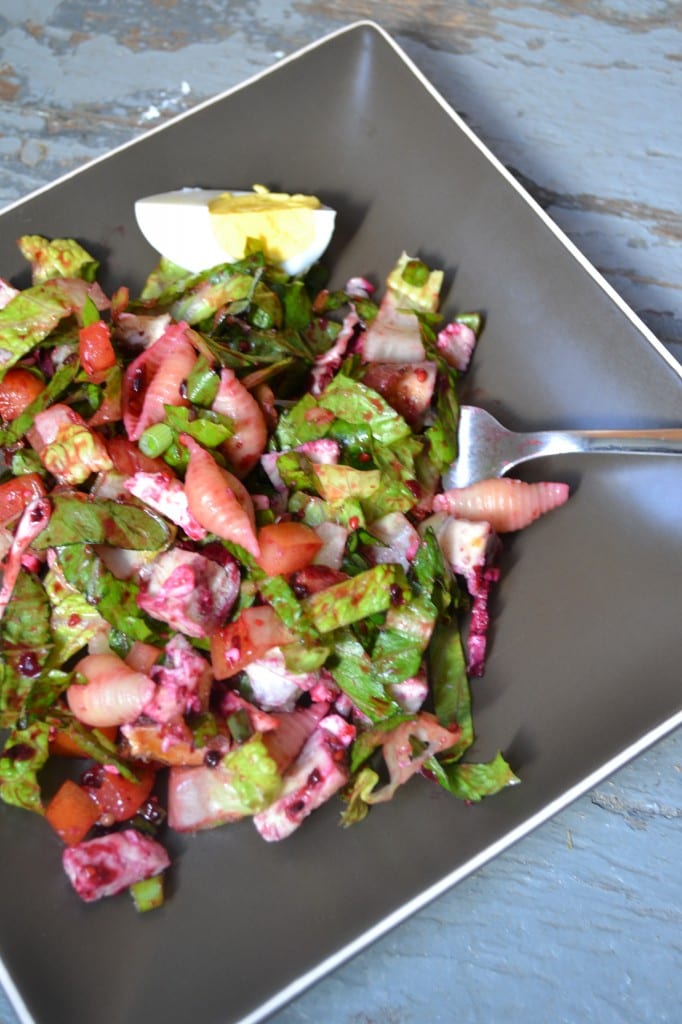 Remember only one more day to enter in the $50 Crate & Barrel gift card giveaway!