I seriously love the show Mad Men. So, when I was contacted by one of the cookbook's authors, Judy Gelman, to take part in this dinner party, you can imagine my excitement.
Watching the show, I am always blown away by the amount of importance placed upon appearances. It is visible in everything from the costumes the characters wear to the food and cocktails prepared in the show. The writers do a good job showing you the outward beauty of the time along with the political and home issues going on behind closed doors.
I like to think I would have been similar to Peggy Olson; a strong-willed, witty woman, with a kind of jacked-up fashion sense, challenging rules in the work place. Just to be around during the time of "Camelot" and Jackie O. would have been so interesting. I'm sure it wasn't the easiest being a woman, but I think I would have faired pretty well.
Browsing through this cookbook not only made me hungry, but also made me wish I lived during the time period when martinis, blini and caviar, wedge salads, chicken kiev, and pineapple upside down cakes were present in any house on any given night of the week!
I chose to "bring" the Classic Shrimp Cocktail and Lindy's Cherry Cheesecake to the dinner party. There are still so many recipes in this book I have dog-earred, to try at a later date.
Another reason I am so happy to test out a few of these recipes is that I want to host a Mad Men themed Halloween party. Now, I don't have to take notes on the meals being served in the show, because I have this awesome cookbook!
The Classic Shrimp Cocktail
Ingredients for the Shrimp
36 Medium/Large Shrimp
1 Thick Lemon Slice
3 Sprigs of Parsley
1 Peeled Onion
3-4 Peppercorns
1 Teaspoon of salt
Ingredients for the Cocktail Sauce
¾ Cup Chili Sauce
2-3 Tablespoons Horseradish
2-3 Tablespoons Lemon Juice
1 Teaspoon Worcestershire Sauce
1 Teaspoon Grated Onion
¼ Teaspoon Salt
Few Drops of Tabasco Sauce
1 Prepare the shrimp: Shrimp may be shelled and cleaned before or after cooking, by peeling off the shell, rinsing off any grit, and removing the black vein down the back. Leave shrimp tails in tact.
2. Pour enough water to cover the shrimp in a saucepan. Add lemon, parsley, onion, peppercorns, and salt. Bring to a boil and add the shrimp. Simmer for 3-5 minutes, depending on the size, until shrimp are pink and cooked through. Do not overcook. Drain and chill shrimp until ready to serve.
3. Make cocktail sauce: Combine all cocktail sauce ingredients in a small bowl. Mix and refrigerate.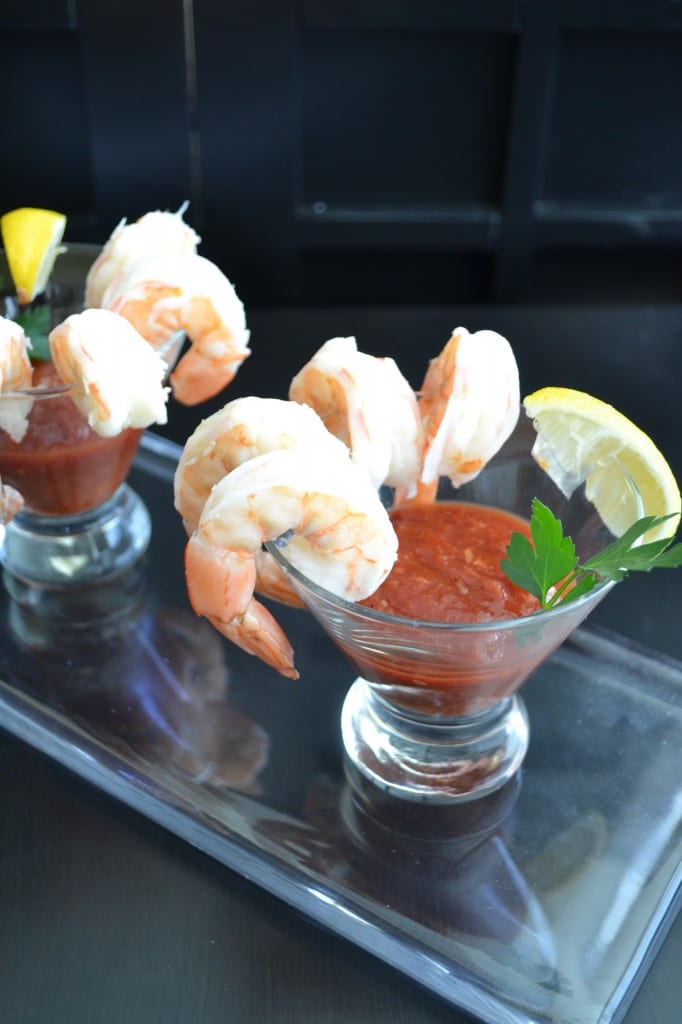 Seriously, how cool does this appetizer look? I could snack on these little guys all day!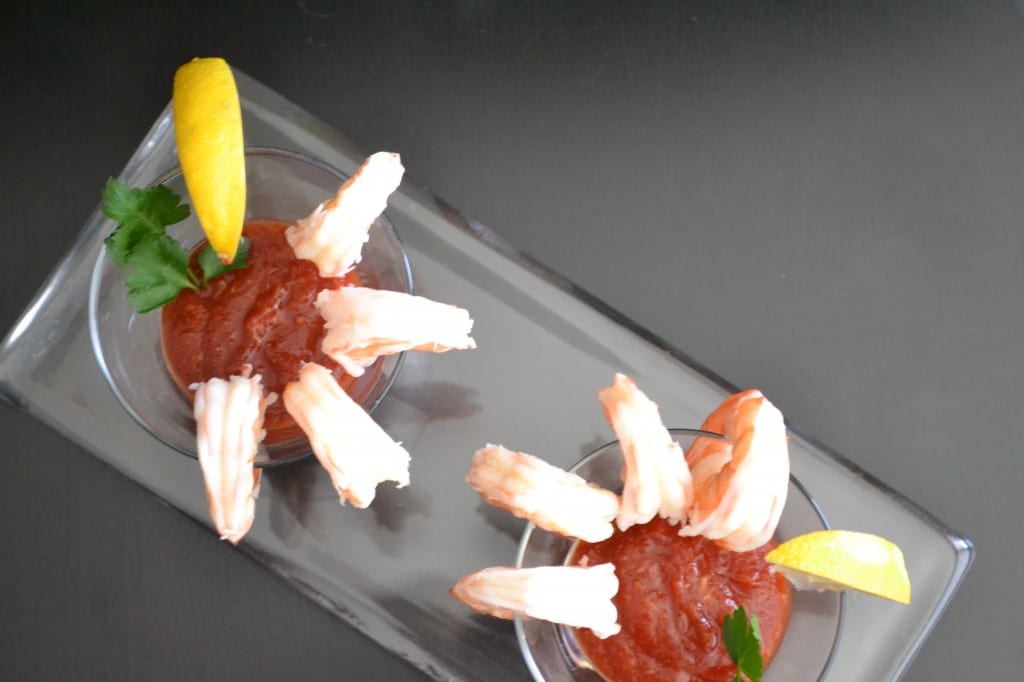 In my house, we are skipping right to dessert with Lindy's Cherry Cheesecake. Because what's better than dessert? And what screams New York better than a cherry cheesecake!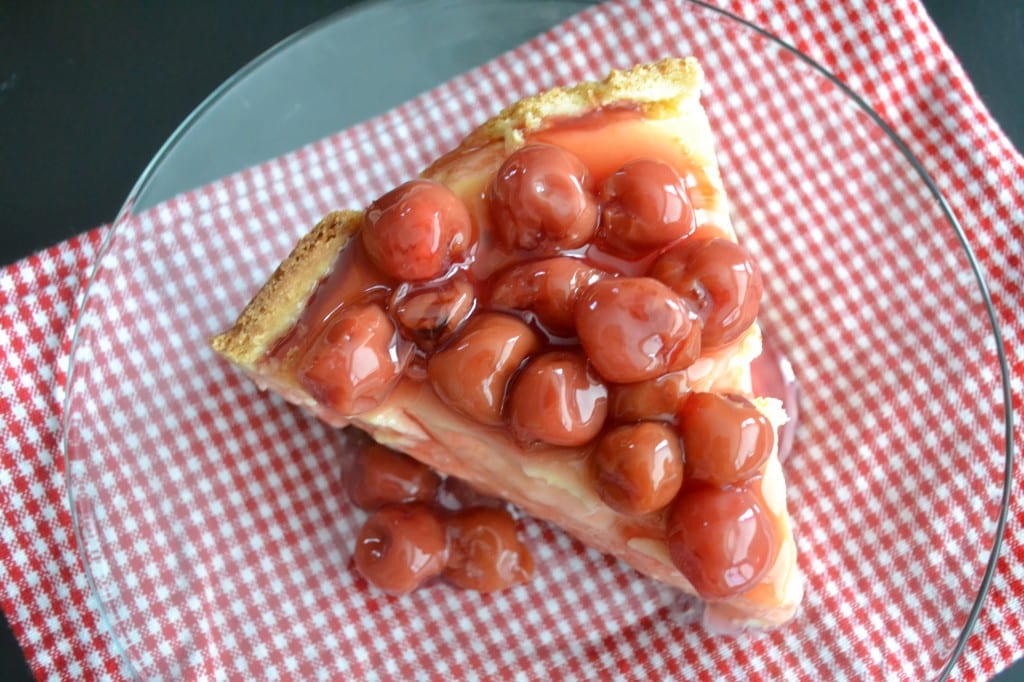 Ingredients for the Cookie Crust
1 Cup Sifted All-Purpose Flour
¼ Cup Sugar
1 Teaspoon Grated Lemon Peel
¼ Teaspoon of Vanilla Extract
1 Egg Yolk
½ Cup Butter
Ingredients for the Cheese Filling
2 ½ Pounds Cream Cheese
1 ¾ Cups Sugar
3 Tablespoons All-Purpose Flour
1 ½ Teaspoons GratedOrangePeel
1 ½ Teaspoons Grated Lemon Peel
¼ Teaspoon of Vanilla Extract
5 Eggs, Plus 2 Egg Yolks
¼ Cup Heavy Cream
For the Topping
1, 21-ounce Can Cherry Pie Filling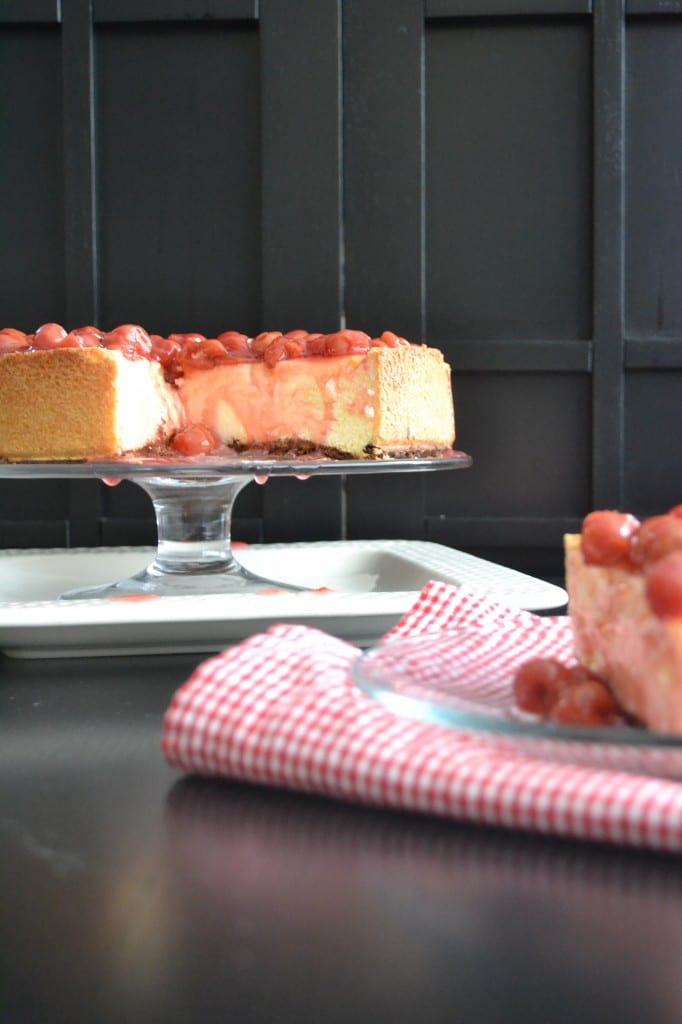 1. Make the crust: Combine flour, sugar, lemon peel, and vanilla. Make a well in the center and add egg yolk and butter. Work together quickly with hands until well blended. Wrap in waxed paper and chill thoroughly in refrigerator for at least an hour.
2. Make the cheese filling: In the large bowl of a mixer, combine cream cheese, sugar, flour, orange and lemon peel, and vanilla. Add whole eggs and egg yolks, one at a time, stirring lightly after each addition. Stir in cream.
3. Remove dough from refrigerator. Divide dough in half. Roll one half on a floured surface until 1/8 inch thick. Place over oiled or buttered bottom of 9-inch springform cake pan. Trim excess dough. Reassemble pan and butter or oil sides. Bake at 400 degrees for 20 minutes, or until a light golden color. Cool. Increase temperature to 475 degrees.
4. Butter or oil interior sides of cake form and place over base. Press remaining dough against sides of pan. Fill form with cheese mixture and bake at 475 degrees for 12-15 minutes. Reduce heat to 200 degrees and continue baking for 1 hour. Let the cake cool for at least two hours.
5. When cool, spoon cherry filling over top of cake. Cover and refrigerate for several hours before serving.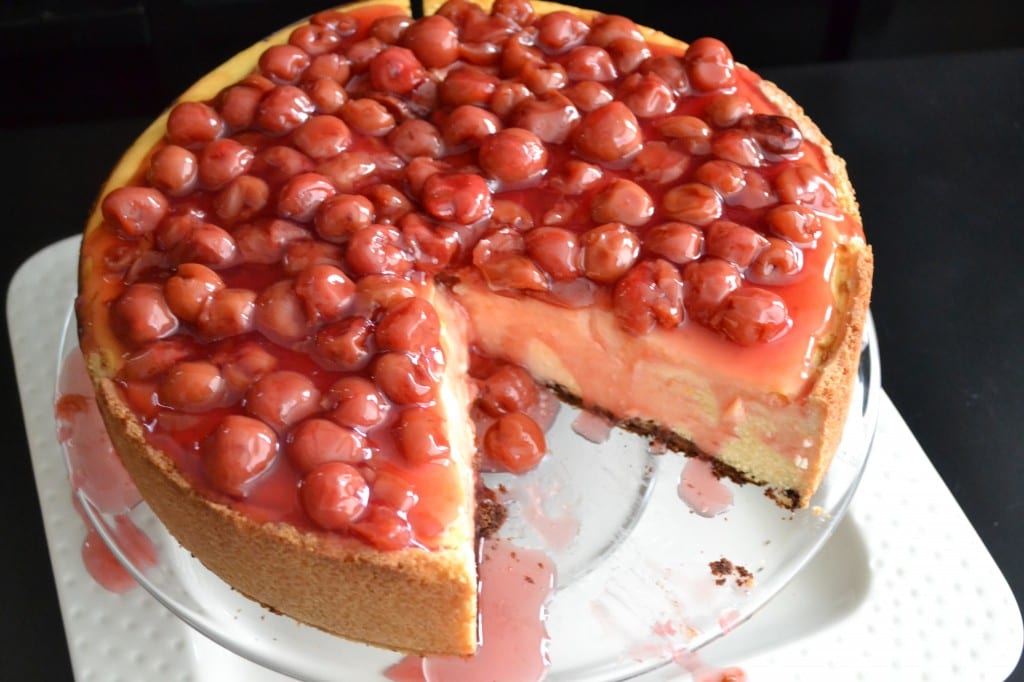 I hope you all will join me in an after dinner cocktail and continue this Mad Men themed dinner party all the way until next Sunday for the premiere of the new season. Cheers!