You may be familiar with Shawn from when I took part in her summer kids lunches series. Shawn is a delightful and down to earth lady and mom. She gives me hope that I will be able to juggle it all once we have kids. If you are ever having one of those days, you must head over to her blog. After reading about whatever wonderful goodie she has cooked up, you will be leaving with a smile. I can't wait any longer for you guys to read about this dip, so I will turn it over to Shawn.
Hi guys! My name is Shawn and I blog over at I Wash…You Dry. That is where I create simple and easy to follow recipes.
I haven't met Stefanie in person yet, but we have known each other in the blogging world for a while now. I don't doubt that we would be BFF's in real life since she makes such awesome recipes like these Lemon-Poppy Seed Sugar Cookies and this Simple Summer Pasta Salad. Yum! Be sure to invite her to your next BBQ… and me too while you're at it!
Today I wanted to share a simple recipe with you that is fun and perfect for a party.
Or for just your family.
or just you…
No judgement.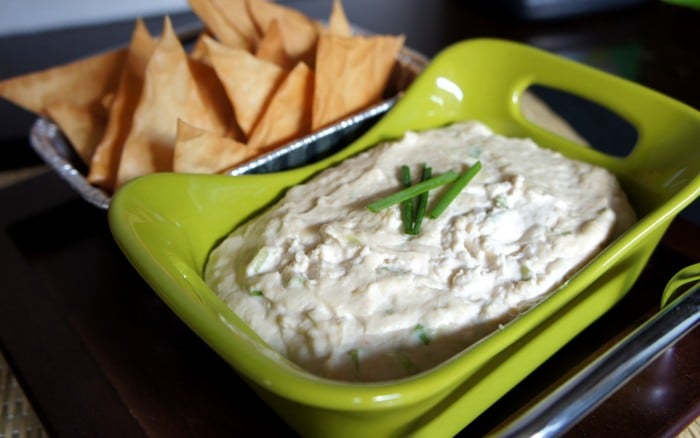 My favorite thing about ordering Chinese food are those crispy wontons filled with a creamy crab center.
So I thought I would put all the elements of those fried wontons into a creamy dip. Now everyone can enjoy those little puffs of heaven without
you spending all the time on each individual puff.
It's like a giant bowl of puff.
err…you know what I mean…
Instead of frying the wonton chips, I baked them, which allows you to prepare all of them at the same time. And no oil flying around!
easy on the hips…wink wink…

To create the dip, just combine some cream cheese, minced garlic (I actually use Gourmet Garden's Chunky Garlic), chopped green onion, a little soysauce, a tiny bit of mayo, and of course crab meat.
I buy my crab meat in a can.
I'm all about simple, people.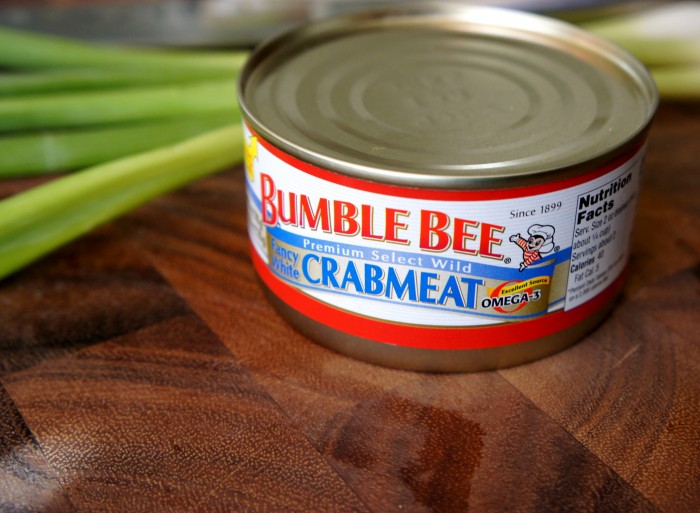 Give all the dip ingredients a good mix, and toss it in the microwave till it's warm.
Stir it again till it's all combined and somewhat smooth. It will still be slightly chunky due to the crab and onions.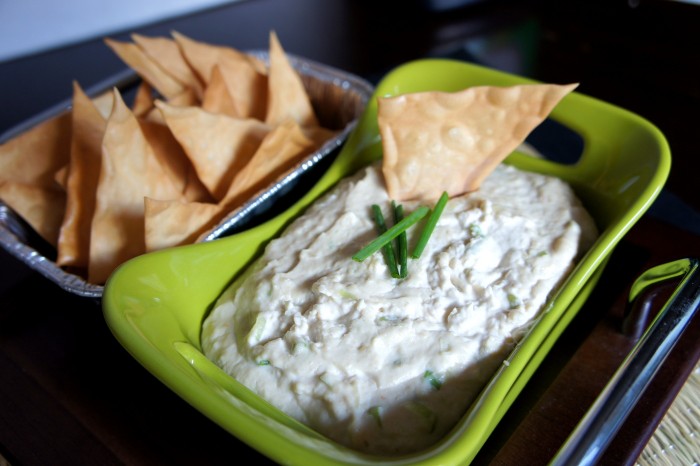 And that's it!
So simple right?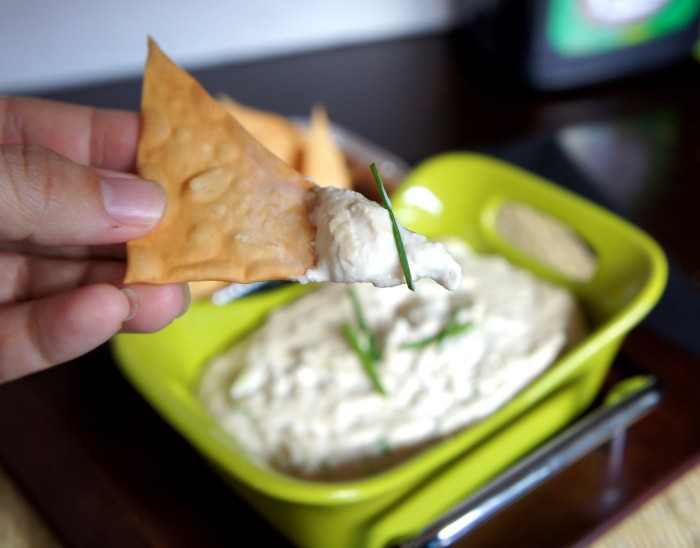 Just wait till you taste it!
It's extremely addictive, and goes fast. So make sure to make lots of chips!
Thanks for letting me share this recipe with you! Be sure to come say HI to me over at I Wash…You Dry!
Creamy Crab Wonton Party Dip
Ingredients:
 20 Wonton Wrappers
 8 oz cream cheese; room temperature
 1/2 cup diced green onions
 1 tbsp light mayo (I use the Mayo made with Olive Oil)
 1 tbsp minced garlic (I use Gourmet Gardens brand)
 4 oz crab meat, chopped
 1 tbsp soy sauce
 Directions:
  Heat oven to 350 degrees.
  Cut Wonton wrappers in half on the diagonal. Place on a cookie sheet and lightly spray with cooking spray. Bake for 7-10 minutes till goldenbrown. Remove from oven to cool.
  For the dip, combine the remaining ingredients in a microwave safe dish and stir to combine. Heat in microwave for 1 minute, remove and stir again. Keep doing this until the mixture is completely combined and cream cheese is evenly distributed.
  Serve dip warm with the Wonton Chips!