During one of the last weekends in college, a certain friend ran into a certain boy she had been crushing on for the entire four years of college (cue the whispering and snickering from our entire group of friends who are all discreetly watching what was about to happen).
As friends, you always want the same thing for your friends' love life that they want, so we all waited with anticipation.
We waited, and waited, and waited!

When grilled for details about what exactly transpired, she replied, "Oh, sweetie." Then she let out a telling chuckle and we all went to pieces with laughter. I am sure most of you can relate this story to somebody you know, heck maybe even yourself, and are able to fill in the blanks.

Certain words like sweet or sweetie always bring back that specific memory and make me smile.
You will wait, and wait, and wait with anticipation for these potatoes to roast. In the end it will be worth all the wait.

When you see these beautifully caramelized sweet potatoes come out of the oven, you will be saying to yourself, "Oh sweetie!"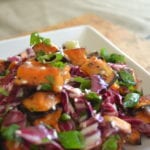 Roasted Sweet Potato Salad
Ingredients
For the Salad:

3

Medium/Large Sweet Potatoes

peeled and cubed

3

Tablespoons

Olive Oil

Pinch

of Salt and Pepper

1

Cup

Chopped Radicchio or Red Cabbage

1

Green Onion

chopped

Pinch

of Sesame Seeds

For the Dressing:

1

Tablespoon

Red Wine Vinegar

2

Tablespoons

Olive Oil

½

Teaspoon

Salt

¼

Teaspoon

Pepper

1

Teaspoon

Honey

1

Clove

Garlic

grated

1

Tablespoon

Chopped Fresh Parsley

1

Teaspoon

Chopped Fresh Cilantro

½

Teaspoon

Chopped Fresh Mint
Instructions
Preheat the oven to 375 degrees F. Line a baking sheet with foil or parchment paper.

Toss the cubed sweet potatoes with the olive oil, salt, and pepper and then arrange in one single layer on the lined baking sheet. Roast in the oven for thirty minutes, until potatoes are golden around the edges. Check the potatoes at fifteen minutes and use a spatula to move the potatoes around so they roast evenly.

While the sweet potatoes roast, chop the rest of the salad ingredients and prepare the salad dressing.

In a small mixing bowl, whisk together the red wine vinegar, olive oil, salt, pepper, honey, grated garlic, parsley, cilantro, and mint. Place off to the side.

When the sweet potatoes are roasted, remove them from the oven. Use a spatula to move the potatoes to a paper towel or dish towel to drain slightly.

Add potatoes along with chopped radicchio/red cabbage, and green onions to a medium bowl. Toss the salad together with the prepared salad dressing. Sprinkle some sesame seeds on top and serve.
 
Sigh, college.