Like I mentioned the other day, Mike is on Spring break. Lucky for me, I was able to take off time to spend with him. Unlucky for me, so far his break has consisted of wearing the same sweatpants and sweatshirt for the past three days, lying on the couch, watching Law and Order: SVU reruns, watching an entire day's worth of Opening Day baseball games while checking up on his two fantasy baseball leagues, and napping. Exciting, right?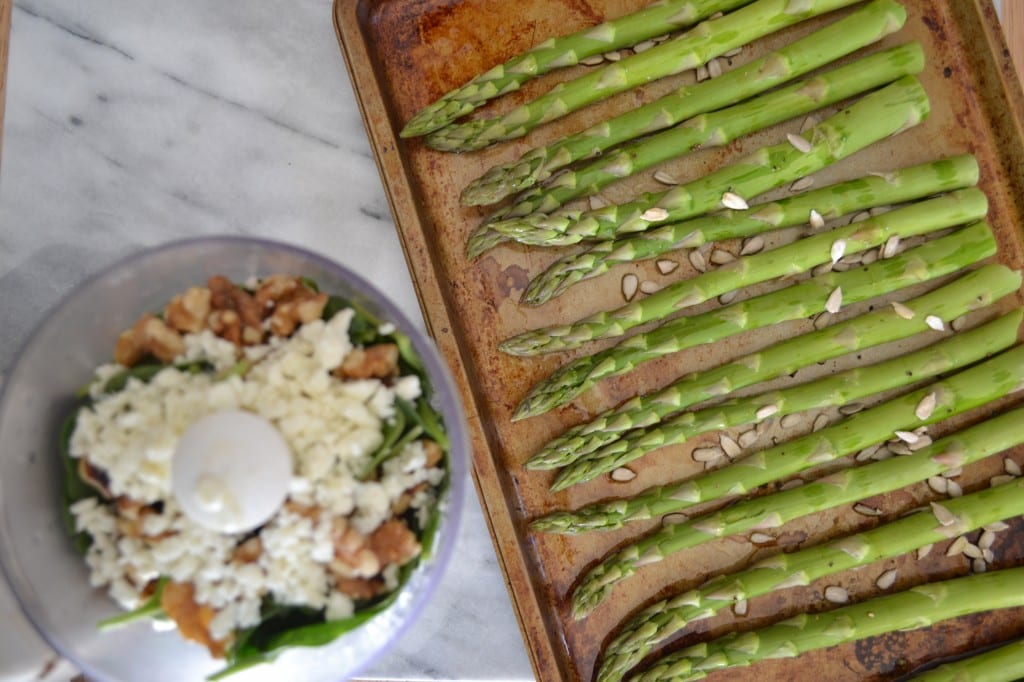 I don't know what I thought we would be doing, but watching Mike laze-away the day was not it.
We are in the middle of the week before we get paid. My parents' referred to this as lean week when we were growing up. It is too bad that lean week happened to fall on the week Mike has Spring break. We are now referring to Spring break as "Spring Broke."
Until Friday comes, we are cooking every meal at home. While trying to stretch what is left of last week's groceries, I came up with this gem. The asparagus tossed in the pesto sauce makes a great, easy side dish. What was even nicer, is the next day, I chopped up the leftover asparagus and tossed it with cooked pasta and the remaining pesto. Look at this "Spring Broke" miracle! Two great dinners in a row, and on a budget nonetheless!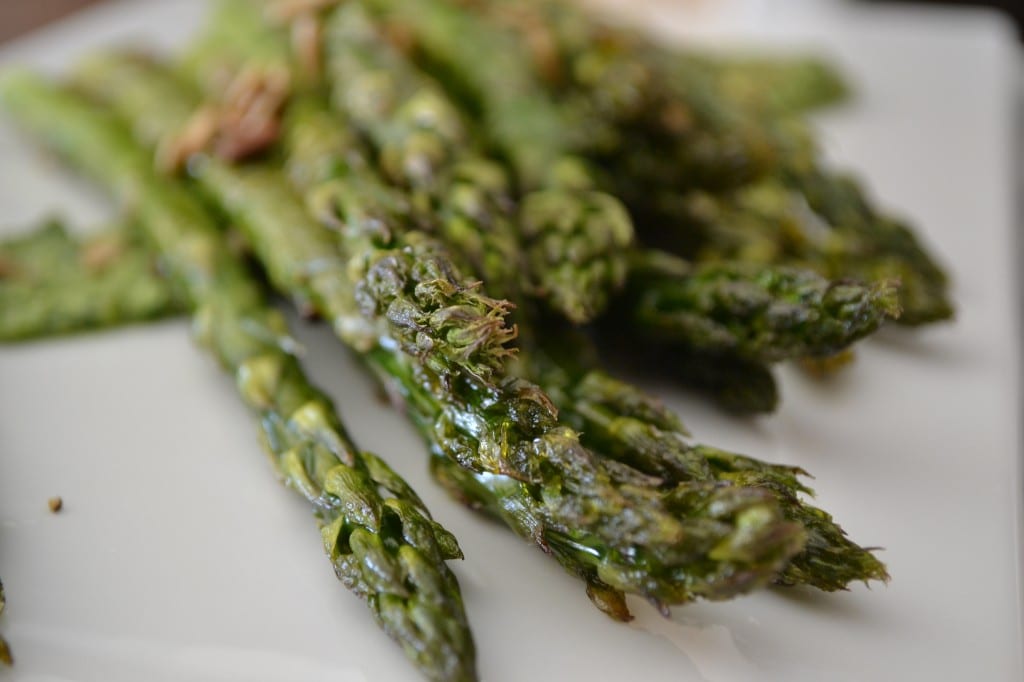 Let me tell you this. When Friday rolls around, and my fridge is totally barren, we are going on a grocery shopping spree of mammoth proportions and then heading out to eat for dinner!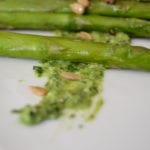 Roasted Asparagus and Sunflower Seeds with Spinach-Walnut Pesto
Ingredients
1

Pound

Trimmed Asparagus

1

Tablespoon

Raw

Unsalted, Shelled Sunflower Seeds

1 ½

Tablespoons

Olive Oil

Dash of Salt and Pepper

For the Pesto:

1 ½

Cups

Fresh Spinach

¼

Cup

Fresh Parsley

¼

Cup

Walnuts

¼

Cup

Fat-Free Feta Cheese Crumbles

1

Tablespoon

Lemon Juice

¼

Cup

Olive Oil

Pinch

of Salt and Pepper
Instructions
Preheat the oven to 425 degrees F.

Arrange the asparagus on a small baking sheet. Toss the asparagus together with the olive oil, sunflower seeds, salt, and pepper. Roast in the oven, tossing asparagus once, for 10-15 minutes until slightly golden.

While the asparagus roasts, add the spinach, parsley, walnuts, feta, lemon juice, olive oil, salt, and pepper to a food processor. Puree until smooth.

Toss the roasted asparagus and sunflower seeds with a tablespoon or two of the pesto, or serve the roasted asparagus and sunflower seeds with a few tablespoons of the pesto on top or underneath it. Asparagus lasts one to two days wrapped in tinfoil in the refrigerator. Pesto lasts three to four days stored in an airtight container in the refrigerator.