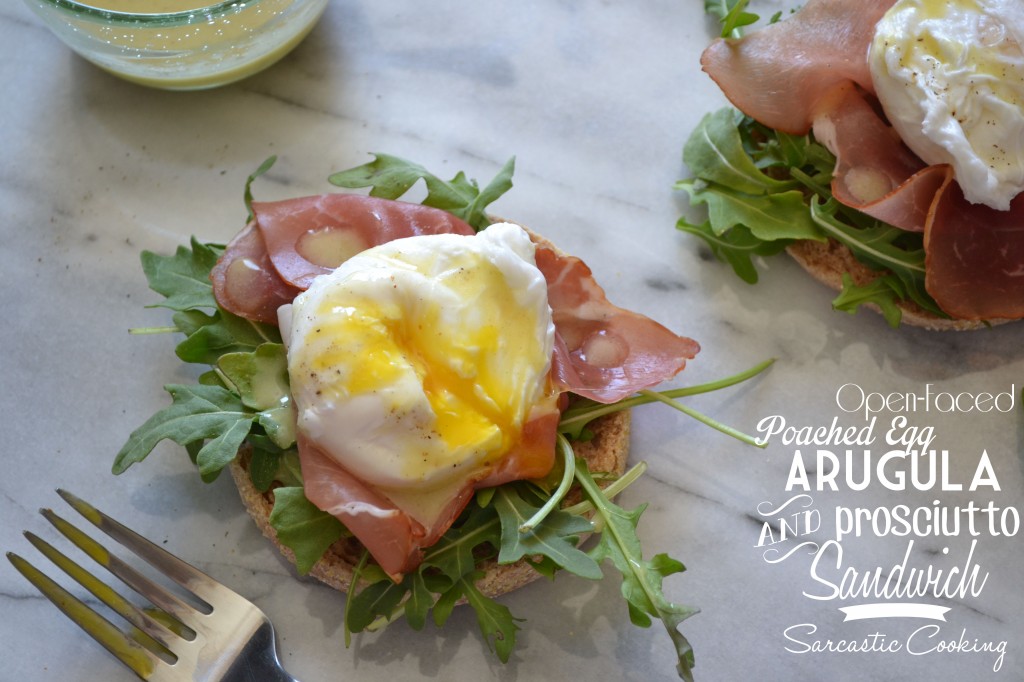 Yes, I know Easter is over. Yes, I know that Easter is traditionally a brunch-ish holiday, and maybe I should have posted this recipe a few days ago. I like egg sandwiches any time of the day or week, so sue me!
While packing up my leftovers from my parents' house, I forgot hard-boiled eggs! I feel like this is the first year that I forgot that staple of a leftover. I normally depend on those eggs for lunches and breakfasts for the next few days. Sigh, oh well.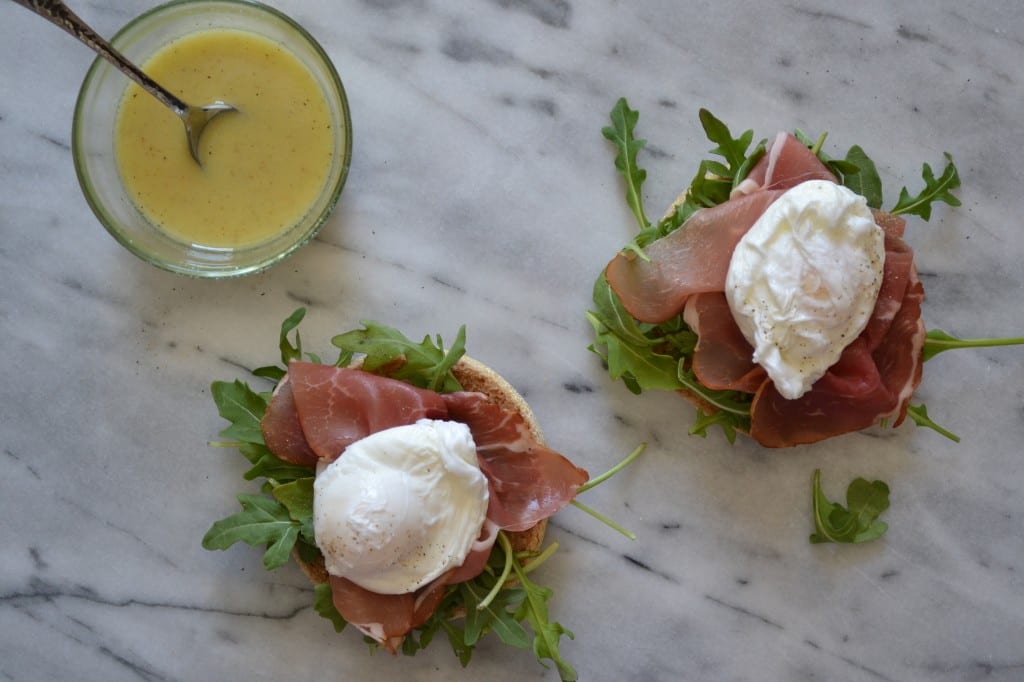 It is just an unnecessary excuse to make eggs for breakfast and lunch this week.
Mike is currently on Spring Break from school. When I wake up, first thing I need is some breakfast. Then, I go to coffee. Mike is the opposite. The first thing he reaches for is coffee. Then, at about 11 o'clock, when I am ready for lunch, Mike is asking for breakfast.
This is when I win best wife award. I usually save him a poached egg or fried egg from my breakfast and then whip him up some hodgepodge breakfast sandwich. His are never as meticulously put together as mine are though. I just like pretty food.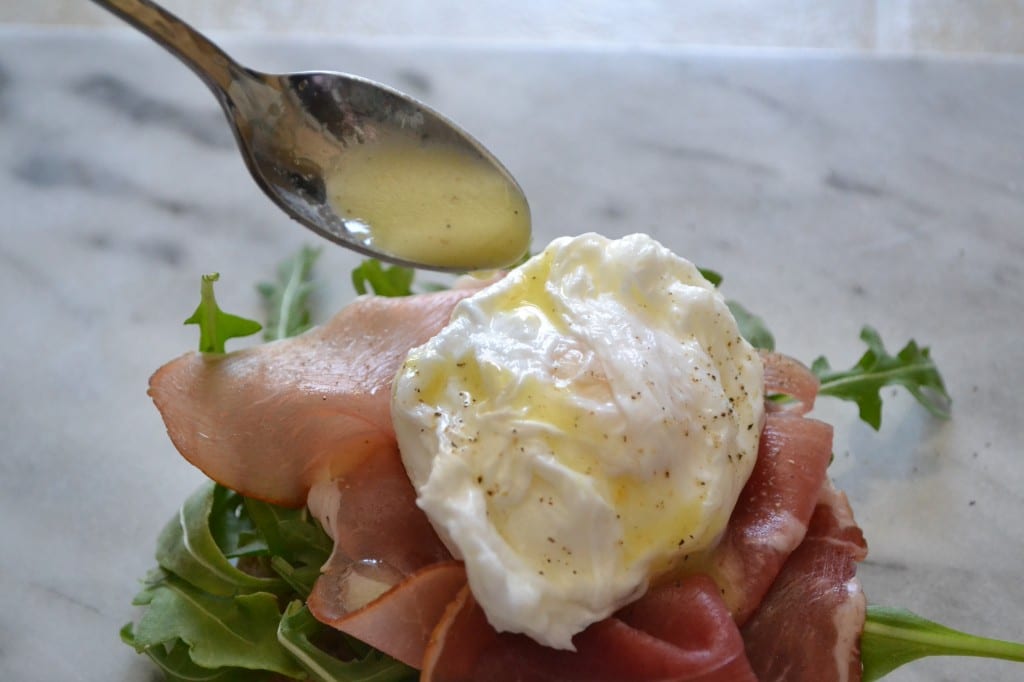 This sandwich sounds like a lot. It sounds very complex. It is not at all. I just didn't exactly know what to call this that would include all the ingredients and Stef's Classy Breakfast Sandwich just didn't sit right with me.
Open-Faced Poached Egg, Arugula, and Prosciutto Sandwich with Creamy Lemon Vinaigrette
Author:
Prep time:
Cook time:
Total time:
Ingredients
[b]For the Sandwiches:[/b]
2 Poached Eggs
1 Toasted Whole Wheat English Muffin
½ Cup Arugula
2 Slices of Prosciutto
[br]
[b]For the Vinaigrette:[/b]
1 Tablespoon Lemon Juice
½ Teaspoon Dijon Mustard
2 Tablespoons Olive Oil
Pinch of Salt and Pepper
Instructions
Poach the eggs. Follow [url href="https://www.sarcasticcooking.com/2013/01/20/how-to-poach-an-egg/" target="_blank" title="these"]these[/url] sure-fire instructions to get the perfect poach.
While the eggs are poaching, toast each half of the English muffin and make the vinaigrette.
To make the vinaigrette, combine the lemon juice, Dijon, olive oil, salt, and pepper in a food processor and puree for a few seconds until creamy and combined.
Assemble the sandwiches. Top each half of the English muffin with a bit of arugula, one slice of prosciutto, and a poached egg. Right before serving, top each egg with a teaspoon or two of the vinaigrette.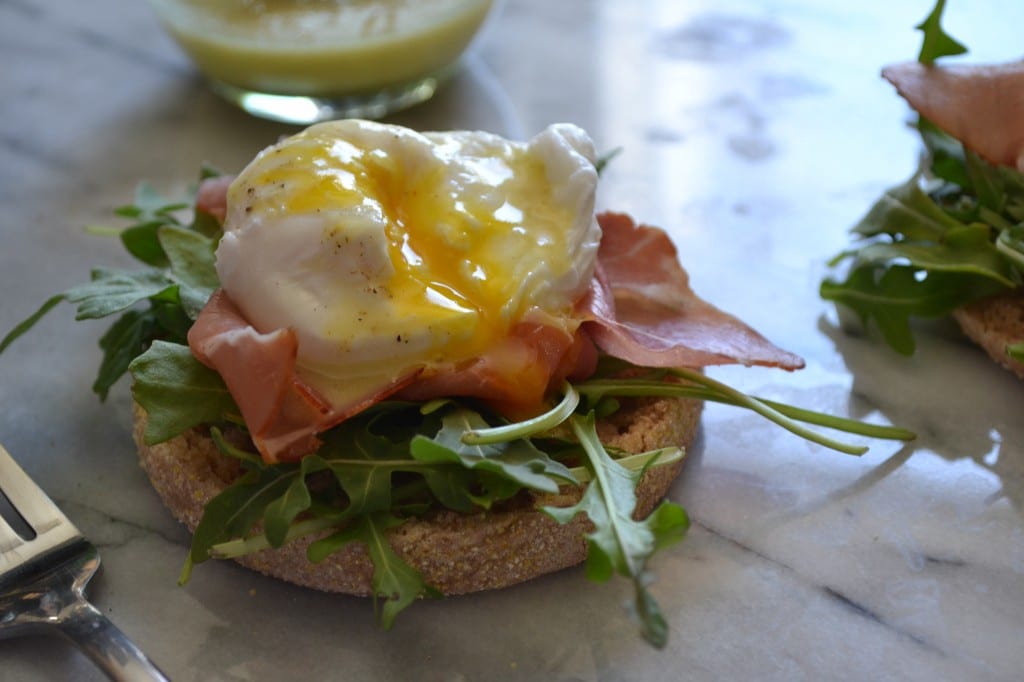 Related posts: