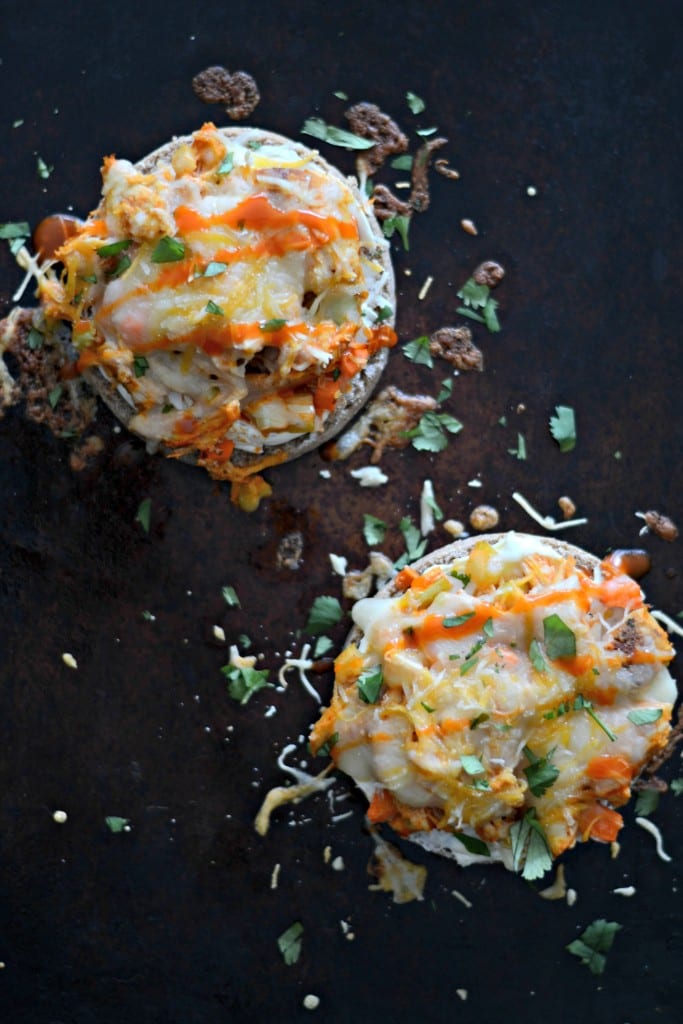 I'm baaaack! Are you, my ever loyal readers, still even here? I hope so! I missed you and this space and my culinary creativity. In case you missed the big news, I had a baby. But wait, that isn't all! While I was partly away due to spending precious, cuddly, long, sleepless nights with my little Jacky boy, I have also been MIA due to a computer crash. Ye olde HP crashed and wouldn't even start up. Funny how these issues started happening when my husband began to share my laptop with me. Not sayin', I'm just sayin'.
Anywho. We went all in on a Mac and I feel super fancy, which is mostly me pretending I know what I am doing because I am so a PC person. The only down side was waiting for delivery of the computer. 7-10 days is a long time to wait when your livelihood is computer based. While we were waiting for our new toy, we decided to be super adultified and get a minivan! The way we figure it is, these are all adult accessories to go with our next big purchase, A HOUSE! That purchase is a few months off though.
Even though these humblebrags make us come off like we have our stuff together over here, we really don't. I am seriously burning the candle at both ends. It is hard (yet also a total blessing) to juggle a two year old and his never ending amounts of energy while getting no sleep from dealing with a now one month old. Just this past week, I finally got back to cooking dinner. The past three weeks have been a haze of deep dish pizzas, cheeseburgers, and taco take out. Not that I am complaining. It was kind of nice to put the burden of providing food on Mike for once. My wallet was starting to have tumbleweeds roll out of it though due to the lack of fundage from our food jaunts.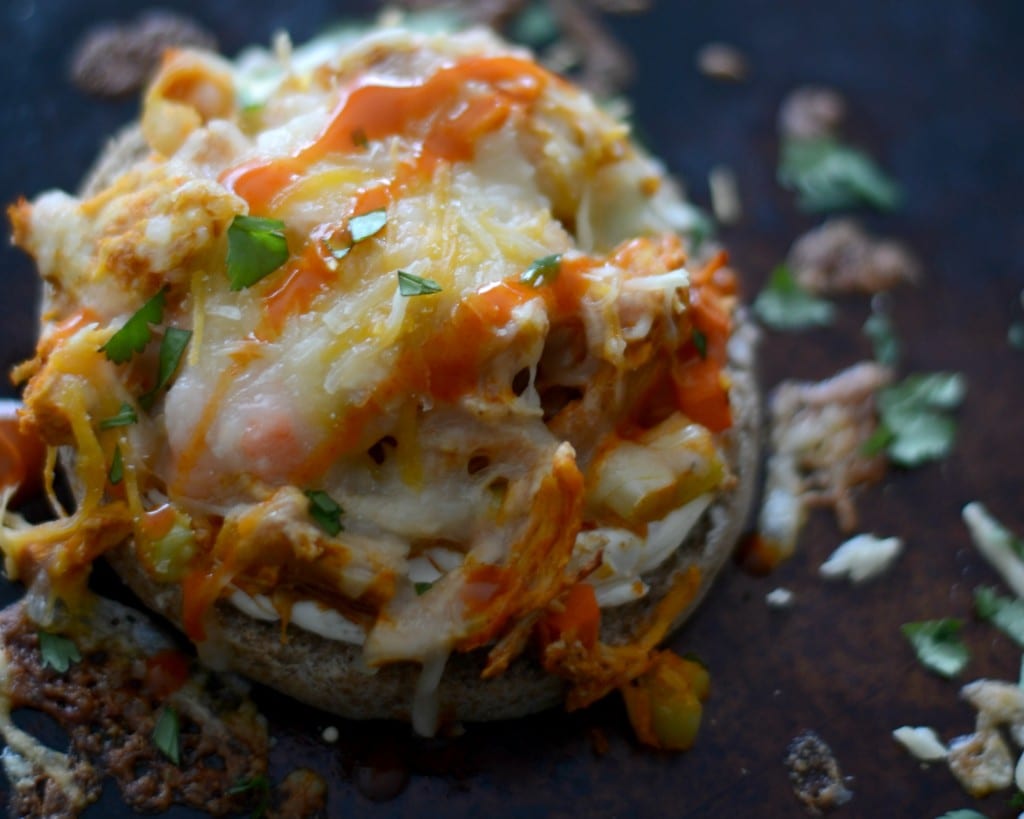 Back to cooking I go!
This week I have shared over on my FB page the real life things I have been cooking. Monday I made slow cooker lasagna. Tuesday I made pulled pork tacos out of a pork shoulder I slow roasted over the weekend. Yesterday I made a one pot baked Roman chicken. Super easy meals, planned out ahead of time. Tonight it is something for Mike because yesterday's meal had too many veggies and (gasp!) his favorite olives (not). Let me state for the record, that he still scarfed his whole plateful down.
As you know, Mike looooves anything Buffalo. I sneak carrots and celery into the buffalo chicken mix because this can't be all meat and carbs. We can each eat two pizzas and have leftovers for a weekly lunch. Win win in my #mombie (mom zombie) life if you ask me!
Buffalo Chicken Dip English Muffin Pizzas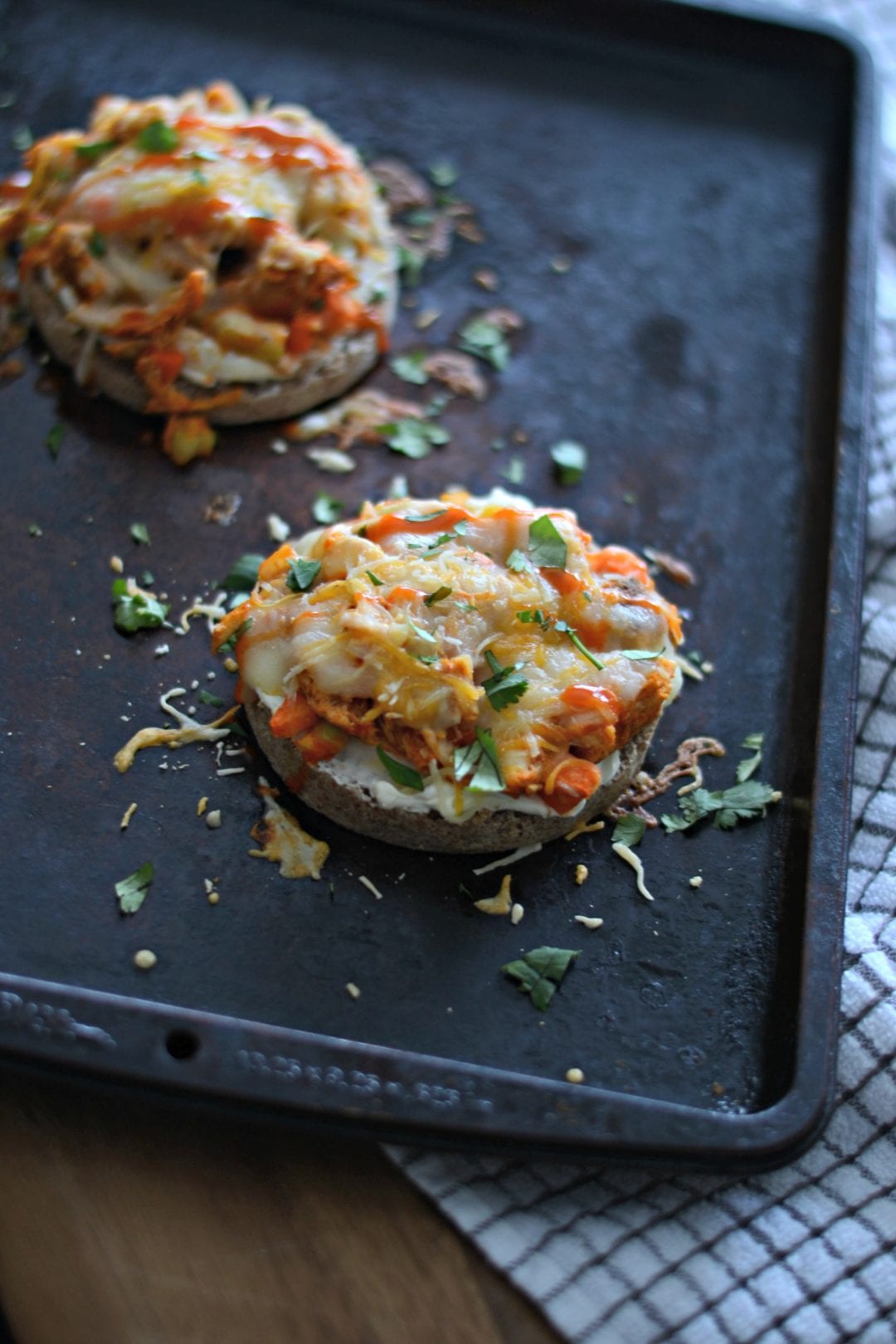 The flavors of classic buffalo chicken dip translated to easy English muffin pizzas. These pizzas make an easy weeknight meal or quick appetizer for a party.
Yields: 6 Pizzas
For the Chicken:
2 Boneless, Skinless Chicken Breasts
1 Tablespoon Olive Oil
1 Teaspoon chili Seasoning
1/4 Teaspoon Salt
1/4 Teaspoon Cayenne Pepper
1/4 Teaspoon Freshly Ground Black Pepper
1/4 Teaspoon Garlic Powder
1/2 Teaspoon Smoked Paprika
3/4 Cup Low-Sodium Chicken Stock
1/2 Cup Frank's Red Hot Buffalo Sauce
For the Pizzas:
1 Celery Stalk, diced
1 Carrot, peeled and diced
1/2 Cup Cream Cheese
3 Whole Wheat English Muffins, cut in half
1/2 Cup Mexican Blend Shredded Cheese
1/2 Cup Shredded Mozzarella
1/4 Cup Blue Cheese Crumbles (optional)
More Frank's Red Hot Buffalo sauce for topping
Fresh Chopped Cilantro (optional)
Add all the dry seasonings to a small bowl, mix to combine.
Add olive oil to a medium skillet and heat over a medium/high flame.
Meanwhile, season chicken breasts with seasoning mixture. Add chicken to hot pan and brown on each side, about three minutes per side.
Pour the chicken stock into the pan. Reduce heat to medium/low. Cover with lid. Cook for ten to fifteen minutes.
Remove lid, remove the chicken. Using two forks, shred the chicken breasts. Add the shredded chicken back to the pan. Stir in the buffalo sauce, carrot, and celery. Remove from heat.
Set the broiler to low.
Spread some of the cream cheese on top of each English muffin half. Place each muffin half on a medium baking sheet. Set in the oven under the broiler for two to three minutes until lightly toasted.
Take the baking sheet out of the oven. Using tongs, grab a little bit of the chicken mixture and then place on top of each muffin half.
Mix the cheeses together in a small bowl. Cover each muffin half with a pinch of cheese. Place the pan back in the oven for long enough to melt the cheese.
Drizzle each pizza with a little of buffalo sauce and a pinch of cilantro (if using) and then serve.
Preparation time:

10 minutes

Cook time:

25 minutes

Total time:

35 minutes
PS If you guys miss me on this here site, be sure to check me out over on snapchat @sarcasticcook. I am oversharing all the dang time!