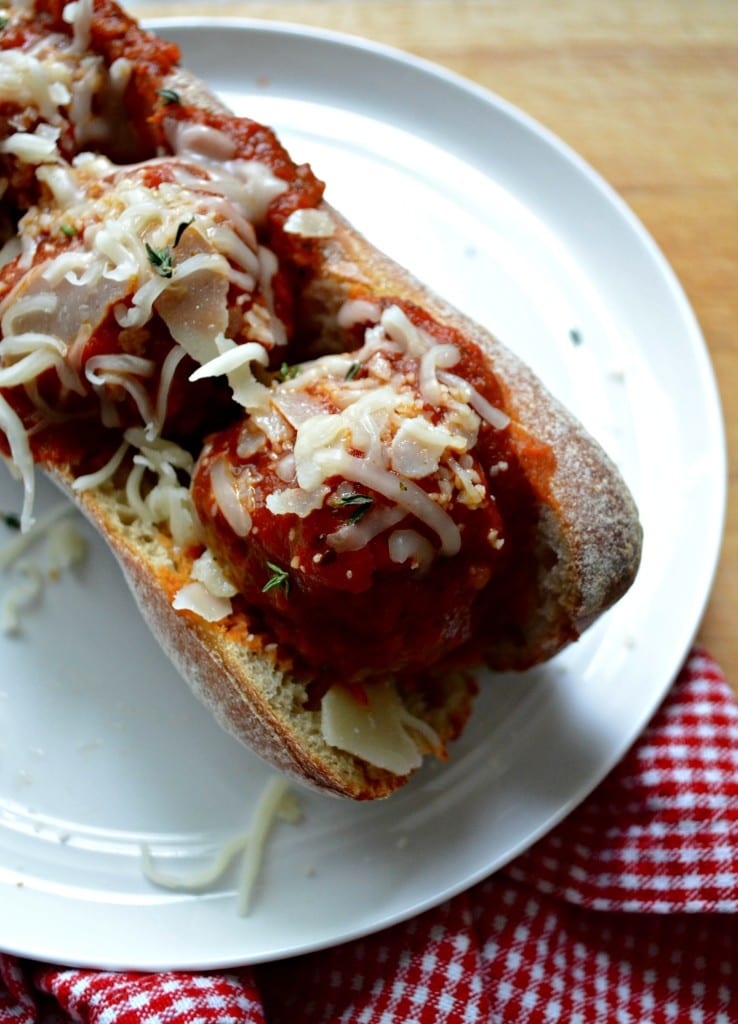 I am on a tight grocery budget. I normally do grocery shopping for two weeks at a time, aka the Friday of payday. I feel like a lot of people are on this kind of a grocery shopping schedule. I, of course, make random Target or Jewel runs if we are in desperate need of a staple during what I like to call "lean week."
Lean week is a sad week in our house. I feel like Kristen Wiig in Bridesmaids: "Help me, I'm poor." Most of the fresh produce has dwindled and I have to make dinner from random things and condiments that otherwise may not fit together.
To deal with the amount of energy that goes into coming up with dinner from random objects, I have to transform myself and my mindset into that of MacGyver.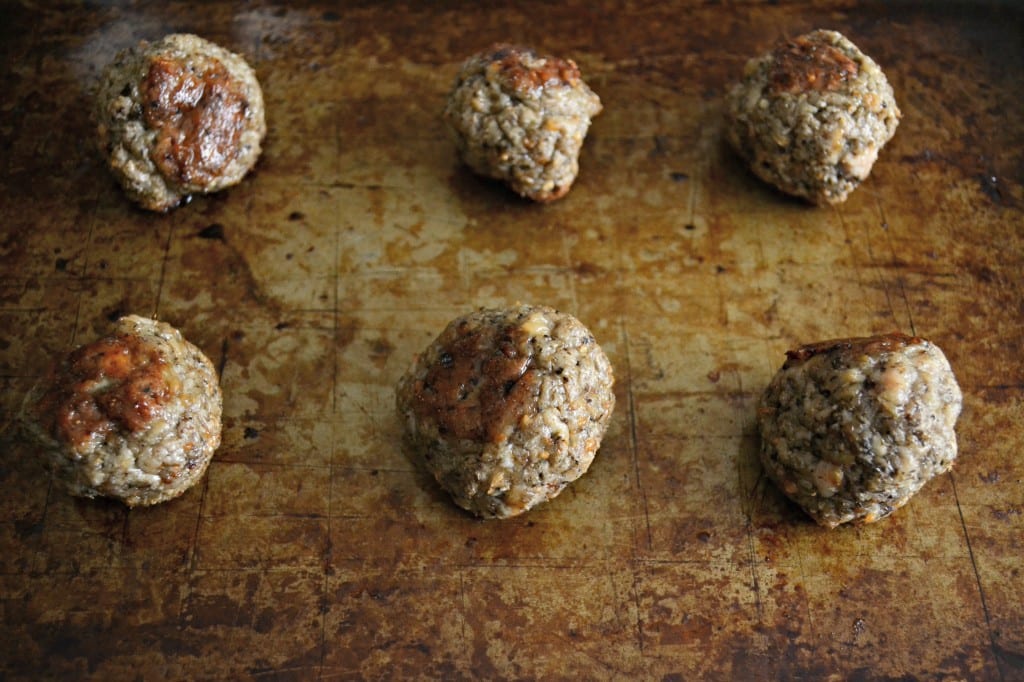 First assess the ingredients on hand:
One baguette.
Two boneless, skinless chicken breasts.
½ pint of mushrooms. (the other half was going bad, oops).
½ Jar of marinara sauce.
Ding, ding, ding!!!!! Meatball subs!!!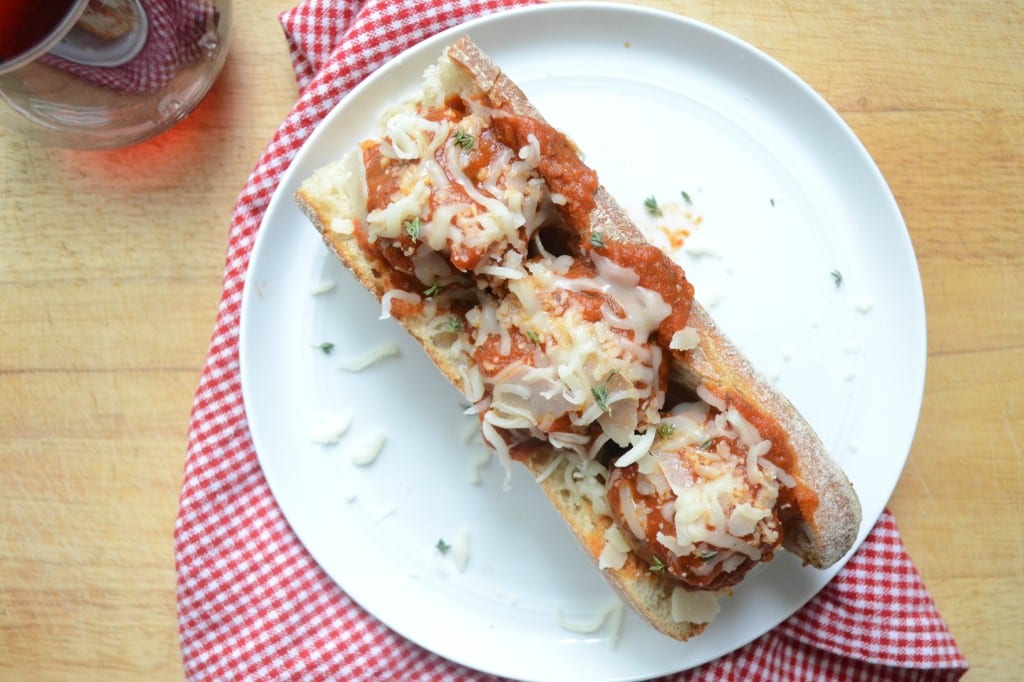 I made this recipe while holding Andy in one arm and whirring things together in my food processor with my free hand. It just so happens that around dinner time Andy gets very fussy and wants to be held, which is not very conducive to dinner making.
Since I am MacGyver, however, that is not a problem for me. I put all the ingredients in the food processor, put Andy down on the ground to cry and moan (he will be fine), roll out some meatballs, pop them in the oven, pick up Andy, and then wait.
See! That easy. All you have to do is deal with a crying kid for maybe 10 minutes and you too can make it through lean week with a meal that seems like expensive take out on a payday!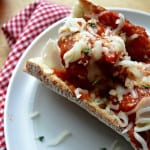 Chicken and Mushroom Meatball Subs
An easy and flavorful meatball recipe that can be whipped together in the food processor and then on your table in 30 minutes!
Servings
4
Small Subs, 8-10 Meatballs
Ingredients
2

Large Boneless

Skinless Chicken Breasts, cut into chunks

½

Pint

Sliced Cremini Mushrooms

2

Cloves

Garlic

diced

1

Tablespoon

Olive Oil

½

Cup

Panko Breadcrumbs

½

Teaspoon

Salt

¼

Teaspoon

Black Pepper

½

Teaspoon

Dried Basil

½

Teaspoon

Dried Oregano

Pinch

of Crushed Red Pepper Flakes

French Baguette

1-2

Cups

Marinara Sauce

Shredded Mozzarella Cheese for topping
Instructions
Preheat the oven to 375 degrees F.

Add the chicken chunks to a food processor. Pulse several times until the chicken is finely ground. Scrape down the sides, add in the mushrooms, and garlic. Pulse a few more times until combined and all ingredients are finely ground.

Scrape down the sides, add in the olive oil, breadcrumbs, salt, pepper, basil, oregano, red pepper flakes. Pulse once or twice just to combine. Drizzle a small amount of olive oil on a small baking sheet. Remove the lid and take out large pinches of the meatball mixture, roll into a ball, and then place on baking sheet.

Bake meatballs for 10 minutes, remove and then flip meatball, return to the oven, and bake for 10-15 minutes until the internal temperature is 165 degrees F.

While the meatballs bake, cut the bread into four pieces, and heat the marinara in a small saucepan over low heat.

When meatballs are cooked through and golden brown on both sides, add two or three meatballs to each piece of bread, top with warm marinara and cheese, and then serve.