Ham and green chili pimento cheese sliders are the perfect balance of sweet and spicy! Canned green chilies are added to an easy pimento cheese recipe for a kick. Top the ham with the cheese and buns and then bake until golden.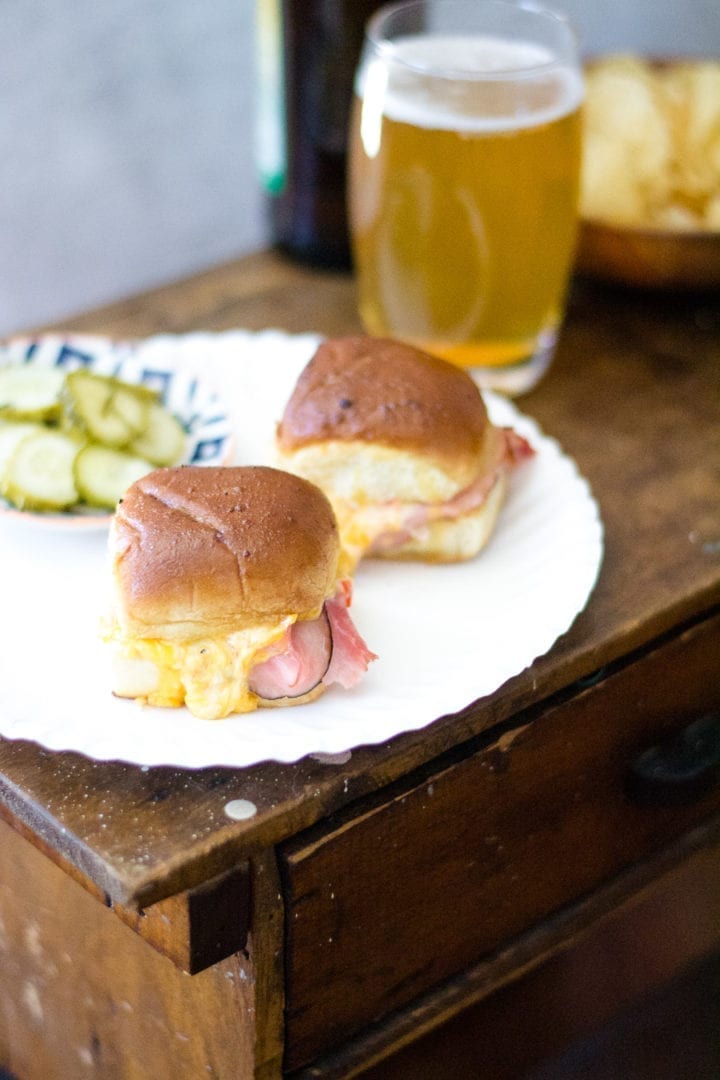 Soup and sammy season is here to stay!
Yes, I will be saying that even if it goes back up into the eighties.
My new favorite sliders have to be these ham and pimento cheese sliders. The addition of the green chilies into the cheese is epic.
I used this flavor combo trick when I made my fave Instant Pot mac and cheese form my first cookbook.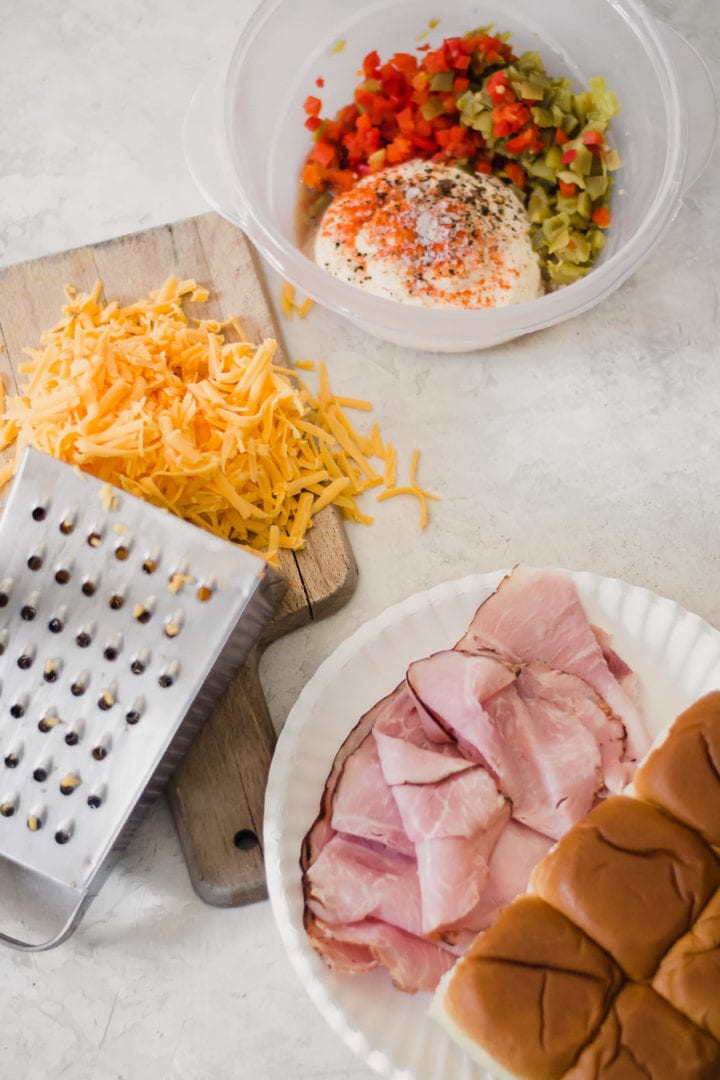 Normally this time of year I go hard on the Southern Belle funeral sliders. Terrible name. Not one bit terrible sandwich!
These sliders use black forest ham which is the perfect combo of sweet and salty. The pimento cheese is like my classic pimento cheese recipe with the addition of spicy green chilies.
So brilliant if I say so myself.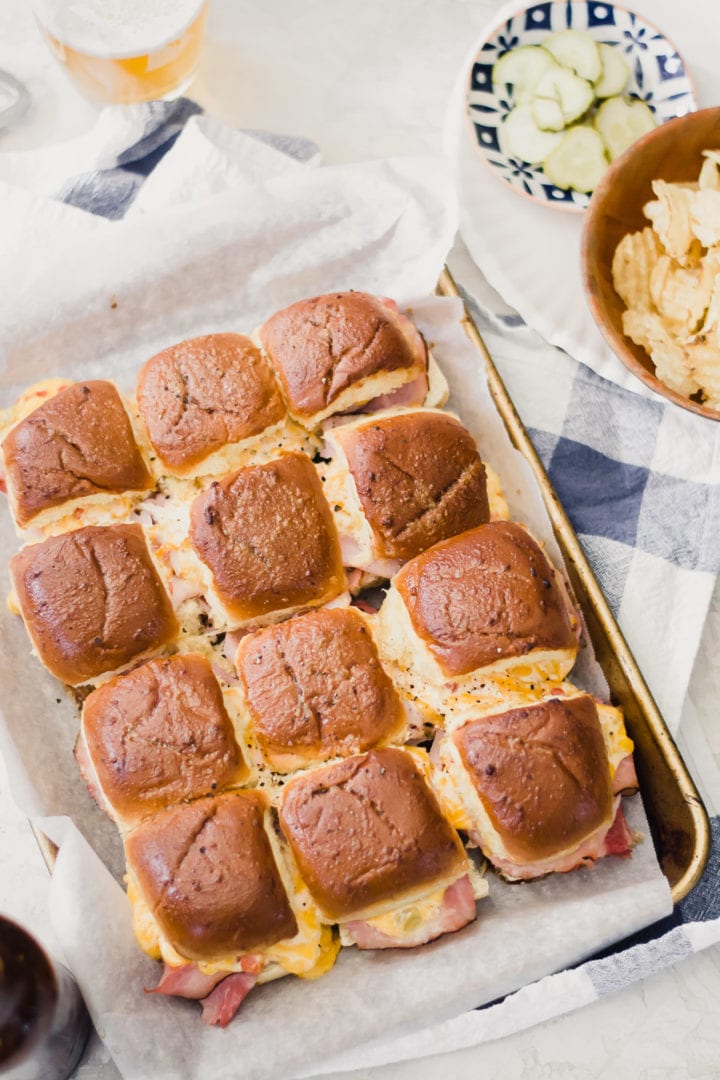 Take the little Hawaiian rolls, top them with ham, green chili pimento cheese, and then the top bun.
Melt come butter. Mix it with Dijon mustard and honey. Drizzle that all over!
Bake until golden.
You will be amazed at the sweet and spicy wonderment that is ham and green chili pimento cheese sliders.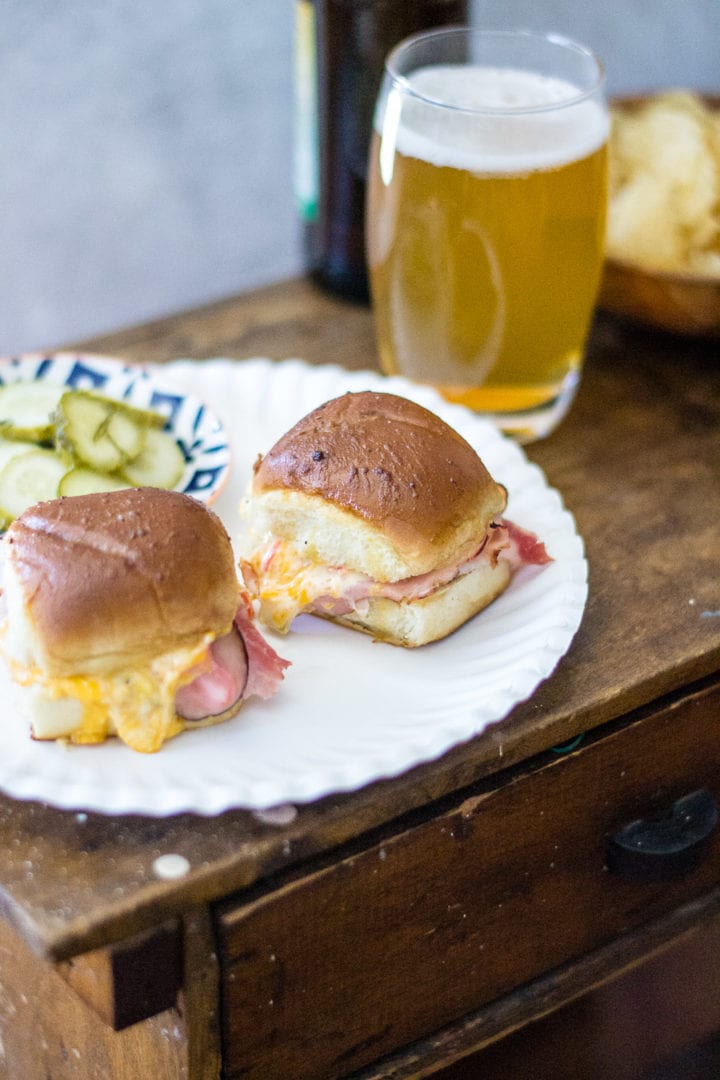 I like to think these would be perfect on the side of a little lunch soup or served at your next football viewing party.
But not a real party per se because COVID.
Man, I cannot wait until we are able to look back on these times and say, "We got through it!"
Pass me a slider!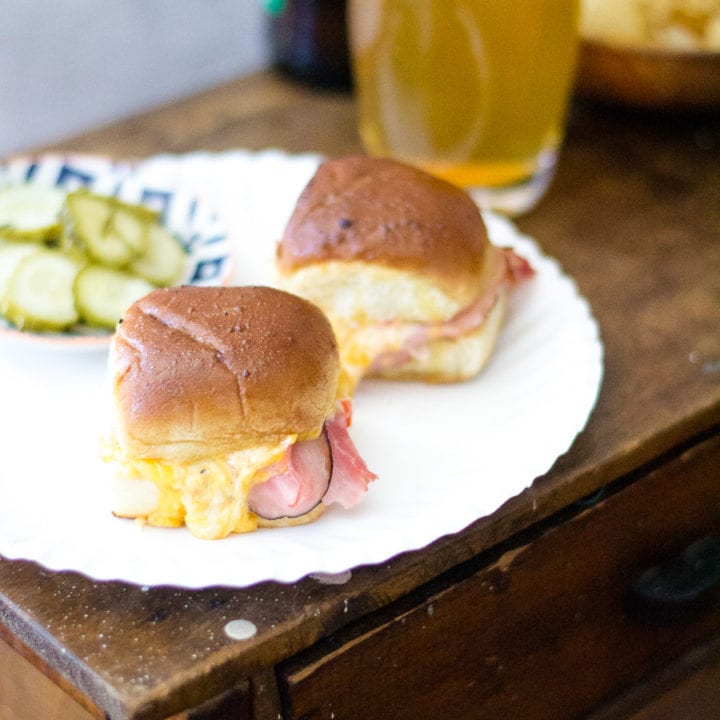 Ham and Green Chili Pimento Cheese Sliders
Yield: Makes 12

Prep Time: 20 minutes

Cook Time: 20 minutes

Total Time: 40 minutes

Ooey, gooey baked ham and green chili pimento cheese sliders are the perfect combo of sweet and spicy!
Ingredients
Green Chili Pimento Cheese:
3/4 cup mayonnaise
7oz grated sharp cheddar cheese
1 tsp Worcestershire
1/2 tsp salt
1/4 tsp smoked paprika
1/4 tsp pepper
4 oz canned diced green chilies (mild, medium, or hot), drained
4 oz diced pimentos, drained
For the Sliders:
Green Chili Pimento Cheese
10-12 Slices Black Forest Ham
12 Hawaiian Roll Slider Bunds, sliced in half width-wise
3 tbsp unsalted butter
1 tsp Dijon mustard
1 tsp honey
Instructions
Combine the ingredients for the green chili pimento cheese in a medium mixing bowl. Mix with a spoon until combined. Cover with a lid or plastic wrap and store int he fridge for at least 15 minutes to chill and set up.
Preheat the oven to 375 degrees F. Line a half pan baking sheet/jelly roll pan with parchment paper.
Arrange the bottom buns on the parchment. Top with slices of ham, think 1 slice per bun. Top each bottom bun and ham with 2 tbsp pimento cheese. Cover with top buns.
Add the butter to a small microwaveable bowl. Microwave until melted, about 30 seconds. Mix int he Dijon and honey.
Use a pastry brush to brush the butter mixture over every top bun.
Bake the buns for 15-20 minutes until golden and crispy. Let cool for 5 minutes before slicing and serving.
Recommended Products
As an Amazon Associate and member of other affiliate programs, I earn from qualifying purchases.