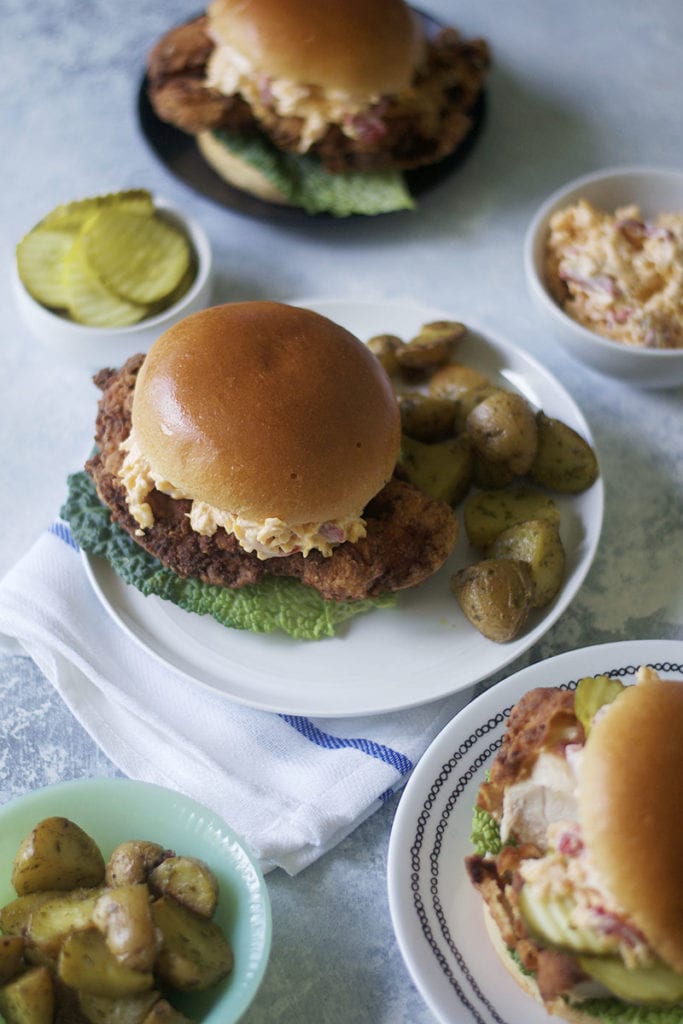 I am by no means a Southerner. I did move to the Southwest suburbs of Chicago. I do live across a main street from two rather large farms. Yet, still, I would not call myself a southerner. I don't even know if this recipe truly does justice to two southern staples, fried chicken and pimento cheese. Northerner or Southerner, I think we can all agree this is an amazing and indulgent sandwich.
Mike and his friends have this thing. Well they have a lot of things that annoy me, like a yearlong Twitter convo that takes up most of his time. Yet, when I ask about specific details in said friends' lives regarding visits to town or their families, his usual response is usually something along the lines of, "I don't know. We don't really talk about that."
Uh, well what DO you talk about?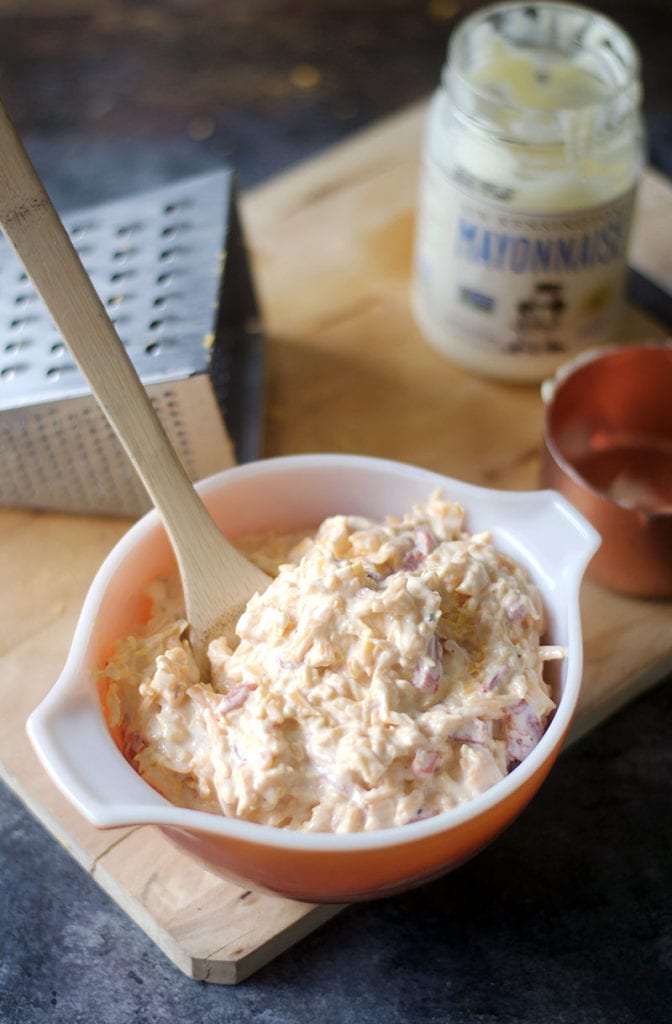 Politics, food, sports, and weekenders. "What is a weekender?" you may ask. It is the first thing they eat around Friday afternoon that usually signals the unofficial start to the weekend and results in an unproductive afternoon at work. Some common weekender lunches include a Chipotle burrito or a Philly cheesesteak sandwich. I could see how the return to work after one of those heavy items could be not so productive.
One week, or actually for a few weeks, our one friend was telling Mike about pimento cheese. Mike said he had never heard of it. Cue anger from the food blogger wife. I had to jog his memory back to this beaut of a recipe for Pimento Cheese Babka. Yeah. You had pimento cheese before.
Instead of continuing to be annoyed by the Twitter weekender convos, I decided to use them to fuel my creativity and blog recipes.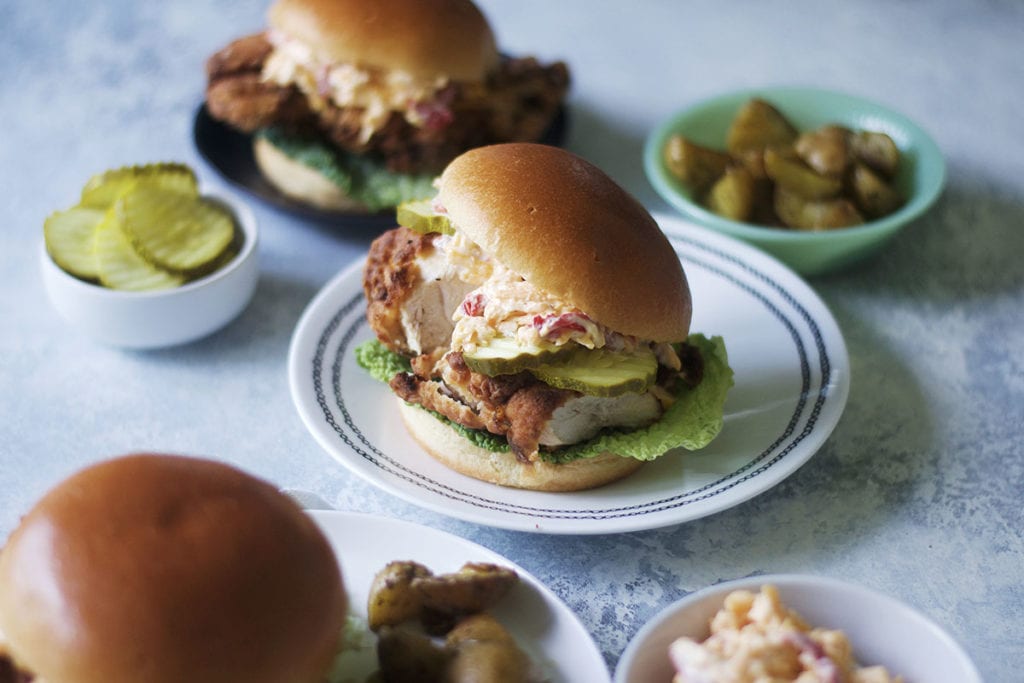 Hot, fried chicken breasts on a brioche bun with melty pimento cheese slathered all over. Pickles for me and none for Mike naturally. I think this is definitely an ideal weekender. I could even see this at a picnic in the park or something. You might think I am weird (wait, you probably already know that I am), but I totally even ate this cold. It is still good.
The key to the chicken is the brine and then patting it totally dry before you start with the flour, egg, and breadcrumb biz. It keeps the chicken juicy and allows the breading to stick really nicely to the chicken.
I guess I have to say thanks to Mike and his friends for helping me with this recipe. Thanks guys, keep the weekenders coming!
Fried Chicken and Pimento Cheese Sandwich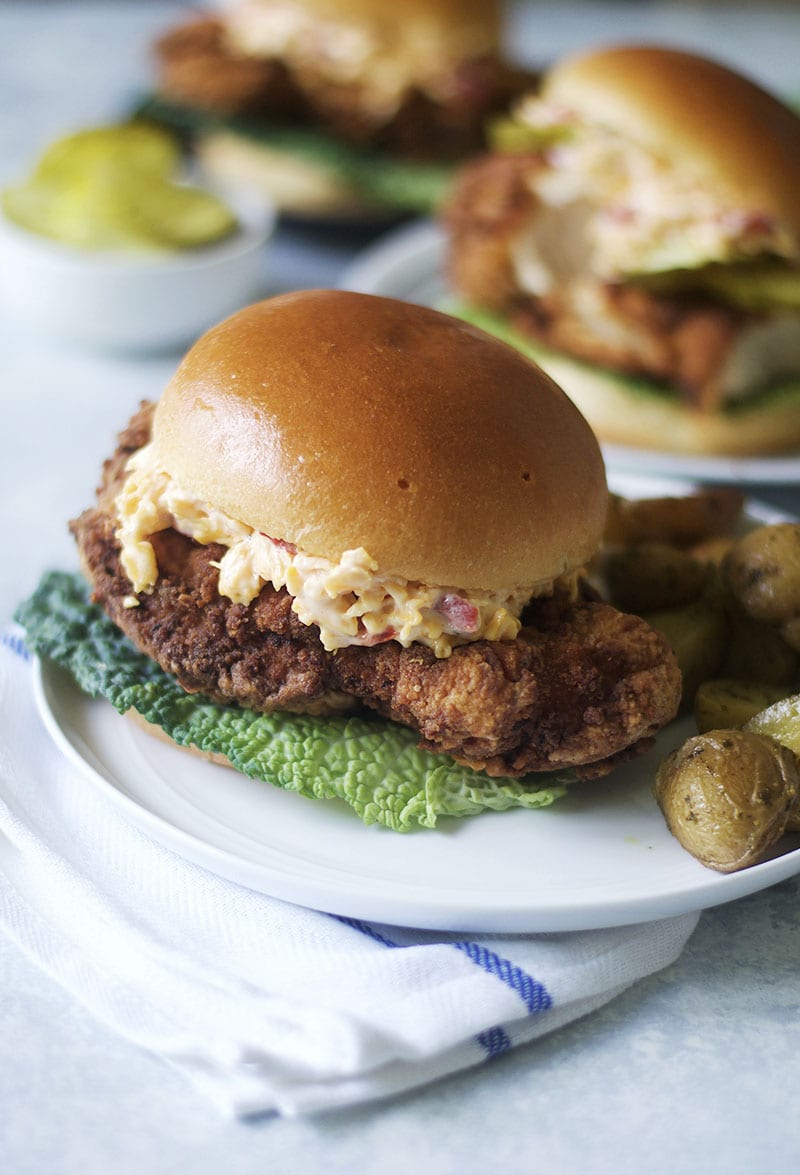 Super crispy fried chicken breasts topped with pimento cheese and pickles all on a perfect brioche bun.
Yields: 3 Sandwiches
For the Pimento Cheese:
1 1/2 Cups Mayonnaise
1, 4 ounce Jar Diced Pimento, drained
1 Teaspoon Worcestershire Sauce
1 Teaspoon Grated Onion
1/4 Teaspoon Smoked Paprika
Dash of Cayenne Pepper
12 Ounces Freshly Grated Sharp Cheddar Cheese
For the Chicken Sandwiches:
3 Cups Buttermilk
2 Teaspoons Sea Salt
1 Teaspoon Freshly Ground black Pepper
1 Teaspoon Celery Salt
2 Tablespoons Smoked Paprika
2 Tablespoons Hot Sauce
3 Boneless, Skinless Chicken Breasts (on the thinner side)
2 Cups All Purpose Flour
1 Tablespoon Corn Starch
2 Eggs
1 Tablespoon Buttermilk
2 Cups Breadcrumbs
Salt and Pepper
Canola or Grapeseed Oil
3 Brioche Burger Buns
Dill Pickle Slices
Pimento Cheese
To make the pimento cheese, combine the mayonnaise, pimento, Worcestershire, grated onion, paprika, and cayenne in a medium mixing bowl. Mix to combine. Stir in cheese and cover with lid or plastic wrap. Chill until ready to use.
Combine the brine ingredients (buttermilk, salt, pepper, paprika, hot sauce, celery salt) in a large resealable plastic bag. Add chicken. Seal. Shake to combine. Store in the refrigerator for at least 4 hours or overnight.
When ready to fry, drain chicken from the brine and pat dry with paper towels.
Set out three shallow dishes. One for the corn starch and flour, one for the bread crumbs, and one for the eggs and buttermilk. Mix the flour and cornstarch together along with a little salt and pepper. Mix the eggs and buttermilk using a fork. Dip the chicken into the flour, then the egg, then the bread crumbs, then the egg, and then into the flour. Make sure to flip the breast to get it evenly coated. Let the chicken breasts sit in the flour mixture at room temp while your oil heats up.
Add about 1 quart or canola oil to a large dutch oven. Heat over medium high heat until the temperature of the oil reaches 325 degrees F.
Add once chicken breast at a time and cook for about 16-18 minutes, flipping a few times and until the internal temperature reaches 165 degrees F.
Once the chicken is fried, add it to a wire rack with a paper towel underneath. Let it cool for about 5-10 minutes while you get the sandwiches prepared.
Spread a few tablespoons of pimento cheese on the inside of the top bun. Place a lettuce leaf on the bottom bun. Place the fried chicken on top of the lettuce and top it with pickles slices and then the top bun.
Serve right away. If storing for later, keep the chicken and toppings all separate, and heat chicken under the broiler for a few minutes until it crisps up.
Preparation time:

4 hours 20 minutes

Cook time:

30 minutes

Total time:

4 hours 50 minutes