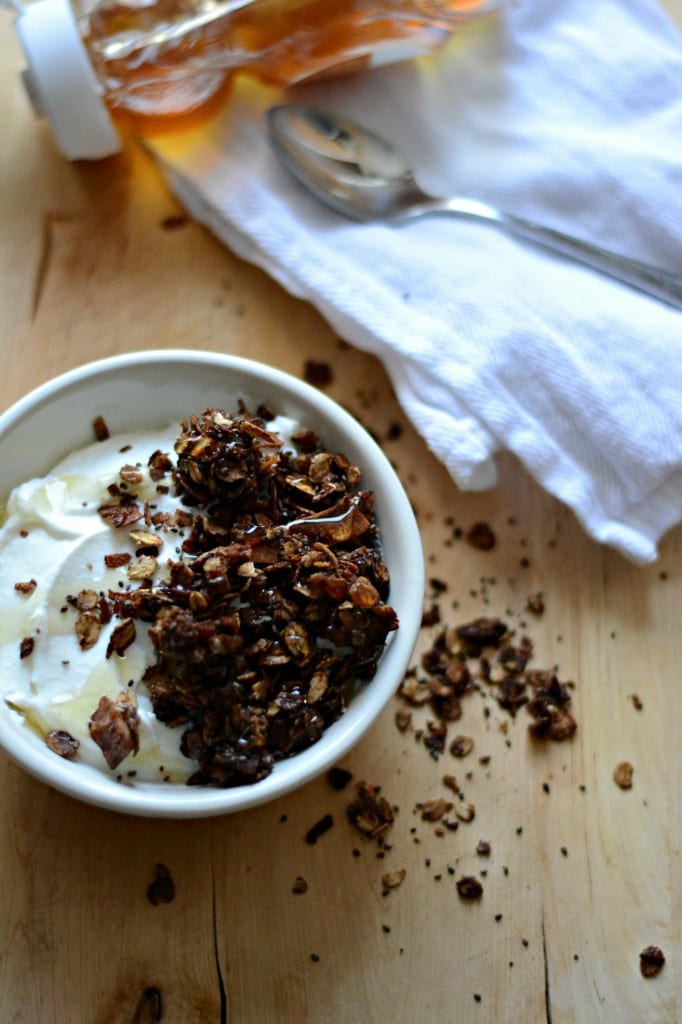 This post is coming out a little later than I originally planned. Sorry. I have a reason for that. As some of you may or may not know, I am married to a teacher. It has its hardships; long hours, work at home, and let's not skirt the issue, low pay. However, the benefits, such as summer vacation and snow/cold days make it so much fun.
Last night, Mike and I kept refreshing our twitter feeds and the Chicago Public Schools website for any news of another cold day. It made me feel like a little kid again. When I was the lucky one to see the news of another day off, I couldn't wait to tell Mike.
I am not going to lie, I jumped up and down and then did a dance. We celebrated. Then Andy did a dance and applauded too! It was a great moment.
The past two days we have been holed up in our house eating handfuls of this granola as snacks because we are all too cold to venture outside for more chips. Also the idea of sending Andy to the 7-11 down the block in a sled pulled by Weezer kind of went out the window when mister fancy paws couldn't stand to walk on the frozen sidewalk for more than three houses. And yes, I just admitted that I would rather be eating fatty snacks than this healthy stuff. But it has chocolate, so it makes it feel decadent.
I also have Andy fooled into thinking this is a treat, which is awesome because the kid is going through a major growth spurt and is like a bottomless pit these days. This snack keeps him full and focused on pincher gripping the crap out of the granola clusters.
So, enjoy your warmth and indoors. Bake this up, make your house smell glorious, and then feel ok about finishing the whole batch in one day. Oops!
Triple Coconut Cocoa Granola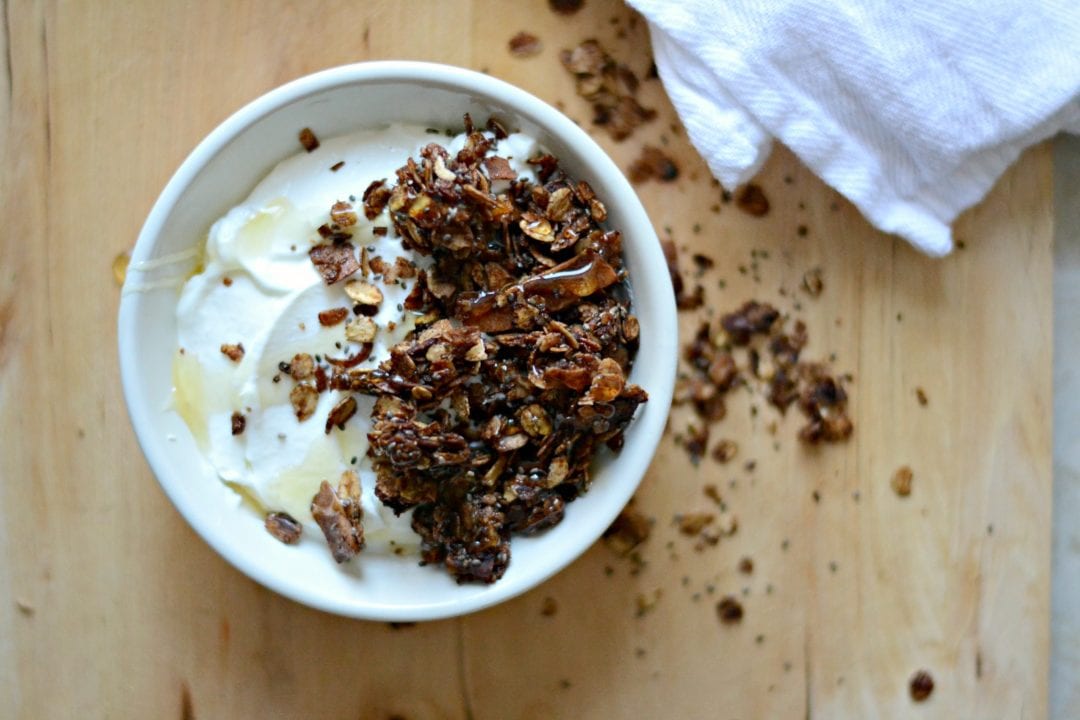 Healthy oats, coconut flakes and shreds all coated in a cocoa and coconut oil mixture and baked until crunchy!
Yields: About 5 Cups Granola
4 Cups Old-Fashioned Rolled Oats
½ Cup Toasted Coconut Flakes
1 Cup Sweetened Shredded Coconut
2 Tablespoons Chia Seeds
1 Teaspoon Cinnamon
½ Teaspoon Salt
2 Tablespoons Cocoa Powder
2 Tablespoons Unsalted Butter
1/3 Cup Melted Coconut Oil
½ Cup Turbinado Sugar
¼ Cup Honey
1 Teaspoon Pure Vanilla Extract
Preheat the oven to 350 degrees F. Line a large baking sheet with parchment paper and set off to the side.
Add the oats, coconut chips, shredded coconut, chia seeds, cinnamon, salt, and cocoa powder to a large mixing bowl. Mix to combine.
Combine the butter, coconut oil, honey, and sugar in a medium skillet. Heat over medium while stirring occasionally until the sugar melts and the mixture begins to bubble. Remove from heat and stir in the vanilla.
Pour the sugar mixture over the oat mixture and mix until every bit is coated. Transfer the granola to the prepared baking sheet. Spread the granola out in one even layer. Bake for 15 minutes, remove, stir, and then bake for another 15 minutes.
Let the granola completely cool before eating.
Preparation time:

10 minutes

Cook time:

30 minutes

Total time:

40 minutes