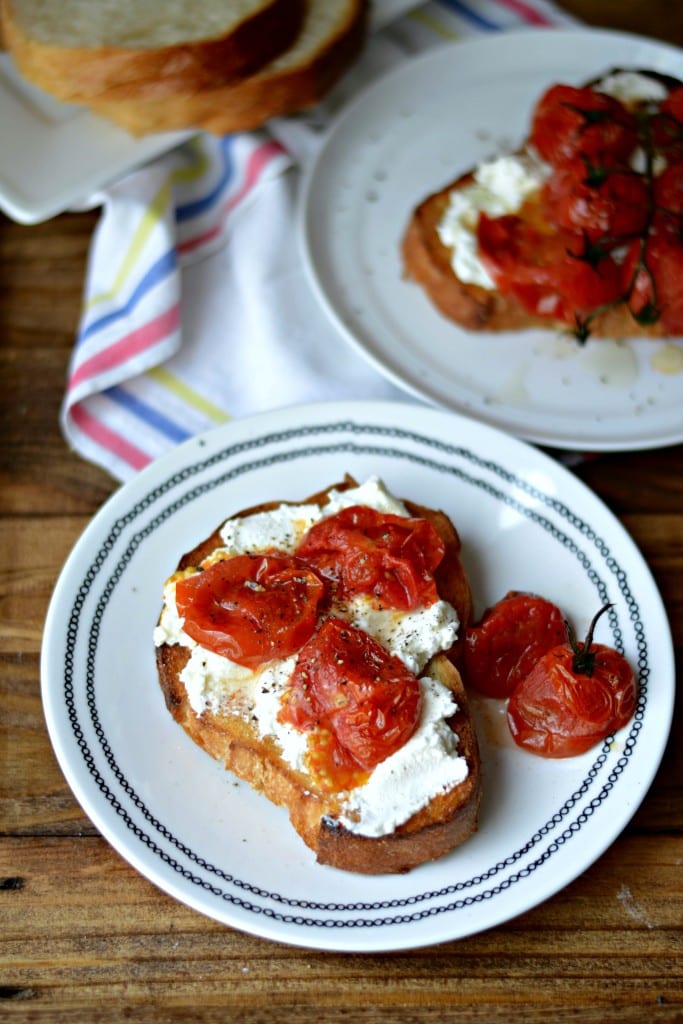 It finally happened you guys. We had our first trip to the ER with little Andy over the weekend. He was running full speed through the hallway, pretending to be a race car as he always does, and then bam! Busted his forehead open on either the corner of the wall or our big hallway mirror. I blame NASCAR. Never in my life have I ever watched a NASCAR race, but lo and behold, the first time I do, we end up in the hospital. I think that is a sign. No more NASCAR for us.
I was going to post about his run in on Facebook, but then I stopped myself. I already post an above average amount of pictures of my kids and my dog. Do I really need to add a little scarface picture to the collection?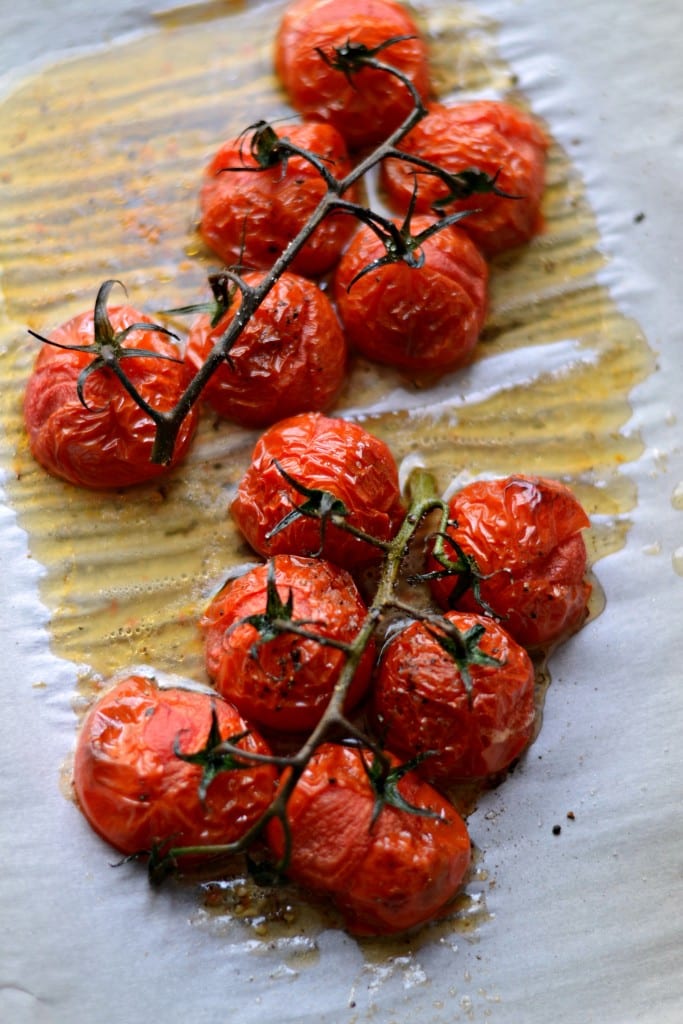 I just felt like this would have come off as more of a kind of press release than something that I actually wanted to share with my fellow Facebookers.
I mean, did this really happen if I didn't share it on social media? Do you feel like constantly feeling the pressure to post on social media has turned you into your own publicist/agent? Are you your own little version of Jerry Maguire? "I'm not gunna do what everyone thinks I am gunna do!"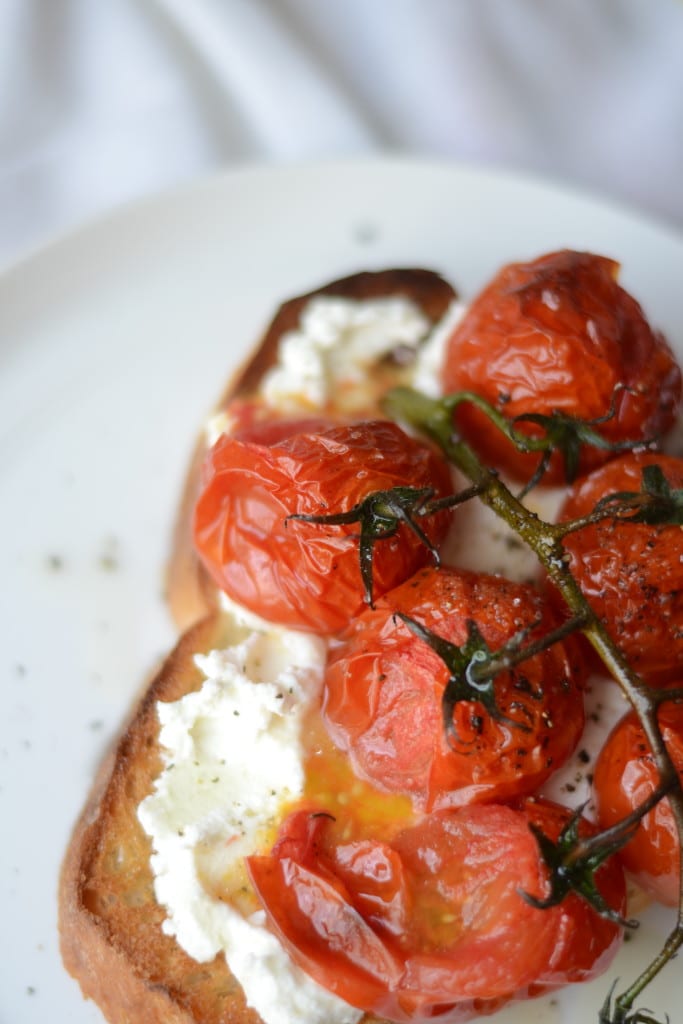 Mike and I were even joking about what out statement to the press would be after our first ER visit.
Maybe something like this:
FOR IMMEDIATE RELEASE. 
Andy Bundalo was disqualified from the Daytona 500 due to a crash on the 25th lap of the race. When asked for a comment, Andy was quoted as saying, "Craaaaash. Ouch. Saaawwwy!" Andy is recovering at home with his family.
He has henceforth decided to retire from his racing days under strict advisement from his crew chief, who just so happens to also be his father.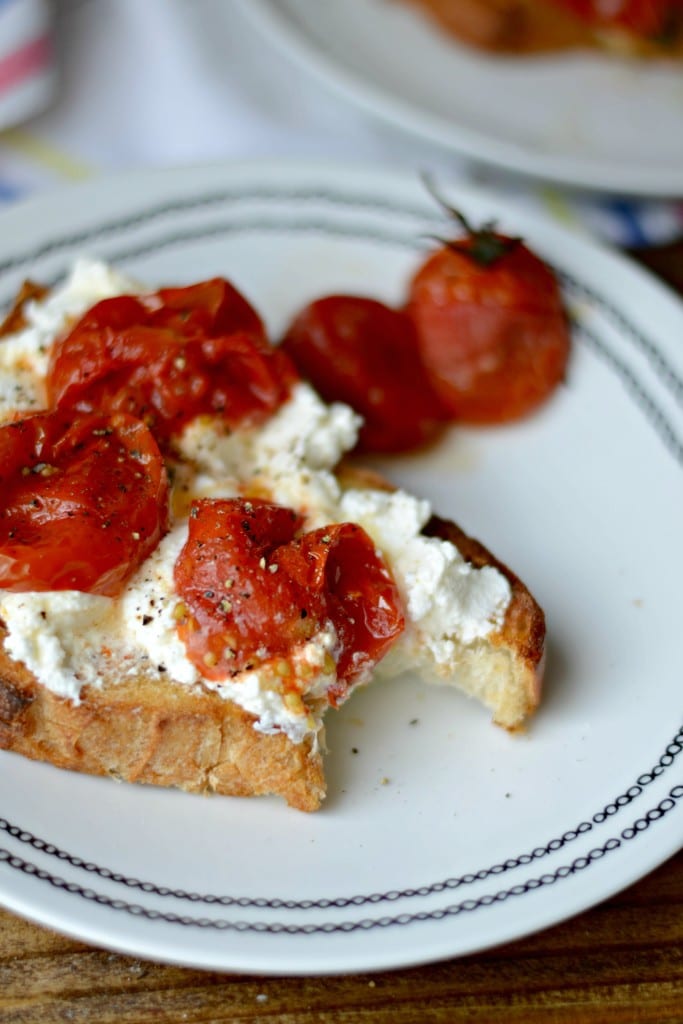 Needless to say, after a Sunday night like that, we are all having a week of treating ourselves. And if you know me, you know I am treating myself to lots of wine, cheese, and bread. Hence this very, very easy carb and cheese loaded recipe. It is basically my three fave things; cheese garlic bread, and tomatoes. That's it.
And trust me after Sunday, I really didn't wanna mess with anything complicated. This is just easy, comfort food at its best.
Simple Burst Tomato and Ricotta Toast
Warm burst tomatoes and creamy ricotta on top of crisp garlic bread make the perfect quick lunch or appetizer!
Yields: 4 Pieces
12 Tomatoes on the vine
Olive Oil for drizzling
8 Tablespoons Low-Fat Ricotta
4 Thick Slices of Italian Loaf Bread
Garlic Powder
Dried Oregano
Salt
Freshly Ground Black Pepper
Preheat oven to 400 degrees F. Line a baking sheet with parchment paper.
Add vine tomatoes to the parchment lined sheet. Drizzle with olive oil. Roast in the oven for 15 minutes until skin is crisp and interior is bubbly and soft.
Sprinkle a dash of salt, pepper, garlic powder, and oregano on the top of every slice of bread. Drizzle olive oil liberally over each slice. Toast in the oven for 5 minutes.
Take about 2 tablespoons of ricotta and spread it out over each slice of bread. Top with a few burst tomatoes, more salt and pepper, and a drizzle of olive oil. Serve!
Preparation time:

5 minutes

Cook time:

20 minutes

Total time:

25 minutes