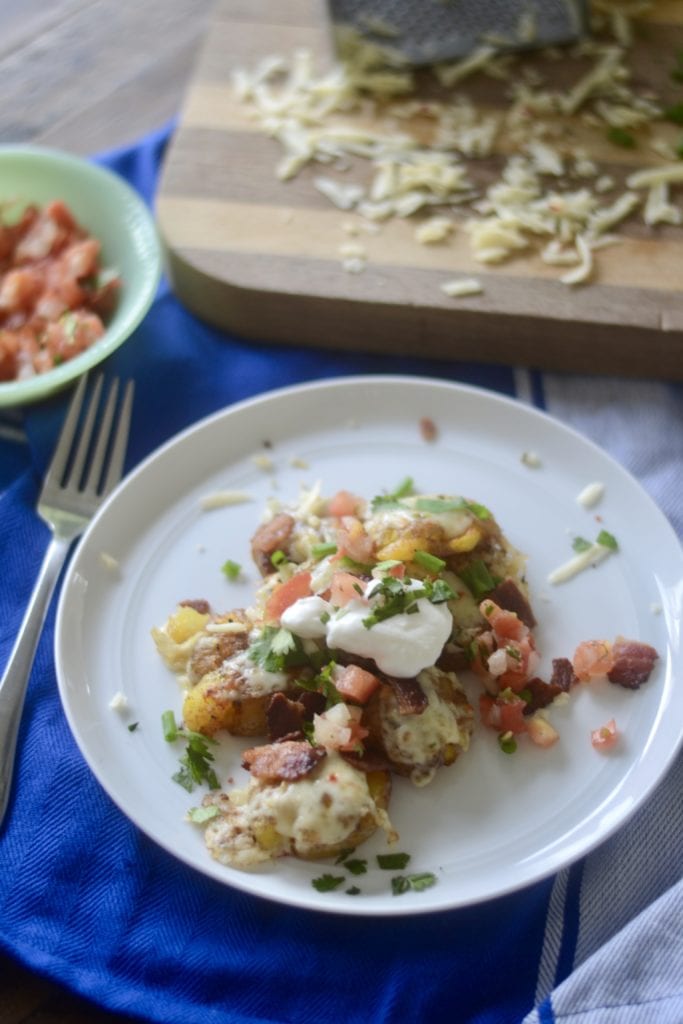 Comfort.
Relief.
Reprieve.
Inspiration.
That is why I cook and why I read food blogs. That is why today, I come to you with a carbo-loaded, cheese smothered, might as well be a heaping pile of nachos kind of recipe. We all need this. Honestly, we all need this no matter what is going on in the world. Also, the only reason this wasn't a pile of tater tots or nacho chips was because my teeny tiny potatoes from Trader Joe's were starting to grow eyes. Another set of eyes judging me for not cooking dinner. Ugh!
I sat down today, not knowing what type. How to be entertaining?
Mike just reminded me that a lot of things are still in my control. I can choose what kind of home environment my kids are exposed to. I can choose what kind of music to have dance parties to in my living room. I can choose to take my kids to Toys-R-Us for a special treat even though it is 2 days away from payday and I probably shouldn't. They are good kids, they deserve treats every now and then. Plus, I friggen live for their faces of joy.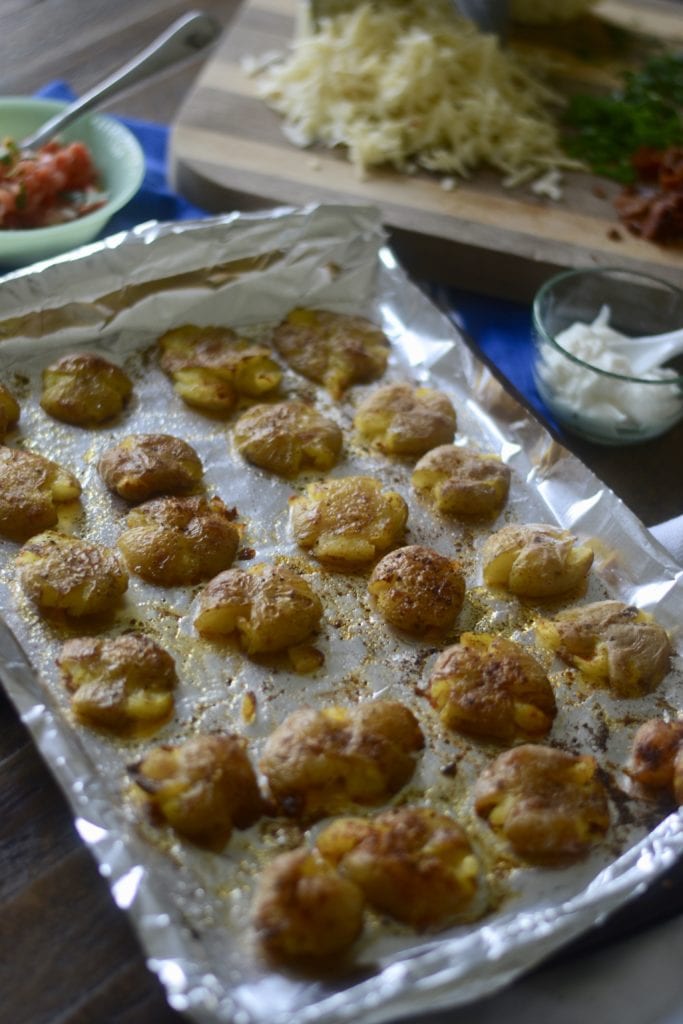 I can choose to roll through that minivan laden line to McDonald's because we only have an hour before naps and I sure as ish ain't preheating the oven to make homemade chicken nuggets. Um, moms, what is with these Happy Meal toys? Troll heads on top of pencils? Do you want my almost 3-year-old to draw all over my house or my almost 1-year-old to poke his eye out? Dumb.
Ok, and lastly, I can choose to cook dinner.
I can choose to bring my family together at the table (maybe with the help of the iPad in order to have Andy actually sit still for more than two minutes) and serve them hot, crispy, baked potatoes. That is right. I served the kids potatoes minus the cheese and toppings. It counts as a veggie and you can't make me think otherwise. The adults (me and Mike, in case that wasn't clear) had the loaded, smothered versions.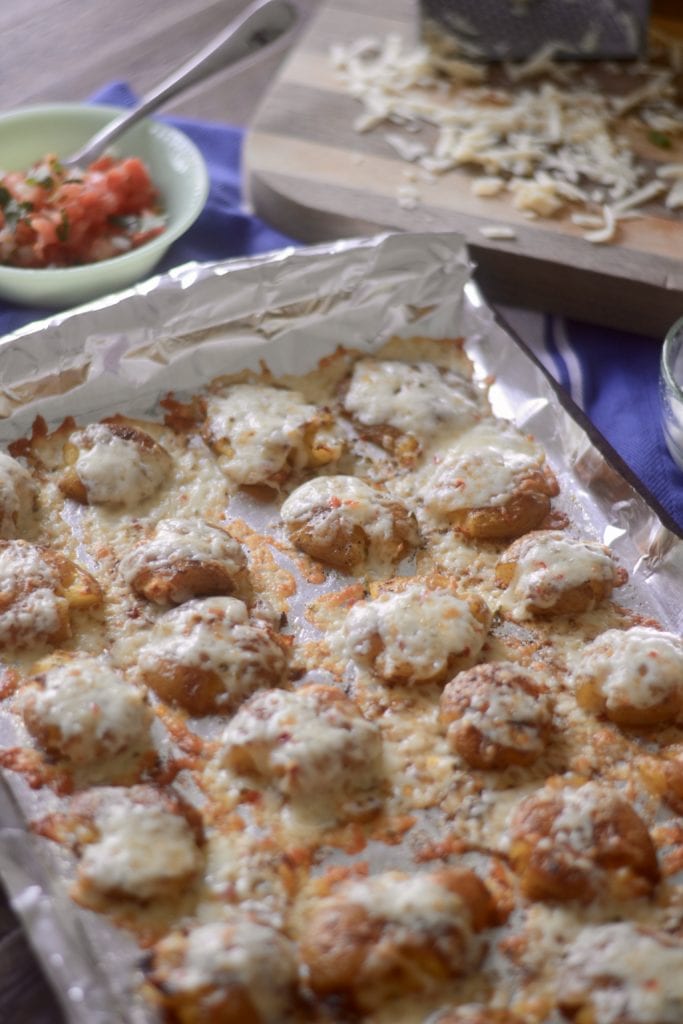 It soothes the soul a little bit.
Also having the house rule not to turn on CNN for the next few days helps, too!
Mike did say we get to choose, right!?!?!?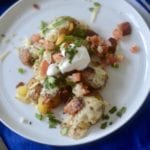 Baked, Crispy, Smashed, and Smothered Potatoes with Bacon
Kind of like a potato nacho, except you need a fork. Crispy smashed small potatoes, smothered in spicy pepperjack cheese, bacon, cilantro, and chives.
Servings
24
Smashed Potatoes
Ingredients
1

lb

Dutch Yellow Small Potatoes

Olive Oil

Salt and Pepper

to taste

4

Slices

of Bacon

2

Cups

Freshly Grated Pepperjack Cheese

1/4

Cup

Chopped Chives

Fresh Chopped Cilantro

Sour Cream

Hot Sauce
Instructions
Add potatoes to a pot. Cover with cold water. Bring to a boil over high heat. Boil for about 7-8 minutes. Drain and set off to the side.

While the potatoes boil, cook 4 slices of bacon in a skillet over medium heat until crispy. Set on a paper towel to drain. Then give a rough chop.

Preheat the oven to 450 degrees F. Line a baking sheet with foil and set off to the side.

Gently smash each potato with the flat bottom of a glass. Place each smashed potato on the baking sheet. Once all the smashed potatoes are on the baking sheet, cover with olive oil, salt, and pepper.

Bake in the oven for 20-30 minutes, flipping once. Once the potatoes are crispy, remove from the oven. Cover with cheese and then place back in the oven for about 5 minutes until the cheese melts.

Use a spatula to transfer individual portions to plates. Cover each portion with bacon, cilantro, and chives. Top off with sour cream and a liberal dash of hot sauce or crushed red pepper flakes. Other topping suggestions: pico de gallo and guacamole.