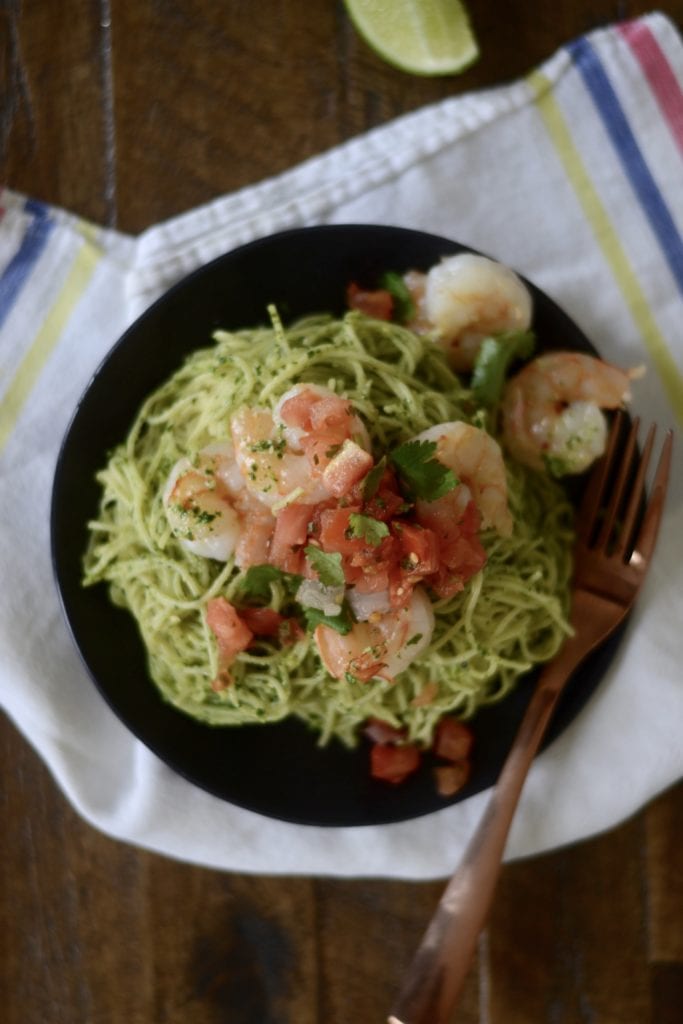 Do I have something in my teeth? Yeah. Where? Did I get it? Just show me where it is. Ok. How about now? Did I get it? Ugh! You get it!
That conversation sound familiar?
I think I have had that conversation with my best friends a dozen times. If you haven't had a friend reach across the table and quickly pick something out of your teeth, well then, you do not have a best friend.
Or maybe you just floss more than I do!
Back to cilantro. You either love it or you hate it.
Or, you have that genetic trait that makes cilantro taste like soap. That's a thing, right? Well, either way. It isn't summer, so fresh basil is not as readily available as during the summer months. I pretty much buy cilantro every single grocery store trip. When trying to shop and cook frugally, look at what you already have on hand.
Cilantro, check!
Limes, check!
Salt, pepper, CRP (crushed red pepper), check, check, check. Duh.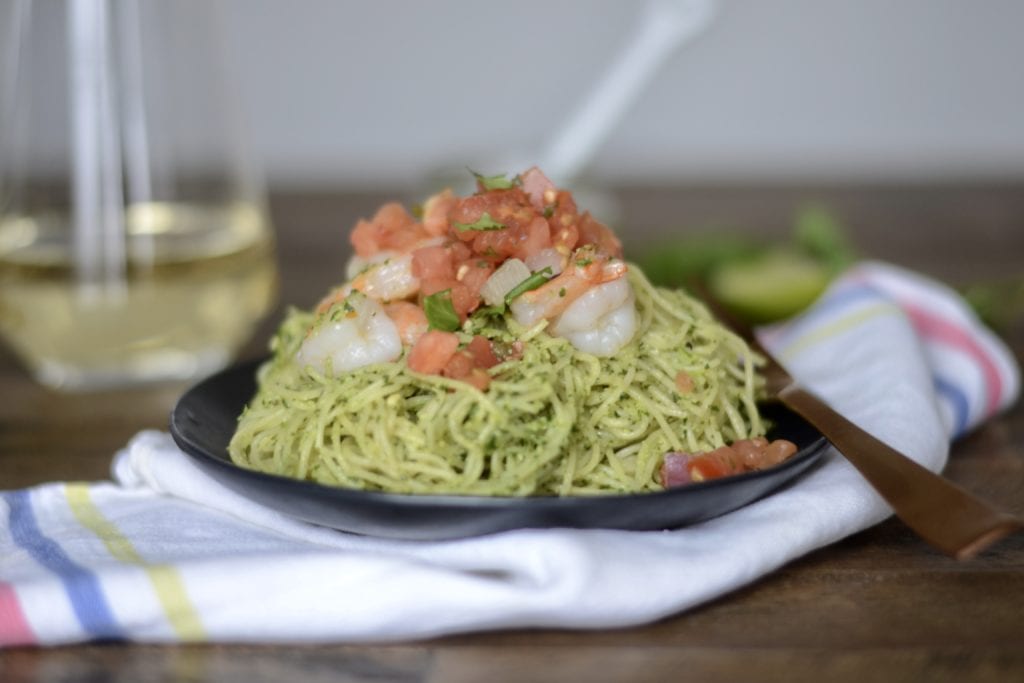 Hmmmmm… Pine nuts… Parmesan cheese?
Ah ha! To substitute the creaminess from the cheese, I added cashews. They absorb some of the liquid and puree nicely. Winner, winner, shrimp pasta dinner!
This is a perfect way to brighten up pasta night. Dump the heavy sauces and opt for a lighter choice. Plus, the amount of tiny green things possibly getting stuck in your teeth will surely bring you and your dinner-mate closer together.
Garlic Shrimp and Cilantro Pesto Pasta
Cilantro, Lime, and Cashews make for a creamy and bright alternative topping for pasta. The pasta is a perfect companion for easy, garlic shrimp.
Yields: 2-4 Servings
1 Big Bunch of Fresh Cilantro
1 Clove Garlic, roughly chopped
1/4 Cup Jumbo Cashews
Juice from 1 1/2 Limes
1/2 Cup Olive Oil
Salt
Pepper
Tiny pinch of crushed red pepper flakes
1 Tablespoon Olive Oil
1 Garlic Clove, minced
1 Pound Raw Shrimp, deveined and peeled
1 Pound cooked angel hair/capellini noodles
Add the nuts, garlic, and lime juice to a food processor. Pulse until finely chopped. Add the cilantro, salt, pepper, and crushed red pepper. Pulse until chopped. Stream in olive oil until smooth and creamy. Add more olive oil, salt, or pepper if needed. Set off to the side.
Cook pasta according to instructions on the packaging. Once the pasta is cooked and draining in a colander, cook the garlic shrimp.
Heat the olive oil in a medium skillet over a medium flame. Season shrimp with salt and pepper.
Add to hot oil and sautee for about three minutes. Flip the shrimp. Add the garlic and sautee for another 2-3 minutes until opaque.
Add the shrimp and pasta along with most of the pesto to a large bowl. Mix with tongs to combine. Serve hot, with a little bit of fresh pico de gallo for garnish.
Preparation time:

10 minutes

Cook time:

21 minutes

Total time:

31 minutes