Beer and lime marinated steak crunchwrap is filled with beans, cheese, hatch chiles, and pico de gallo. A steak crunchwrap involves a bit of effort but is soooo worth it.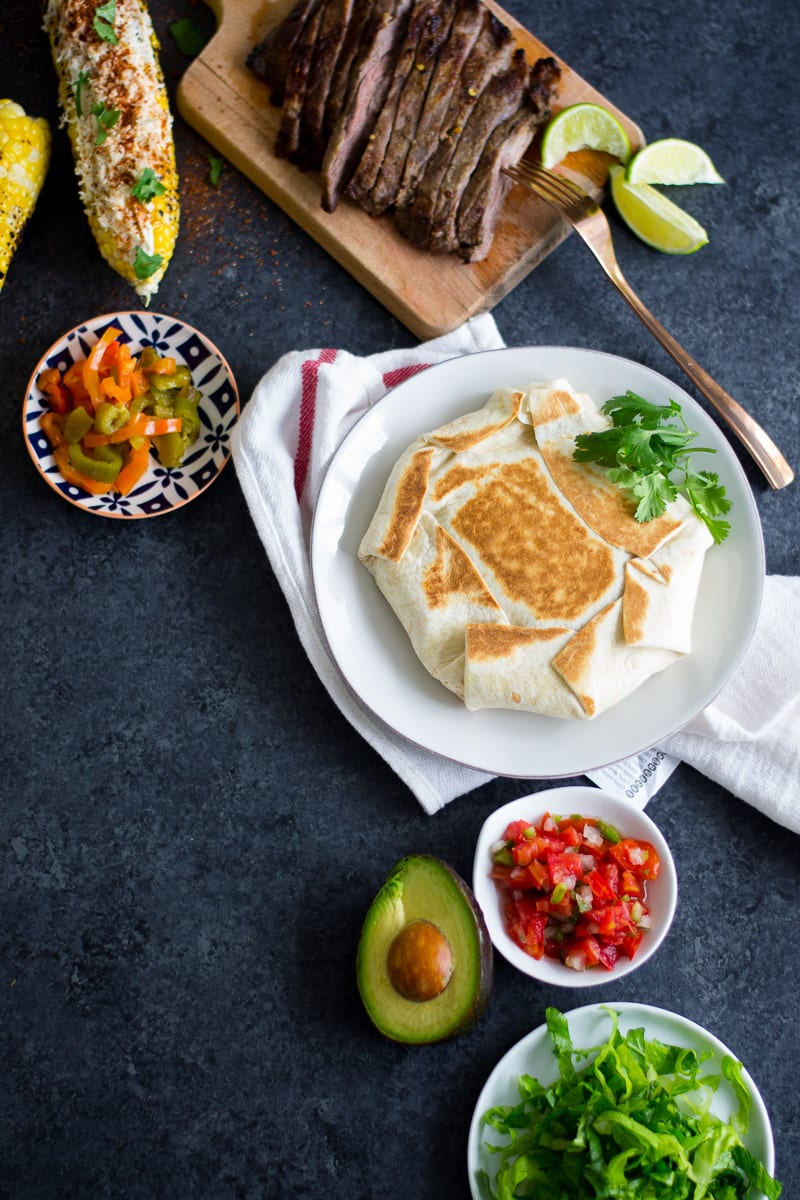 If you have been here for any fraction of time, you have for sure heard me profess my love for Taco Bell. Were you here for my talk about my love of pintos and cheese? Or did you catch my Mexican pizza remake? Maybe you came in during the pregnancy years and heard me trying to talk down a T-Bell run as a "pregnancy craving."
Those who know me in real life are like "HA!" You better believe I crave the T-Bell on the reg. I think my pregnancy brain just made me think I should feel bad about my love. During the times I am not preggo, I have zero shame.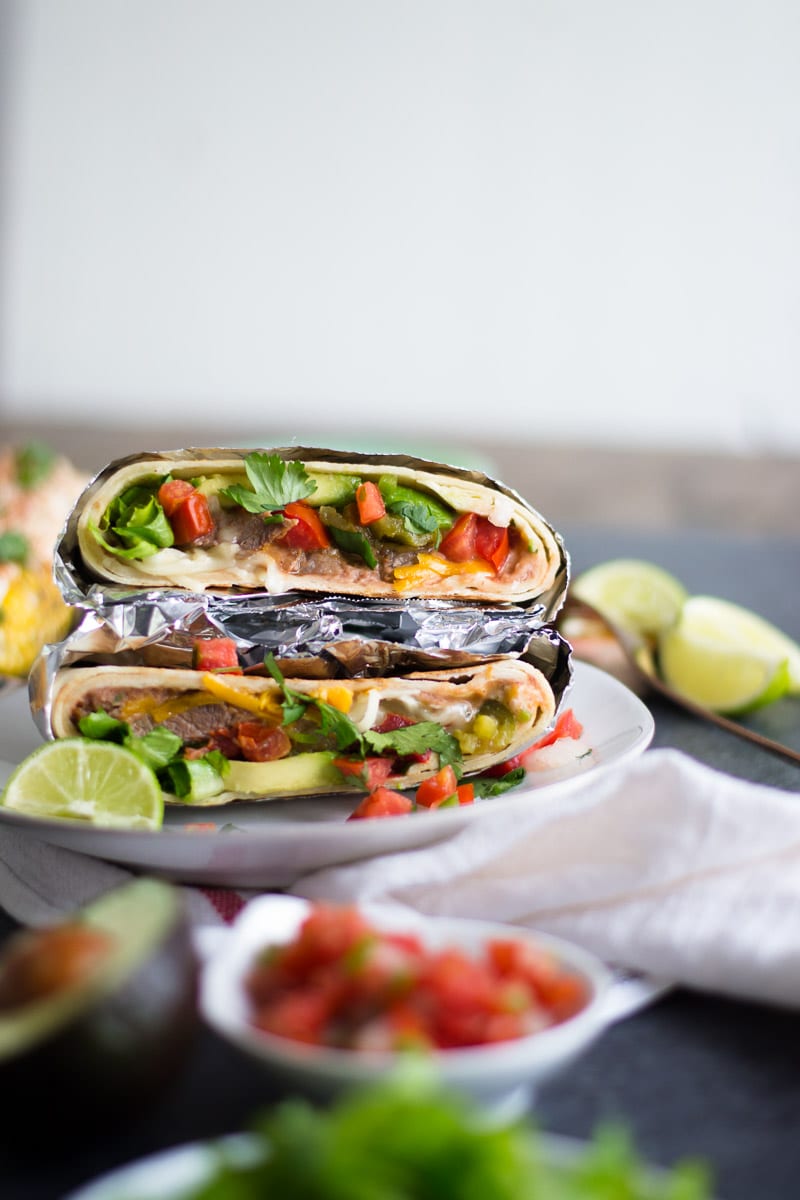 The last weekend of summer, Mike and I had an epic plan for the best way to say goodbye to summer vacation. Like with most plans you make revolving around kids' bedtimes, it did not go as smoothly as planned. I digress.
We had planned to put the kids to bed earlier than normal. Mike was going to take care of Jack's bedtime and then hit the road armed with our late night dinner Taco Bell order. I have to text it or write it out for him because I swear the man never gets an order right.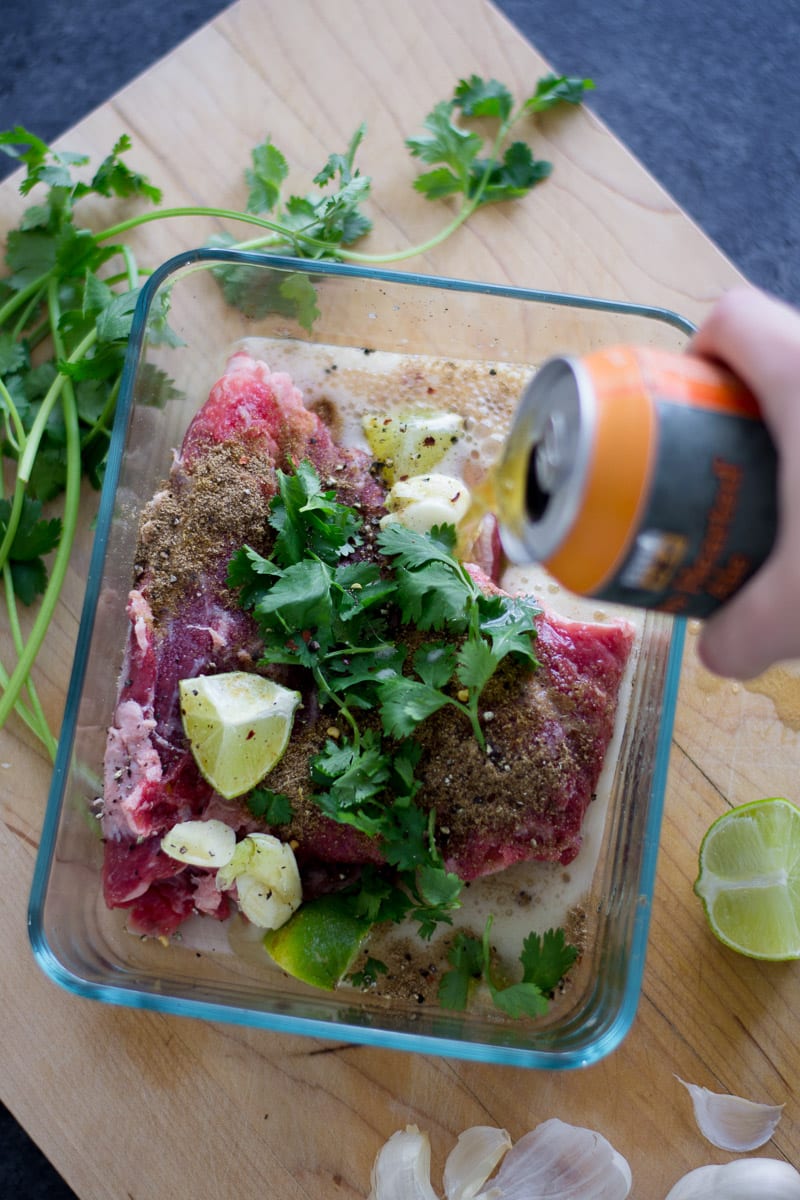 While Mike was gone, I was in charge of getting Andy to bed and picking the bingeworthy show on Netflix for the night. Done and done.
The time ticked by… An hour later!
"Mike where the heck are you?"
"I went to the Taco Bell in Lemont (which is like 22 minutes away, there is also a closer one) and they messed up the order and I had to go back."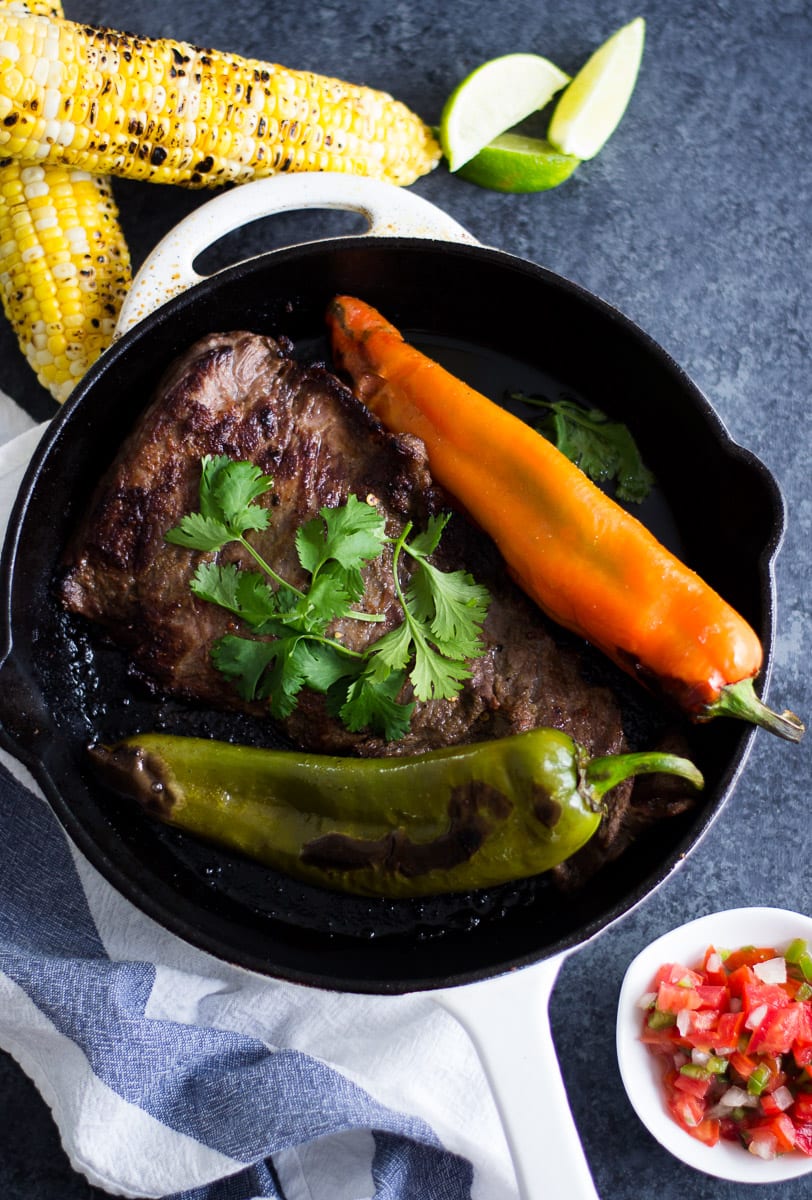 By the time he got home it was 9pm. I was so hungry, I wasn't even hungry anymore. Instead of hanging out, drinking some beers, eating amazing food, and watching tv, we scarfed our food down and then went to bed. The Taco Bell was still awesome, even though my order was still wrong, MICHAEL!
I did my best to do the famous Crunchwrap justice with this recipe. I marinated skirt steak in beer and lime juice and garlic overnight, which made it perfectly flavorful and juicy. You could totally grill the steak, but I opted to throw it in a screaming hot cast iron with some hatch chiles.
The construction of the steak Crunchwrap is no joke. It takes patience and even getting your hands dirty a little bit. But it is so worth it because that first bite of warm, crisp tortilla and steak is out of this world.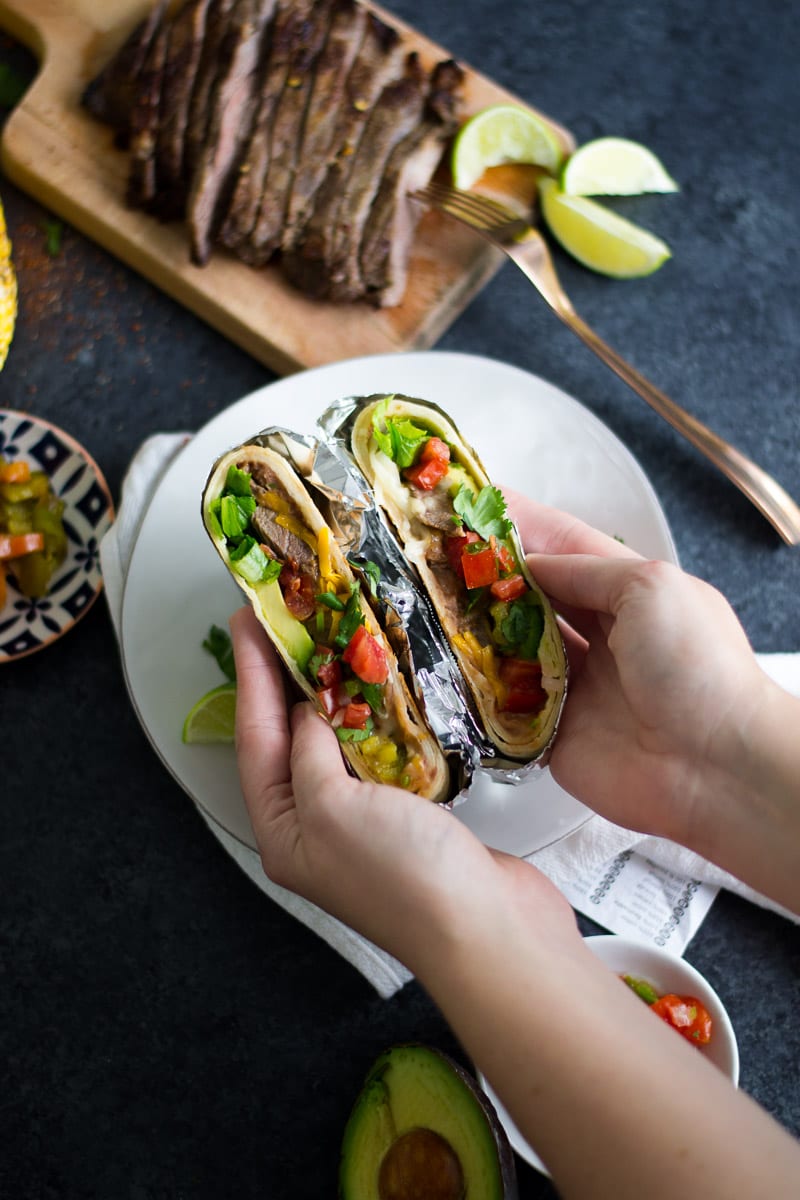 Please, oh please make a beer and lime marinated steak crunchwrap and plan a better night than we did. This meal deserves it!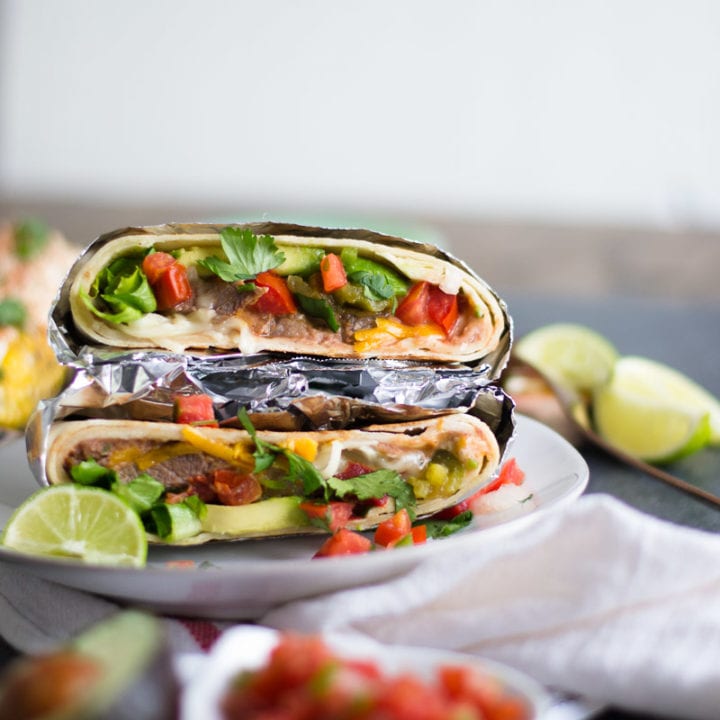 Beer and Lime Marinated Steak Crunchwrap
Prep Time:
1 day
15 minutes
Total Time:
1 day
35 minutes
Beer, lime, garlic marinated skirt steak seared and sliced up thin wrapped inside a big tortilla with all the fixings!
Ingredients
FOR THE STEAK:
1-2lb skirt steak
2 tsp ground cumin
1 tsp salt
2 garlic cloves, peeled & smashed
1/2 tsp crushed red pepper flakes
pinch of fresh cilantro
1 lime cut into 8ths
12oz light colored beer/ale
FOR THE CRUNCHWRAP:
2 hatch chiles
pinch of salt and pepper
1/2 cup refried beans
1 cup shredded cheddar and monterey jack
1/2 cup pico de gallo
1 avocado
1/2 cup shredded lettuce
3-4 burrito sized flour tortillas
3-4 small flour tortillas
Instructions
The night before, use a meat tenderizer's pointed side to tenderize each side of the skirt steak. Add the steak along with the garlic, cilantro, cumin, salt, and crushed red pepper to a bowl or container with a lid. Squeeze the juice from the lime over the steak and pour the beer over the steak as well. Cover with lid and place in the fridge for 8-12 hours.
Remove the steak from the marinade. Gently pat dry with a paper towel. It's ok if you don't pat the whole steak dry. Season each side of the steak with salt and pepper.
Heat a cast iron skillet over high heat for 1-2 minutes. Add the steak and hatch chilies to the searing hot pan. Cook for 7-10 minutes on the first side, depending on how well done you want the steak. Flip the chilies and steak and cook for another 5-8 minutes on the second side. Transfer the steak to a plate and tent with foil. Let it rest for 5 minutes before slicing.
Transfer the hatch chilies to a plastic bad and seal or tie shut. Let the chilies steam in the bag for 5 minutes. After 5 minutes, remove the chilies. Use a paper towel to rub the charred skin off the peppers. Dice the peppers and remove stems and reeds.
In the center of a burrito tortilla, place a spoonful or two of beans, top with steak, chilies, and then cheese. On top of that place lettuce, pico de gallo, and then avocado. Cover that small stack with a small tortilla.
Lightly spary a nonstick pan with cooking spray. Heat over medium.
Fold up each side of the large burrito tortilla towards the center to form a hexagon. Carefully flip the crunchwrap and place on the hot pan. Heat that side for about 3 minutes to seal the crunchwrap shut.
Continue that process with the remaining ingredients and tortillas.
Notes
The steak can be grilled instead. Grill on each side for about 7-8 minutes over an medium heat/flame.
Recommended Products
As an Amazon Associate and member of other affiliate programs, I earn from qualifying purchases.