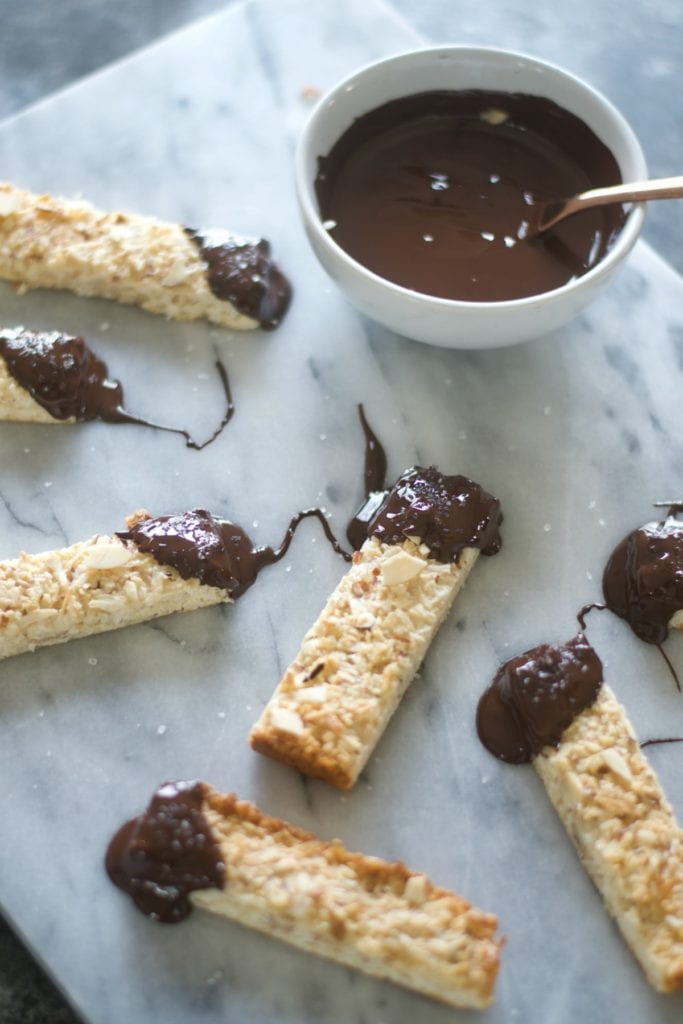 Happy Valentine's Day, people! Let's nip this right in the bud. You may be seeing these pictures and thinking to yourself, "Hey! You dum-dum, those aren't macaroons." Well, yeah they are. And why the need for name calling? If you were thinking you'd see pictures of those cute, little, colorful French sandwich-looking pastries, think again.
It wasn't until maybe a year ago that I discovered a macaroon is actually a chewy coconut bar/ball. Those little French guys we all know are actually called macarons. Only one "o". Who knew? Not me. I know so many people that call them macaroons. Honestly, I think mack-ah-ron sounds kind of snooty. But, I guess that is because those little suckers are a pain to make and I guess the people that bake them want their due credit by making you feel as foolish as possible before eating one. Maybe.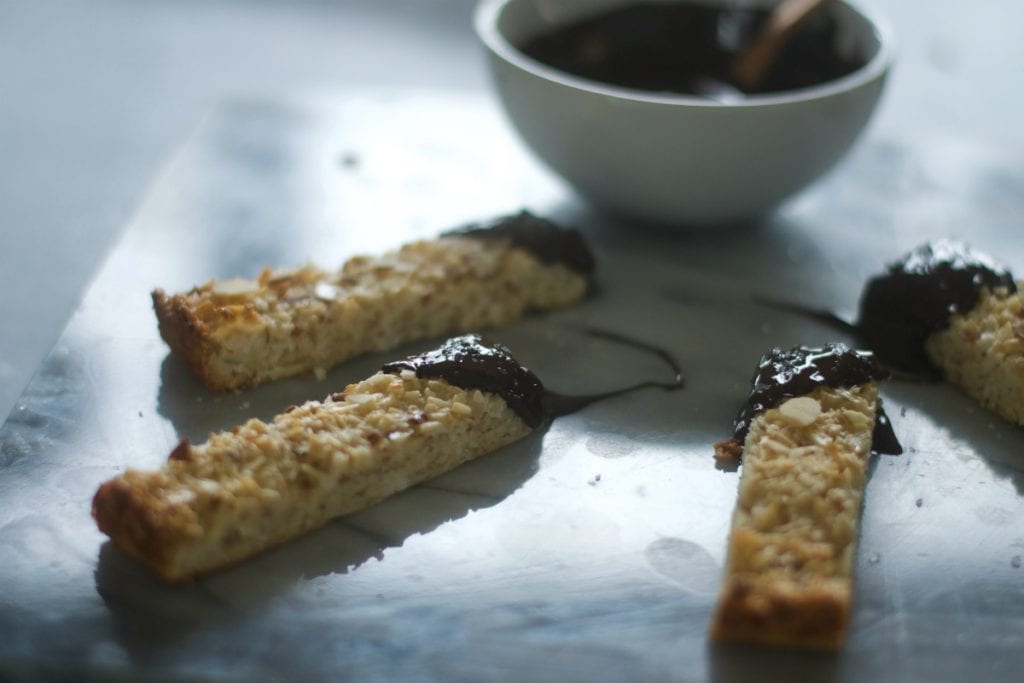 I mean, I will still buy them and gladly eat them, but I would rather stick to this sweet, chewy, made-in-two-bowls-easy dessert bar. I made them over the weekend and Mike and the kids both gobbled them up. Ya know what? I didn't even feel bad about it. It is seriously just unsweetened coconut, almonds, oat flour, egg whites, condensed milk, and chocolate. In the dessert spectrum, I feel like these have to be near the healthier end.
What a way to tell somebody you love them!?!?!
A semi-healthy (I mean minus the sweetened condensed milk of course) and chocolate dunked bar is the way to go today. You still have time to make these for the ones you love. If I could, I would ship them out to all of you, but I am too busy eating one with coffee, one for an afternoon snack, and one for an after dinner dessert.
Clearly, by the time you read this I fear they will be all gone.
Happy Valentine's Day anyway!
Chocolate-Dipped Coconut-Almond Macaroon Bars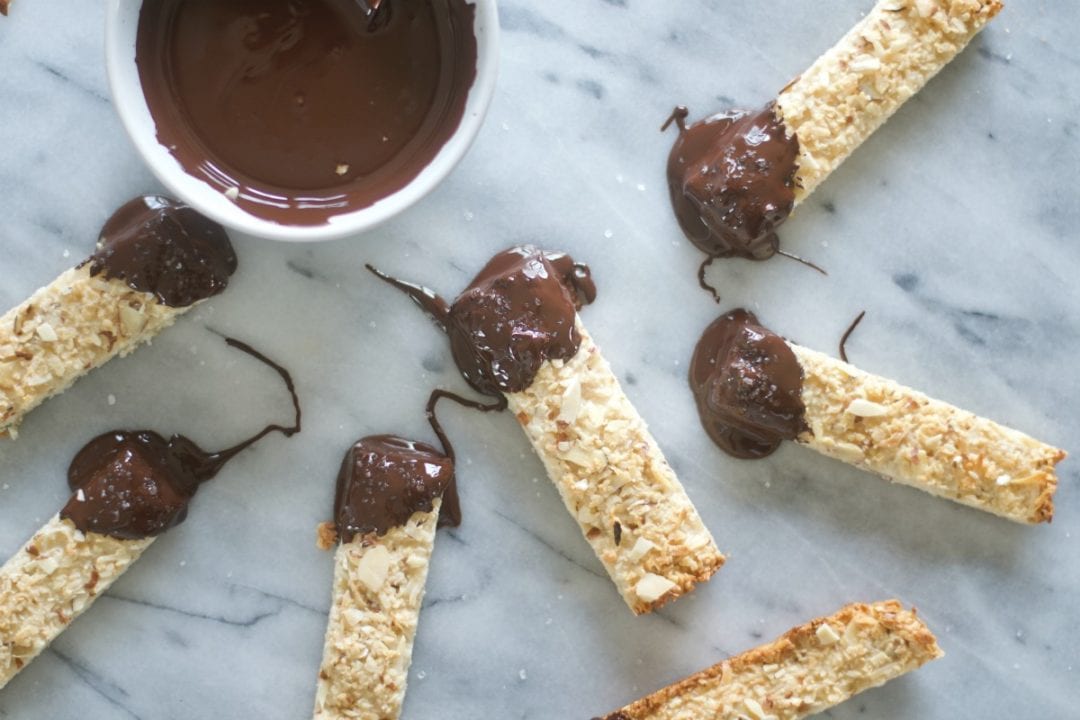 Chewy and slightly sweet chocolate dipped macaroon bars.
Yields: 24 Bars
1/2 Cup Oat Flour (or 3/4 Cups Old Fashioned Rolled Oats, finely ground)
3 1/4 Cups Unsweetened Shredded Dried Coconut
1 Cup Chopped Almonds
3/4 Teaspoon Sea Salt
1, 14 Ounce Can Sweetened Condensed Milk
1 1/2 Teaspoons Pure Vanilla Extract
2 Egg Whites, at room temperature, eaten until frothy
12 Ounces Bittersweet Chocolate, chopped
Preheat the oven to 350 degrees F. Line a 9x13-inch baking pan with parchment paper.
In a medium mixing bowl, toss together the oat flour, coconut, 2/3 of the almonds, and 1/4 teaspoon of salt. Mix in the milk, vanilla, and egg whites until evenly combined.
Transfer mixture to prepared pan. Press into one even layer. Sprinkle remaining almonds on top. Score the surface length-wise down the center. Then score width-wise 12 times to make 24 equal bars. This will be your guide later when cutting.
Bake for 25-30 minutes until golden on the edges. Let cool completely in the pan on a wire rack.
Once the bars have cooled, add chocolate to a microwave safe bowl. Microwave on high for a minute. Stir until all chunks of chocolate are completely melted.
Line a baking sheet with parchment paper. Dip each cut bar into the melted chocolate. Transfer to parchment lined sheet, and sprinkle with salt. Continue until all bars are coated. If you don't want to do the dipped bar thing, you can drizzle the chocolate over every bar instead. Let the bars set up for about 2 hours before eating.
Store in an airtight container lined with wax paper for up to 5 days.
Preparation time:

7 minutes

Cook time:

30 minutes

Total time:

37 minutes
Recipe adapted from The Perfect Egg Cookbook by Spoon, Fork, Bacon.