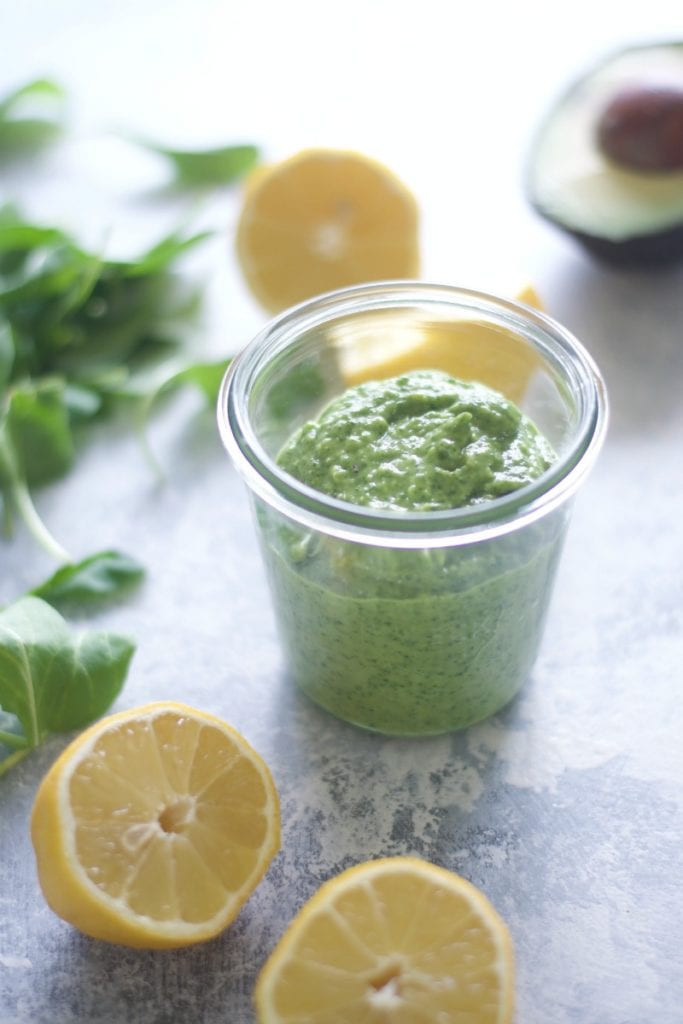 I think I am still coming out of the ham haze caused by Easter Sunday, so excuse me if I sound lethargic. I am. We ended up having my whole fam over here. It was great, but man, I am seriously tired. Sidenote: I have a whole ham in my fridge if anybody wants some.
Plus, this whole one-week-of-dairy-free-lifestyle thing is kind of making me a super crab. It is sadly working, which means I do need to limit my dairy. That's fine. I am coping. I had coconut milk in my latte. I made this amazing Dump Ranch for a creamy salad dressing. I ate pizza with no cheese…
Which kind of sucked. I am not going to lie to you. A pizza with no cheese is not a pizza.
Next time I think I need a sauce or more roasted tomatoes or roasted red peppers to liven it up a bit. Enter this vegan, dairy-free, gluten-free green dream sauce. The avocado makes it super rich and creamy almost like it has cheese in it. It is like the adult version of my kids green fake-out healthy mac and cheese. I plan on putting this on pasta and pizzas and even some grilled chicken.
Or, if you aren't living dairy-free, you can slather this all over a hunky piece of garlic bread topped off with some fresh burrata.
Is it sad that the above meal has become what I now see in my dreams at night?
Wait.
Don't answer that.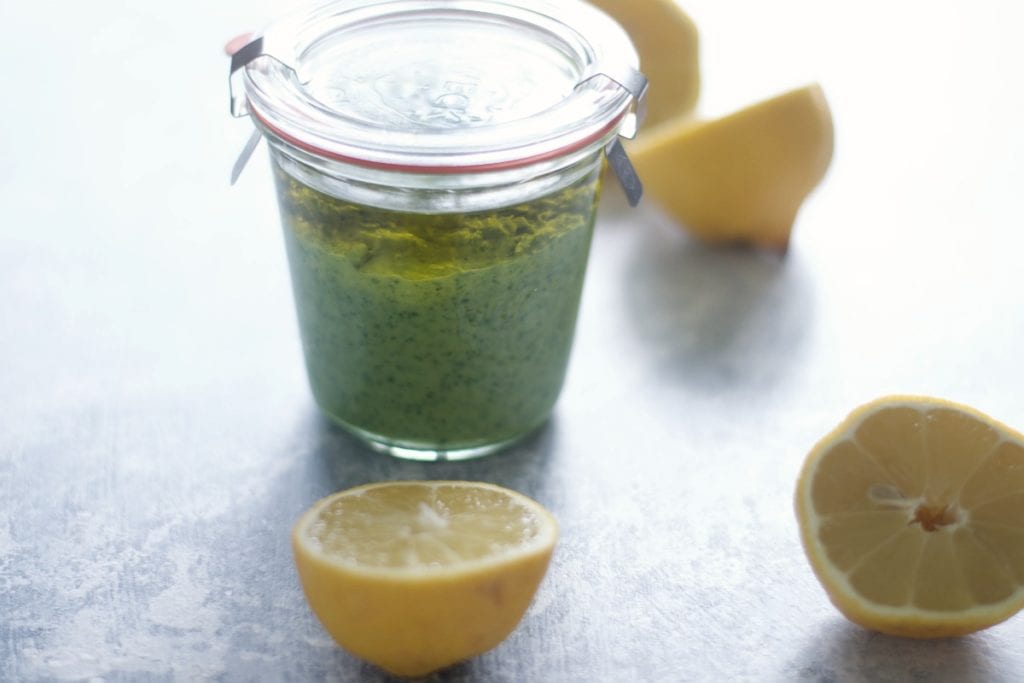 Oh! A really good tip for storing things that you want to stay green: add a layer of olive oil to the top. Make sure it covers it all the way. Then pop it in the fridge. The oil will slightly congeal and keep the green stuff from oxidizing. Just bring it back up to room temp when you want to serve it, pour off the olive oil, stir, and then serve!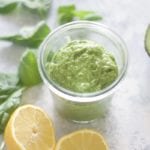 Arugula, Avocado, and Spinach Pesto
A thick and creamy pesto that has no nuts and no dairy! Rich and creamy avocado mixed together with spinach, arugula, garlic, and lemon juice to make a great sauce for pasta, pizzas, or grilled meats.
Ingredients
1

Clove

Garlic

minced

1/2

Shallot

roughly chopped

Juice from 1 Lemon

1/2

Cup

Fresh Arugula

1/2

Cup

Fresh Spinach

1

Avocado

slightly smashed

1/2

Cup

Olive Oil

Salt and Pepper to taste
Instructions
Add the garlic and shallot to a food processor. Pulse until finely chopped.

Add in the spinach and arugula. Pulse until finely chopped.

Add lemon juice and avocado. Pulse until chopped. Stream in olive oil. You may need more or less depending on how thick you want it. Keep pureeing until the mixture is nice and smooth.

A pinch of salt and fresh cracked pepper should be mixed in to bring it all together.

Store in the refrigerator in an airtight container with a layer of olive oil on top to keep it fresh and green. Recipe can be easily doubled