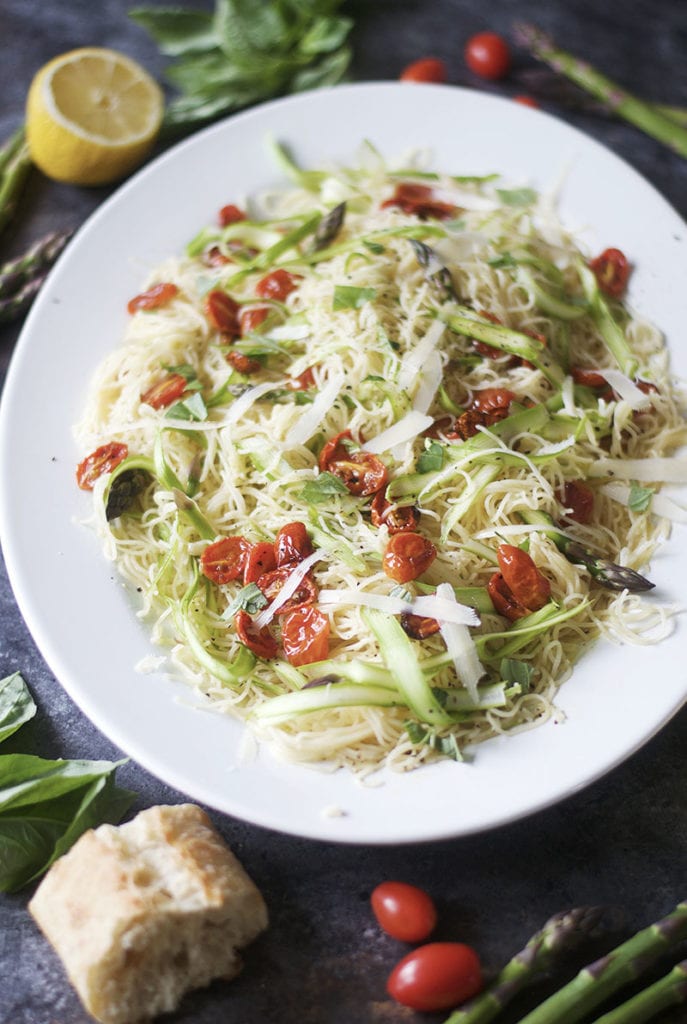 You guys are going to think I am crazy, but this staying away from dairy thing…it's really ok. I thought I would have a harder time. I surprised myself. I went four weeks cold turkey. Lately though, I have had several backslides. Why do nachos have to be so dang tasty?
The trick to getting through a meal without dairy is to add different textures and to pair rich or dense foods with bright salty or acidic flavors. For example, pizza is still good to me because I can take my normal pizza dough, top it with slow roasted tomatoes, and then bake it. No cheese. When it is done, I add some fresh shaved asparagus, lemon juice, olive oil, salt, and pepper to the top. To take it to the next level I add some balsamic drizzle from Trader Joe's. These combinations of flavors make you forget about the cheese.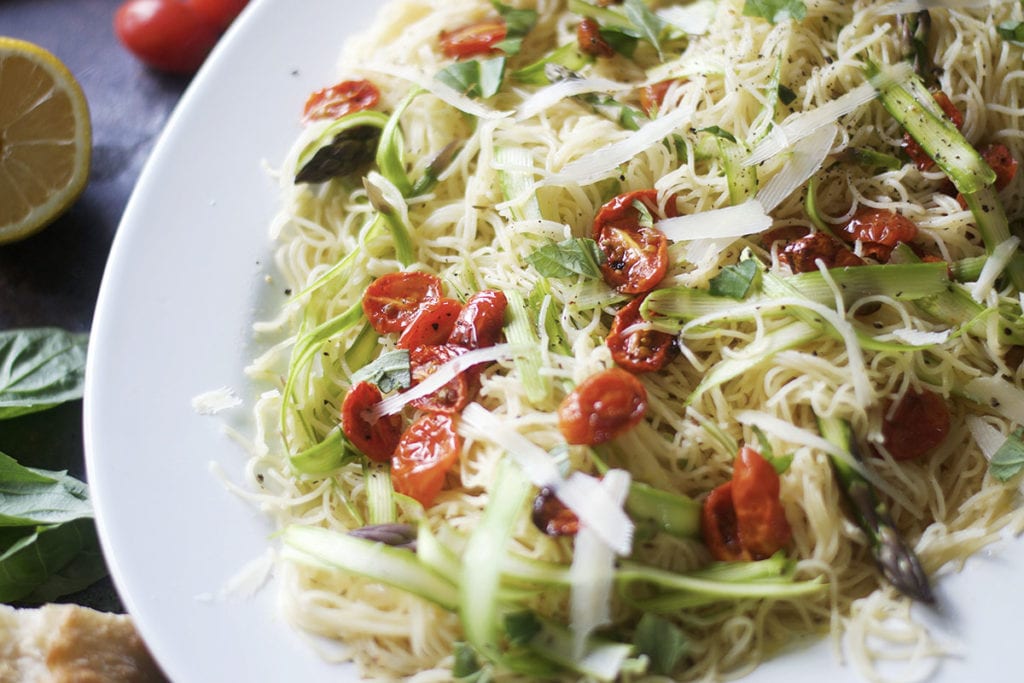 Oh. If you are a meat lover, I highly recommend some salty prosciutto.
I would say that even mike eats that pizza, but not matter what I do, he is a straight pepperoni pizza man.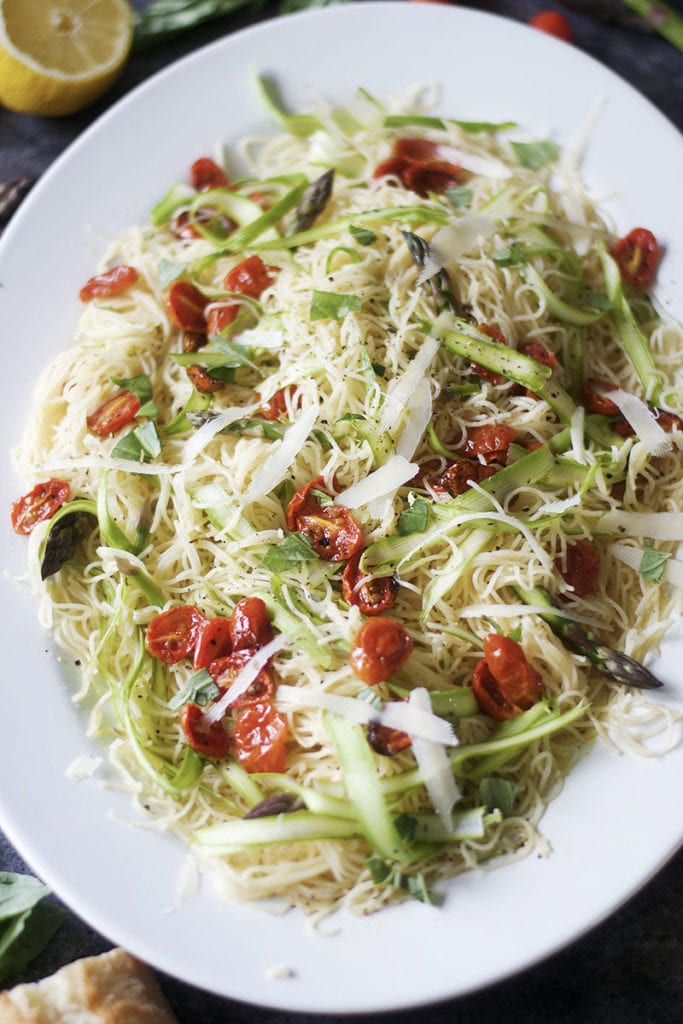 When it comes to pasta night, I sort of followed the same rules of flavor pairings and came up with this pasta dish you see here today. The reason I went with capellini noodles was because they are Mike's favorite. If I am not giving the man meat or cheese, I can at least give him his favorite noodle. I tossed the noodles with lots of shaved asparagus, roasted tomatoes, lemon juice, and olive oil.
I did throw a few shavings of parmesan cheese on top along with lots of fresh basil just for the pictures sake. But, when you are making your own, feel free to skip it or even add in more. Ooooo or even some fresh mozzarella could be great in this. ugh!
Ok, maybe I do miss cheese more than I let on at the start of this post.
Roasted Tomato and Shaved Asparagus Capellini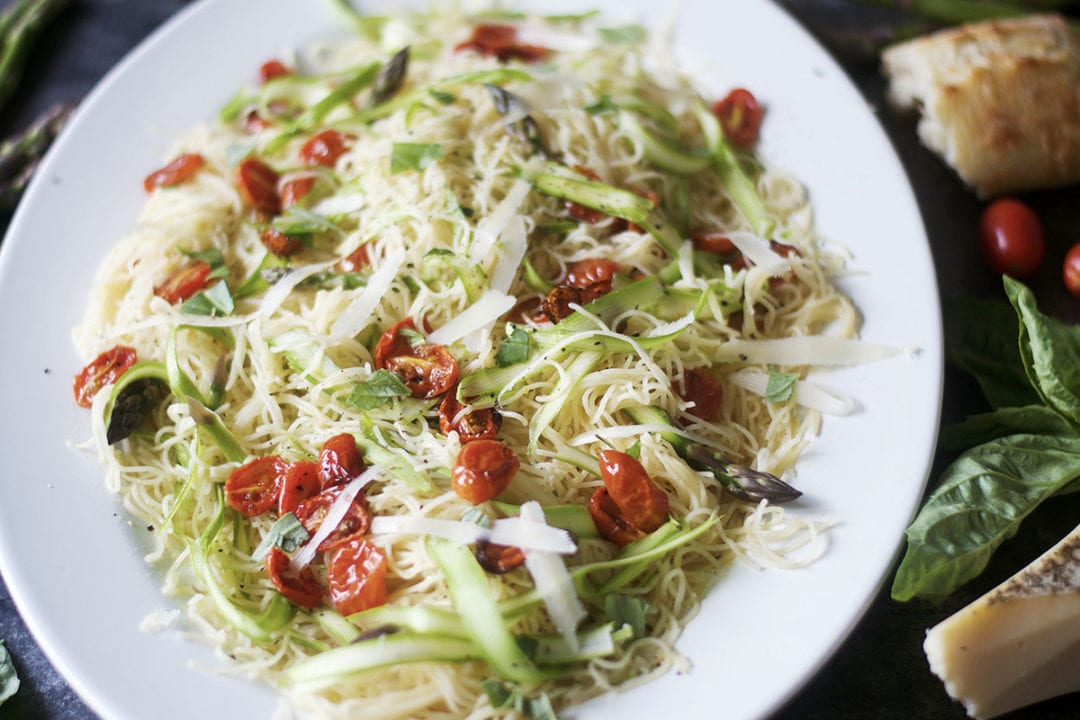 A very simple summer pasta dish that is good hot or even leftover cold! Roasted tomatoes, shaved asparagus and capellini tossed with lemon juice and olive oil.
Yields: Serves 4
16 Ounces Grape Tomatoes, cut in half length-wise
1/2 Cup Extra Virgin Olive Oil, divided
Salt and Pepper
1/2 Pound Capellini noodles
12 Ounces Trimmed Asparagus
Juice and Zest from 1 Lemon
Fresh Basil
Salt and Pepper to taste
Preheat the oven to 375 degrees F. Line a medium baking sheet with foil.
Add tomatoes to the prepared baking sheet. Toss with 1/4 cup olive oil, salt and pepper. Flip all tomatoes to cut side up. Roast tomatoes for 45-50 minutes until golden but not dark. Once roasted keep off to the side for later.
While the tomatoes roast, bring a large pot of water to a boil. Once boiling, salt the water heavily. Crack the capellini noodles in half and add to pot. Cook according to the packages instructions. Drain and set off to the side.
Use a vegetable peeler to shave the asparagus stalks. Do about six shavings per side of the asparagus. Then crack off the tops of the asparagus and add it to a large bowl.
Add the roasted tomatoes and their cooking oil along with the noodles to the large bowl. Toss noodles together with lemon juice, lemon zest, remaining olive oil, salt, pepper, and fresh basil. Taste and add more salt or pepper accordingly.
Preparation time:

10 minutes

Cook time:

50 minutes

Total time:

1 hour