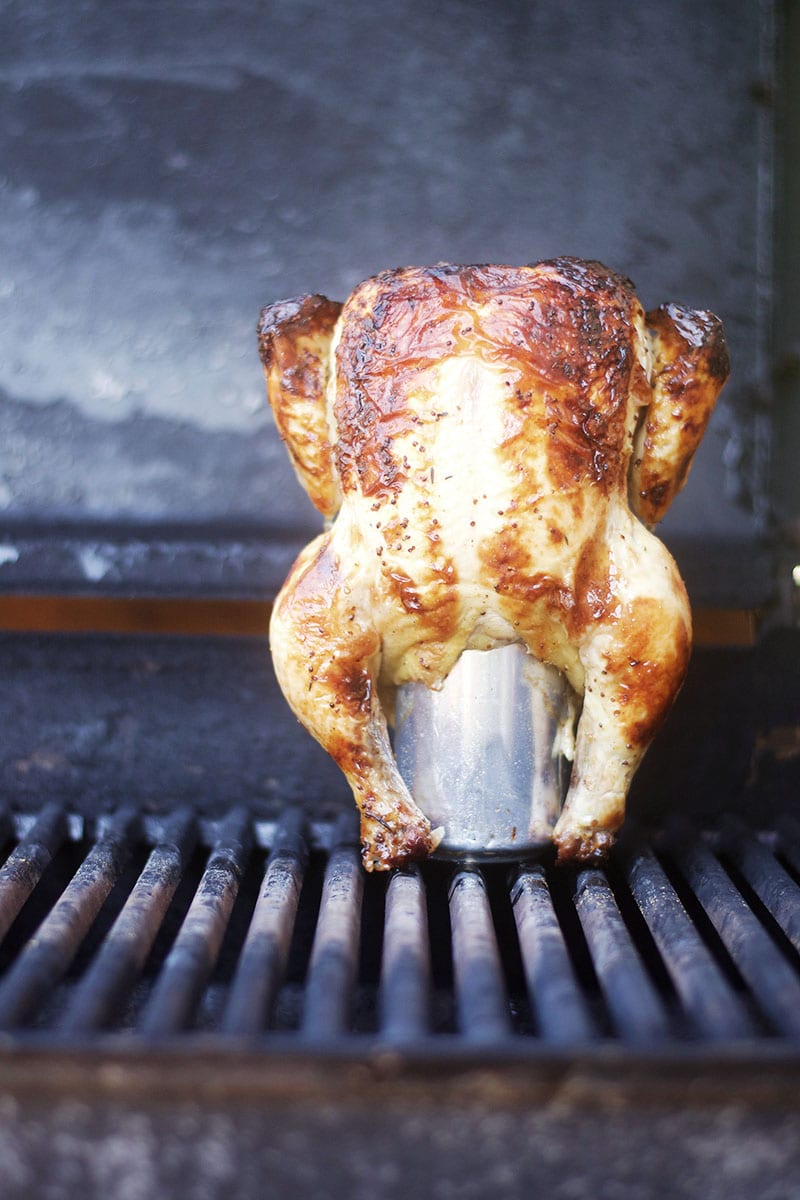 WARNING: THE FOLLOWING POST IS FOR BEER CAN CHICKEN. IT MAY CONTAIN INAPPROPRIATE PICTURES OF CHICKENS WITH THINGS JAMMED UP THEIR REAR ENDS. I APOLOGIZE IN ADVANCE.
I apologize for the weird nature that is beer can chicken. However, I DO NOT apologize for the awesome flavors in this smoked and brined bird. That's right. I brined it in buttermilk, maple syrup, and dijon mustard overnight. Then I added small maple chips to my favorite, Pulaski Pils from Maplewood, jammed that in the chicken and then roasted/grilled that baby up!
You can totally grill or roast this chicken. It is getting to that time of year when turning on your oven isn't going to overheat your whole house, so you make the call on what method works for you.
Basically all week long I have been lamenting over summer being done. Mike starts school Monday. Andy goes on September 5th. Football is starting and pumpkin spice is doing the walk of shame back into our lives.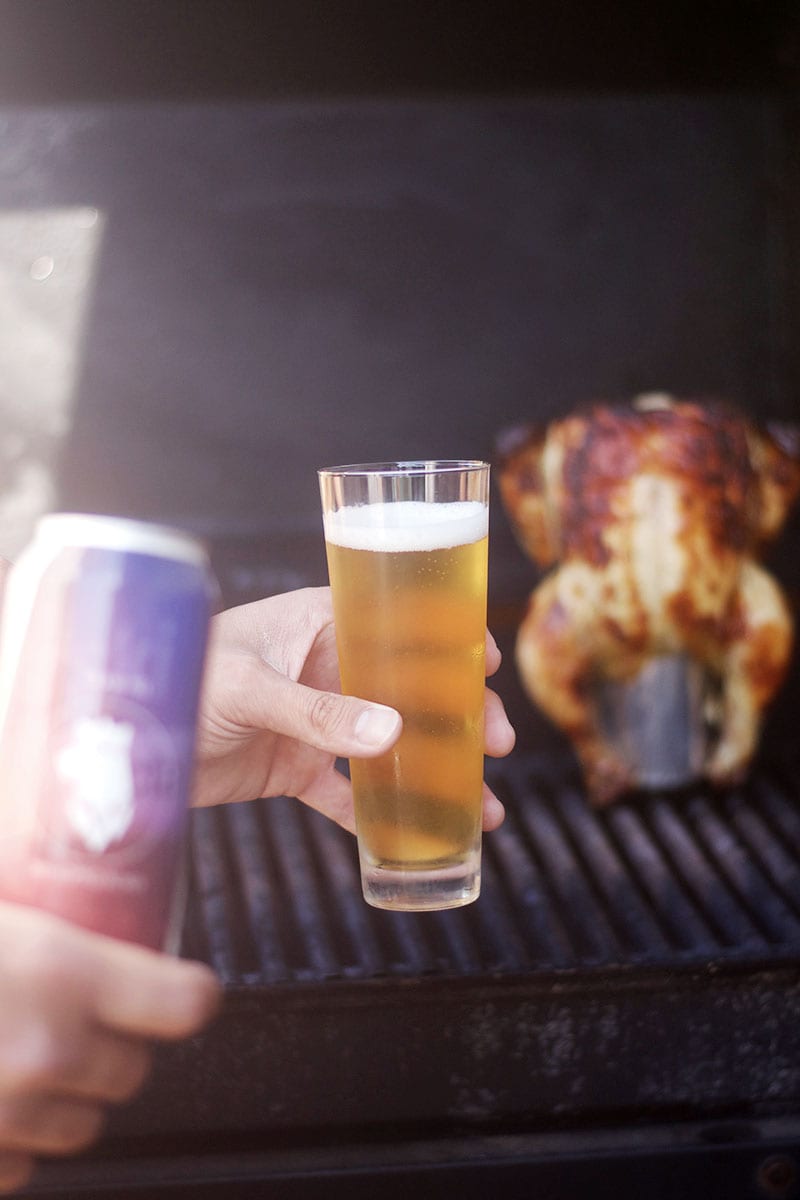 I started the summer out with a few lists of things I wanted to do. I had a list of like 20 classic movies I wanted to watch with Mike. Um, shocker, we got through three because 1. we are old, and 2. we have difficulty staying awake past 10pm.
Another thing I wanted to do was smoke meat. I do not have a smoker and I did not purchase one. Yeah, really got on top of that bucket list, right?
I did figure out a makeshift smoker though. That counts! That totally counts! Plus it saves us lots of money on a project we would eventually abandon because it's too hot or too cold outside.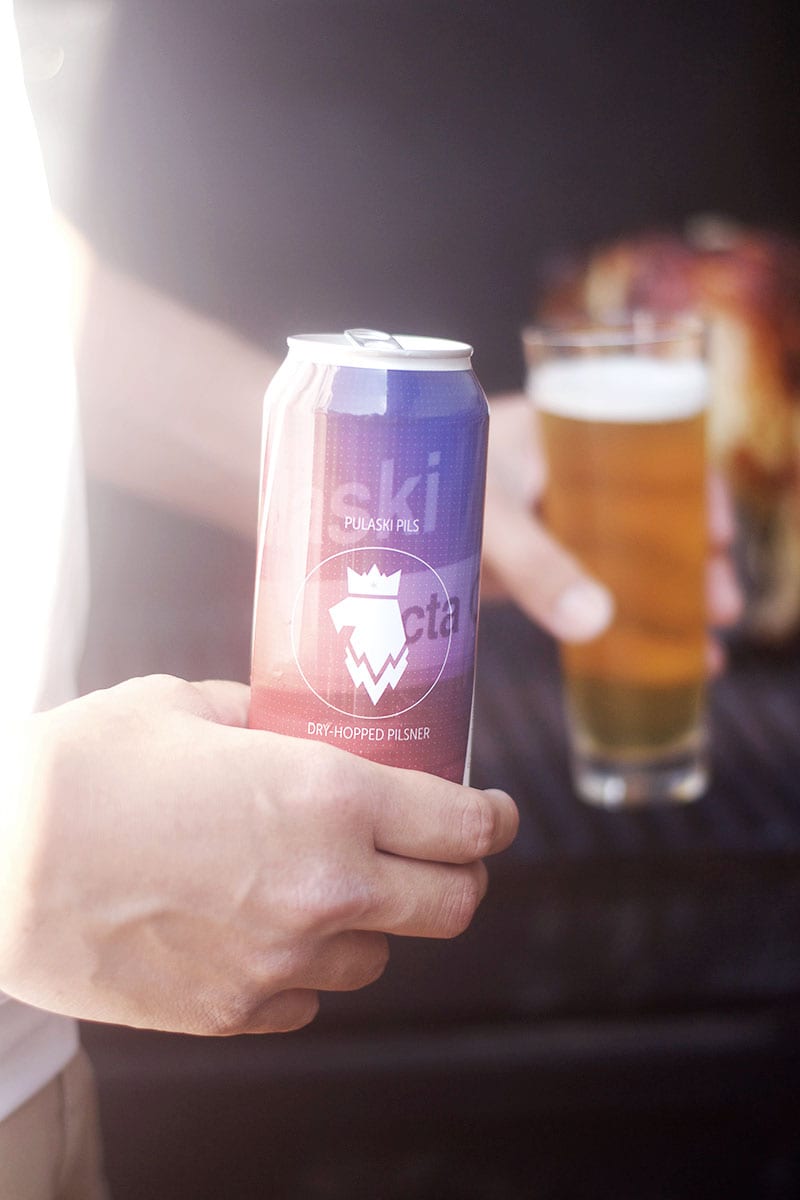 I bought these little maple chips, dumped out (into a glass of course) 1/2 the beer, and then I added the maple chips to the can. So while the chicken cooks, it gets a slightly maplewood smoked flavor. I think maybe this will allow me to kind of cross at least one thing off my summer bucket list.
I think this will be the perfect end of summer, Labor Day, grilling recipe. Let me know how you like it!
Smoked Maple Dijon Beer Can Chicken
Not only is this chicken brined in buttermilk, maple, dijon mixture, but it is smoked on a beer can with maple wood chips inside!
Cook Time
1
hour
30
minutes
Total Time
13
hours
30
minutes
Ingredients
For the brine:
1

Cup

Buttermilk

2

Tablespoons

Grade B Maple Syrup

2

Tablespoons

Whole Grain Dijon Mustard

1

Tablespoon

Salt

Freshly Cracked Black Pepper

1

Clove

Garlic

grated

1/2

Teaspoon

Dried Thyme
For the chicken:
1, 3-4

Pound

Whole Chicken

1, 16/12

Ounce

Can of Beer

2

Tablespoons

Small Maple Wood Chips
Instructions
Remove the internal organs and neck from the chicken. Pat dry with paper towels.

Add the buttermilk, maple syrup, dijon, salt, pepper, garlic, and thyme to a large gallon sealable plastic bag. Seal the bag and then shake it up to mix all the ingredients.

Add the chicken to the bag, try to let out as much air as possible. Refrigerate the bag for 6-12 hours.

Remove chicken from bag, set on a baking sheet lined with a wire rack to slightly drain.

Pour out 1/2 the beer. Add the maple chips to the beer can. Place the chicken over the beer can and guide down until the can is securely in the cavity.

If going the oven route: preheat your oven to 350 degrees F. Place the beer can chicken on a large roasting dish. Bake for 1 hour 15-30 minutes until golden and 170 degrees F internal temp.

If going the grill route: Heat 1/2 your grill to high heat/flame. Carefully place the chicken on the cool side of the grill. Cook for 1 hour 30 minutes. Turn the chicken a few times to evenly heat all sides. Once internal temp is 170 degrees F, the chicken is cooked.

Let the chicken cool for 10 minutes before carefully removing the can. Carve chicken and serve.