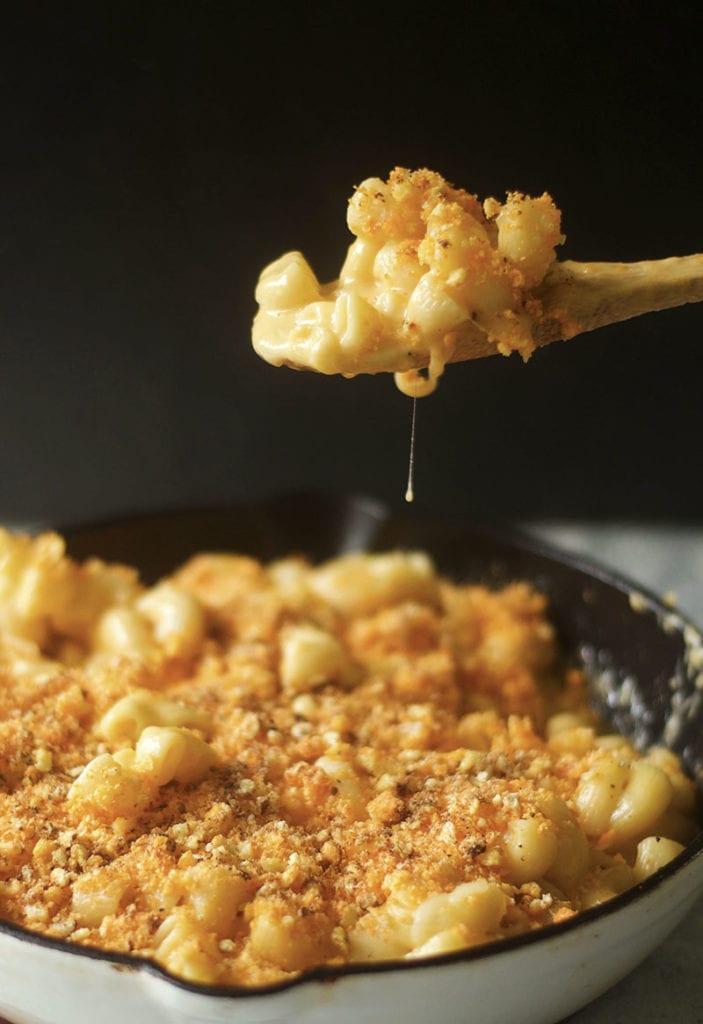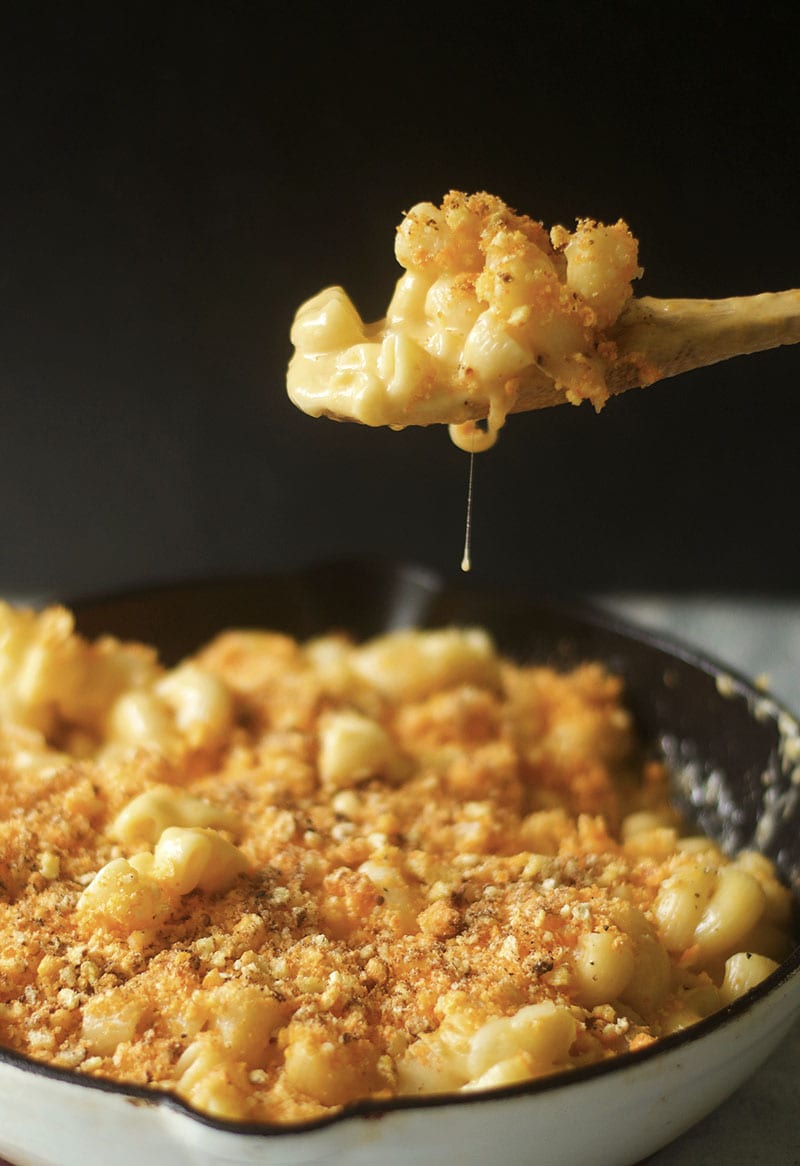 Oh baby! This one has been stewing around in my brain for quite some time. You are so, so welcome that I finally brought it to fruition. I would like to thank all the hipsters that posted their food pics from Coachella. I saw a Flamin' Hot Cheetos version of this, possibly on a stick, in a Buzzfeed round-up of cool and weird Coachella foods. That being said, this recipe would be sooo good with some Flamin' Hot Cheetos crushed up on top too!
Since I am a mom and in charge of the shopping and allowable snacks, we went with Baked Cheetos. You know, because that's sooooo much healthier.
Remember when I discovered that eating cheese basically made my face go into teenage acne mode? Well, I have been slowly reintroducing cheese back into my life. Sparingly of course.
I found that pizza every other week is ok. Queso Fresco crumbles on tacos is just enough to sooth my cheese-craving self. Plus, Queso Fresco doesn't melt all over the taco fillings so it is kinda my fave.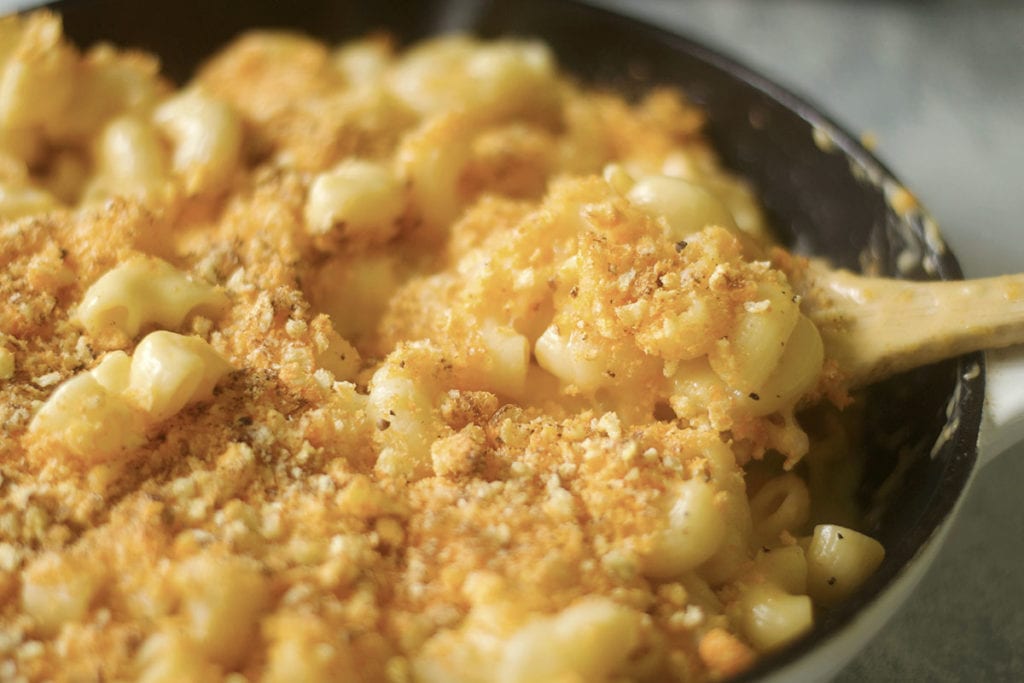 When it comes to mac and cheese, I have my standard go-to blend of cheese, a double-cream gouda and a sharp orange cheddar. I prefer Cabot Alpine Cheddar, but for some reason if my kids see that the mac and cheese is not orange, they will not eat it. I don't get it.
That gouda just ends up making the creamiest sauce ever. Do not skip that!
This recipe I did a little differently to take into account the fact that it was about 90 degrees and I didn't want to heat up the upstairs too much for nap time. This mac is like a stovetop and baked mac hybrid. You cook the mac and cheese on the stovetop, transfer it to a big oven-safe skillet, top with ground Cheetos, and then stick it under the broiler for a few minutes just to toast the Cheetos. Done!
My next version of this recipe is going to have a cauliflower cream sauce instead of a cheese sauce, because well, my face hated me after I ate this (it was worth it though) and I think my kids would overlook anything if it was covered in Cheetos!
Cheetos Crusted Mac and Cheese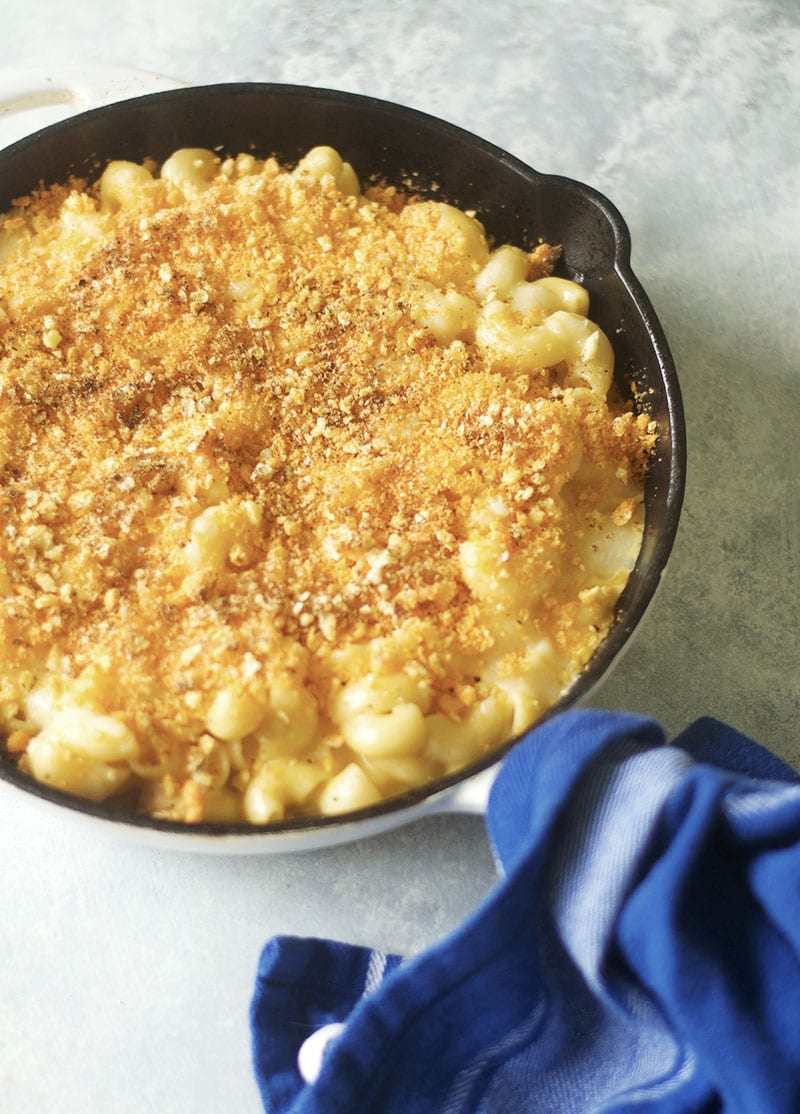 Creamy cheddar and gouda mac and cheese topped with a layer of crispy, crunchy baked Cheetos.
Yields: 4-6 Servings
1lb Macaroni Noodles
1/4 Cup Unsalted Butter
1/4 Cup All-Purpose Flour
3 Cups 1% Milk
1 Small Garlic clove, grated
1/2 Teaspoon Salt
1/2 Teaspoon Black Pepper
1/4 Teaspoon Ground mustard
1/2 Teaspoon Smoked Paprika
8 Ounces Sharp Cheddar Cheese, grated
8 Ounces Double-Cream Gouda, grated
1 Cup Baked Cheetos
Bring a large pot of heavily salted water to a boil. Once boiling add macaroni noodles and cook according to the packages instructions. Drain noodles and set off to the side.
Add butter to a large saucepan. Melt the butter over medium heat.
Add the flour to the butter, whisk to combine into a roux. Cook for 1-2 minutes.
Slowly stream in the milk, continuously whisking. Add in all the seasonings and garlic. Whisk to combine.
Once the milk starts to thicken up a little bit, add all the grated cheese. Whisk until fully melted.
Add in the noodles to the pot. Reduce heat to low. Stir to combine.
Preheat the broiler to high.
Grease a large oven safe skillet with butter.
Add Cheetos to a food processor and pulse a few times until ground.
Remove the mac and cheese from the heat. Pour the mac and cheese into the prepared pan. Cover with a good layer of ground Cheetos.
Place on the middle rack under the broiler for 3-4 minutes until the Cheetos start to turn golden and toast.
Let the mac and cheese sit for a few minutes before serving.
Preparation time:

12 minutes

Cook time:

23 minutes

Total time:

35 minutes