Homemade apple pie with a hint of ginger and orange bitters wrapped in a buttermilk pie crust is the perfect fall and holiday dessert. Flaky crust filled with cozy fall flavors.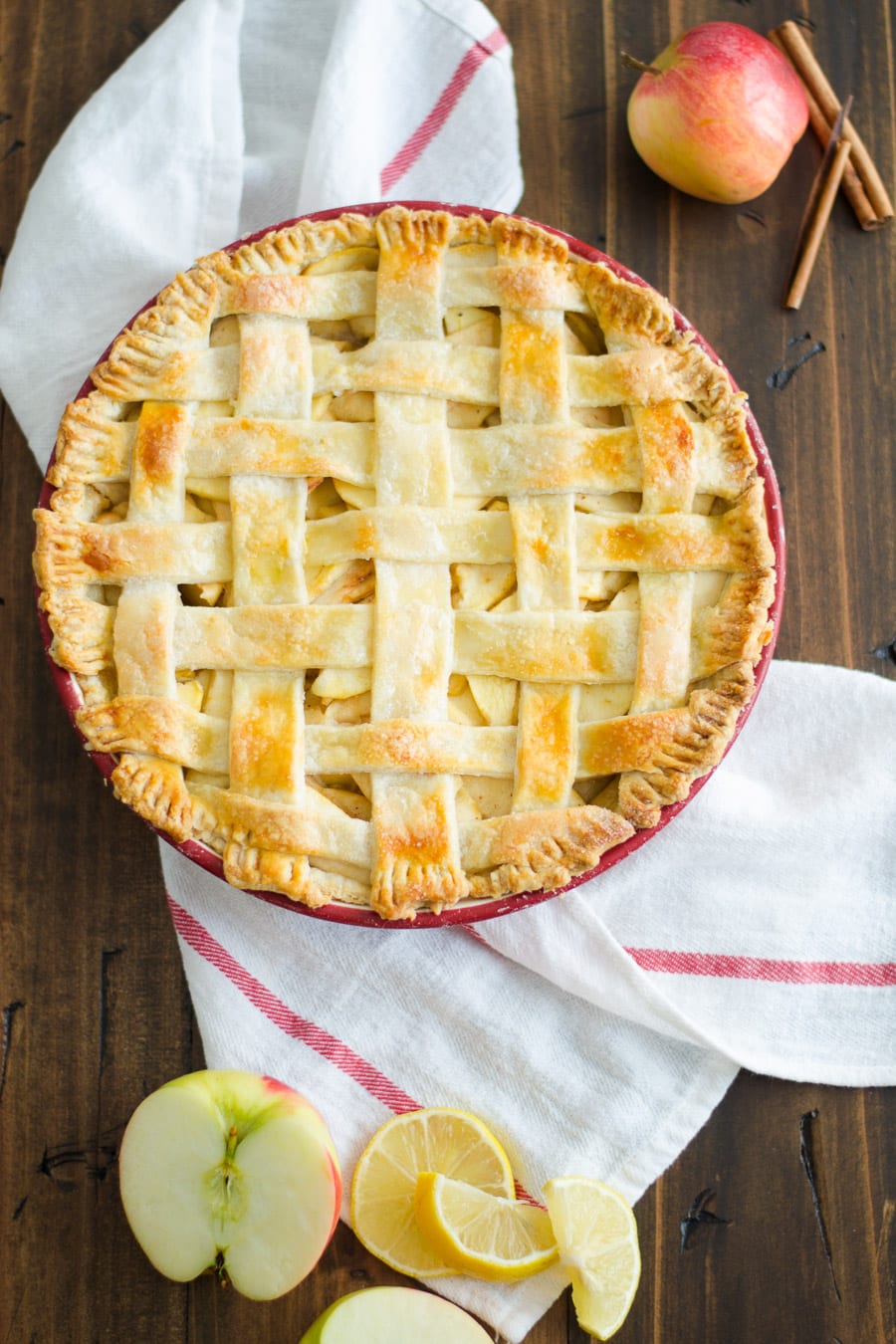 It's that time of year where all the apples are in surplus. Family after family is posting apple orchard and apple picking photos to Instagram and Facebook. I did my social media duty and proved my fall existence by posting pumpkin patch pictures.
However, I did not venture to the apple orchard. Fall fail, womp, womp. Mike should count his lucky stars he coaches football on weekends. We all know that form blog posts throughout the last 7 years, that Mike looooves fall outings.
Honestly, it might be better without him there Grinching up my fall happiness.
Even though there is no apple orchard in my future, I have been buying up all the Honeycrisp apples while they are so cheap and plentiful.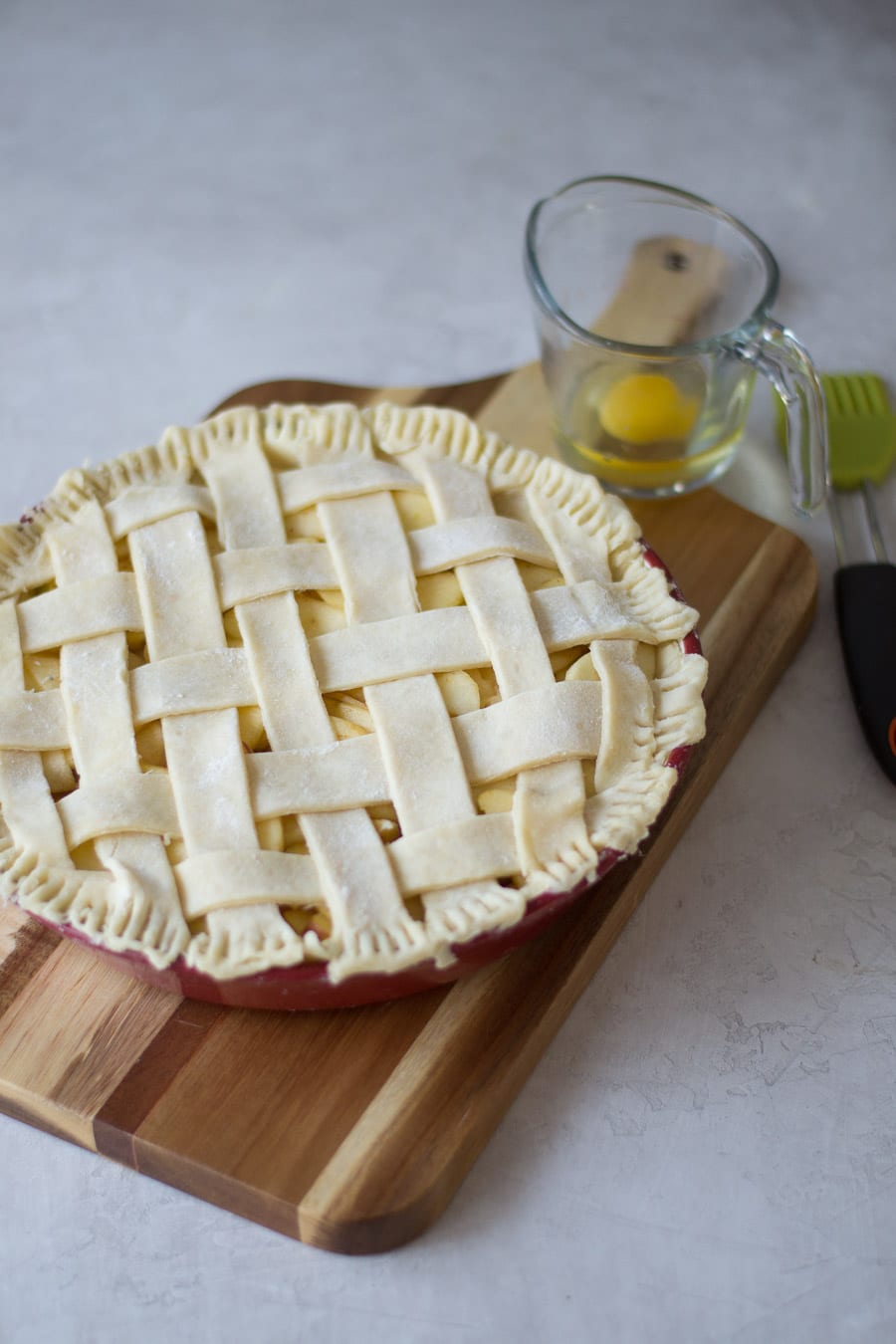 The boys eat them all the time. Andy keeps telling Jack "apple a day keeps shots away." Close enough ha! I have also been eating apples for a quick afternoon snack.
So, that's about 2lbs out of the 5lb bag of apples, what to do with the rest? In the past, I made applesauce, but my kids are beyond the applesauce/puree phase, so that's out.
After the success of my cherry pie, I knew I had to go after this classic fall pie. I think we have all moved on from all the American Pie associations, right?
Did I just date myself?
This apple pie is a little different than a regular, plain old apple pie. The filling has a hint of orange bitters and fresh grated ginger. The extra spice adds a new level of warmth and comfort. I wanted to add caramel sauce to the top, but I know my limits.
I can totally see this pie at your Thanksgiving or Friendsgiving table too! Even if you don't go apple picking or to a pumpkin patch, make this apple pie!
Buttermilk Pie Crust
Yield: 1, 9-inch double pie crust

Prep Time: 20 minutes

Additional Time: 1 hour 30 minutes

Total Time: 1 hour 50 minutes

Flaky pie crust made with lots of cold buttermilk and cold butter.
Ingredients
2 1/2 cups all-purpose flour
2 tbsp sugar
1 tsp salt
1 cup cold unsalted butter, cut into cubes
1/2 cup plus 1tbsp cold buttermilk
Instructions
In a medium mixing bowl, whisk together the flour, sugar, and salt.
Add the cold butter cubes and use a pastry blender to break the butter into the dough until it is about the size of peas. Work quickly so things stay as cold as possible. It helps to chill your mixing bowl in the freezer for a little bit before starting.
Make a well in the center of the flour and butter and then pour in the buttermilk. Use a fork to mix everything together until a shaggy dough forms.
Dump the dough on to a floured surface. Use your hands to knead and work into a ball. Cut the ball of dough in half. Work each half into a flat disc. Wrap each in plastic wrap and chill in the fridge for 1 hour.
When ready to bake, roll out the dough on a well floured surface until each disc is about 12 inches in diameter. Transfer to a pie dish, trim the edges, add filling, cover with remaining pie crust, crimp edges, and cover in plastic wrap. Store in the fridge for 30 minutes.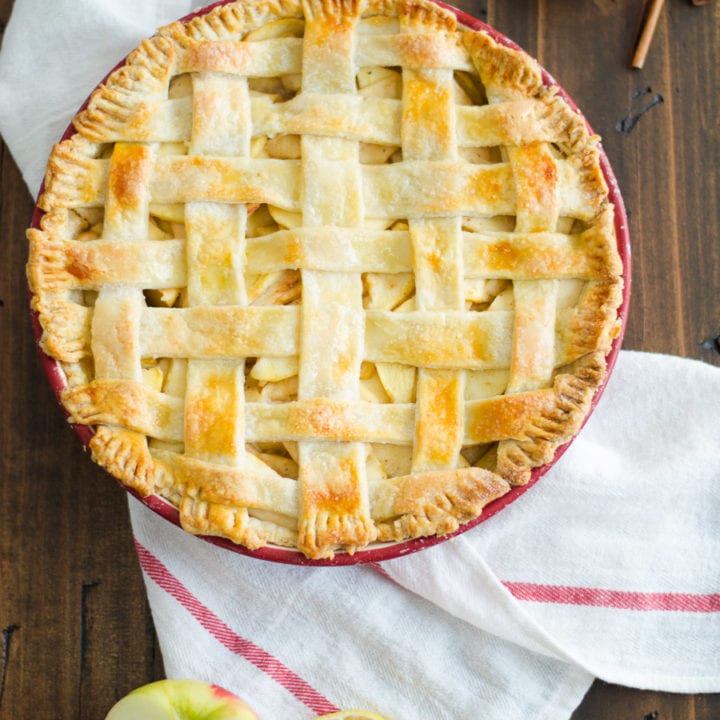 Homemade Apple Pie
Yield: 1, double crust apple pie

Prep Time: 30 minutes

Cook Time: 1 hour 15 minutes

Total Time: 1 hour 45 minutes

Warm honeycrisp apples coated in fresh ginger, cinnamon, and orange bitters baked into a flaky buttermilk pie crust.
Ingredients
2 1/2 lbs peeled and cored honeycrisp apples, thinly sliced
1 tbsp lemon juice
1/2 tsp orange bitters
1 tsp fresh grated ginger
1/4 cup packed light brown sugar
1/4 cup plus 2 tbsp sugar
1 tsp ground cinnamon
1/4 tsp ground nutmeg
1/4 tsp salt
2 tbsp unsalted butter
1 tbsp plus 1 tsp cornstarch
1 large egg, beaten
Instructions
Prepare the buttermilk pie crust ahead of time according to the recipe instructions.
For the filling in a large bowl, mix the apples, lemon juice, bitters, ginger, brown sugar, only 1/4 cup of sugar, cinnamon, nutmeg, and salt. Cover with plastic wrap and let sit at room temp for 30 minutes.
Transfer the apples to a colander sitting over a bowl. Let the apples drain until you have about 1/2 cup of liquid.
Pour the apple liquid into saucepan and bring to a boil over high heat and then add the butter. Boil until it is reduced to 1/3 cup, about 5 minutes.
Transfer the apples to a bowl and toss to combine with the cornstarch. Mix together with the liquid in the saucepan.
Fill the bottom pie crust in the pie pan with filling. Chill in the fridge while you make the lattice or prepare the top crust.
When the top crust is rolled out to about 12 inches diameter, remove the pie from the fridge. Carefully arrange the lattice work on top or the full piece of crust on top. Crimp the edges to seal the pie. If you aren't doing lattice, you will need to cut a few slits in the pie crust for steam.
Chill the pie for at least 30 minutes.
Preheat the oven to 400 degrees F with a rack int he center of the oven.
Brush the top of the pie with the beaten egg and sprinkle remaining sugar on top crust. Place the pie on a baking sheet to catch any overflow and bake in the oven for 20 minutes. After 20 minutes, turn the oven temperature down to 350 degrees F. and bake for 40-45 minutes. If the top is browning too quickly, cover loosely with foil.
Let the pie completely cool for at least 4 hours before slicing.