Tender and juicy beer brined grilled buffalo chicken wings are all you need for your next backyard BBQ. Chicken wings brine in a mix of seasonings and beer overnight to make for the perfect, tender, and juicy bite of chicken. Grilling the buffalo wings gives them that added crisp and crunch without all the deep frying and breading.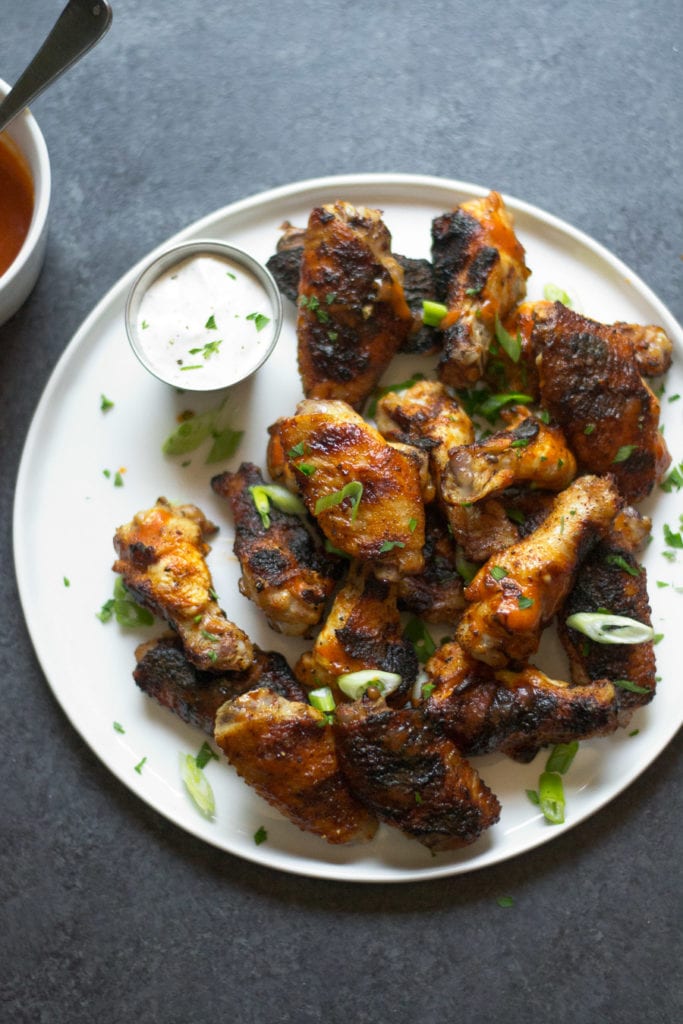 Yaaaassss! Another recipe for your grill. If you haven't been catching my burger and beer series every Friday on Facebook and Instagram, what's wrong with you? Just kidding! But, in addition to all those great burgers, here for you, today…
Chicken wings!
I have said it once, actually I have said it about a bajillion times on the blog, we (I really mean Mike) love buffalo sauce slathered wings and basically anything buffalo really. Our summers are usually filled with Mike hunting down the best dive bars or restaurants with weekly wing deals.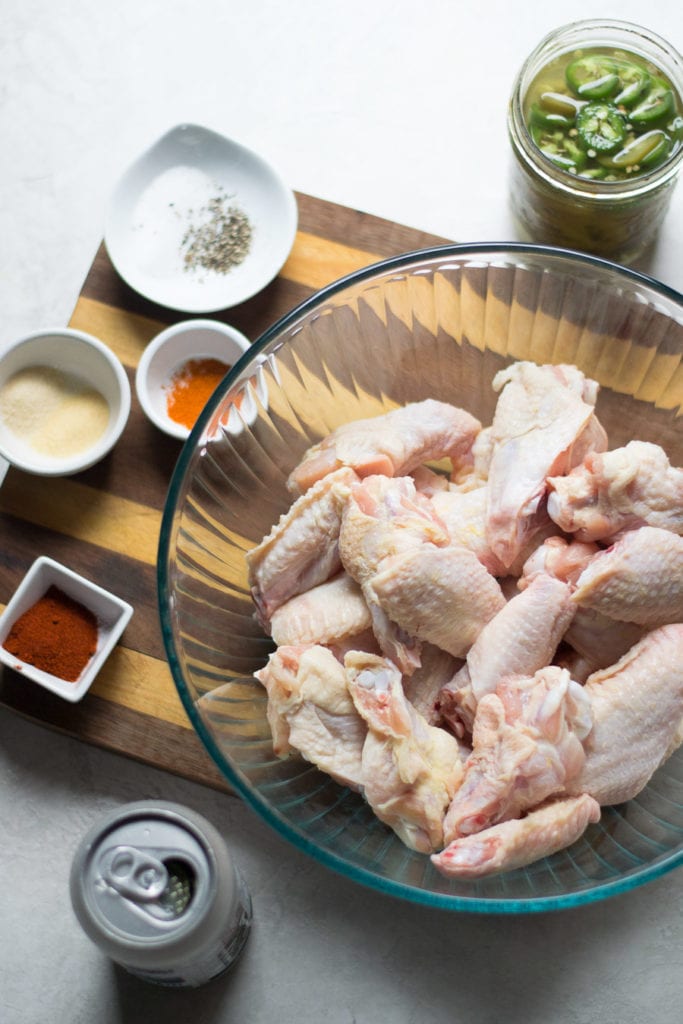 It also doesn't hurt when the wing deal lines up with a $3 draft beer deal, amiright?
Mike was helping to unload groceries and saw chicken wings. For like 3 days straight, until I grilled them, he asked, "Is tonight chicken wing night?"
Cute, but also annoying.
A while ago when I made that perfect pickle and jalapeno brined chicken schnitzel, it hit me that all my chicken should get a similar treatment before cooking. It literally takes 10 minutes to cut the chicken wings into drumettes and flats, add them to a bowl, and mix in the brine.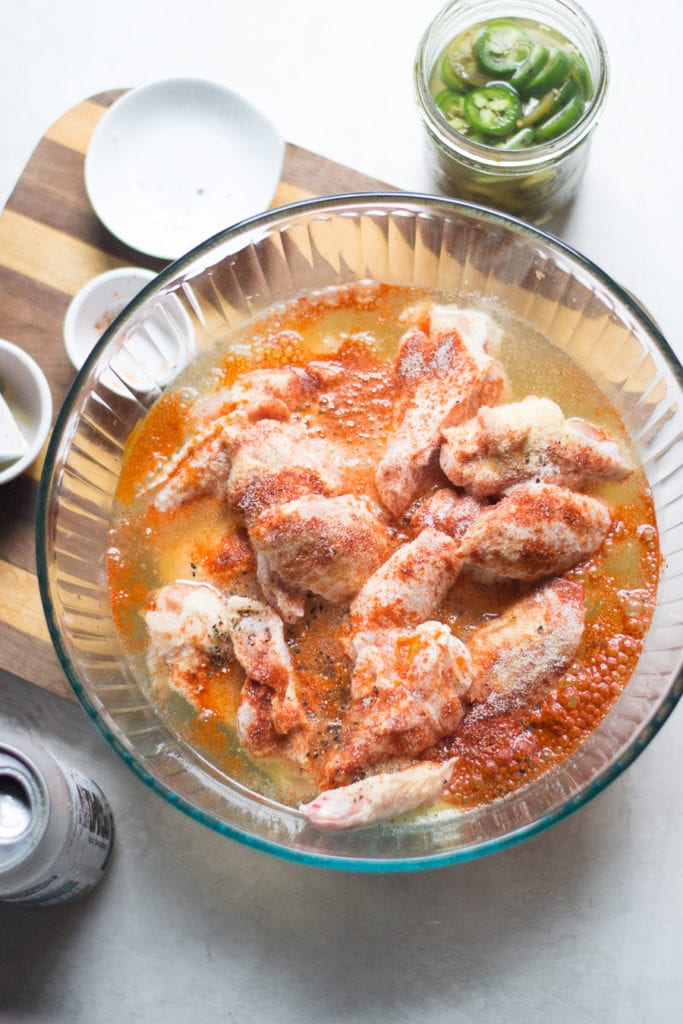 Chill the whole bowl for 8-12 hours and then grill. It literally cannot get much easier. Doing that work ahead of time makes for easier grilling and gives you more bang for your buck in the flavor department.
Call me crazy, but I really love making a few, or ten, wings extra well done. That charred skin has all the extra sweetness from the molasses to balance out the spice. Yep. That's right. I added a teensy bit of molasses to curb that spice. When Mike ate these wings he said, "These might be the best wings you have ever made."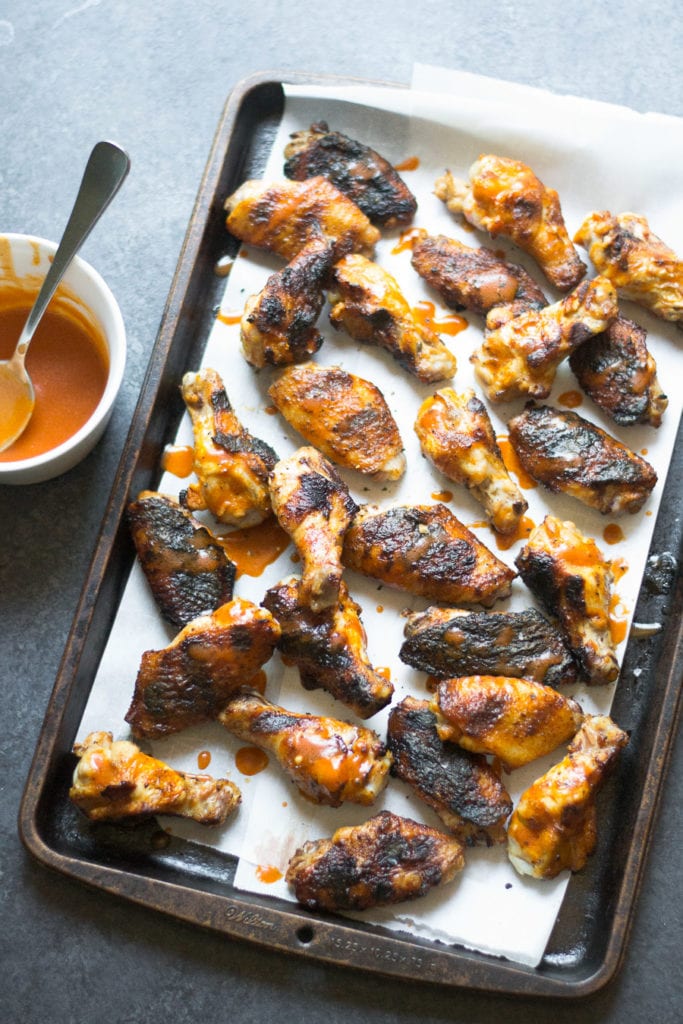 That means a lot coming from mister chicken wing expert.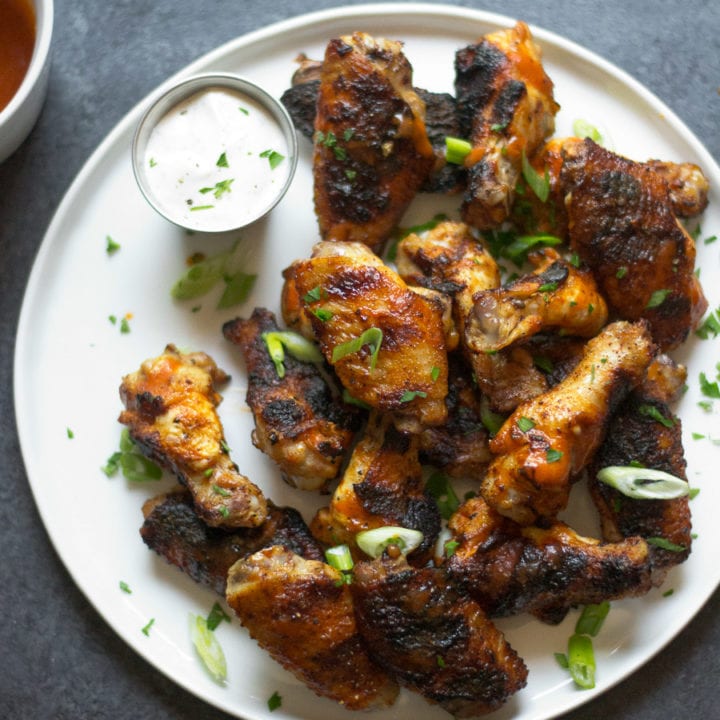 Beer Brined Grilled Buffalo Chicken Wings
Total Time:
12 hours
25 minutes
Beer brined spiced grilled chicken wings with a secret ingredient, molasses, to add just the tiniest bit of sweetness to balance all that buffalo spice.
Ingredients
FOR THE BRINE:
16oz Beer of your choice
1/2 cup juice from pickled jalapeños
1 tbsp salt
1/2 tsp black pepper
1 tsp smoked paprika
1/2 tsp onion powder
1/2 tsp garlic powder
1/2 tsp cayenne pepper
FOR THE WINGS:
2lbs chicken wings, cut into drumettes and flats, tips discarded or saved for stock
1/2 cup buffalo sauce
3 tbsp unsalted butter
1 tsp black strap molasses
1/2 tsp salt
1/4 tsp black pepper
1 tbsp chili powder
1/4 tsp onion powder
1/4 tsp garlic powder
Instructions
Add the drumettes and flats into a large Pyrex or Tupperware bowl/container, something with a lid. Pour in the beer, jalapeño juice, salt, pepper, paprika, cayenne, onion powder, and garlic powder. Give it a stir and make sure the wings are fully submerged in the brine. Cover the bowl with thew lid and chill in the fridge for 8-12 hours.
When you are ready to grill, remove the wings from the brine. Transfer them to paper towel lined baking sheets. Pat the wings dry of the brine.
Season the wings with salt, pepper, chili powder, onion powder, and garlic powder. let the wings sit out at room temp, while you get the grill nice and hot.
Preheat your gas grill to high heat for 10 minutes.
While the grill is heating up, add the buffalo sauce, molasses, and butter to a small heatproof bowl. Microwave the bowl for 40-50 seconds until the butter is completely melted. I say work in 20 second increments, stirring in between. You might not need the full 40-50.
Reduce the heat on the grill to medium.
Divide the warm sauce between two containers. One for brushing on the raw chicken and one for the cooked chicken. Make sure to wash your tongs and brush in between too as to not cross contaminate.
Use a pastry brush to brush the skin side of the wings with a little bit of sauce. Place them skin/sauce side down. Close the grill lid and cook them for 10-12 minutes. open the lid, flip the chicken, and brush more sauce on the wings. Close the lid and cook for 12-15 more minutes. The internal temperature of the wings should be 165 degrees F.
Transfer the cooked wings to a serving dish. Either drizzle on remaining sauce or use the cleaned brush to brush on more sauce before serving. Serve with blue cheese and/or ranch dip on the side.
Notes
The recipe works with a gluten free beer instead and if you don't want the brine to be too spicy, swap the jalapeño juice out for pickle instead.
Recommended Products
As an Amazon Associate and member of other affiliate programs, I earn from qualifying purchases.