Grilled tomato and burrata sandwiches are all you need this summer. Roasted tomato slices served on top of grilled garlic bread along with a big ol' hunk of burrata cheese. A drizzle of balsamic glaze along with some fresh basil leaves, and this dish is complete!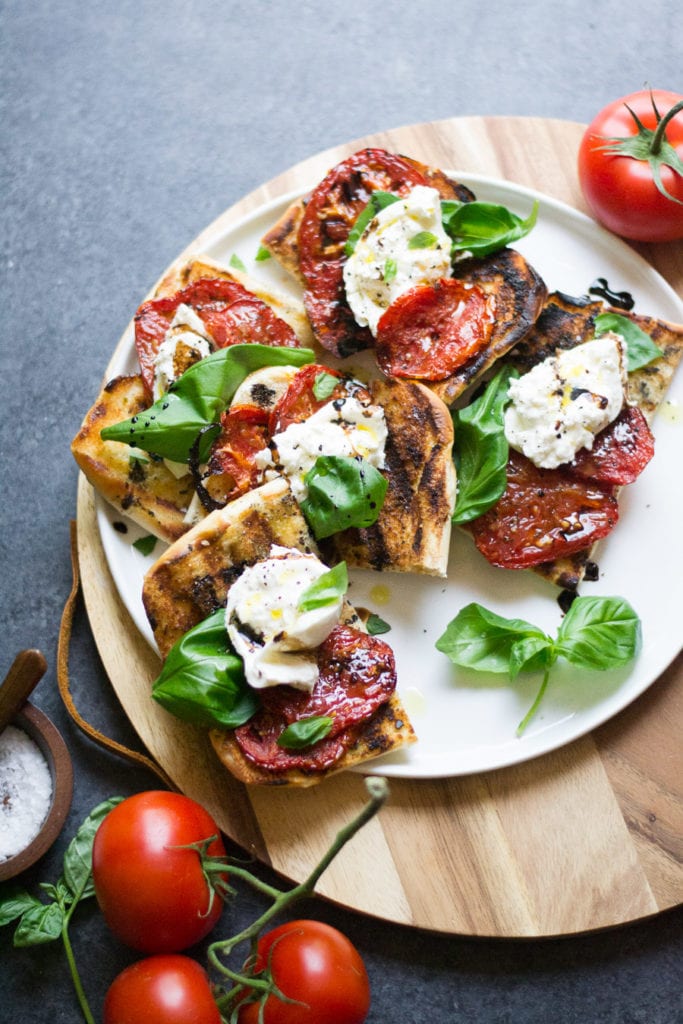 Before we left for our epic Disney World vacation, I worked and worked like a busy little worker bee to make all the blog recipes I had in my brain so that when we got back, I could just relax.
Easy peasy. You cook then you eat or save it for the next day, but eventually eat your creations.
The hard part is now that I have at least a month and a half of recipes created and photographed and all the daylight to just enjoy summer with my family, I forgot I have to squeeze in the writing and typing part that comes with running a food blog. Bust out the old hunt and peck.
I normally love the writing part of this job. That is when I have something to say. Other times I feel like, I can read all of your minds as you think, "Get to the recipe already!"
So, to spare both of us from more small talk, I will do just that.
The recipe for grilled tomato and burrata sandwiches starts in the oven. Quickly roasted tomatoes with slightly crisp edges make up the bulk of this recipe. You don't need more than a good tomato, some bread, and a hunk of burrata to make a perfect summertime meal.
That's just my opinion.
So many flavors abound from the tomatoes and balsamic glaze. The grilled garlic bread base is a bonus.
Eat them warm right out of the oven and off the grill or eat them cold. I think either way, these sandwiches will be on repeat in our home this summer.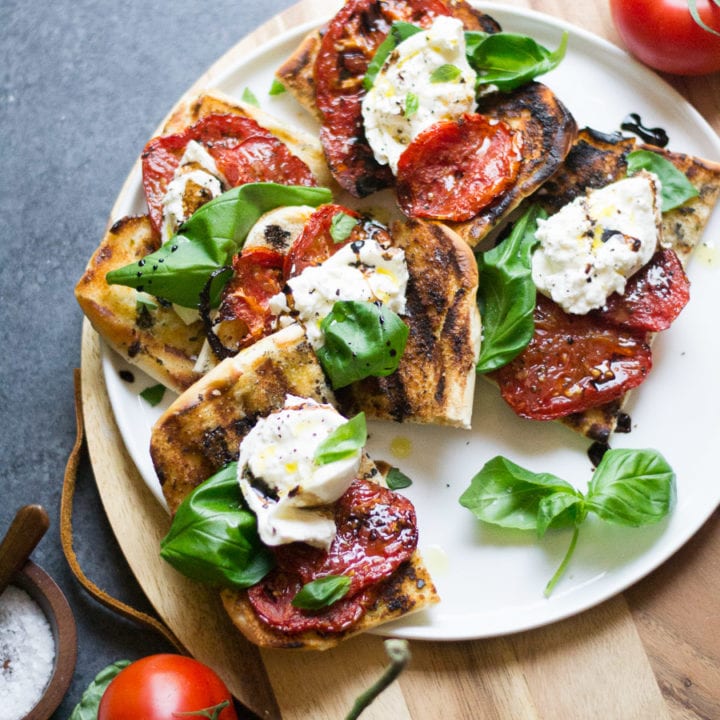 Grilled Tomato and Burrata Sandwiches
Grilled garlic bread topped with sliced roasted tomatoes, burrata cheese, and fresh basil.
Ingredients
4 large vine-ripened or heirloom tomatoes, sliced width wise
1/4 cup extra-virgin olive oil
salt and pepper
4 hot dog or hoagie buns
1 garlic clove, peeled and sliced in half
1/2 cup fresh basil leaves
1 tbsp balsamic glaze
8oz burrata cheese, drained and broken into about 8 pieces
Instructions
Preheat the broiler in your oven to high. Line a large baking sheet with parchment paper. Arrange the slices of tomato on the parchment. Drizzle about 1/2 of the olive oil on the tomatoes along with a little salt and pepper.
Broil the tomatoes, for about 10 minutes. Remove the pan, flip the tomatoes very carefully, and return the tray to the oven for another 10 minutes.
While the tomatoes finish up, turn on your grill. Let the grill heat up to high heat for 5 minutes.
Unfold the buns and press them until both halves lay flat. Use the other half of the olive oil to drizzle over the bread. Grill the bread for 2-3 minutes open side down.
Remove the bread from the grill. Rub the grilled side with the cut side of the garlic clove.
Top each bread with tomatoes and burrata and fresh basil. Finish off with a drizzle of balsamic glaze and salt and pepper.
Recommended Products
As an Amazon Associate and member of other affiliate programs, I earn from qualifying purchases.